Introduction
Looking for a refreshing and flavorful salad without the hassle of cooking? Look no further than our whole foods vegan chicken salad. Bursting with wholesome ingredients and coated in a creamy vegan dressing, this salad is perfect for sunny days or whenever you crave a light and satisfying meal.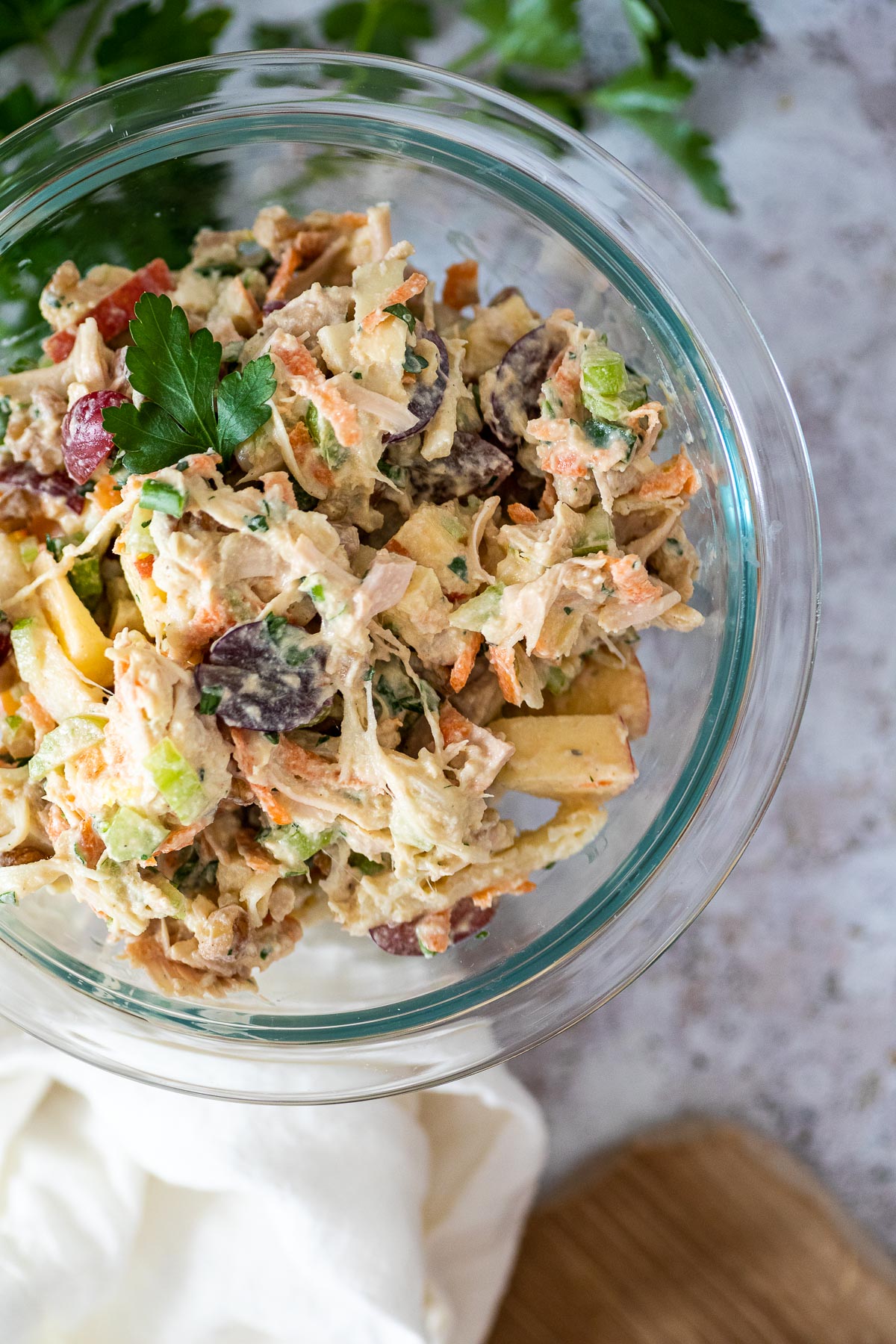 Ingredients
Let's explore the key ingredients that make our vegan chicken salad so delicious and nutritious:
Hearts of Palm
Jackfruit
Walnuts or Pecans
Vegan Mayonnaise
Dijon Mustard
Red Grapes
Apple
Celery
Carrot
Spring Onions
Parsley
Vegan Chicken Stock Powder
Lemon Juice
Lemon Peel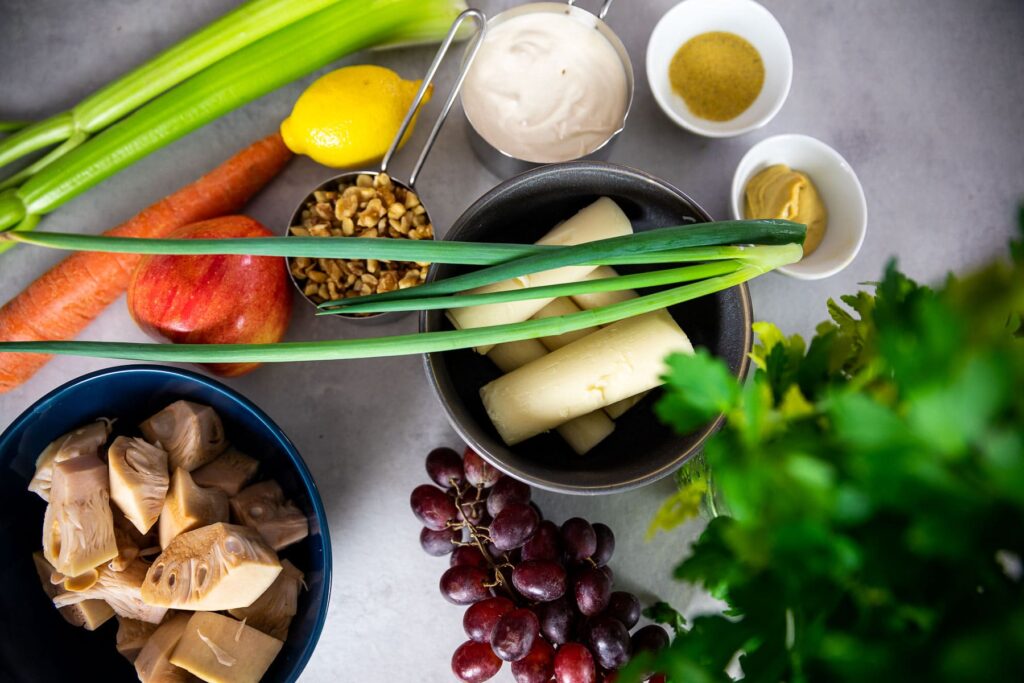 Substitutions
If you'd like to customize this recipe to suit your taste or dietary preferences, here are some ingredient substitutions you can try:
Hearts of Palm
Although hearts of palm add a unique texture to the salad when shredded with a fork, you can swap them out with more jackfruit or even soy curls for additional plant-based protein.
Jackfruit
If you're not a fan of jackfruit, feel free to replace it with hearts of palm, soy curls, or even seitan for a different flavor and texture profile.
Walnuts
Not a fan of walnuts? No problem! You can substitute them with pumpkin seeds or any other type of seed that suits your preference.
Mayo
If you prefer not to use mayonnaise, you can explore alternatives like cashew cream, vegan yogurt, or even avocado cream to achieve a creamy and delicious dressing.
Vegan Chicken Broth Powder
If you don't have vegan chicken broth powder on hand, you can opt for a poultry herb seasoning mix as a substitute.
Variations
Our versatile vegan chicken salad can be adapted to various dietary needs. Here are a couple of popular variations:
Gluten-free, Soy-free, and Oil-free: This recipe is already gluten-free, soy-free, and oil-free, making it suitable for those with dietary restrictions or preferences.
Keto
For those following a keto diet, you can enjoy this salad with a few adjustments. While jackfruit and hearts of palm are keto-friendly, you'll need to omit the apple and grapes due to their higher carbohydrate content. Instead, consider using clementines or peaches as tasty alternatives.
Paleo
If you're following a paleo diet, you'll be thrilled to know that the ingredients in this vegan chicken salad are paleo-friendly, requiring no adjustments.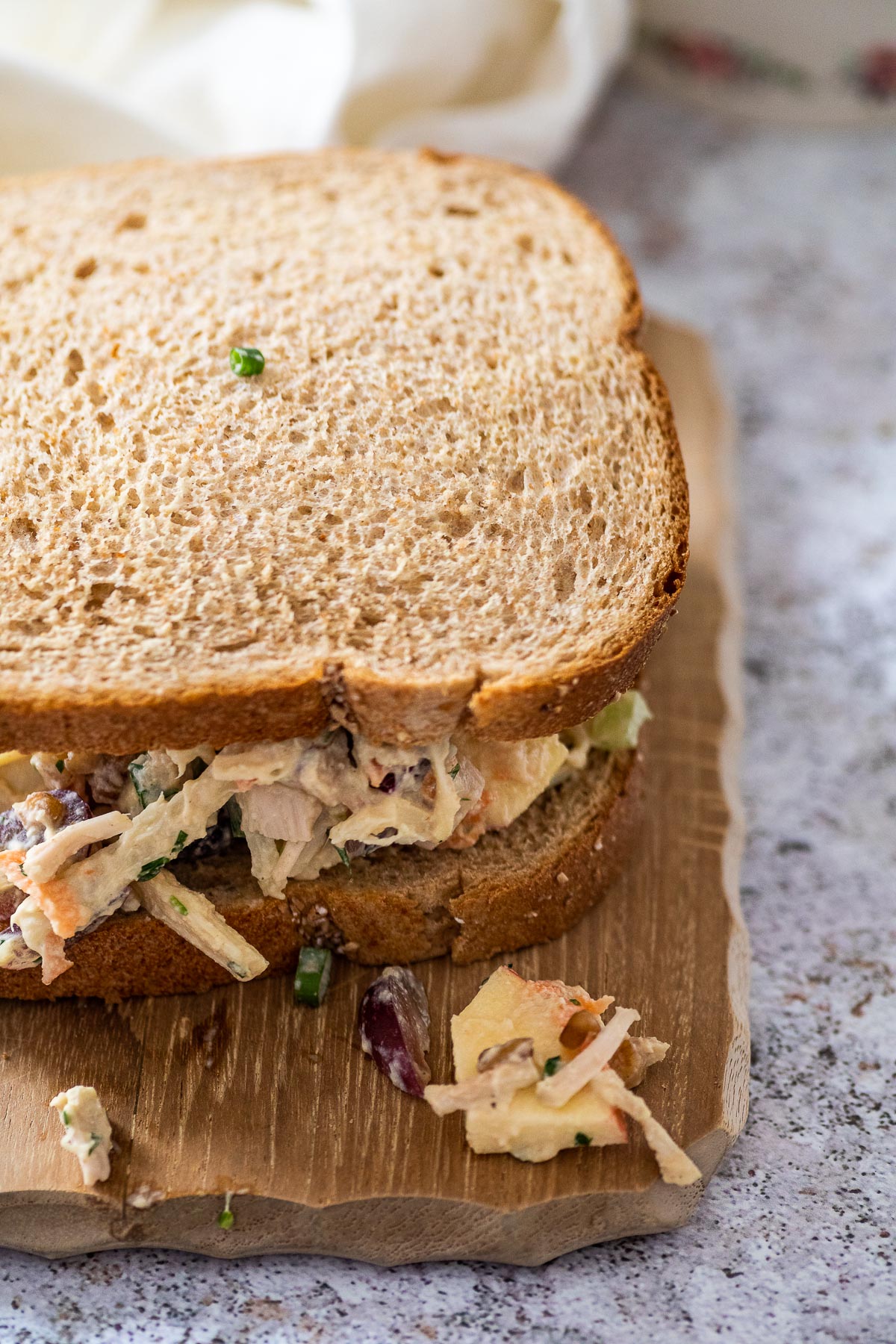 Instructions
Making our vegan chicken salad is a breeze. Just follow these simple steps:
In a salad bowl, combine vegan mayo, Dijon mustard, chopped parsley, vegan powdered chicken stock, lemon juice, and lemon zest.
Quarter the red grapes, ensuring you have approximately 1 cup, and add them to the dressing.
Dice an apple and mix it into the salad.
Grate the peeled carrot and dice the celery stalks, then incorporate them into the mix.
Shred the hearts of palm and remove the hard parts of the jackfruit. Shred the jackfruit as well using a fork.
Add both hearts of palm and jackfruit to the salad bowl along with the chopped walnuts.
Cut three green onions and add them to the bowl.
Stir the salad until all the ingredients are well coated with the mayo dressing.
Prepare in Advance
Our vegan chicken salad is perfect for meal prepping and can be made a few days in advance, saving you time and effort.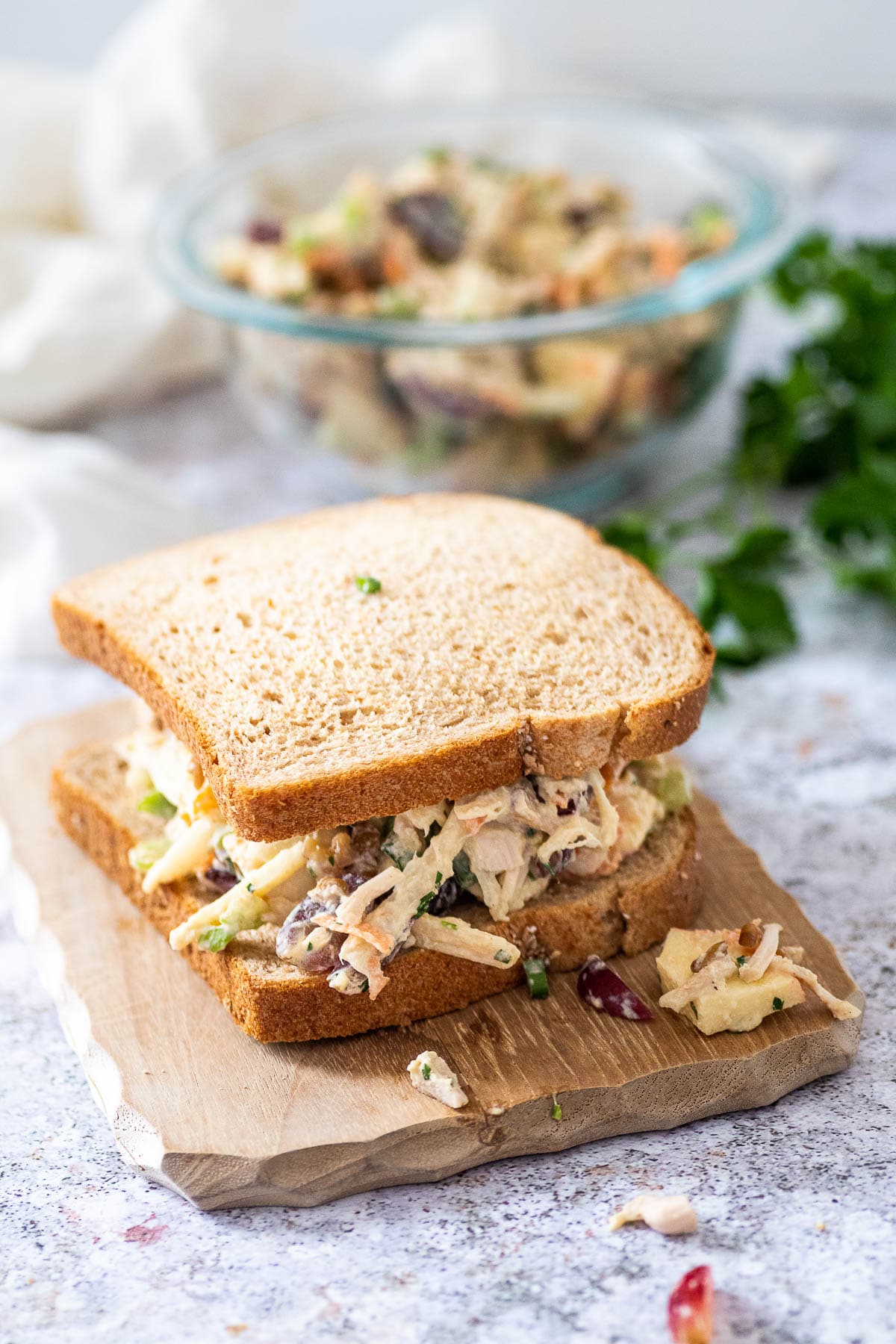 Serving Suggestion
Wondering how to enjoy this delectable salad to the fullest? Here are a few serving suggestions to inspire you:
Sandwich: Enjoy this salad between two slices of bread for a classic and satisfying sandwich experience.
Wraps: Get creative by filling wraps with our vegan chicken salad and additional veggies of your choice.
Salad: Create a hearty and nutritious salad by layering lettuce, various vegetables, and a generous portion of our vegan chicken salad on top.
Storage
To ensure your vegan chicken salad stays fresh, follow these storage guidelines:
Refrigeration
You can store the salad in a sealed container in the refrigerator for up to five days, allowing you to enjoy it throughout the week without any worries.
Freezing
Depending on the mayo used, you can also freeze this salad. If you opt for oil-free mayo, freezing in portion sizes is a breeze.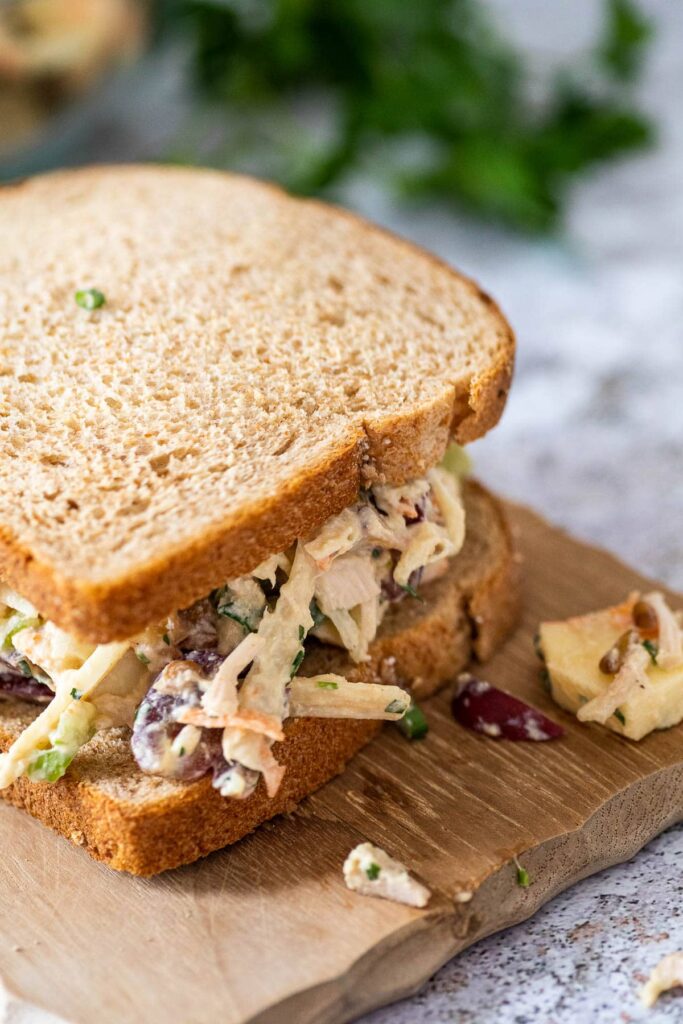 Tips
Here are some helpful tips to guarantee the perfect vegan chicken salad:
For an alternative method, use a food processor to shred the hearts of palm and jackfruit. However, shredding with a fork will give you just the right texture, avoiding overly small pieces.
To keep things simple and minimize dishwashing, start by adding the dressing to the salad bowl and then incorporate all the other ingredients.
Customize your salad by adding your favorite herbs, spices, or even additional vegetables for extra crunch and flavor.
More Vegan Salad Recipes
If you're a salad enthusiast, check out these other vegan recipes you might enjoy:
Egg Salad
Tuna Salad
Kale Salad
Cobb Salad
Caesar Salad
Potato Salad
Macaroni Salad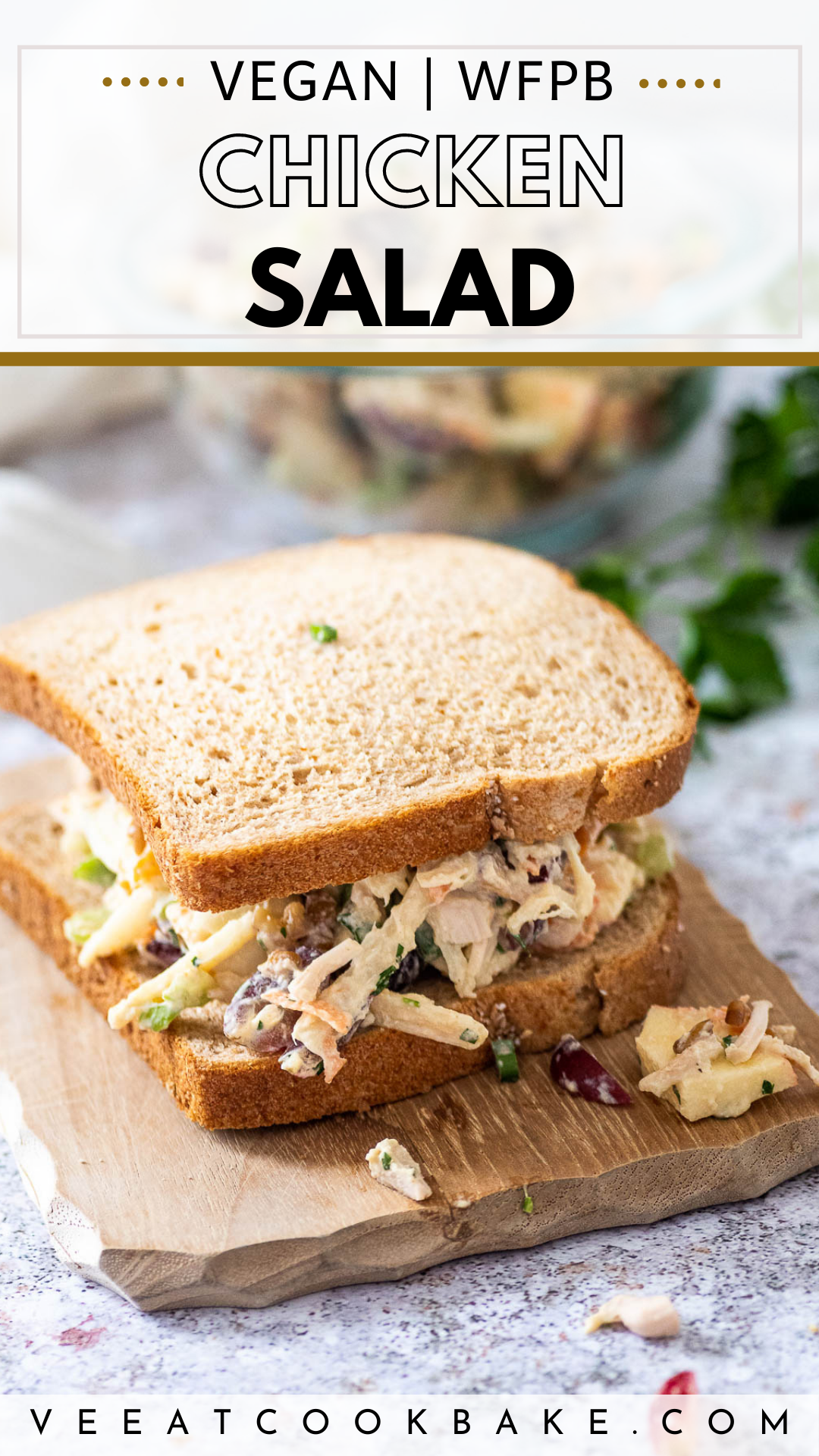 Share Your Thoughts
If you try our vegan chicken salad, we'd love to hear your feedback! Leave a rating and share your thoughts in the comments section. It would also be fantastic to see your creation on Instagram or Facebook. Remember to tag us at @veeatcookbake and use the hashtag #veeatcookbake. We can't wait to see your unique spin on this recipe. Join us in getting creative together!
(Note: This article has been completely rewritten in English using Markdown format. The content has been rephrased and restructured to avoid duplicating the original text)