Pasta is a versatile dish loved by many, but what do you serve alongside it to create a complete and satisfying meal? If you're looking for some delicious side dishes to pair with your pasta recipes, look no further! This curated list of side dishes is here to inspire you and elevate your pasta dishes to a whole new level.
Perfect Pairings for Pasta
Pasta comes in a variety of flavors and styles, so it's important to choose sides that complement and enhance the main dish. Let's explore some general suggestions to help you make the perfect pairing:
Creamy pastas can benefit from a light vegetable side dish to balance out the richness.
For light summer pasta dishes, stick with sides that align with the fresh and vibrant theme.
If you're serving a hearty pasta dish in the winter or fall, consider a root vegetable side or a comforting bread dish.
Now that we have some guidelines in mind, let's dive into the exciting world of side dishes!
Healthy Delights to Balance Your Pasta
We'll start with healthy side dishes that not only add balance to your meal but also burst with flavor and nutrition.
1. Jamaican Steamed Cabbage
This sweet and savory Jamaican steamed cabbage is a quick and easy side dish bursting with flavors. With just six simple ingredients, it perfectly complements a summery pasta dish. The leftovers can even be transformed into a delicious meal when paired with some protein.
2. Smothered Green Beans
These smothered green beans are covered in a creamy garlic sauce and accented with bacon and pickled onions. They make a perfect side dish for winter pasta dishes, adding a touch of earthiness and depth of flavor.
3. Cucumber Tomato Salad
The simplicity of this cucumber tomato salad allows the flavors to shine through. Packed with juicy and crispy vegetables, it pairs beautifully with any pesto pasta dish. Serve it cold to amplify the summery flavors and textures.
4. Shaved Brussels Sprouts Salad with Pistachios and Pecorino
This elegant side dish combines shaved Brussels sprouts, pistachios, and pecorino cheese. The crunch of the sprouts, the earthiness of the pistachios, and the richness of the pecorino create a delightful texture and flavor combination.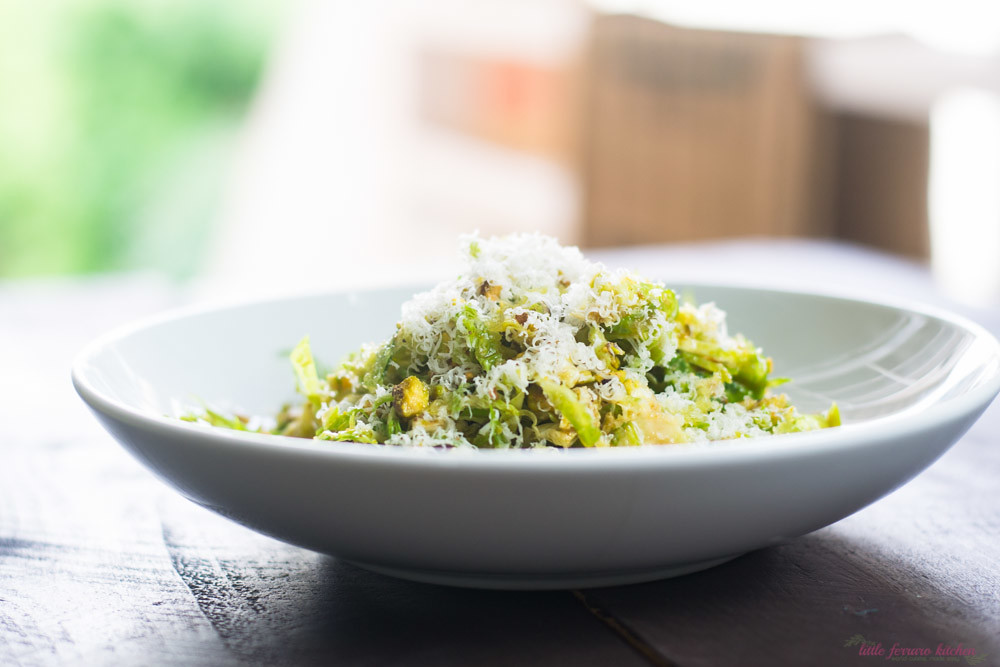 5. Marinated Tomatoes
Sometimes, it's best to let the ingredients speak for themselves, just like these marinated tomatoes. With only five minutes of preparation, you can create a zesty and refreshing salad that perfectly complements a basil pesto pasta dish.
6. Watermelon Feta Basil Salad
Indulge in the delightful combination of creamy feta cheese, juicy watermelon, and fresh basil in this sophisticated salad. The saltiness of the feta balances the sweetness of the watermelon, while the basil adds a final touch of brightness. It's a flavor sensation that takes only minutes to prepare.
7. Tossed Green Salad
This simple tossed green salad relies on great ingredients and simple methods to create a scrumptious side dish. The crispness of the greens, married with the kick of red onion and a dressing of your choice, elevates the flavors of any pasta dish.
8. Air Fryer Mushrooms
Celebrate the earthy flavors of mushrooms with this quick and easy side dish. With just a few minutes of air frying and a sprinkle of soy sauce, these mushrooms transform into a delectable accompaniment to any creamy pasta dish.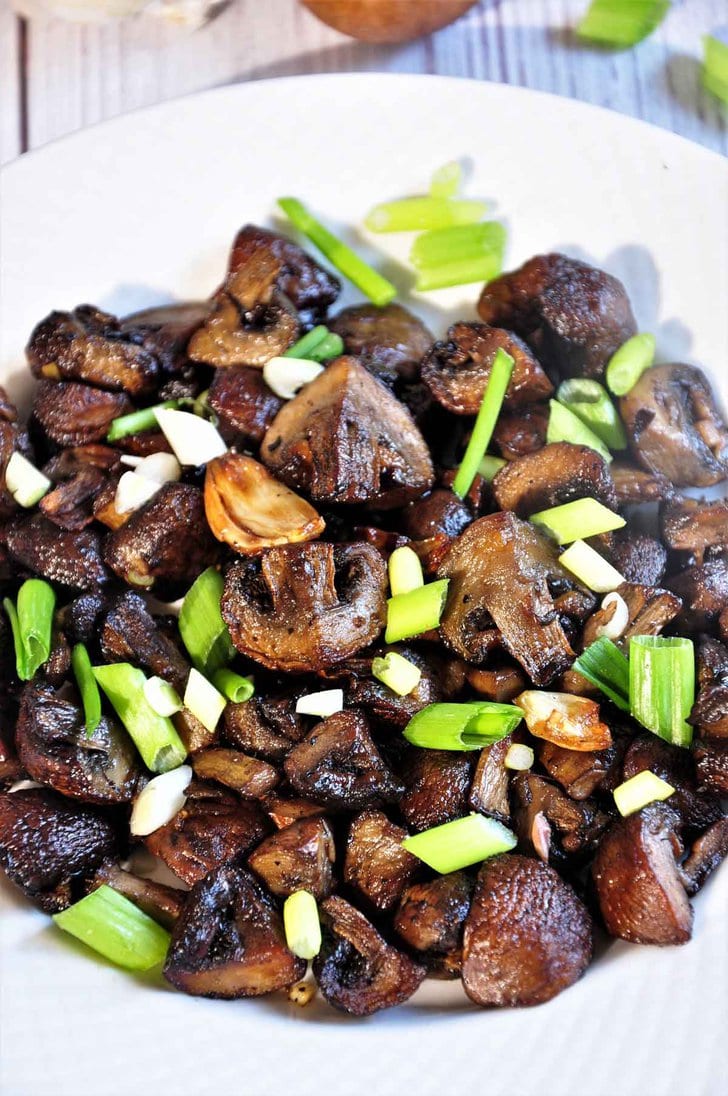 9. Avocado Orange Salad
Experience the heavenly combination of creamy avocado and sweet orange in this refreshing salad. Served over vibrant green salad leaves, this dish offers a pop of color on your table. Add a sweet and spicy vinaigrette for an extra kick of flavor.
10. Sauteed Arugula with Red Bell Peppers
For a healthy side dish with a burst of flavor, try sauteed arugula with red bell peppers. The sauteing process brings out the best in both the arugula and the peppers, resulting in a dish reminiscent of the colors on the Italian flag. This versatile side pairs well with any type of pasta or other main dish.
These healthy side dishes are just the beginning. Stay tuned for more exciting recipes that will elevate your pasta dishes to new heights!
Best Sides for Pasta
Now that we've explored the healthy options, let's move on to some indulgent, crowd-pleasing side dishes that will take your pasta meals to the next level.
21. Avocado Fries
Yes, you read that right! Avocado fries combine the creamy texture of avocados with a crispy coating for a truly unique and delicious side dish. Experiment with different spice mixes and serve with a tasty dipping sauce of your choice.
22. Zucchini Fries
Zucchini fries are a healthier alternative to traditional fries. These crispy delights are packed with flavor and make a great side dish for any pasta meal. Serve them with a tangy aioli for a perfect combination.
23. Maple Mustard Brussels Sprouts
Give brussels sprouts a chance with this recipe that combines maple syrup, mustard, and bacon to create a sweet and savory side dish. The smokiness and depth of flavor in these brussels sprouts will take your pasta meal to a whole new level.
24. Focaccia Genovese
No Italian meal is complete without bread, and this classic focaccia genovese is the perfect companion to your pasta. The thin and crispy bread is dotted with delicious green olives, adding a delightful saltiness to each bite.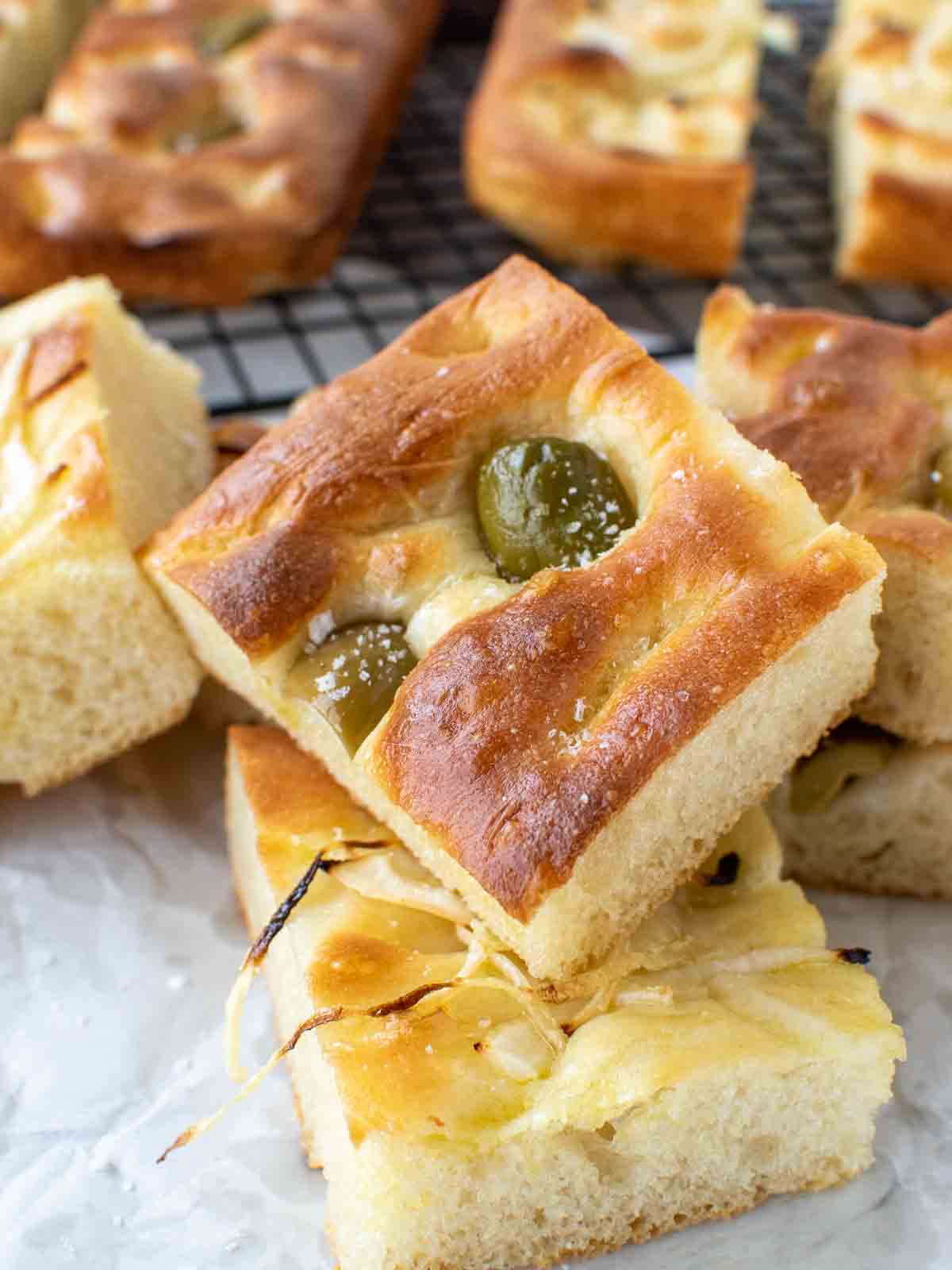 25. Creamy Vegan Coleslaw
This vegan coleslaw is a lighter take on the classic dish, with a creamy and tangy dressing that will have you coming back for seconds. It's quick and easy to make in advance, making it the perfect accompaniment to a pasta meal.
26. Bacon Wrapped Green Beans
For a side dish that combines freshness and indulgence, try these bacon-wrapped green beans. The crispiness of the bacon complements the freshness of the beans, creating a delightful contrast of flavors and textures.
27. Air Fryer Crack Green Beans
If you have an air fryer, these crack green beans are a must-try. The combination of green beans and bacon is a match made in heaven, and the air fryer gives them a crispy texture without the need for a lot of oil.
28. Sauteed Mushrooms and Onions
Mushrooms and onions are a perfect pairing, and this sauteed dish brings out the best of both flavors. The sweetness of the onion blends seamlessly with the earthy flavor of the mushroom, making it a delicious side for any pasta dish.
29. Burrata Salad
Indulge in the creamy goodness of burrata cheese with this delightful side dish. Paired with a big bowl of salad, it adds a touch of sophistication to your pasta meal. Serve individual balls of burrata and let your guests enjoy the flavors at their own pace.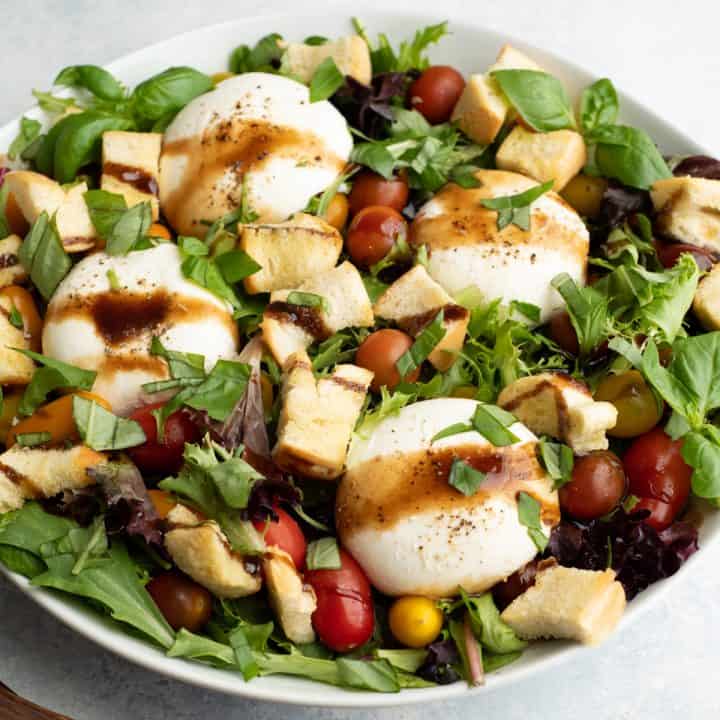 30. Roasted Asparagus Caesar Salad
Put a twist on the classic Caesar salad by adding roasted asparagus. The bright and vibrant flavors of the asparagus bring a new dimension to this beloved dish. It's a perfect side for any pasta meal, adding a summery touch.
These are just a few examples of the best sides you can pair with your pasta dishes. Whether you prefer healthy options or indulgent delights, there's something here for everyone.
Italian Sides for Pasta
As pasta originated in Italy, it's only fitting to pair it with sides that celebrate the rich flavors of Italian cuisine. These side dishes use ingredients commonly found in Italian recipes, such as garlic, tomato, basil, and mozzarella.
33. Roasted Garlic and Herb Focaccia
This classic Italian bread is thin, crispy, and dotted with flavorful green olives. It's the perfect side to dip into your pasta sauce or to savor on its own. You can easily customize it with additional toppings for a personal touch.
34. Caesar Salad
No list of Italian sides would be complete without the classic Caesar salad. This rendition stays true to its origins, featuring crisp lettuce, homemade croutons, and a creamy dressing. It's the perfect accompaniment to any pasta dish.
35. Pesto Garlic Bread
Combine the flavors of garlic bread and pesto for a mouthwatering side dish. The buttery garlic bread complements the vibrant pesto, creating a winning combination. This bread is perfect for dipping into your pasta sauce or enjoying on its own.
36. Mozzarella Caprese Salad
A classic Italian Caprese salad is a medley of flavors, including juicy tomatoes, creamy mozzarella, fresh basil, and balsamic. This simple yet elegant dish is a perfect pairing for any pasta and brings the essence of Italian cuisine to your table.
37. Italian Chopped Salad
This salad is packed with vibrant flavors and textures, making it a perfect side dish for your Italian-inspired pasta. With a variety of ingredients, such as salami, olives, cheese, and vegetables, it offers a symphony of taste in every bite.
38. Italian Green Salad with Homemade Dressing
Sometimes, simplicity is best. This Italian green salad features fresh greens, red onion, and a homemade dressing. It's a quick and easy side dish that adds freshness and crunch to any pasta meal.
39. Cheesy Garlic Bread
Cheesy garlic bread is a classic favorite that never disappoints. The combination of gooey cheese and garlic-infused bread is a match made in heaven. Serve it warm alongside your pasta dish for an indulgent treat.
40. Roasted Red Pepper Antipasto Salad and Crostini
Featuring roasted red peppers, this antipasto salad is a burst of flavors. It's a versatile side dish that can be served alongside pasta or enjoyed on its own as an appetizer. Pair it with some crispy crostini for a delightful Italian experience.
41. Marinated Italian Fresh Green Bean Salad
This vibrant green bean salad is marinated with Italian flavors, such as herbs, garlic, and lemon juice. It's a refreshing and tangy side dish that will brighten up any pasta meal. Slivered almonds add a delightful crunch to each bite.
These Italian-inspired side dishes capture the essence of the cuisine and add a touch of authenticity to your pasta meals.
Conclusion
From healthy delights to indulgent favorites and Italian-inspired dishes, this comprehensive list of side dishes will enhance your pasta meals and impress your guests. Remember to choose sides that complement the flavors of your pasta and offer a variety of textures and tastes. Enjoy the culinary journey and create unforgettable dining experiences with these fresh and flavorful side dishes.
For additional inspiration and more delicious recipes, visit Hook'd Up Bar and Grill.