Introduction
This delightful watermelon lime smoothie with mint is the perfect beverage to beat the heat! While there may be some debate over whether it should be called a smoothie, slushie, slurpee, or icee, one thing is certain – it is absolutely DELICIOUS! With just four simple ingredients and a food processor, you can enjoy this sweet and healthy treat.
The Inspiration
After our successful Smoothie Madness Week, you might have thought we were done with smoothie recipes. Well, think again! My child continues to request healthy smoothies even weeks later. If it were up to him, this website would be named "Summer's Smoothie Site." (Doesn't that have a nice ring to it? Lol)
A Special Request
One day, my child asked for a smoothie that combined the flavors of watermelon, lime, and mint. Essentially, he wanted a homemade version of my watermelon and lime popsicles in liquid form.
The Result
I happily obliged and created this refreshing dairy-free smoothie. However, I must admit that it may not fit the traditional definition of a smoothie. It could be more accurately described as a watermelon slushie or a watermelon granita.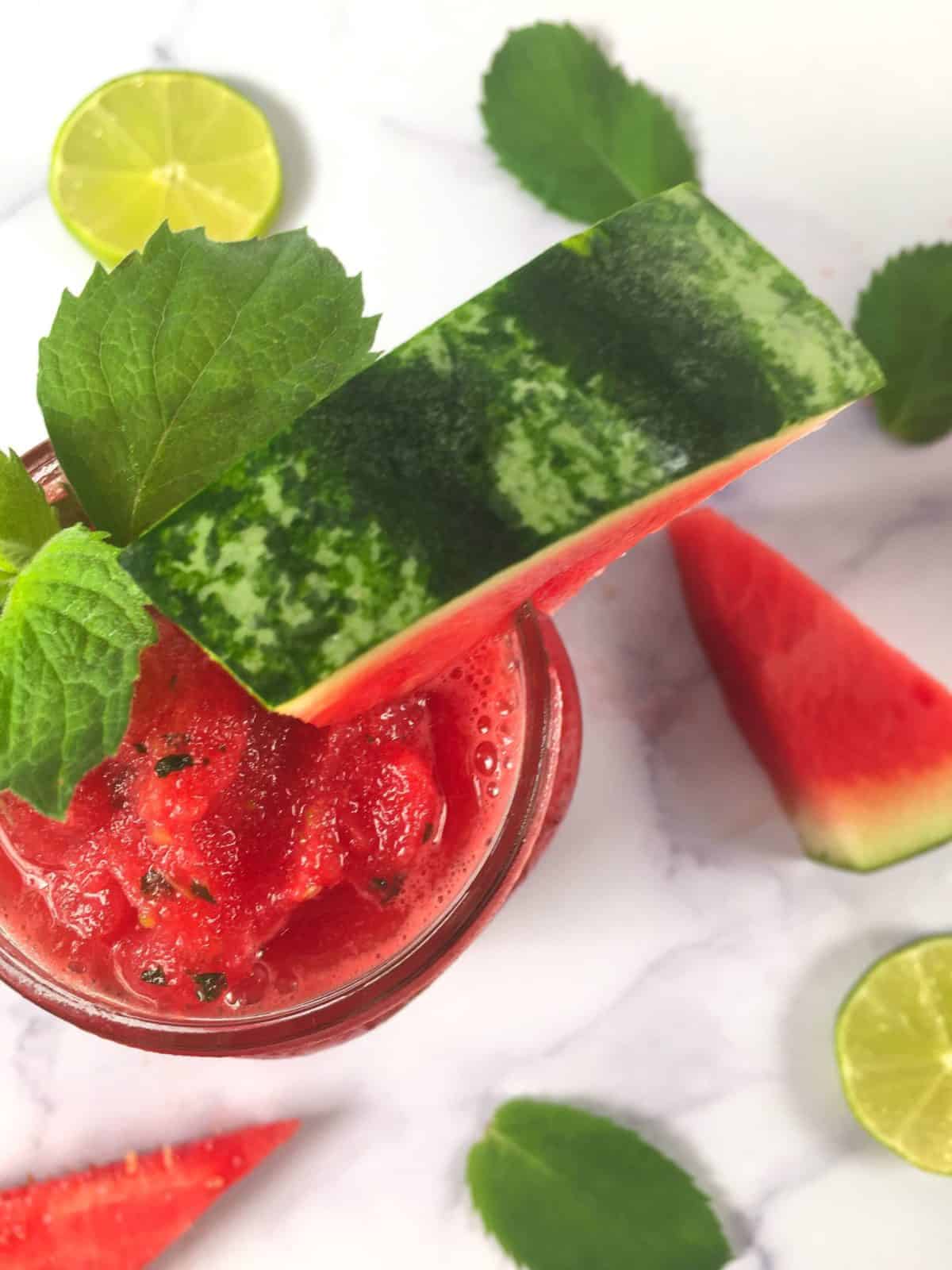 A Healthier Option
Despite the various names it could be called, I decided against terms like slurpee, slushie, or icee. These words tend to evoke images of sugary beverages. However, just like all my smoothie recipes, this watermelon lime smoothie contains no added sugar.
Watermelon is naturally sweet, eliminating the need for honey, maple syrup, or other sweeteners. Compared to syrup-flavored drinks found in convenience stores, this smoothie is a healthier choice. I chose to call it a "smoothie" because it conveys the idea of nutritional benefits.
Tips for Making the Perfect Watermelon Lime Smoothie
To achieve the ideal consistency for this smoothie, I use a combination of frozen and fresh watermelon. Using only frozen watermelon would result in a sorbet-like dessert, while using only fresh watermelon would create a very watery drink.
To blend the ingredients effectively, I recommend using a food processor instead of a regular blender. The larger capacity ensures thorough blending, while also reducing the need to scrape the sides frequently.
If you have a high-powered blender, it should work well for this recipe too.
For the best results, freeze your watermelon pieces in a single layer on a baking tray, ensuring they do not touch. This prevents the formation of large frozen chunks that may be difficult to break down in most food processors. Smaller, individual pieces of watermelon are easier to manage.
Now, let's gather the ingredients:
Fresh and frozen watermelon
Fresh mint leaves
Lime juice
Lime zest
That's all you need to make this delicious watermelon and lime smoothie. It's a simple recipe that caters to various dietary needs, including vegan and dairy-free diets.
A Hit with Kids and Adults Alike
This smoothie is not only refreshing, but it's also a hit with kids, as my son can attest. But don't worry, adults will love it too! Give it a try and see for yourself.
Disclaimer
As with all recipes on this website, it's important to consider your individual medical needs and personal preferences. If you require assistance in determining the best dietary plan for you, consult a registered dietitian or your physician.
The provided nutrition information is only an estimate and may vary depending on the specific brands and ingredients you use. Calorie information on food labels can sometimes be inaccurate, so don't stress too much about the numbers.
For more information on how the three recipe levels may aid in achieving your weight management goals, check out this post. Now, let's get cooking!
What could be better than a refreshing watermelon treat on a hot day? If you're a fan of watermelon snacks, be sure to try my banana watermelon smoothie recipe. You might also enjoy my layered watermelon pineapple mango pops.
What do you think this watermelon lime creation should be called? Do you believe "smoothie" is the right term, or does it remind you more of watermelon Italian ice, a watermelon slushee, or something else? Feel free to share your thoughts in the comments below!