These vegan banana cookies are not only incredibly healthy, but they also make a perfect breakfast option! These cookies are made without any oil, flour, butter, or added sugar. Packed with fruits and vegetables, they are the ideal choice for a whole food plant-based cookie. With delightful flavors of chocolate, hazelnut, and cherry, these vegan cookies are a wonderful alternative to sugary cereals, turning your breakfast into a decadent dessert!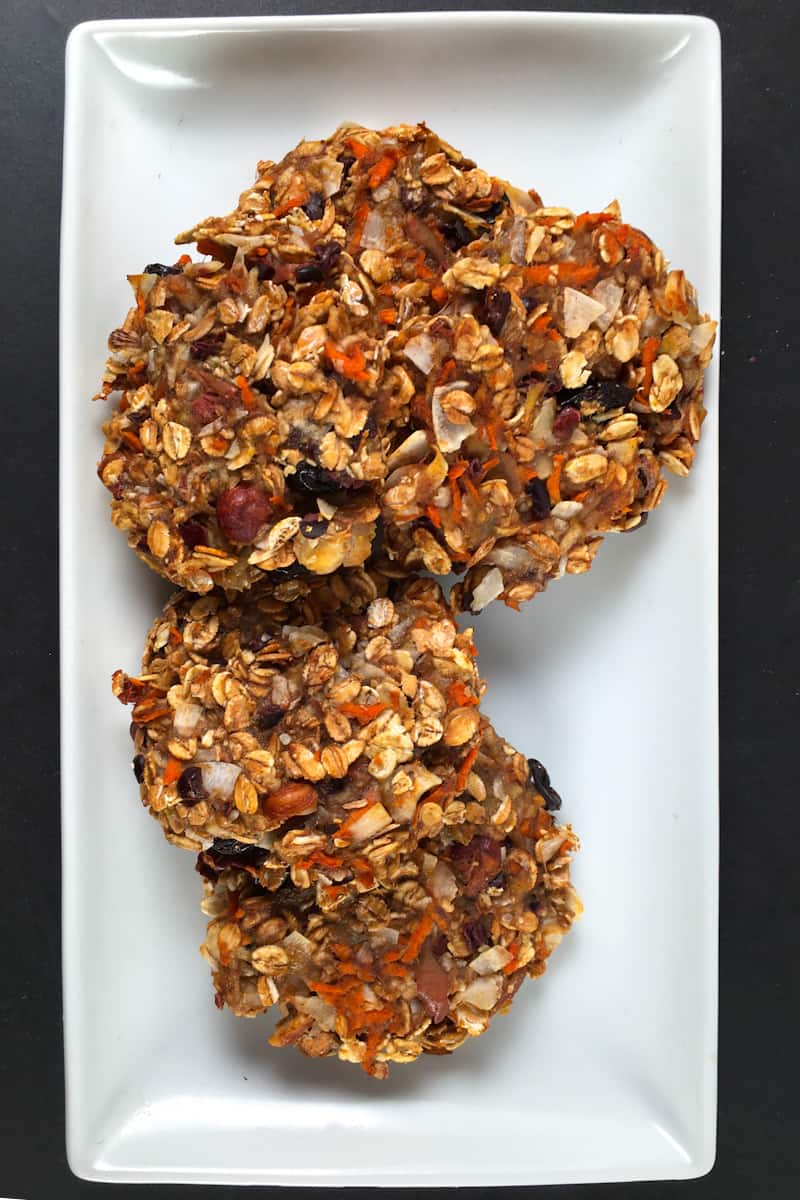 Easy Vegan Banana Oatmeal Cookies for Breakfast
Who says you can't have cookies for breakfast? These whole grain "cookies" are a fantastic way to use up those ripe bananas. Unlike regular cookies and banana bread, these cookies don't contain refined flour or added sugar. They are perfect for vegan, egg-free, and dairy-free diets. This recipe is an adaptation of the morning glory breakfast cookies from Food & Nutrition magazine. It's like having portable servings of oatmeal with added fruits, vegetables, nuts, and seeds. Make a large batch over the weekend, so you can enjoy them throughout the week.
Oh, trust me, you absolutely need these healthy vegan banana cookies in your life. They have everything you love about trail mix cookies, minus the added sugar!
Why are these the BEST Vegan Banana Cookies?
There are countless three-ingredient breakfast cookie recipes out there, usually featuring vegan banana oatmeal cookies with some mix-ins like chocolate chips or dried cranberries. While those recipes are fine, let me tell you why these cookies are even better:
Loaded with phytonutrients: Phytonutrients are beneficial plant pigments that can improve our health. To get a variety of phytonutrients, it's essential to consume a rainbow of colorful plant foods. In addition to bananas, this recipe includes carrots, apples, and cherries.

Healthy fats: Contrary to popular belief, our bodies need fat for optimal health. These cookies provide healthy fats from hazelnuts and coconut flakes, which are whole food sources of fat.

Whole food plant-based cookies: If you're looking to maximize the health benefits of a vegan or vegetarian diet, a whole food plant-based approach is key. This way of eating focuses on minimizing processed foods and consuming whole plant-based ingredients, just like this recipe. (Remember, for a vegan diet, it's essential to supplement with vitamin B12.)

Cacao nibs cookies: Have you ever tried cacao nibs? They add a delightful chocolate flavor to these cookies without the added sugar found in chocolate chips. If you haven't tried them yet, now's the perfect time!

Multigrain cookies: Instead of using only oatmeal, I've used a multigrain cereal blend in this recipe. Including a variety of whole grains ensures you get a wider range of nutrients.
Ingredients for Vegan Banana Cookies
Here's what you'll need to make these delicious vegan banana cookies:
Dry rolled whole grain cereal (rolled oats or rolled multigrain cereal)
Mashed ripe banana
Shredded carrot
Grated apple
Chopped hazelnuts
Unsweetened shredded coconut
Unsweetened dried cherries
Ground cinnamon
Cacao nibs
Instead of rolled oats, you can use a multigrain hot cereal available at Trader Joe's. This cereal combines unsweetened whole grain barley, rye, wheat, and oats. Since the grains are already rolled, they cook in just 3-5 minutes! It's a convenient way to incorporate a variety of whole grains into your diet. If you can't find this cereal, rolled oats will work just as well.
Introducing Cacao Nibs
To add a unique flavor to these cookies, I've included cacao nibs. Cacao nibs are crushed cacao beans that provide a rich chocolate taste to recipes. They're unsweetened and can be slightly bitter, so small amounts are recommended. While they may be a bit pricey, a single bag lasts a long time. It might be worth trying them out (share a bag with a foodie friend)! Just a fun fact: The FDA allows terms like "cacao nibs," "cocoa nibs," and "cracked cocoa" to be used interchangeably on food packaging.
Kitchen Equipment for Plant-Based Cookies
To make these vegan cookies, you'll need the following:
A medium-sized mixing bowl
A potato masher or fork for mashing the banana
Parchment paper
A large cookie sheet
How to Make Vegan Banana Cookies
This recipe comes together quickly, making it an ideal choice when you want instant gratification!
Preheat your oven to 350 degrees Fahrenheit. Line a large dark cookie sheet with parchment paper.
Prepare the fruits and veggies for the recipe. Mash the banana using a potato masher and grate the carrot and apple. You can leave the apple peel on for added fiber.
If the hazelnuts aren't already chopped, roughly chop them. Once everything is prepared, stir all the ingredients together in a medium mixing bowl.
Using a ¼-cup measuring cup, drop scoops of your vegan cookie dough onto the baking sheet. You'll end up with eight scoops. Flatten them slightly into a rounded cookie shape using wet hands.
Place the sheet with the cookies into the top third of the oven. Bake for 15 minutes, until the cookies are firm enough to hold together. Your house may smell like cinnamon while they bake.
Allow the cookies to cool to room temperature before enjoying. These cookies hold together better when cooled.
See? It's not too difficult at all! These vegan cookies have become a regular treat in our household, and I'm confident they'll become a healthy family favorite for you too!
Storing Vegan Banana Cookies
Store any leftover cookies in a food-safe container and refrigerate them. They will stay fresh for 3-4 days in the fridge. If you have extra cookies that won't be consumed within this time frame, freeze them for later enjoyment.
Expert Tips from a Dietitian
As a level 3 recipe (weight maintenance and active lifestyles), these cookies are low in calories. However, the ingredients are energy-dense and can be easy to overeat. Instead of modifying the recipe, make these cookies into a more filling breakfast by adding more protein. Consider adding plain (unsweetened) Greek yogurt or a couple of hard-boiled eggs for extra protein. Vegans can include soy yogurt or seasoned scrambled tofu for a protein boost.
The dried fruits in this recipe are suitable for children who need a concentrated source of energy, especially if they have trouble eating enough before school. However, adults should be mindful, as over-consuming dried fruit can hinder weight loss goals. To avoid this, choose hot oatmeal topped with fresh chopped fruit instead of packaged cookies.
Healthy Snack and Dessert Alternatives for Kids
If you're looking for more healthy snack and dessert alternatives for kids, I have a variety of recipes on this site. Here are a few vegan snack recipes to try next:
Nacho Chickpeas
Nut-Free Trail Mix
Watermelon Lime Smoothie
Frequently Asked Questions
How to Make Vegan Breakfast Cookies without Banana?
If you prefer to make vegan cookies without banana while keeping them refined sugar-free, you can experiment with using pureed Medjool dates as a natural sweetener. Dates add a delightful caramel-like flavor to baked goods and work well as a banana substitute. Another option is using applesauce or pear sauce instead of bananas. You can make your own applesauce or pear sauce using a slow cooker for maximum sweetness.
Why Aren't Cookies Considered Healthy?
Most cookie recipes, whether vegan or not, contain mostly white flour, sugar, and added oil or fat. These ingredients are high in calories but provide minimal essential nutrients. That's why, according to general nutrition standards, cookies aren't considered "healthy." While non-vegan cookie recipes often include eggs and milk, the quantities are typically small compared to the flour, oil, and sugar.
Are These Vegan Banana Cookies Gluten-Free?
This recipe includes a multigrain cereal containing wheat and rye, so it does contain gluten. If you need gluten-free vegan cookies, simply substitute the multigrain cereal with gluten-free rolled oats.
Other Vegan Banana Recipes for You to Enjoy
After you've tried these delicious vegan banana cookies, why not explore more vegan recipes featuring bananas? Here are some suggestions:
Apple Pie Chunky Granola Recipe
Mango Nice Cream
Pumpkin Spice Nice Cream
Don't forget to subscribe to our Weekly Newsletter to stay up-to-date with the latest and greatest recipes! You can also follow me on Pinterest, Twitter, and Instagram!
And Now for the Disclaimer…
Please remember that while all the recipes on this website are carefully crafted, they may or may not be suitable for your specific medical needs and personal preferences. If you're unsure about the best dietary pattern for you, consult with a registered dietitian or your physician. The nutrition information provided is an estimate and can vary based on specific brands and ingredients used. Calorie information on food labels can be highly inaccurate, so don't stress too much about the numbers. For more information about the three recipe levels and their role in weight management goals, refer to my overnight oats with yogurt post. Let's get cooking!
📖 Recipe