Introduction
Can you believe that you can make a turkey salad without mayo? It's true! This recipe takes a unique approach by using a high protein curry yogurt sauce instead of traditional mayo. By swapping mayo for nonfat Greek yogurt, you'll enjoy a low-fat and low-calorie turkey salad that is still incredibly delicious. Serve this delightful dish in lettuce cups or make it a mouthwatering sandwich with your favorite bread.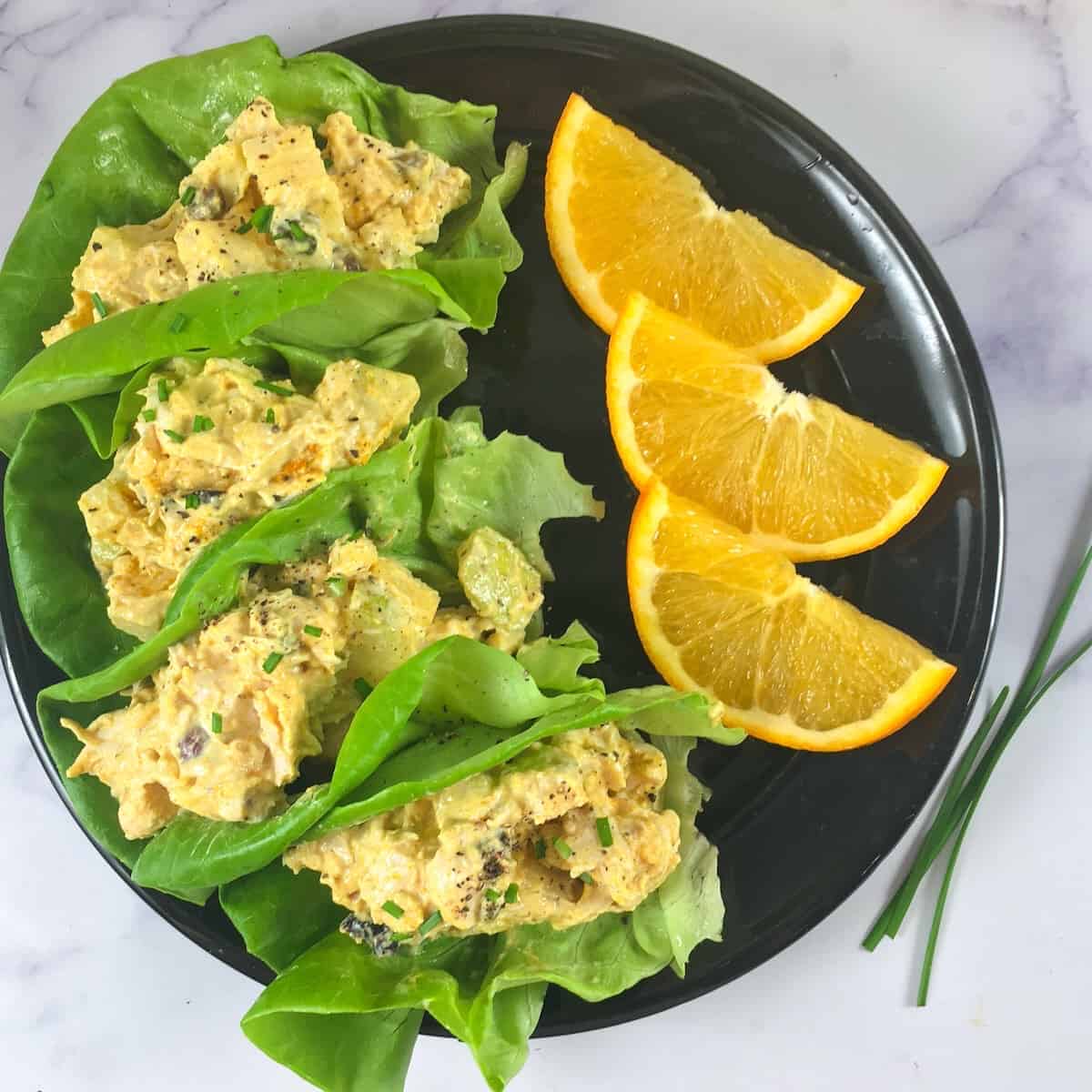 The Benefits of Making Turkey Salad Without Mayo
It's a Great Recipe for Holiday Leftovers
Wondering what to do with your Christmas or Thanksgiving turkey leftovers? Look no further! These turkey curry salad sandwiches are the perfect solution. You can also use leftover chicken or diced deli turkey as a tasty alternative.
Increase Protein and Calcium with Greek Yogurt
Mayonnaise is high in fat and has a small serving size. By using non-fat Greek yogurt instead, you'll not only cut down on calories but also increase protein and calcium. Greek yogurt adds a nutritious dairy component to your meal, supporting healthy bones and muscles.
Lighter and Healthier Alternative to Mayo
The high protein curry yogurt sauce used in this turkey salad is not only more nutrient-dense but also lower in fat and calories compared to mayo. It's a fantastic option if you're aiming for weight maintenance or weight loss after the holiday season.
Customizable to Suit Your Taste
Don't like pears? No problem! Customize your turkey salad by swapping them out for apples or grapes. You can even substitute dried cherries with cranberries for a delightful twist.
Ingredients for Turkey Salad with Curry Yogurt Sauce
This turkey salad recipe is simple and doesn't require many ingredients. Here's what you'll need:
Shredded or chopped leftover turkey breast (rotisserie chicken works too)
Chopped pears (seeds removed, no need to peel)
Sweet dried cherries, halved (look for ones with no added sugar)
Chopped pistachio nuts
Non-fat plain Greek yogurt (regular yogurt works too, but the curry yogurt sauce will be lower in protein)
Fresh squeezed orange juice
Orange zest
Curry powder (store-bought or homemade blend)
Black pepper and salt to taste
Bread Options for Turkey Salad Without Mayo
There are various options for serving your turkey salad. You can use bread slices (toasted if desired), butterhead lettuce leaves (as a sandwich trimming or as a lettuce cup), and fresh tomato slices. If you want to offer more variety, set up a sandwich bar where your family members can choose their preferred option.
How to Make Turkey Salad Without Mayo
Here's how to prepare this delightful turkey salad:
Chop or shred the cooked turkey, pears, and dried cherries.
Juice and zest an orange.
Combine the turkey, pears, cherries, pistachios, yogurt, curry powder, salt, pepper, orange juice, and zest in a large bowl. Mix well, ensuring all the ingredients are thoroughly combined.
Serve your turkey salad in lettuce wraps or on your favorite bread. Add a butterhead lettuce leaf, a tomato slice, and a generous scoop of the no-mayo turkey salad. Alternatively, place a small serving of the salad in the middle of a clean lettuce leaf, creating a lovely lettuce cup.
How to Make Curry Yogurt Sauce
To make the delicious curry yogurt sauce, simply stir together the yogurt, curry powder, black pepper, orange juice, and orange zest. If the sauce is too thick, you can thin it with a little more orange juice, milk, or water. Use the sauce to add flavor to fish, vegetables, chicken, or drizzle it over a salad of leafy greens.
Expert Tips from a Dietitian
This recipe is suitable for individuals looking to support fat loss. It's a low-fat and high-protein option that can help you maintain a calorie deficit. By serving the turkey salad in lettuce wraps instead of bread, you'll significantly reduce the calorie intake. Three butterhead lettuce leaves provide a mere six calories, saving you 474 calories per meal compared to using bread.
While you can eat whatever you like while losing weight, making nutrient-dense food choices that leave you feeling satisfied can help you maintain a calorie deficit without relying solely on willpower. Most breads are not the best choices for satiety, as they tend to be low in protein, fiber, and water. Additionally, ultra-processed grain products often have inaccurate serving sizes and can contribute to unintended calorie intake.
However, if you're looking for a high-calorie turkey salad recipe without mayo, you can increase the energy density by using whole milk yogurt instead of non-fat Greek yogurt. Serve the salad on bread, add more dried cherries and pistachios, and enjoy the rich flavors.
Discover More High Protein Recipes
If you're looking to increase your protein intake, there are many other delicious recipes to explore. In addition to this turkey salad without mayo, consider trying these:
Easy Stir Fry Vegetables Recipe with Chicken
Chick Fil A Superfood Salad Copycat Recipe
Keto Crustless Quiche: High Protein Frittata
Shrimp Chowder (New England Style)
Proats Recipe: Egg White Oatmeal
Frequently Asked Questions
How long does turkey salad last in the fridge?
Like most leftovers, your turkey salad should last for 3-4 days in the fridge. Keep in mind that the pears may brown, and the salad may not look as fresh as when first made. If any liquid separates from the turkey salad, simply stir it back in before making wraps or sandwiches.
Can you freeze turkey salad?
While some turkey salad recipes freeze well, it's not recommended for this particular recipe. Freezing the curry yogurt sauce can cause it to become watery when thawed, and the texture of the pears may change. Instead, consider making only the amount of turkey salad you'll consume in 3-4 days. Any remaining cooked turkey can be frozen separately.
How many calories are in a turkey salad sandwich?
The calorie content of a turkey salad sandwich will vary based on the ingredients used. Three lettuce wraps without bread provide approximately 337 calories, while three sandwiches with bread total around 811 calories. By using non-fat Greek yogurt instead of mayo, you cut down on calories and enjoy a healthier alternative.
What are some other ways to make turkey salad without mayo?
Seasoned Greek yogurt is used in this recipe, but there are numerous other options for making mayo-free turkey salad, including dairy-free alternatives. Here are a few ideas:
Guacamole or mashed avocado
Thinned hummus
Blended and seasoned silken tofu
Herbed white bean spread, thinned if necessary
Red bell pepper spread
Peanut sauce
Vinaigrette dressing with olive oil, lime juice or lemon juice, and Dijon mustard
Conclusion
This turkey salad without mayo is a fantastic way to repurpose your holiday leftovers. With the high protein curry yogurt sauce, you'll enjoy a flavorful and healthy twist. Whether you serve it in lettuce cups or as a sandwich, this turkey salad is a crowd-pleaser. Don't forget to explore other delicious turkey recipes and subscribe to our Weekly Newsletter for more culinary inspiration. Happy cooking!
This article was written for Hook'd Up Bar and Grill.