Are you looking for a simple and flavorful meal to satisfy your taste buds? Look no further than our Crockpot Teriyaki Pork Chops recipe. With the combination of teriyaki sauce and minced garlic, these pork chops are guaranteed to be a hit. Plus, the best part is that you can let your slow cooker do all the work while you go about your busy day.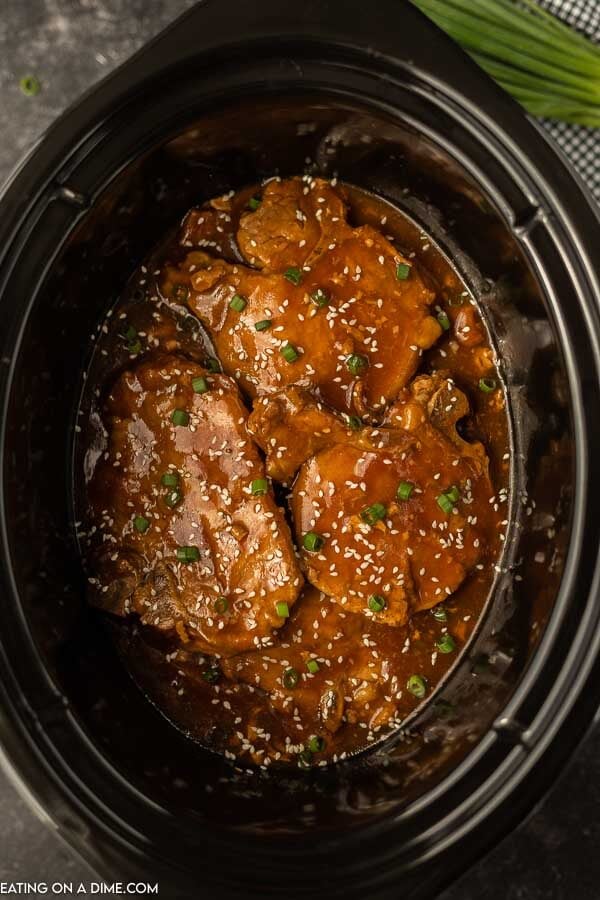 Crockpot Teriyaki Pork Chops: A Meal Made Easy
Coming home to a ready-to-eat dinner is always a joy. That's why we love meals that can be made in the crockpot, just like our tender and delicious teriyaki pork chops. The marriage of teriyaki sauce and garlic, slow-cooked on top of the meat, creates a burst of irresistible flavors.
Preparing Crockpot Teriyaki Pork Chops is a breeze. In my house, where chicken dishes are a staple, the mere mention of this meal being cooked in the crockpot instantly fills everyone with excitement.
What makes this recipe even more appealing is that it requires only a few ingredients, all of which go straight into the crockpot. This simplicity makes it the perfect choice for a busy evening. Slow cooker recipes truly are the best. If you enjoy this recipe, you might also want to try our Grilled Teriyaki Pork Chops.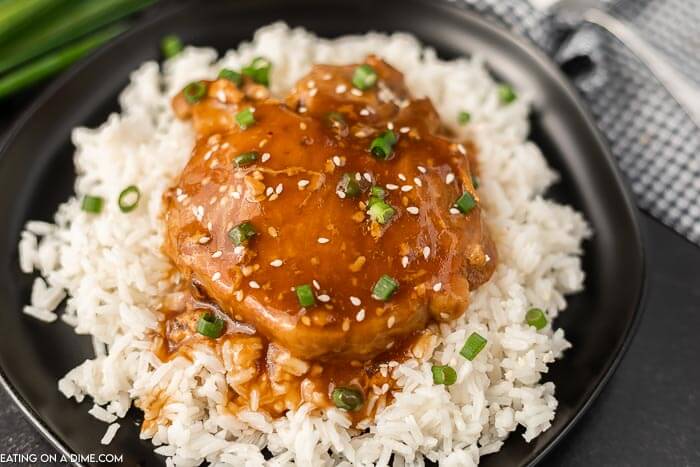 Teriyaki Sauce: The Perfect Addition
When you cook these pork chops in a teriyaki marinade, you unlock a realm of tenderness and flavor that will leave you craving more. We recommend using bone-in pork chops, as the bone imparts an extra layer of deliciousness. Trust us, you won't want to waste a single drop of that fantastic sauce. If you're a fan of pork, be sure to check out all our Crock Pot Pork Recipes.
Ingredients for Teriyaki Pork Chops
To make these mouthwatering Crockpot Teriyaki Pork Chops, you'll need:
Pork Chops
Teriyaki Sauce
Minced Garlic
Cornstarch
How to Make Crockpot Teriyaki Pork Chops
Making this recipe couldn't be simpler. Just follow these steps:
Place the meat in the crockpot, whether it's frozen or thawed.
Season the pork chops with minced garlic, then pour the teriyaki sauce over the top.
Cook the pork chops on high for 5-6 hours, or on low for 2.5-3 hours, ensuring the internal temperature reaches 145 degrees Fahrenheit.
Next, mix cornstarch with cold water in a small bowl until combined. Stir this mixture into the crockpot, cover, and cook on high for an additional 15 minutes to thicken the sauce.
Serve the teriyaki pork chops over white rice, and savor every delectable bite.
Variations to Elevate Your Teriyaki Pork Chops
If you want to experiment with different flavors, here are some ideas to consider:
Add in some Pineapple: Enhance the recipe by adding pineapple slices. The combination of teriyaki sauce and pineapple is a match made in food heaven. Sprinkle a little brown sugar on top for an extra touch of sweetness.
Marinate the Meat: For even more flavor, marinate the meat for about 30 minutes before placing it in the slow cooker. Then, let the marinated pork chops work their magic in the crockpot.
Change the Protein: If you prefer chicken, teriyaki chicken is a fantastic alternative. The chicken breast becomes just as flavorful and tender.
Use BBQ Sauce: Switch things up by substituting teriyaki sauce with BBQ sauce. This will give your pork chops a sweet and spicy twist.
Cream of Soups: Try using cream of chicken or mushroom soups instead of teriyaki sauce. The resulting creamy texture adds a whole new dimension to the dish. If you need more liquid, simply pour in some chicken broth.
Add in Soy Sauce: If you're a fan of Asian flavors, add a splash of soy sauce to your teriyaki sauce. This will take your pork chops to a whole new level of deliciousness.
Perfect Sides to Complement Teriyaki Pork Chops
Wondering what to serve alongside your Teriyaki Pork Chops? Here are a few suggestions:
Rice: Serve the pork chops over white rice for a satisfying and complete meal. Did you know you can freeze rice? Having some on hand makes it easy to whip up a delicious and quick side dish.
Vegetables: Steamed or roasted broccoli, or cooked carrots, make excellent vegetable accompaniments. They provide a nutritious and flavorful balance to the dish.
Mashed Potatoes: For those who love mashed potatoes, this is the perfect opportunity to indulge. The teriyaki sauce poured over the potatoes adds a delightful twist to this classic side dish.
Tips for the Best Teriyaki Pork Chops
To ensure your Teriyaki Pork Chops turn out perfectly every time, keep these tips in mind:
Use thicker Bone-in Pork Chops: Bone-in pork chops yield incredibly tender and juicy meat. The bone acts as an insulator, sealing in the flavorful juices.
Boneless Pork Chops: If you opt for boneless chops, choose thicker cuts to prevent them from drying out during the cooking process.
Storing Leftovers Made Easy
This recipe is excellent for meal prepping and saving leftovers. We recommend placing the meal in individual, airtight, microwave-safe containers. This way, you can conveniently enjoy the leftovers for lunch the next day, saving time and money. When you're ready to reheat, microwave the container in 1-minute intervals until it's heated through.
For more exciting and delicious Crock Pot Pork Chops recipes, be sure to check out:
Easy Crock Pot BBQ Pork Chops Recipe
Crock Pot Honey Garlic Pork Chops Recipe
Slow Cooker Smothered Pork Chops Recipe
Crock Pot BBQ Pulled Pork Recipe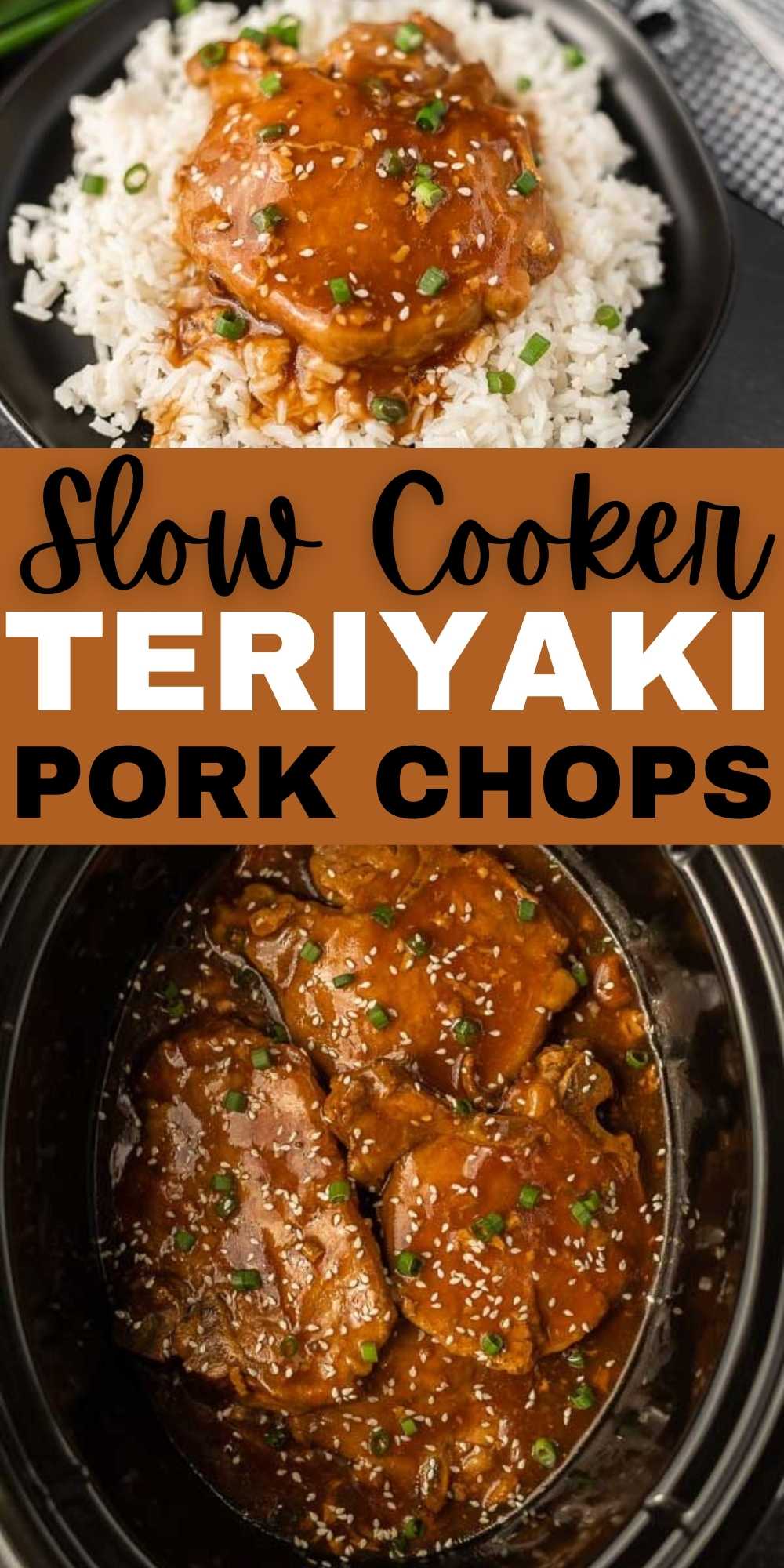 Now that your taste buds are tingling, why not prepare this irresistible Crockpot Teriyaki Pork Chops recipe for your next meal? Head over to Hook'd Up Bar and Grill for more mouthwatering dishes to satisfy your cravings. Enjoy cooking!