This delicious recipe for Baked Pork Chops and Stuffing has been a long-standing favorite in our family. Tender pork chops smothered in a flavorful stuffing and savory gravy make for an unforgettable meal. If you're looking to add more pork recipes to your repertoire, be sure to try our grilled pork chops or mouth-watering pork loin recipe.
A Timeless Classic
Many years ago, my dad called me with a special request. He wanted me to share the recipe for Baked Pork Chops and Stuffing on our blog. This recipe had been passed down from one of my mom's closest friends and had become a beloved favorite in our family. Dad believed that others should have the chance to enjoy this delightful dish as well. I couldn't agree more and was excited to fulfill his recipe request.
An Enduring Friendship
The origins of this recipe trace back to the 70s when my mom first tasted it at her friend Candy's house. They had been friends since grade school and high school and remain close to this day. Back then, my mom had to take a bus to visit Candy, as the convenience of cars was not as prevalent as it is now. Times have certainly changed, but the fond memories of this dish remain.
Ingredients that Make Magic
This recipe requires a few simple ingredients that come together to create a symphony of flavors. You'll need bone-in pork chops, kosher salt, black pepper, canola oil, bread cubes, onions, water, butter, dried sage, cream of mushroom soup, and soy sauce. Though it may seem unassuming, the addition of cream of mushroom soup is what makes this dish absolutely divine.
How to Create Perfection
Making this baked pork chops and stuffing recipe is a breeze. The pork chops bake to perfection, achieving a fork-tender texture that melts in your mouth. Follow these simple steps:
Preheat your oven.
Season the pork chops with a light sprinkle of salt and pepper.
Brown the pork chops in oil, making sure not to cook them completely.
Transfer the browned pork chops to an oven-safe baking pan or cast iron skillet.
Prepare the stuffing by folding together bread crumbs, onions, butter, water, and sage.
Generously mound the stuffing on top of each pork chop.
In another bowl, combine cream of mushroom soup, water, and soy sauce to create the savory gravy.
Pour the gravy evenly over each mound of stuffing.
Season with freshly ground black pepper and bake for 1-1/2 to 2 hours until the pork chops reach fork-tenderness.
Prepare in Advance
This recipe is perfect for entertaining as it can be prepared ahead of time. You can make it a few hours in advance or even the night before. Follow the steps in the recipe card, but refrain from baking the pork chops. Instead, cover the dish and refrigerate it. When you're ready to cook, remove the dish from the fridge and let it warm up while the oven preheats. Adjust the baking time accordingly since the dish was chilled.
Perfectly Cooked Pork Chops
To ensure your pork chops are done, use an instant-read thermometer to check their internal temperature. They should reach 145°F, at which point you can let them rest for 3 minutes before serving.
Delicious Accompaniments
Stuffed pork chops pair great with simple baked potatoes or fresh green vegetables. For an added touch of comfort food, try serving them with homemade cheesy garlic bread. If you're in the mood for a salad, a grilled Romaine salad with Homemade Buttermilk Ranch Dressing or a vibrant Italian Chopped Salad are excellent choices.
A Family Favorite
My family absolutely adores this dish, and I hope yours will too. If you enjoy it as much as we do, don't forget to come back and thank my dad for the recommendation!
Like this pork chops recipe? Save it to Pinterest!
Here are a few more comforting dishes you might like:
Extra Peppery Chicken Meatball Stroganoff
Cheesy Baked Gnocchi with Tomatoes and Sausage
Slow Cooker Beef and Sweet Potato Soup
Ramen Noodles with Marinated Steak and Broccoli from Foodie Crush
Turkey Pesto Onion Cheese Poppyseed Sliders from Reluctant Entertainer
Indian Butter Chicken from RecipeGirl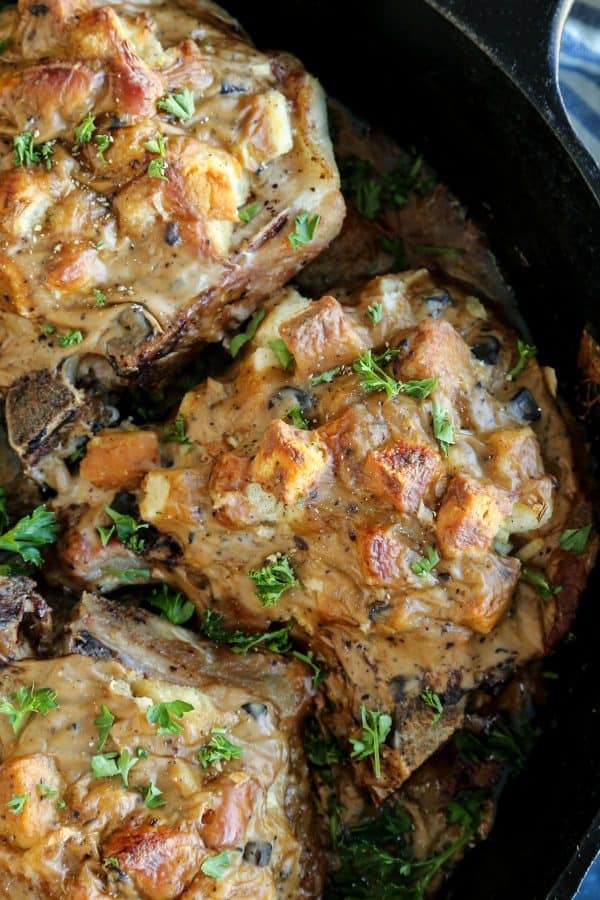 This post was previously published in November 2012. Photographs and some of the text were updated in February 2018.