Are you interested in learning how to smoke salmon on a pellet grill? This method will give your salmon a deliciously smokey-sweet flavor. Whether you enjoy it as a protein-packed snack or incorporate it into dips, spreads, chowders, or save it for later, smoked salmon is a versatile treat that is simple to prepare. Join us at Hook'd Up Bar and Grill as we guide you through the process of smoking salmon on your favorite pellet grill.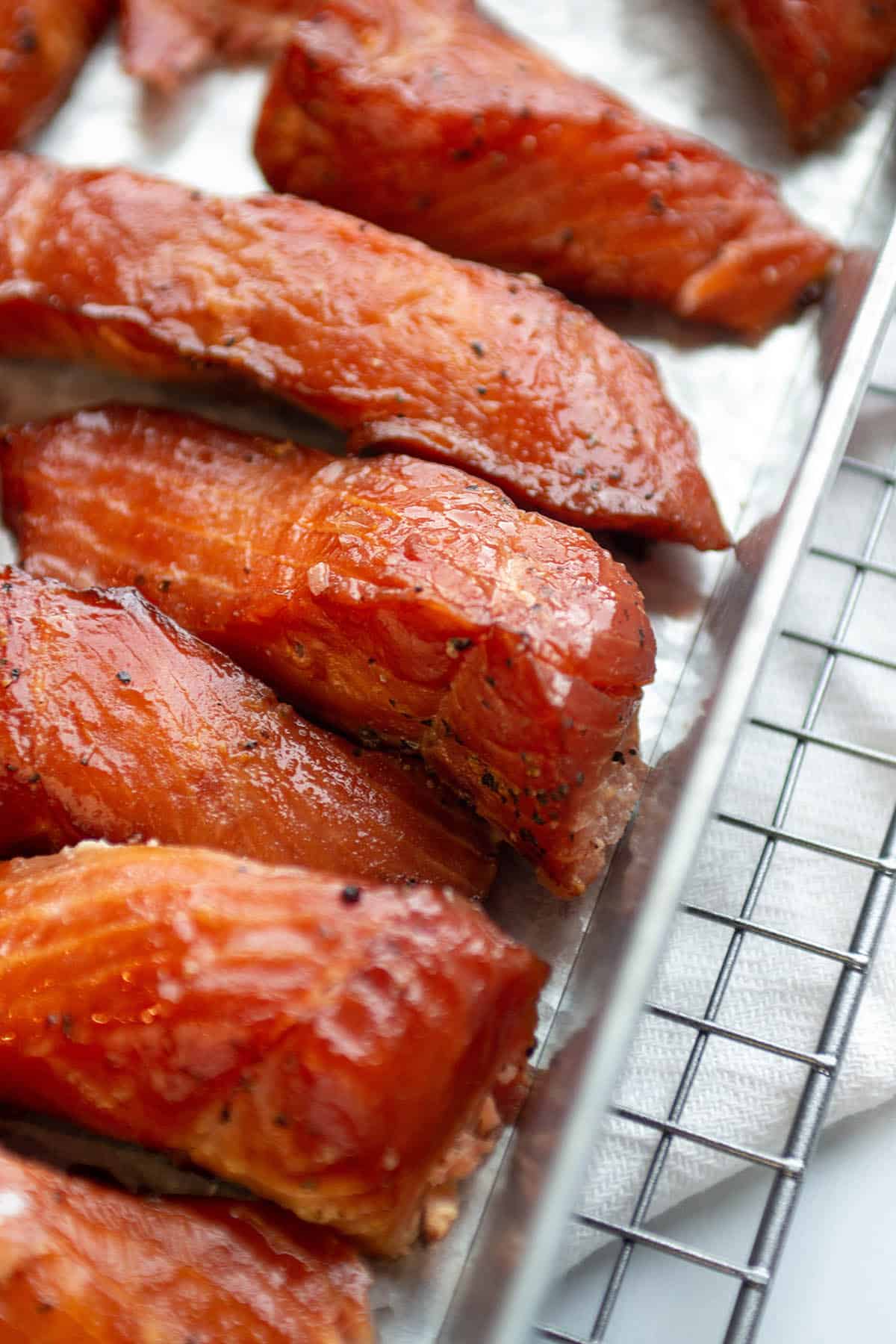 Why We Love Seafood
Living in a location with year-round access to seafood has its perks, especially when you have a household of seafood enthusiasts like ours. We take pride in catching and processing our own seafood, including fresh Dungeness crab, razor clams, and, of course, salmon. Salmon is one of our favorite fish to catch for several reasons: it's fresh, freezes well for year-round enjoyment, and makes a delicious smoked salmon. Our go-to method for smoking salmon is using a hot-smoked technique on a pellet grill.
Smoking salmon is surprisingly easy and requires just a few simple steps to achieve perfection. If you're eager to make flavorful, moist smoked salmon, keep reading!
Best Salmon for Smoking
When it comes to smoking salmon, all types of salmon can be used. However, for optimal results, we recommend not smoking higher-quality varieties like king salmon, coho, or sockeye. Save those for other recipes, such as our garlic and herb butter salmon or baked pesto salmon. Instead, opt for a pink salmon (humpies) or chum, which have less intense flavor and are elevated through the smoking process. While all salmon types are great options, these are our preferred choices.
Best Pellet Grill for Smoking Salmon
While you can use any pellet grill you have at home, our preferred choice is a Traeger pellet grill. Traeger pellet grills are incredibly user-friendly and consistently produce perfectly cooked salmon. Our 34″ Traeger can accommodate up to 6 pounds of salmon with room to spare! In fact, we even use it to cook our Thanksgiving turkey every year. Get our Traeger Turkey recipe here.
For this recipe, we recommend a wet brine and slow smoking at 180 degrees Fahrenheit. The cooking time will vary depending on the thickness of your salmon, ranging from 3-5 hours. If you have an electric smoker, the process will be similar, but cooking times may differ.
Hot Smoked vs. Cold Smoked Salmon
This recipe focuses on hot smoked salmon. Wondering what the difference is between hot and cold smoked salmon?
Hot Smoked Salmon:
Cooked at temperatures of 180 degrees Fahrenheit and above
Fully cooked and flaky, making it ideal for soups and dips
Offers a strong, smoky flavor
Cold Smoked Salmon:
Cooked at 90 degrees Fahrenheit
Slightly undercooked and thinly sliced, often used as a garnish on crackers or vegetables
Provides a milder flavor with less smokiness, but it can be slightly saltier
Tips for Smoking Salmon
To ensure a successful smoking session, here are some useful tips:
Smoke a few pounds of salmon at a time. Smoking just a pound may not be worth the effort. If you don't have enough fish for a substantial batch, you can freeze the salmon until you have enough.
Remove the pin bones before smoking to avoid picking them out later. You can use tweezers or cut out the section of pin bones for a quicker process, although some meat may be lost.
Smoke at a low temperature, ideally between 180-225 degrees Fahrenheit. Smoking at higher temperatures risks overcooking and drying out the fish.
Brush the grill grates with oil or cooking spray before placing the salmon on them.
Let the fish sit on a wire cooling rack in the refrigerator for at least 12 hours after brining. This step is crucial as it creates a layer or coating on the fish that helps retain moisture.
Avoid overcrowding the salmon on the grill to ensure the smoke can freely circulate around the fish.
The salmon is cooked when the internal temperature reaches 145 degrees Fahrenheit. However, for a better consistency, aim for a temperature between 165-170 degrees Fahrenheit to avoid dryness.
Baste the salmon with maple syrup a few times during the smoking process. This tip, inspired by Hunt Gather Cook, adds a delightful touch of sweetness to the salmon. Remember to use pure maple syrup, as imitation won't produce the same results.
Ingredients
For smoking salmon, you can choose between a wet brine or a dry rub. While both methods are effective, we prefer a wet brine for its flavor-enhancing qualities. Here are the simple ingredients you'll need:
Salmon Filets
Cold Water
Brown Sugar
Kosher Salt
Black Pepper
Garlic Powder
Pure Maple Syrup (for basting)
For precise measurements, refer to the recipe card below.
How to Smoke Salmon
To prepare your salmon for smoking, start by removing all pin bones using tweezers or cutting them out. This step ensures a bone-free eating experience or hassle-free dip preparation. Next, cut the fillet into sections measuring 1.5″ to 2″.
Storage
Smoked salmon can be stored in an airtight container in the refrigerator for up to a week. If you're wondering whether smoked salmon can be frozen, the answer is yes! It freezes remarkably well. Once the salmon has completely cooled, vacuum seal it and store it in the freezer for up to a year.
Variations
If you'd like to switch up the flavor profile of your smoked salmon, here are a couple of variations to consider:
Dry Brine: Instead of a wet brine, you can use a dry brine or rub.
Honey: Substitute honey for maple syrup when basting the salmon.
Equipment
Here are the key tools you'll need for smoking salmon:
Traeger Pellet Grill: A 34″ Traeger pellet grill is our top recommendation, offering ample space to smoke up to 6 pounds of salmon.
Glass Bowls or a 9″x13″ Baking Dish: These containers are suitable for the brining process. Be sure to use glass.
Wire Cooling Rack: Essential for drying and cooling the salmon.
Basting Brush: Used to spread the maple syrup onto the salmon.
Pin Bone Tweezers: Make pin bone removal a breeze.
Instant Read Thermometer: For precise temperature readings, we recommend using a Thermapen or similar thermometer.
Did you enjoy this recipe? If you loved it or any other recipes on Hook'd Up Bar and Grill, please leave a 5-star rating in the recipe card below. Don't forget to leave a comment sharing your experience – we love hearing from you!
Let's Connect! Follow us on Instagram, Pinterest, or subscribe to receive emails.
Other Seafood Recipes
For more delicious seafood recipes, check out our selection at Hook'd Up Bar and Grill.
📋Recipe