Love sushi but don't want the hassle of making it? Look no further than this delicious smoked salmon sushi bowl recipe! You'll get all the flavors and textures of a California roll sushi in a quick and easy way. This homemade sushi bowl is perfect for those on a special diet, as it is keto, low carb, low calorie, gluten-free, and Paleo-friendly!
Sushi in a Bowl: The Perfect Solution
If you're craving sushi but don't want to deal with the difficulties of using a sushi mat, this deconstructed sushi salad is the answer. No need to worry about getting your sushi rolls perfectly thick or having them fall apart when you slice them. With this recipe, all you have to do is microwave the cauliflower rice and assemble everything in a bowl. It's a great option for beginners in the kitchen!
Endless Possibilities
Not a fan of salmon? No problem! You can easily substitute it with shrimp, tuna, crab, or your preferred type of sashimi. If you're looking for a different flavor, try making a California roll bowl using crab stick (AKA surimi or imitation crab meat). Just make sure to check the nutrition label to ensure it aligns with your keto diet.
Tasty and Healthy
While you can use sushi rice or brown rice, the seasoned cauliflower rice in this recipe is so flavorful that you won't even miss the real thing! These low carb sushi bowls are a delicious way to incorporate more veggies into your diet. Plus, they offer numerous health benefits:
Healthy salmon sushi bowl: Packed with seafood and vegetables, this dish is a great source of heart-healthy fats (omega-3s) from the fish and iodine from the seaweed.
Easy sushi bowl: No need for a stovetop or oven to cook rice! With this recipe, all you have to do is assemble the ingredients in a bowl.
Low-calorie sushi bowl: By using cauliflower rice instead of regular rice, you're saving over 100 calories per serving. Furthermore, using a calorie-free sweetener like Swerve instead of white sugar further reduces the calorie count.
Helps you eat your vegetables: Most people don't meet the recommended vegetable intake. These sushi bowls provide a tasty way to increase your veggie consumption.
Suitable for special diets: Whether you're following a low carb, keto, pescatarian, gluten-free, or Paleo diet, this healthy sushi bowl recipe has you covered. For vegans and vegetarians, there's even a tip in the FAQ section to make this recipe 100% plant-based.
Saves money: Eating sushi at restaurants can be expensive. Making your own sushi bowls allows you to get more sushi for your money.
Delicious: You can customize your sushi bowls with your favorite fillings. Whether you mix them up or create neat rows, these DIY sushi bowls are a delicious dinner option.
Ingredients for Perfect Smoked Salmon Sushi Bowls
To create the ultimate salmon sushi bowls, you'll need the following ingredients:
Smoked salmon (hot smoked or cold smoked)
Avocado
English cucumber (seedless cucumber)
Shredded carrot
Nori seaweed
Toasted sesame seeds
Frozen cauliflower rice
Unseasoned rice vinegar
Swerve (granular)
Fresh garlic (minced)
Grated ginger
Sea salt
Soy sauce and wasabi (optional, for serving)
Note that the ingredients in smoked salmon may vary, so it's essential to check the food label to ensure no unwanted additives like sugars or oils are included. For those on a keto or low carb diet, make sure to use unseasoned rice vinegar to avoid added sugars. Additionally, fresh ginger is recommended instead of pickled ginger due to its added sugar content. Feel free to add other toppings to your sushi bowls, such as shiitake mushrooms, shredded cabbage, sliced radish, or spicy mayo.
Easy-to-Find Equipment
Luckily, you won't need any specialized kitchen equipment to make these smoked salmon sushi bowls. A good knife, small grater, and microwave-safe bowls are all you need, and chances are you already have them in your kitchen.
How to Make Your Smoked Salmon Sushi Bowls
Now, let's dive into the step-by-step process of creating these delectable sushi bowls:
Begin by microwaving the frozen riced cauliflower according to the package instructions. If needed, drain the cauliflower after cooking.
Allow the cauliflower to cool to room temperature. Sushi is best enjoyed neither warm nor overly cold.
Grate the ginger root and finely chop the garlic. In a microwave-safe bowl, combine the rice vinegar, Swerve, garlic, ginger, and salt. Microwave the mixture for 40 seconds on high to dissolve the Swerve.
Pour the vinegar mixture over the cooked cauliflower rice, stir, and let it cool.
While the cauliflower rice is cooling, prepare the salmon and veggies. Chop the smoked salmon into bite-sized pieces, dice the avocado into ½-inch cubes, quarter the cucumber and slice it into ½-inch pieces, and grate the carrot if it's not already shredded.
Divide the cauliflower rice among three bowls. Top each bowl with the chopped cucumber, salmon, avocado, carrot, crumbled nori, and sesame seeds. Feel free to mix the ingredients or create neat rows.
Serve your sushi bowls with soy sauce and wasabi if you'd like an extra spicy kick. Enjoy!
Make It Ahead of Time
You can prepare the seasoned cauliflower rice up to two days in advance and store it in a covered bowl in the refrigerator. However, avoid cutting the avocado until shortly before serving to prevent it from browning.
Nutritional Information
Here's some helpful nutritional information for this smoked salmon sushi bowl recipe: Each serving contains approximately 284 calories, 10.8 grams of net carbs, and 19.2 grams of protein. In comparison, store-bought Genji California rolls contain about 380 calories, 68 grams of net carbs, and 10 grams of protein per serving. By making your own sushi bowls, you'll save over 100 calories, reduce net carbs by over 50 grams, and increase protein by about 9 grams.
Expert Tips from a Dietitian
This recipe is considered level 1 (may support fat loss) and is an excellent example of a keto-friendly meal that can help you achieve your weight loss goals. These sushi bowls provide a high volume of veggies and protein for under 300 calories per serving. If you practice intermittent fasting, consider adding sides to make it a more substantial meal.
For growing children, teens, and active adults, I recommend using rice instead of cauliflower to increase the carb and calorie content. But what if you're on a keto diet and don't want to prepare separate meals for your family? Don't worry! You can make the meal with cauliflower and serve it with a side of whole grain bread or crackers for non-keto family members.
While keto and low carb diets have received criticism for their potential impact on heart health, it ultimately depends on how you structure your diet. You can create a keto diet full of bacon, cheese, and hot dogs, or you can opt for a healthier version focused on fatty fish, veggies, berries, and lean protein. If your goal is weight loss and overall health, this easy sushi bowl recipe can help you achieve both.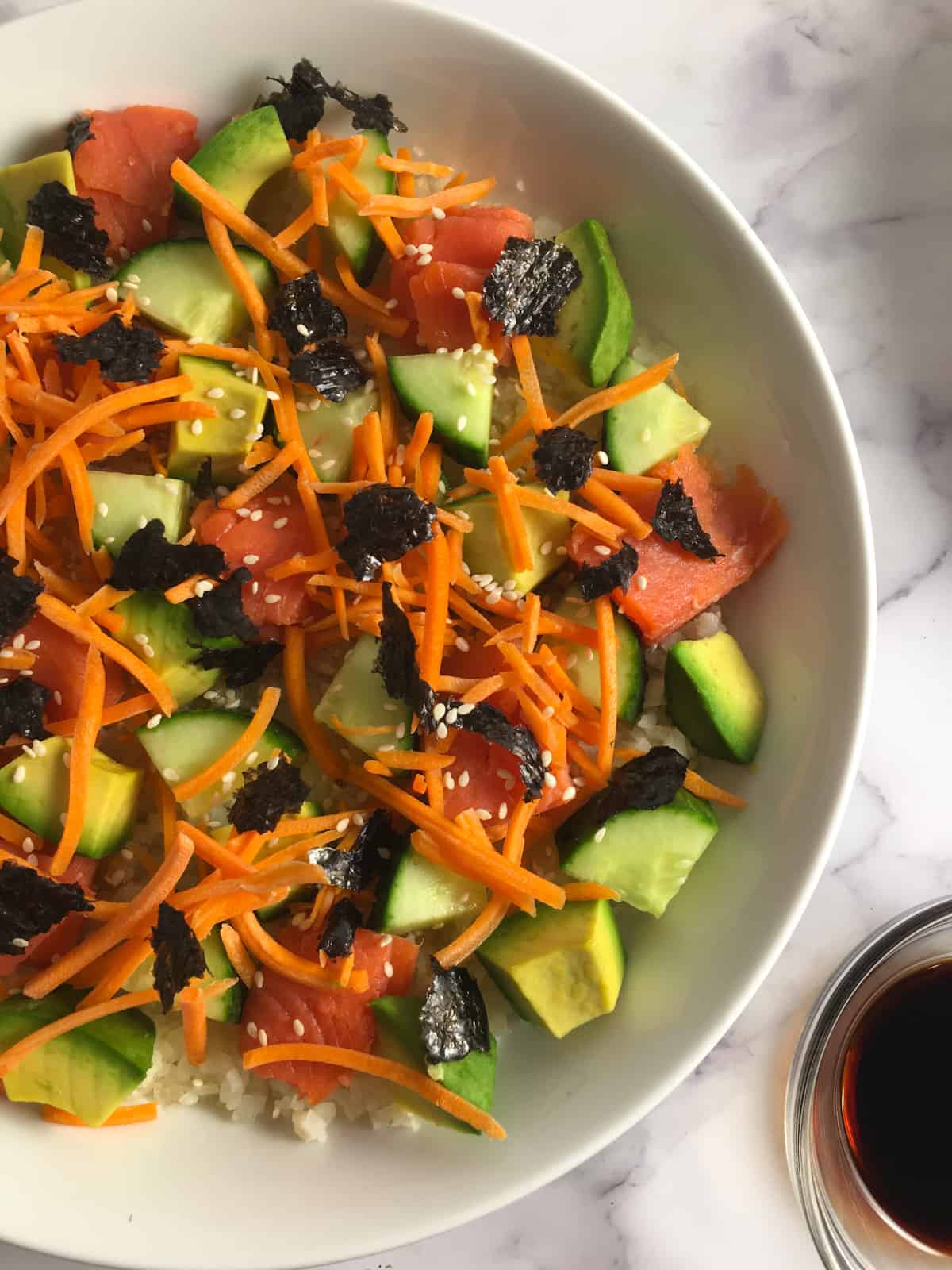 FAQs
More Asian Recipes to Try
If you're looking for more Asian-inspired recipes, check out these dishes:
Inside Out Egg Rolls
Instant Pot Stir Fry
Air Fryer Pot Stickers
Sugar-Free Teriyaki Sauce
Don't forget to browse through our collection of Keto Recipes as well. If you enjoy keto bowl meals, you'll love our Keto Unstuffed Cabbage Rolls.
Join Our Community!
Subscribe to our Weekly Newsletter to stay up-to-date with all the latest and greatest recipes! You can also follow us on Pinterest, Twitter, Instagram, and YouTube for more delicious content.
The Disclaimer…
All the recipes on this website may or may not be suitable for you, depending on your medical needs and personal preferences. If you need help determining the best dietary pattern for you, consult with a registered dietitian or your physician.
Keep in mind that the nutrition information provided is an estimate and can vary depending on the specific brands and ingredients used. Calorie information on food labels can also be inaccurate, so don't stress too much about the numbers.
For more information on how the three recipe levels can assist with your weight management goals, refer to my post on overnight oats without sugar. Now, let's get cooking!