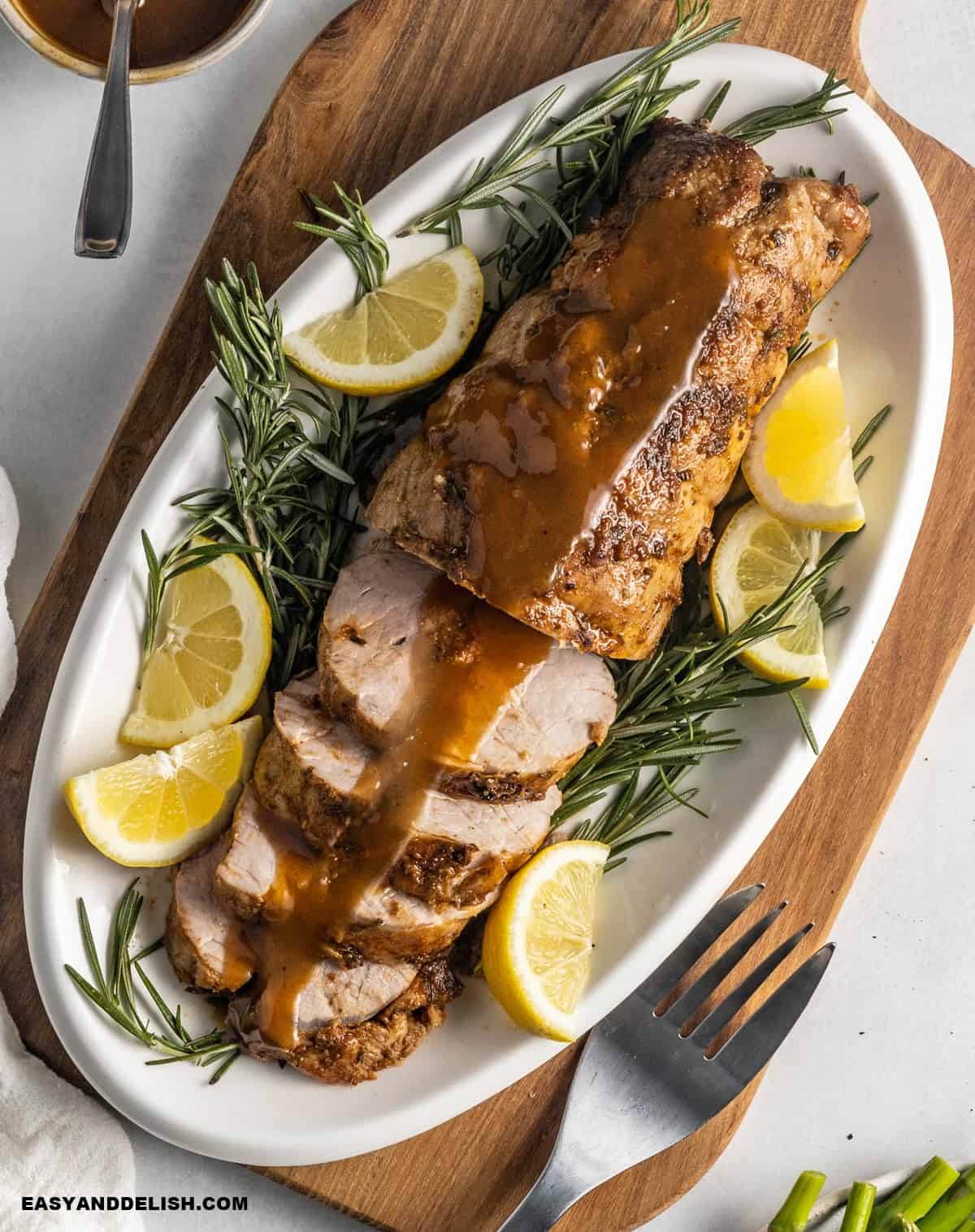 Let's prepare the best pork tenderloin ever… in the oven! This recipe will guide you on how to cook Smithfield pork tenderloin to perfection, resulting in a tender and juicy dish. The tenderloin is flavored with a delightful garlic-herb paste, roasted until crispy and golden brown in the oven, and served with a bright white wine sauce. It's a restaurant-quality dinner that is easy to make at home and perfect for any occasion.
Why You'll Fall in Love with This Pork Tenderloin Recipe
Irresistibly Succulent: This garlic pork tenderloin is roasted to golden-brown perfection, leaving you with a moist and juicy texture that is truly satisfying.
Exceptionally Versatile: Oven-baked pork tenderloin can easily adapt to suit your taste or the seasoning ingredients you have on hand. Get creative and customize it to your liking!
Elegantly Presentable: The beautiful presentation makes this pork tenderloin ideal for special occasions, while also being a great option for casual weeknight meals.
Healthy and Wholesome: This dish is low-carb, high-protein, gluten-free, and dairy-free, making it a nutritious choice for those watching their diet.
Pork Tenderloin Cooked to Perfection
Originating in the United States, Smithfield pork tenderloin has gained popularity due to its mouthwatering taste and superior quality. With its lean and tender texture, this cut of pork is perfect for roasting in the oven. Not to mention, it is a budget-friendly protein option that doesn't compromise on quality.
The garlic-herb paste enhances the natural flavors of the pork, while the white wine sauce adds a touch of brightness. Once roasted, the tenderloin turns out crispy and brown on the outside, while remaining incredibly tender and juicy on the inside. Cooking the tenderloin in the oven allows the flavors to fully develop and ensures even cooking throughout. Pair it with steamed asparagus and potatoes for a complete and impressive meal that will impress any crowd!
Ingredients and Substitutions
For the pork loin:
¼ cup vegetable oil – You can substitute vegetable oil with avocado oil or canola oil.
6 garlic cloves – If you're in a pinch, you can replace fresh garlic with minced garlic from a jar.
1 teaspoon Knorr chicken bouillon powder – Alternatively, you can use a cube of chicken bouillon.
1 teaspoon salt
½ teaspoon ground black pepper
¾ teaspoon smoked paprika – Feel free to experiment with hot, sweet, or regular paprika.
2 tsp fresh rosemary or 1 teaspoon dried – Other herbs like thyme or sage can also be used.
2 ½ pounds boneless pork tenderloin (Smithfield All Natural Fresh Pork Tenderloin – 2 count) – Make sure to remove any silver skin from the tenderloins.
Fresh rosemary sprigs to decorate – You can use whichever fresh herb you prefer.
Fresh lemon to decorate – Feel free to try other citrus fruits as well.
For the white wine sauce:
½ cup dry white wine – Choose options like pinot grigio, sauvignon blanc, or unoaked chardonnay.
½ cup chicken broth – You can use homemade or store-bought chicken broth, or even vegetable broth.
¼ tsp salt
¼ tsp white ground pepper
½ tablespoon cornstarch, whisked with 1-2 tablespoons water until smooth – Instead of cornstarch, you can use potato starch. For a keto option, use ½ tablespoon xanthan gum instead.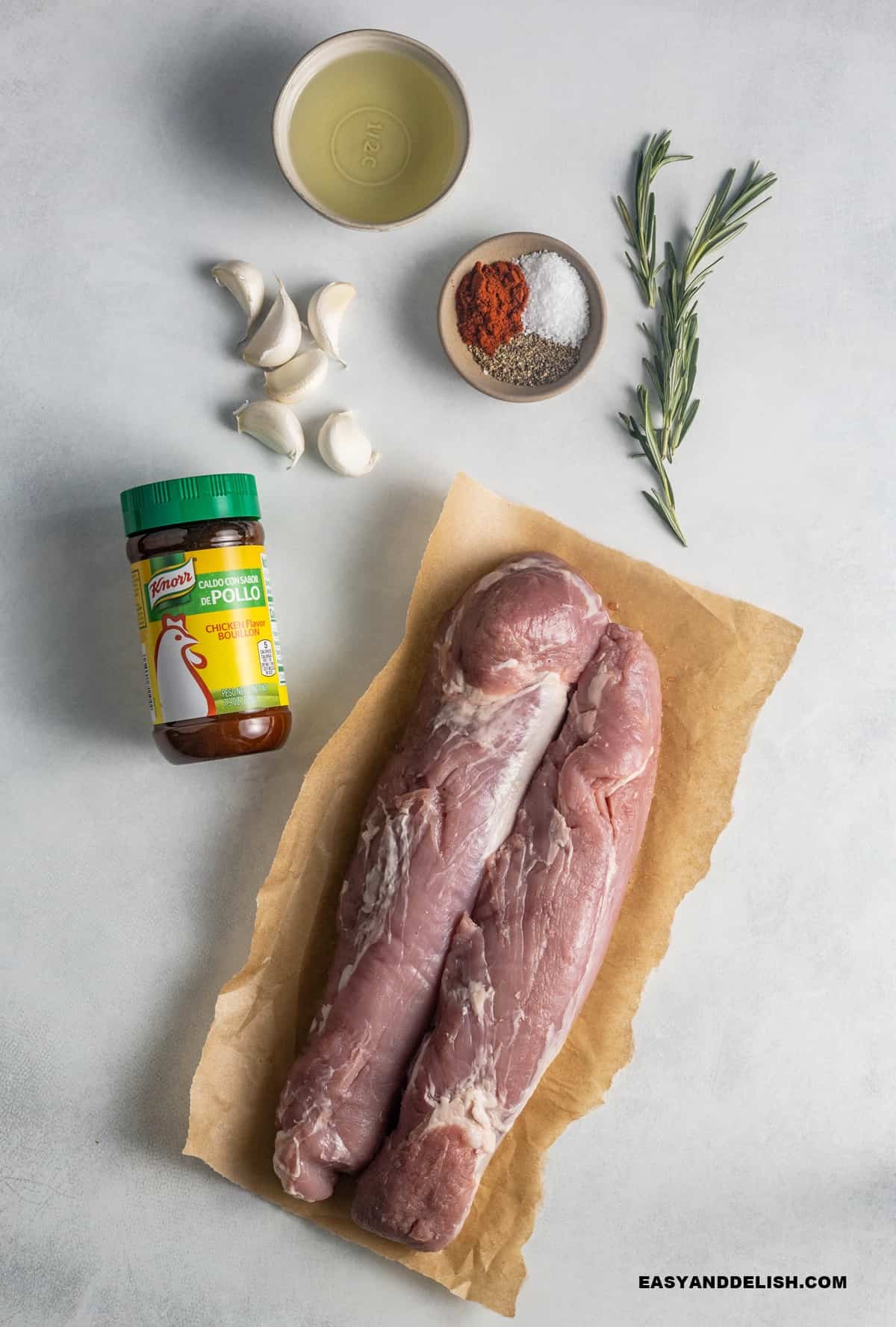 How to Cook Smithfield Pork Tenderloin in the Oven
Prepare the Smithfield pork tenderloin:
Take the pork out of the refrigerator about 15 minutes before roasting to allow it to come to room temperature.
Preheat the oven to 400°F (about 200°C) and position a rack in the middle.
Trim away and discard the silver skin from the tenderloins. Then, use a paring knife to score crisscross lines about ⅛-inch deep and ¼-inch apart on the flat side of each tenderloin. Make sure to pat dry each tenderloin with a paper towel.
Place the flat sides of the tenderloins together, head-to-tail (thick end to thin end), to ensure even cooking. Tie them together with butcher's string, spacing the ties 1 ½ inches apart.
In a blender or food processor, blend or process the oil, garlic, bouillon, salt, pepper, paprika, and rosemary until you have a paste.
Place the pork tenderloin, fat side up, on a rack set over a roasting pan. Spread the garlic paste all over the tenderloin.
Roast in the oven until a meat thermometer inserted into the thickest part of the tenderloin registers 145°F, which should take about 20-30 minutes, depending on the thickness of the tenderloin.
Once done, remove the pork from the oven, transfer it to a platter, and cut the strings. Keep it warm by tenting it with foil while preparing the wine sauce.
Let the roasted pork tenderloin rest for 5-10 minutes before slicing and serving.
For the wine sauce:
Pour the white wine into the roasting pan (rack removed) in which the tenderloin was cooked. Place the pan over medium heat and scrape up the browned bits from the bottom.
Add the chicken broth, salt, and pepper. Bring the mixture to a simmer and cook, stirring, until the liquid has reduced by half. Skim off any fat from the surface of the liquid.
Strain the sauce and transfer it to a clean saucepan. Whisk in the cornstarch mixture and cook over medium heat until the sauce has thickened.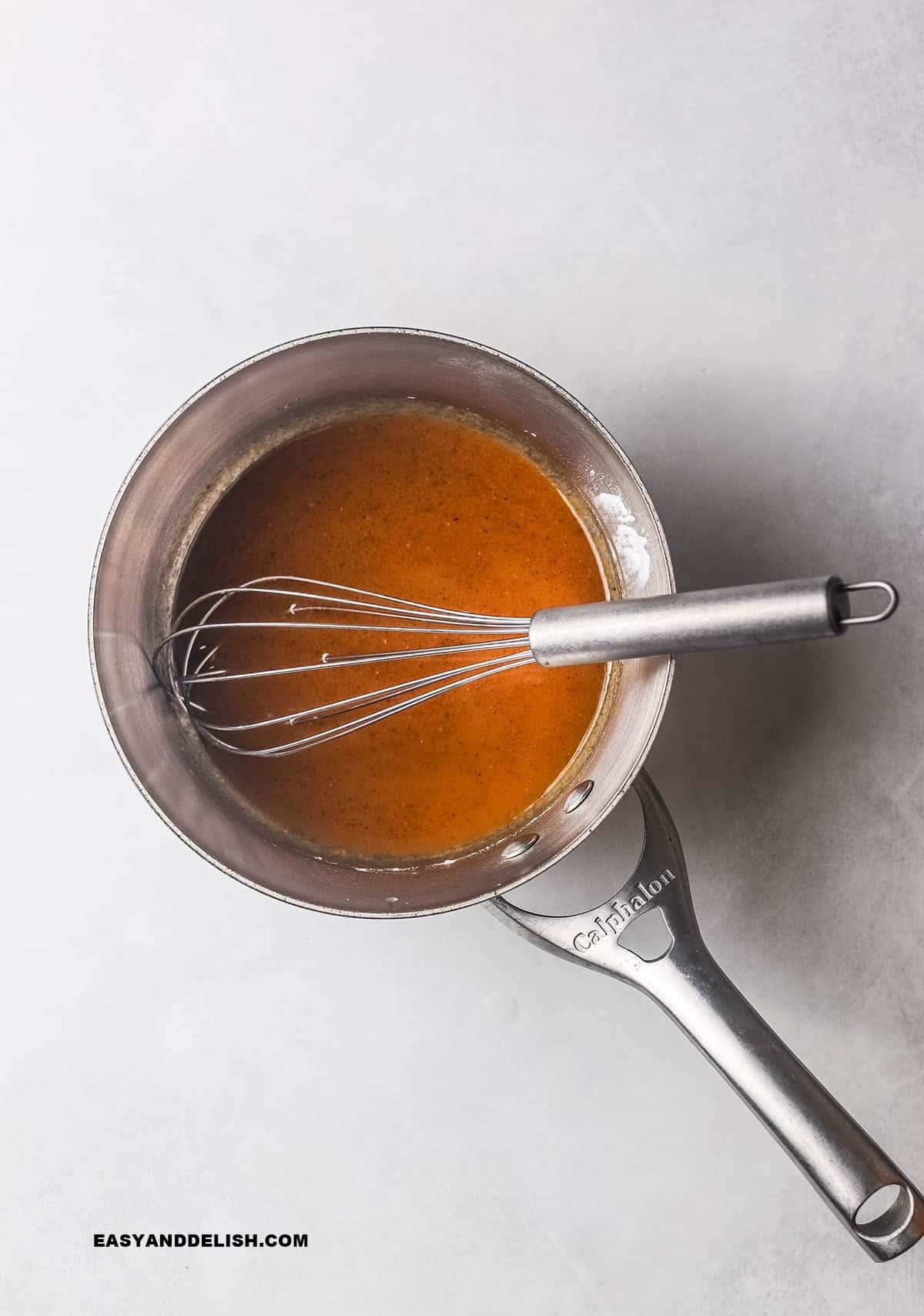 Serve the sauce hot in a side bowl alongside the sliced Smithfield pork tenderloin. Garnish the dish with chopped rosemary on top, as well as rosemary sprigs and sliced lemon on the side. For a light and flavorful side, steamed asparagus pairs perfectly with this roast!
Useful Tips for Making Roasted Pork Tenderloin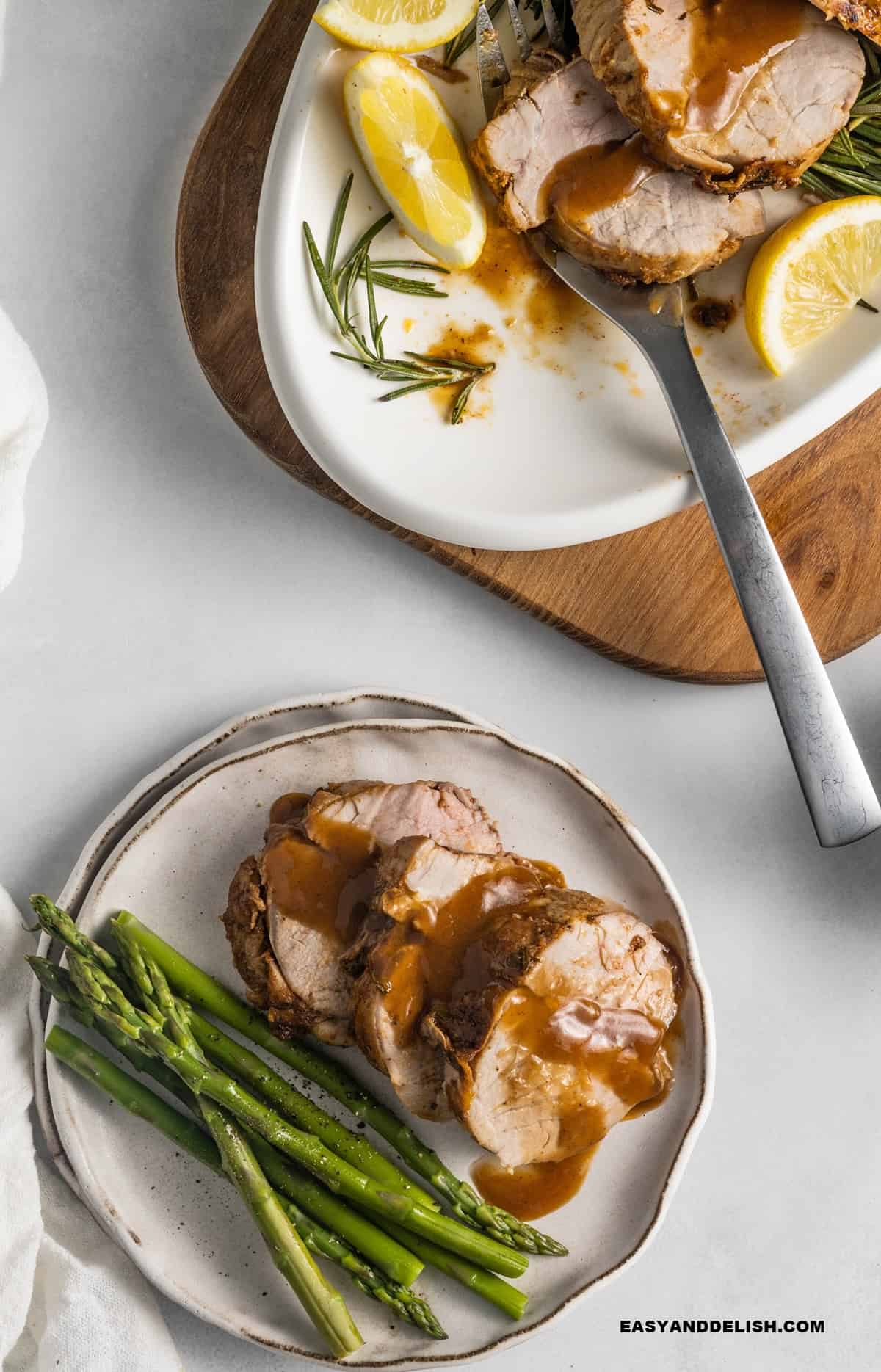 Room Temperature: Before roasting, allow the pork tenderloin to come to room temperature for more even cooking.
Trimming First: Remove the silver skin to achieve the most tender result.
Scoring the Pork: It's important to score the tenderloins to help them bind together and prevent them from falling apart when sliced.
Tie it Up: To ensure even cooking, tie the tenderloins together with butcher's string.
The Perfect Temperature: Use a meat thermometer to ensure the pork reaches an internal temperature of 145°F for perfect doneness.
Resting Time: Let the pork tenderloin rest for at least 5-10 minutes before slicing to allow the juices to redistribute.
Deglaze for Flavor: Deglazing the roasting pan with white wine creates a flavorful base for the sauce.
Strain for Smoothness: Strain the wine sauce and thicken it with a cornstarch slurry for a silky-smooth texture.
Garnish with Style: For an aromatic and elegant presentation, garnish your roasted pork tenderloin with fresh rosemary sprigs and slices of lemon.
What to Serve with Roasted Pork Tenderloin
Once your Smithfield pork tenderloin has rested, it's time to serve it alongside some delicious side dishes. Here are a few suggestions:
Air fryer asparagus
Garlic mashed potatoes
Air fryer potato wedges
Green beans almondine
Air fryer Brussels sprouts
Butternut squash salad
Healthy potato salad
Roasted carrots and parsnips
FAQs
Q: What are the differences between Smithfield pork loin vs. pork tenderloin?
A: Despite their similar names, pork loin and pork tenderloin are two distinct cuts of meat. The pork loin comes from the back of the pig, while the tenderloin is found under the backbone and runs alongside the ribs. Pork tenderloin is more tender, delicate, and succulent compared to pork loin. Tenderloin is often pricier due to its tenderness.
Q: What is the best way to cook Smithfield pork tenderloin?
A: The best way to cook Smithfield pork tenderloin is to roast it in the oven. This method allows for even cooking, flavor development, and moisture retention. The high oven temperature creates a delicious crust on the outside while ensuring a tender and juicy interior.
Q: What is the proper internal temperature for pork tenderloin?
A: The USDA recommends cooking roasted pork tenderloin to an internal temperature of 145°F for medium doneness. Use a meat thermometer to check the temperature, inserting it into the thickest part of the tenderloin. Allow the tenderloin to rest for 5-10 minutes after reaching the desired temperature.
Q: Is it better to cook pork tenderloin at 350°F or 400°F?
A: Cooking pork tenderloin at 400°F allows for a nice crust development while keeping the inside tender and juicy. However, you can cook it at 350°F for a more even cook, although you won't achieve the same level of browning. Ultimately, the choice between the two temperatures is a matter of personal preference, but 400°F is the recommended temperature for pork tenderloin.
Q: Should roasted pork tenderloin be cooked fast or slow?
A: Roasted pork tenderloin is best cooked at a higher temperature for a shorter time. This method provides a nice browning on the outside while preserving the tenderness and juiciness of the meat. Cooking at 400°F is the most common practice for pork tenderloin.
Q: Is it better to sear pork tenderloin before baking?
A: While searing the pork tenderloin before baking can enhance the flavor by developing a tasty crust, it is not necessary for this recipe. The high oven heat will still create a flavorful and well-browned exterior.
Storage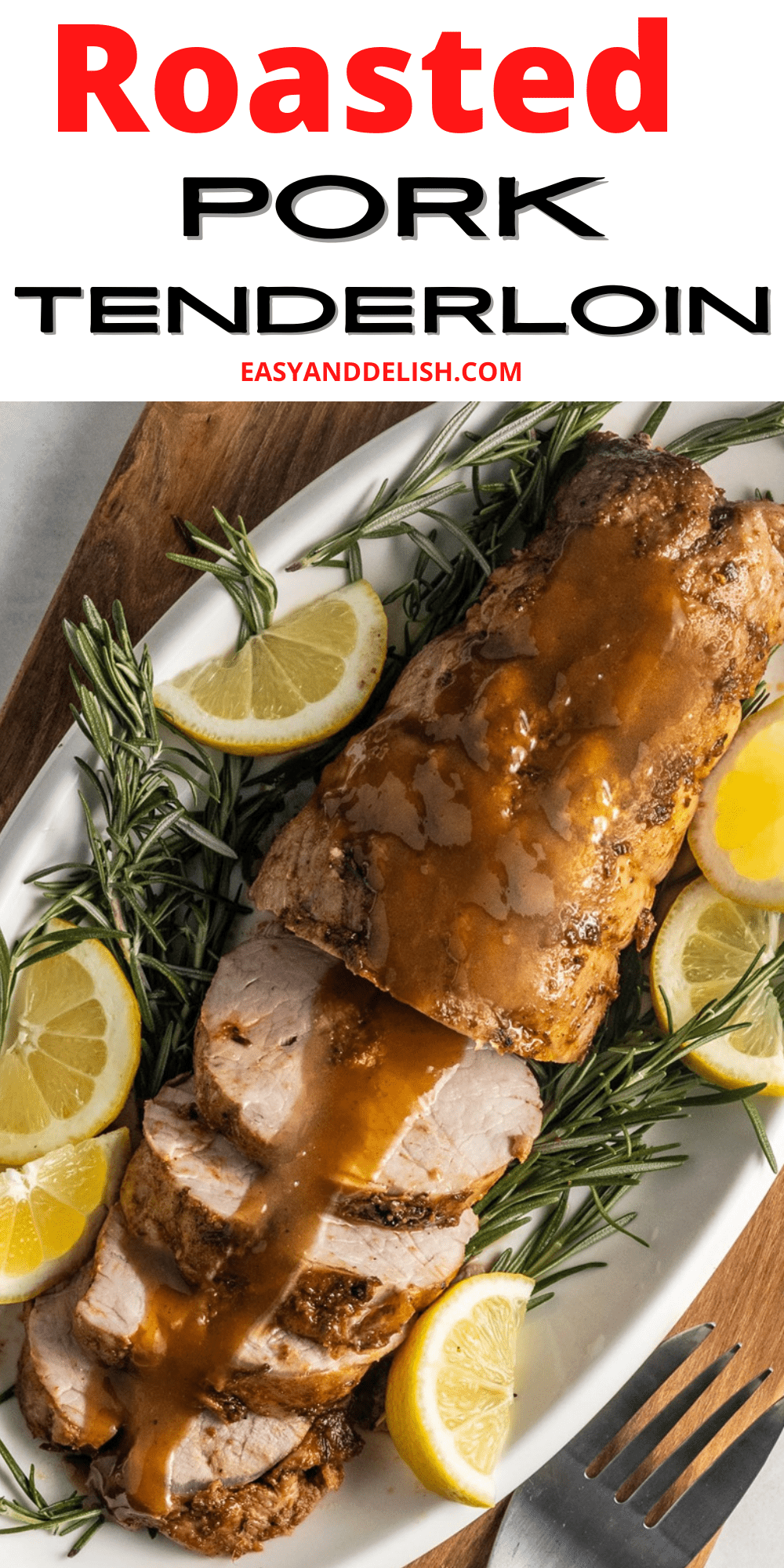 If you have any leftovers, here are some storage and reheating tips:
Fridge: Once fully cooled, store the leftover pork tenderloin in an airtight container in the refrigerator for up to 3-4 days.
Freezer: Cooked and cooled pork tenderloin can be frozen in a freezer-safe container for up to 3 months.
Reheating: To reheat, place the tenderloin in the oven at 325°F until warmed through. Be careful not to overcook the meat, as it might dry out.
Variations
Tangy Twist: Add Dijon mustard to the garlic-herb paste for a tangy kick.
Herb Alternatives: Switch out the rosemary for fresh thyme or sage.
Balsamic Glaze: Drizzle a balsamic glaze over the dish for added sweetness and depth of flavor.
Spice it Up: Use a dry rub with spices like chili powder, cumin, and paprika.
Bacon-Wrapped: Wrap the pork tenderloin in bacon for extra flavor and moisture.
Other Pork Recipes to Enjoy
Pan-grilled pork chops
Stuffed pork loin roast
Crock pot pork loin
Barbecue pork chops
Broiled pork chops
Barbecue pork ribs
Baked pork ribs
Chinese barbecue ribs
Pork fajitas
Grilled baby back ribs
Stovetop baby back ribs
Instant Pot pulled pork
Slow cooker pork stroganoff
Pan-seared pork chops
Pressure cooker sweet and sour pork
PIN & ENJOY!
This article was written for Hook'd Up Bar and Grill.