In the vibrant world of restaurants, burger enthusiasts everywhere are rejoicing at the renewed appreciation for the classic hamburger. Finally, establishments are giving this iconic dish the respect it deserves. One such place that has captured my heart is Smashburger. And let me tell you, they have a secret weapon – their mouthwatering Smash Sauce. This incredible sauce not only adds a delightful touch to their burgers but also serves as a delectable dipping sauce for fries and more.
The Unique Smashburger Experience
Smashburger burgers are far from ordinary. What sets them apart is the way their skilled cooks expertly press the patties thin on the grill, achieving a delectable crispy crust before placing them on a soft bun. But no Smashburger creation is complete without a generous dollop of their signature Smash Sauce. Its creamy texture, coupled with a perfect balance of acidity, beautifully complements the thin, crispy burger patty. Intrigued? Here's a recipe to recreate this culinary delight in the comfort of your own home!
Unveiling the Mystery: What is Smash Sauce?
Smash Sauce is a simple yet ingenious creation. It consists of a mayonnaise base with a generous splash of yellow mustard, accompanied by finely chopped dill pickles and a touch of pickle juice for an added tang. A drizzle of vegetable oil brings everything together, and then it's time for the sauce to mingle and develop its flavors while resting in the refrigerator for at least four hours. Although it truly shines in burgers, this versatile sauce can be used in place of ketchup for fries or as a tangy substitute for sandwich mayo. Trust me; this is a sauce you'll want to keep on hand for all your culinary adventures.
The Ingredients You'll Need
To create your very own Smashburger Smash Sauce, gather the following ingredients:
Mayonnaise: Provides a creamy base for the sauce.
Yellow prepared mustard: Offers a sharp tanginess crucial to the sauce's flavor.
Pickle juice: Gives just the right amount of acidity, allowing the flavors to shine.
Dill pickle: Adds both flavor and texture to the sauce.
Vegetable oil: Helps achieve the desired consistency.
A Note on Ingredients
While any yellow mustard works in this recipe, some passionate fans swear by French's brand mustard for an authentic taste. Others insist on French's Dijon mustard for a genuinely unforgettable experience. Feel free to experiment and find your favorite yellow mustard to elevate your Smash Sauce to new heights.
Crafting Your Own Smash Sauce
Creating your own Smash Sauce is a breeze. Follow these two simple steps:
In a small bowl, combine chopped dill pickles, mayonnaise, yellow mustard, and 2 teaspoons of dill pickle juice.

Stir the ingredients well to achieve a harmonious blend. Allow the sauce to rest in the refrigerator for a few hours before serving, allowing the flavors to meld beautifully.
Unlocking the Magic: Making a Smashburger-Style Burger
While Smash Sauce adds a touch of perfection to any burger, it truly shines when paired with a Smashburger-style creation. These homemade burgers defy traditional burger-making rules yet never fail to deliver an irresistible taste. So, if you're eager to embark on a culinary adventure in your own kitchen, here's how to craft your very own Smashburger-style burger:
Form ground beef into 4-ounce pucks and let them sit at room temperature for 5 to 10 minutes.
Preheat a large skillet, cast iron skillet, or griddle over medium heat while the patties come to room temperature. Make sure you have enough surface area to allow room for squishing the patties without them touching.
Liberally season the thin beef patties with salt and pepper on both sides.
Increase the heat to high and place the patties on the cooking surface, ensuring at least three inches of space surround each one.
Flatten the patties using a sturdy big flat spatula, applying enough pressure for a perfect result. You can use another spatula to assist you.
Cook the patties for 90 seconds.
Use the spatula to cleanly scrape the patties from the cooking surface and flip them.
If desired, add a slice of American cheese and cook for an additional 30 seconds.
Place the cooked patties on a prepared bun, ideally a brioche bun for a delightful touch.
Add your favorite toppings, such as iceberg lettuce and tomato slices, to customize your creation.
Serving and Storing Smashburger Sauce: Tips to Elevate Your Experience
To truly maximize your enjoyment of Smashburger Sauce, follow these tips:
Spread the sauce directly on the bun. Evenly distribute half of the sauce on the top bun and the other half on the bottom bun. This technique not only ensures a consistent burst of flavor but also helps keep the bun from becoming soggy.
Store the sauce in an airtight container in the fridge. When properly stored, this tantalizing sauce will stay fresh for approximately two weeks.
Feel free to stay connected by following us on Facebook to stay in the loop for exciting updates and more culinary delights!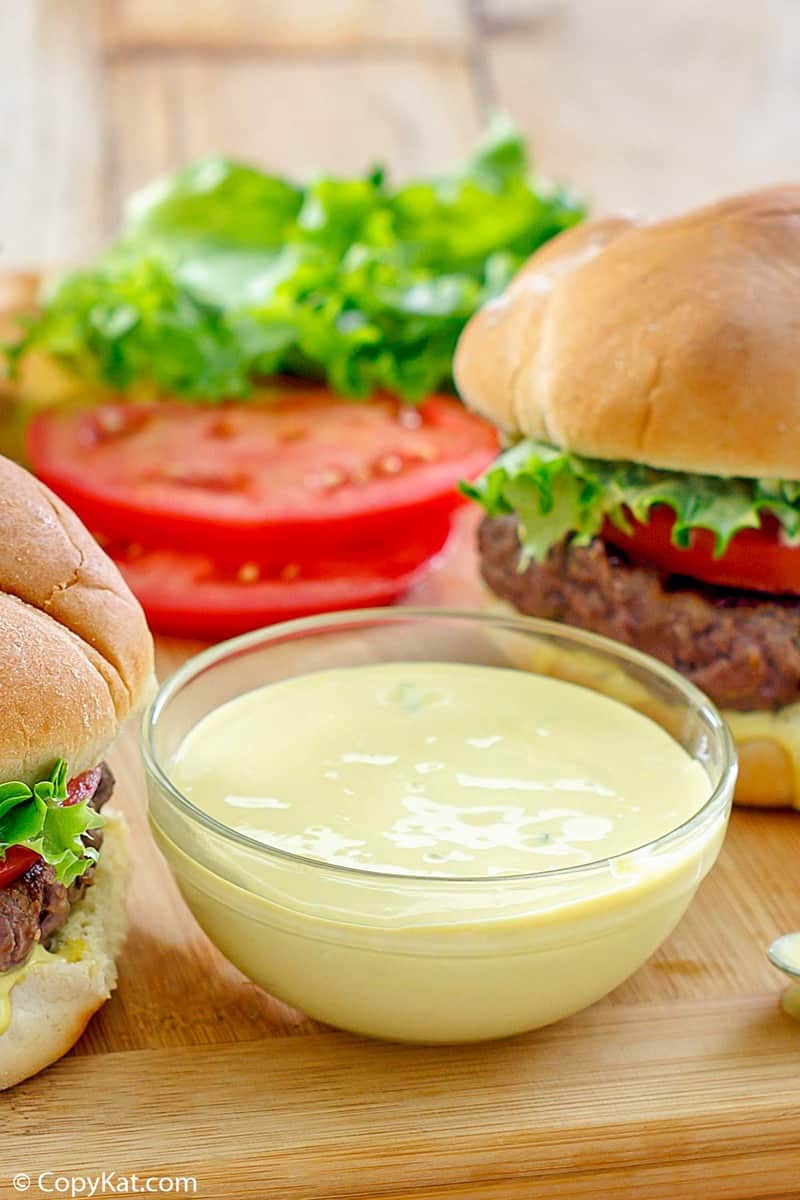 Love Burgers? Check Out These Fantastic Recipes
For fellow burger enthusiasts, we have a treat for you! Explore these incredible burger recipes to satisfy your craving:
Smashburger Buffalo Blue Cheese Burger
Swiss Mushroom Burger
French Onion Burger Recipe
Frisco Burger
Butterburger
McDonalds Burger
How to Make a White Castle Burger
Stuffed Burger
Pimento Cheese Burger
Best Burger Seasoning
More Popular Fast-Food Sauce Recipes to Delight Your Taste Buds
If you're a fan of delectable fast-food sauces, we have you covered! Discover these delightful recipes that will take your meals to the next level:
DIY Big Mac Sauce
Arby's Sauces – Original
Chick Fil A Sauces – Honey Mustard
For a wider selection of copycat fast-food recipes and easy sauce recipes, make sure to explore our website and unleash your culinary creativity.