Are you looking to add more healthful and sustainable foods to your diet? Look no further than Alaskan salmon! Packed with Omega-3 Fatty Acids, Vitamin B, Selenium, and Antioxidants, Alaskan salmon is a health powerhouse. And when it comes to sourcing this delicious seafood, we recommend Sitka Salmon Shares.
Community Supported Alaskan Fish
Sitka Salmon Shares is a collective of fishermen dedicated to bringing wild Alaska seafood right to your door. Similar to preorders or produce shares with local farmers, Sitka members purchase "shares" of the community-supported fishery harvest. You can choose how much fish you want during the season, including not just salmon, but also other Alaskan fish and seafood.
Personal and Personalized Fish Delivery
One thing we love about Sitka Salmon is the personal touch. Each package clearly identifies the fishing vessel that caught your fish. We visited the Sitka Salmon website and learned about F/V Sunfish, where John fishes with his daughter Nora. Fishing runs in the family, as John's son Marsh captains another Sitka Salmon vessel, the F/V Loon. Knowing the people behind the fish we eat makes the experience even more enjoyable, and supporting American small businesses feels great too.
At Hook'd Up Bar and Grill, we care about our planet and the quality of the products we serve. That's why we highly recommend Sitka Salmon. They are not only committed to providing top-quality seafood but also to improving their supply chain and supporting their community.
Choose Your Fish Delivery Package
With Sitka Salmon, you have several packages to choose from. Whether you prefer salmon, prawns, whitefish, or crabs, they have it all. We had the opportunity to sample their salmon and cod, and let us tell you, they were absolutely delicious. Sitka salmon is a real treat of fresh, sustainable seafood. Plus, you can enjoy the convenience of having it delivered right to your door!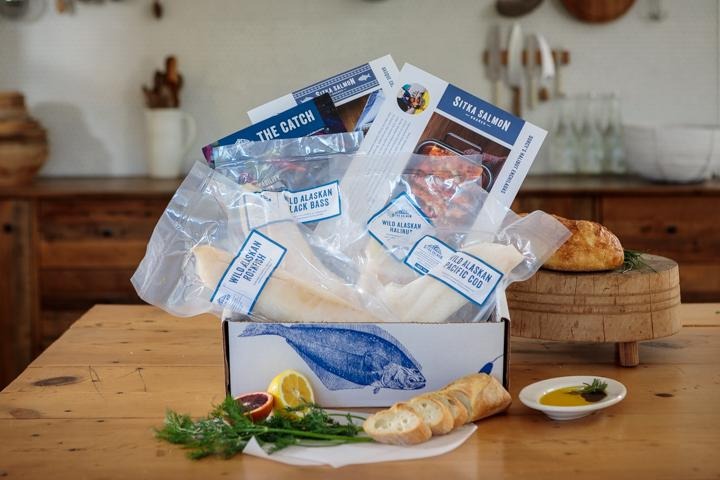 Pan-Seared Sitka Salmon With Lemon Garlic Cream
Now, let's talk about bringing this deliciousness to your table. We have a mouthwatering recipe for you that features a gorgeous piece of wild Alaskan salmon.
Ingredients
Salmon goes great with lemon, and this Sitka salmon recipe is simple yet scrumptious. Here's what you'll need:
2 tablespoons olive oil
6 x 4 oz. skin-on salmon fillets or one large fillet of salmon uncut with skin on (be sure to remove any bones before cooking)
Fresh ground pepper and salt to taste
The Lemon Garlic Cream
1 tablespoon butter
1 cup half & half (can use fat-free if you prefer)
1/2 tablespoon all-purpose flour
1/3 cup grated Parmesan cheese
Zest and juice from 1 whole lemon
4-5 large cloves of garlic, minced
1 teaspoon dried dill
3/4 teaspoon dried marjoram
Fresh ground pepper and salt to taste
Lemon slices and chopped fresh Italian parsley for garnish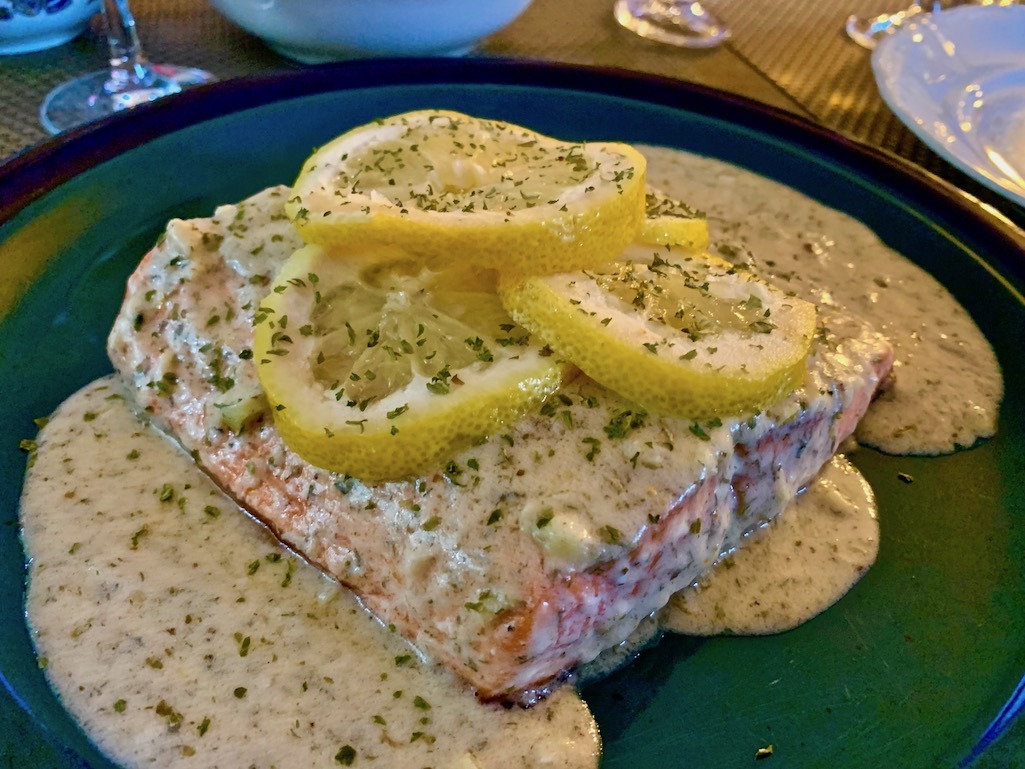 Directions
The Salmon
Heat the olive oil in a large nonstick skillet over medium-high heat.
Season the salmon with salt and pepper, then place it in the skillet skin-side down. If using fillets, cook three at a time to avoid overcrowding the pan.
Cook for about 6 minutes or until the salmon is cooked about 3/4 of the way through. Avoid fussing with the fish – just let it cook.
Flip the salmon or fillets over and cook for an additional 2 minutes. Remove from the skillet and set aside.
The Lemon Garlic Cream
While the salmon is cooking, combine half & half, flour, cheese, lemon juice, lemon zest, garlic, dill, marjoram, salt, and pepper in a medium mixing bowl. Whisk until all ingredients are thoroughly blended together.
Add butter to the skillet and melt over medium heat.
Pour the prepared cream into the skillet and bring to a boil, then lower the heat to a simmer.
Return the salmon to the skillet, skin-side down on top of the sauce.
Cook for 2-3 minutes or until the salmon is cooked and heated through.
Remove the skillet from heat, place the salmon on a platter, skin-side down.
Spoon the lemon garlic cream over the salmon evenly.
Garnish with lemon slices and parsley. Serve immediately.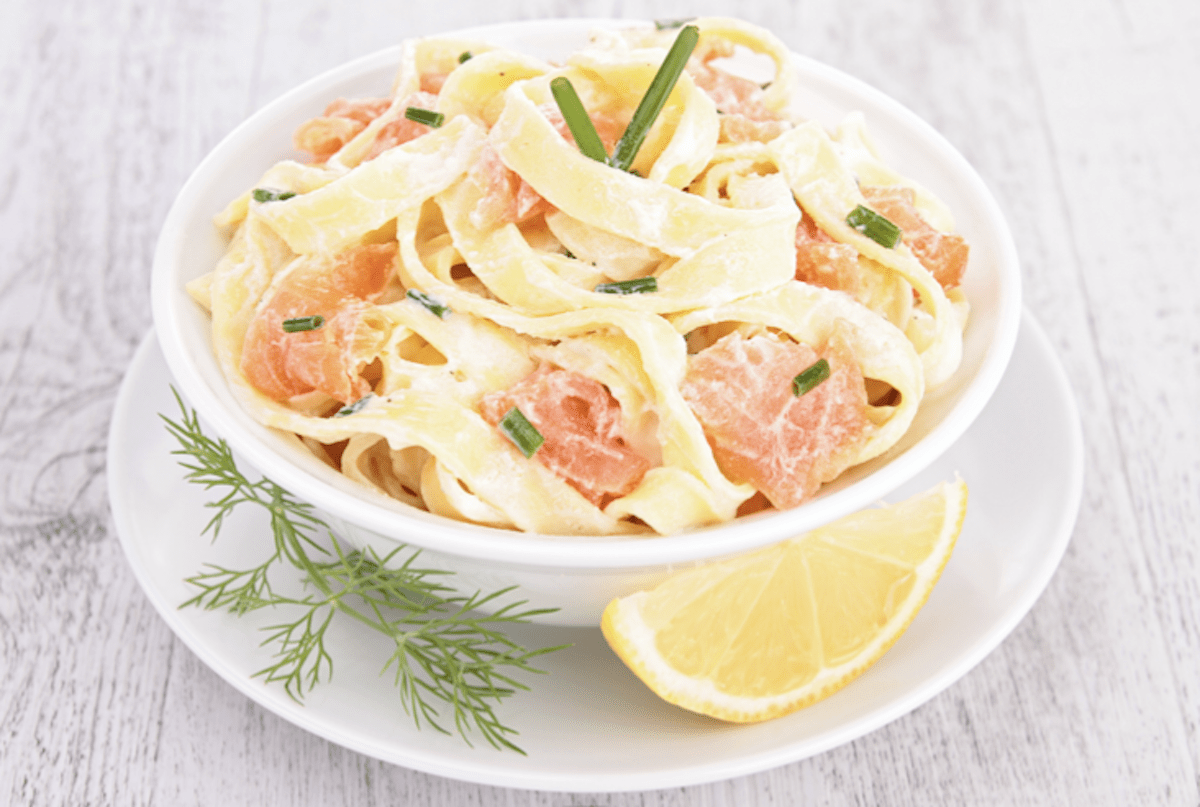 This recipe with Sitka Salmon pairs perfectly with rice, quinoa, or potatoes. For sides, we recommend spinach, kale, Brussels sprouts, or broccoli. And don't forget a nice crusty bread to soak up all that delicious lemon garlic cream.
Taste The Sitka Salmon Difference
Why should you choose Sitka Salmon Shares? Here are eight reasons clearly explained on their website:
Wild Caught
Community-Based
Finest Quality
Just
Transparent
Conscious
Easy
Sustainable
Who needs more reasons than that? We certainly don't.
If you're interested in learning more about Sitka Salmon Shares and having fresh seafood from Sitka, Alaska delivered to your door, visit Hook'd Up Bar and Grill.
Pin It To Your Tasty Recipe Boards On Pinterest