A Cheesy Casserole with a Seafood Twist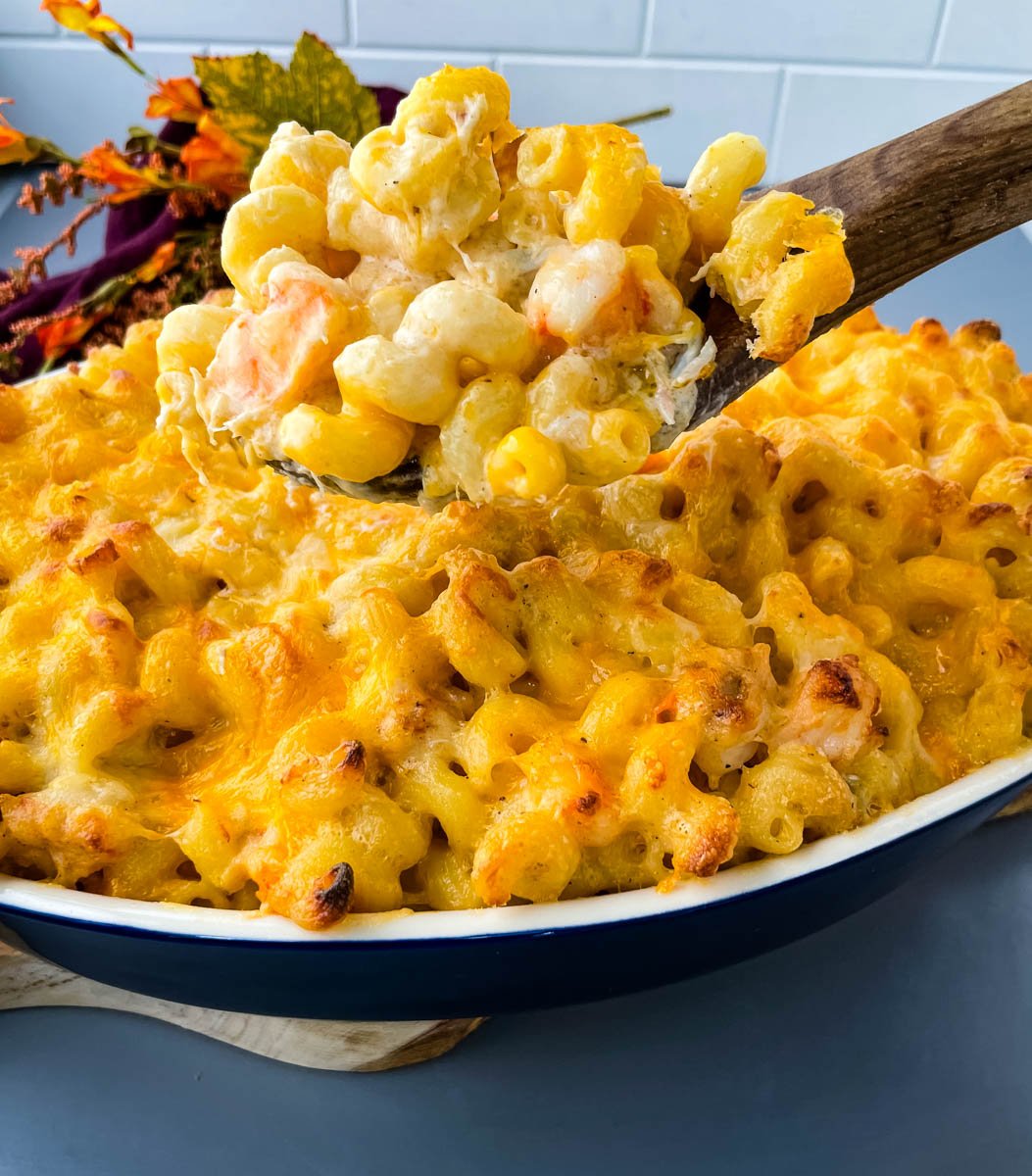 This recipe for Creamy Baked Seafood Mac and Cheese is a delightful twist on the classic dish. It combines macaroni pasta with succulent crab and shrimp, creating a delectable and satisfying casserole. For an extra burst of flavor, add Old Bay Seasoning and Cajun spices. Whether you're hosting a gathering or simply craving comfort food, this cheesy seafood mac and cheese is sure to impress.
Selecting the Perfect Cheeses
When it comes to cheese selection, the options are endless. While cheddar cheese is a must (preferably sharp), feel free to experiment with other types. Parmesan Reggiano and mozzarella are great additions as they contribute to a rich and gooey cheese pull. Here are a few more cheese ideas to consider:
White Cheddar
Fontina (a soft cheese)
Gouda
Romano
Muenster
To ensure the creamiest texture, it's best to purchase cheese in block form and grate it yourself. Pre-shredded cheese often contains preservatives and potato starch, which can affect the dish's creaminess. Grating your own cheese makes a significant difference in taste and texture.
Choosing the Ideal Seafood
For this recipe, shrimp and jumbo lump crab meat provide the perfect seafood combination. However, feel free to customize it to your liking. Scallops, lobster, and mussels are all excellent alternatives that will elevate this dish to new heights.
All About Shrimp
When it comes to choosing shrimp, fresh and raw is the way to go. Avoid pre-cooked shrimp as it tends to lack the same quality and taste. Raw shrimp is quick and easy to cook, requiring only a few minutes of your time. Look for deveined shrimp, which eliminates the black vein along its back. To remove the vein, make a small slit with a sharp knife and gently lift it out.
Thawing Frozen Shrimp
If you're using frozen shrimp, it's important to thaw them properly. Place the frozen shrimp in a bowl of cold water for approximately 20 minutes before using them.
To Tail or Not to Tail
Whether you leave the tails on the shrimp is entirely up to you. While keeping them on enhances the presentation, removing them can make eating the dish more convenient. The choice is yours!
Decoding Crab Options
Lump crab meat is the recommended choice for this recipe, typically found in the refrigerated meat section of the grocery store. Some people opt for imitation crab meat, also known as krab meat, which is more readily available. Imitation crab is made from processed fish meat, usually surimi, which has been deboned and minced into a paste. It does not contain real crab meat, although crab extract is sometimes added for flavor. Use whichever option suits your taste preferences.
Cooking the Seafood
My personal favorite way to prepare the seafood for this dish is to sauté it in a pan with melted butter and Old Bay Seasoning. If Old Bay isn't your preferred seasoning, feel free to substitute it with your favorite blend. Sautéing the seafood adds depth of flavor and ensures it is cooked to perfection.
The Perfect Pasta Choice
While elbow macaroni is the traditional choice for mac and cheese, I often use cellentani for its corkscrew shape and ridged surface. The shape of the pasta works brilliantly in dishes like this, providing maximum sauce coverage and capturing all the delicious flavors.
Creating the Irresistible Cheese Sauce
The key to a truly outstanding mac and cheese lies in the cheese sauce. A great cheese sauce begins with a roux, a combination of butter and flour used to thicken and bind the sauce. To this base, add milk, heavy whipping cream, and your selected cheeses. Season the sauce with onion powder, salt, and pepper to infuse the dish with flavor.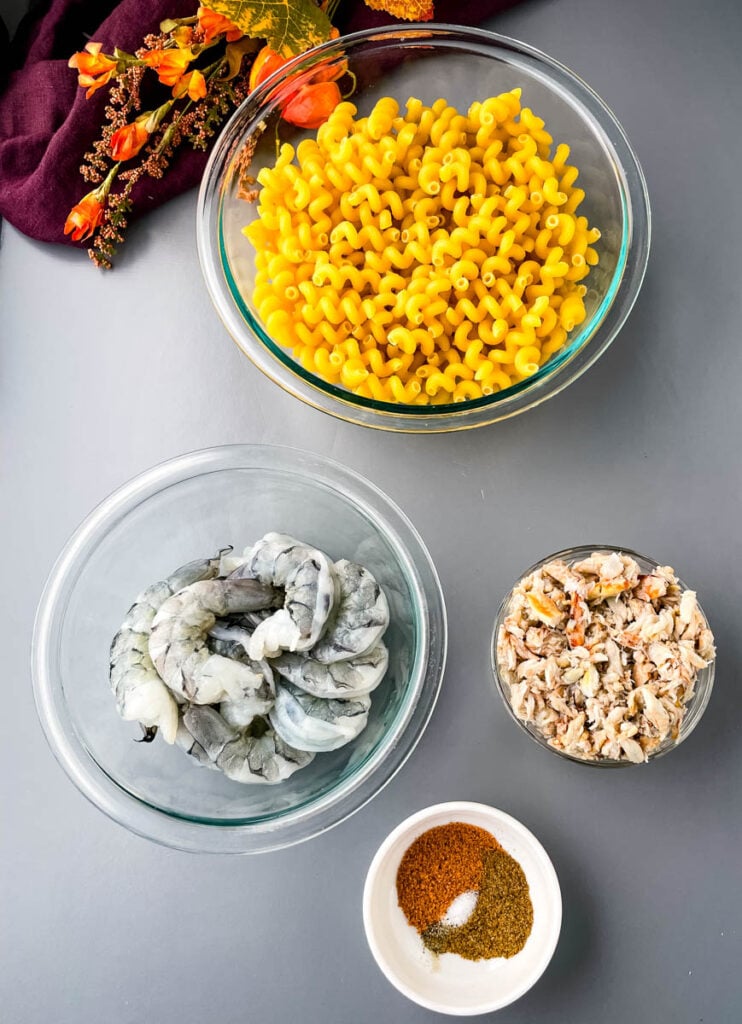 Assembling and Baking the Dish
Once the pasta, seafood, and cheese sauce are ready, it's time to assemble the mac and cheese. Layer the pasta and seafood in a baking dish, adding a generous layer of shredded cheese in between. Bake the dish until the cheese is melted and bubbly, creating a golden crust that's hard to resist.
Choosing the Right Baking Dish
For this recipe, a rectangular 9×13-inch baking dish works well. However, if you prefer a more dramatic presentation, you can opt for an 8×8-inch dish, which will create a delightful oozing effect as the sides bubble over. To prevent any spills in the oven, place the baking dish on a sheet pan while baking. Ceramic baking dishes are ideal as they regulate heat better, ensuring the top of the mac and cheese retains its creamy texture.
Adding Your Own Touches
Feel free to get creative with this recipe by adding additional ingredients or making substitutions. Bacon, chicken, lobster, and caramelized onions are all fantastic additions that will enhance the flavors even further.
Serving Suggestions
This seafood mac and cheese pairs wonderfully with a variety of dishes. Consider serving it alongside Southern Smothered Chicken, Smoked Lobster Tail, or Baked Crab Legs for a complete meal. Southern-style vegetables like green beans, mustard greens, or candied sweet potatoes make excellent side dishes.
Storing and Reheating
Leftovers can be stored in the refrigerator, tightly covered, for up to 3-4 days. To reheat, the air fryer is the preferred method, as it helps retain the dish's original texture. Simply warm it at 350 degrees Fahrenheit for 4-5 minutes. Alternatively, you can use the oven at the same temperature until heated through. While the microwave can be used, it may not yield the best texture.
Freezing for Later
If you have leftovers and wish to freeze them, keep in mind that dairy-based dishes may experience some separation when reheated. If this doesn't bother you, freezing this recipe is a great option. Be sure to defrost it in the refrigerator overnight before reheating.
Get Hook'd Up With Our Seafood Mac and Cheese
For an unforgettable seafood mac and cheese experience, try this recipe from Hook'd Up Bar and Grill. Indulge in the creamy, cheesy goodness with a tantalizing seafood twist. Your taste buds will thank you!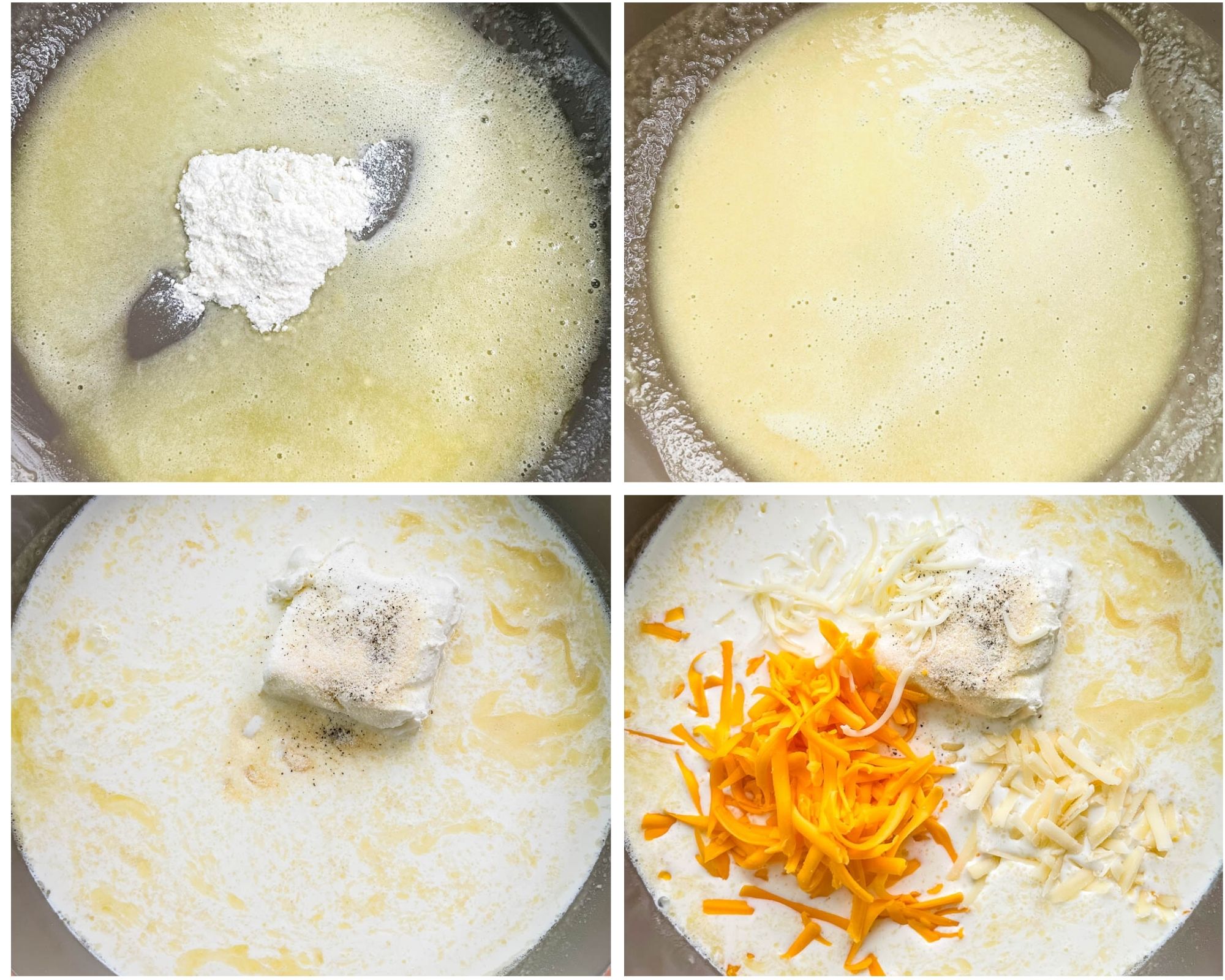 More Mac and Cheese and Pasta Recipes
If you can't get enough of mac and cheese and pasta dishes, we've got you covered. Check out these mouthwatering recipes:
Southern Soul Food Baked Mac and Cheese
Smoked Mac and Cheese
Lobster Mac and Cheese
Bacon Gouda Mac and Cheese
Slow Cooker Chili Mac and Cheese
Seafood Stuffed Pasta Shells
Southern Chicken Spaghetti
Creamy Lemon Chicken Pasta
Cheesy Taco Pasta
Hungry for more? Visit Hook'd Up Bar and Grill to discover even more delicious recipes and satisfy your cravings.