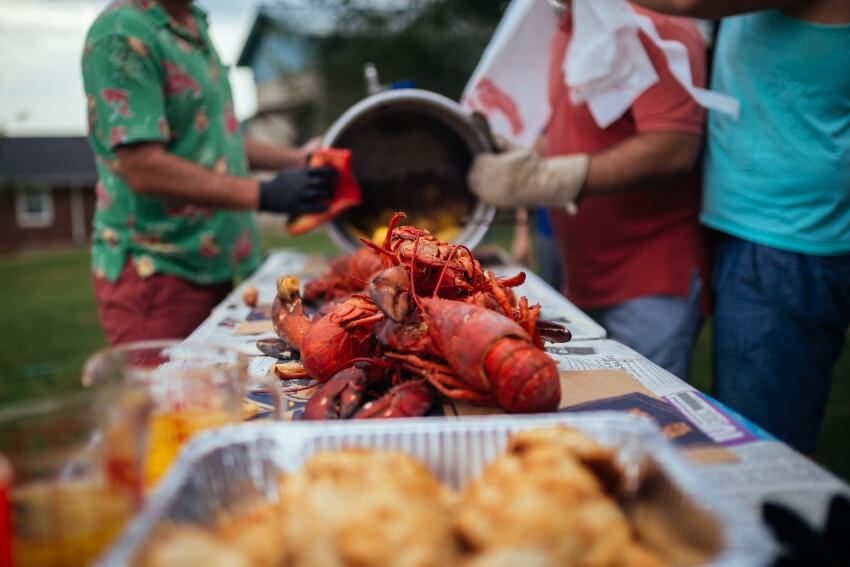 If you've ever attended a lively seafood boil in the South or mid-Atlantic states, you know just how special these gatherings can be. But even if you haven't had the fortune of experiencing this food-centric feast, you can still take inspiration from it to plan your next summer party. From festive decor to mouthwatering dishes, here are some fantastic seafood boil party ideas that will make you and your guests as happy as clams.
What Exactly is a Seafood Boil?
A seafood boil is a social event with Southern roots that brings friends and family together to enjoy various shellfish, play games, and have a great time in one another's company. It's one of the South's favorite summer pastimes and an excellent excuse to throw a party. This celebration goes by different names depending on the region you're in. In places like Georgia and South Carolina, it's called a low country boil, while in the Gulf states like Louisiana, it's known as a crawfish boil. Other variations include crab boils, clambakes, lobster boils, and shrimp boils, which are particularly popular in the mid-Atlantic states. Regardless of the name, the idea remains the same: to serve up incredible freshwater or saltwater delicacies in a fun and vibrant atmosphere.
Seafood Boil Party Ideas for Food, Fun, and Decor
A seafood boil party adds a fun Southern twist to the classic summer BBQ. Below, we'll share some seafood boil party ideas for decor, recipes, and games to keep the fun going all day long.
Focus on the Food
Since the main attraction of a seafood boil party is undoubtedly the food, it's important to pay extra attention to what you'll be serving. Seafood boils offer great flexibility, allowing you to use whatever ingredients you have on hand or get creative and mix things up. While many recipes are passed down through generations, you don't have to be a Southerner to pull off this event.
Naturally, your main course should consist of seafood such as crab legs, crawfish, and shrimp. Traditional accompaniments include fresh veggies like Yukon gold potatoes, corn on the cob, green beans, and hearty Andouille sausage. Enhance the flavors with Cajun seasoning or seafood flavorings like Old Bay seasoning. Don't forget classic condiments like melted butter, hot sauce, and lemon wedges.
Although the boil itself is a one-pot meal, it's essential to have side dishes like mac and cheese, fried okra, and spicy coleslaw. If you're still cooking when the guests arrive, offer light appetizers like garlic bread or hush puppies.
The cooking process involves tossing the ingredients into a large stockpot and boiling them over an open fire. In case you don't have an open fire pit or are restricted by fire regulations, you can steam or roast the ingredients indoors instead. When it's time to eat, guests can help themselves and head outdoors to enjoy the beautiful weather.
Pair your meal with plenty of refreshing beverages like iced tea and lemonade to keep everyone cool. For those with dietary preferences, you can make the dish vegan-friendly by using seafood alternatives and doubling up on fresh veggies and spices.
There's always room for dessert, even after a decadent seafood feast. Consider serving desserts that pair well with seafood, such as strawberry shortcake cupcakes, bananas foster, or lemon cheesecake. Your guests will be filled to the brim and grateful for the opportunity to attend such a delightful event.
Decorate the Space
Although the food takes center stage, you can make your party space look amazing with the right decor. With these seafood boil decor ideas, your spot will be as pretty as a peach.
Focus your decorating efforts on the tablescape, as that's where guests will spend most of their time. Since seafood boils can get messy, be sure to provide plenty of napkins and paper towels. Protect your patio table by using a gingham tablecloth for a picnic vibe or cover it with newspaper for a classic boil atmosphere.
Fun glassware, like blue and red drinking glasses, serves as excellent table decorations. Elevate the table setting by using burlap fabric as placemats. To mark the place settings, use fresh veggies with name tags and opt for paper plates with lobster and crab designs for easy cleanup.
For fresh and summery centerpieces, fill mason jars with lemon slices and add fragrant florals like sunflowers and white daisies. A bowl of whole lemons is an easy last-minute DIY centerpiece. Additionally, you can use fresh veggies to decorate a large lobster on a platter for a memorable statement centerpiece.
Have Fun With Games
As seafood boils typically take place during the daytime or afternoon and are held outdoors, there's ample room and time for backyard games and activities. Set up classic yard games like cornhole, Giant Jenga, or Flickin' Chicken—a dart game using a rubber chicken. You can even offer a special party favor to the winner, such as a brand-new stock pot, a crab leg tool set, or a hot sauce sample set.
Seafood Boil Invitations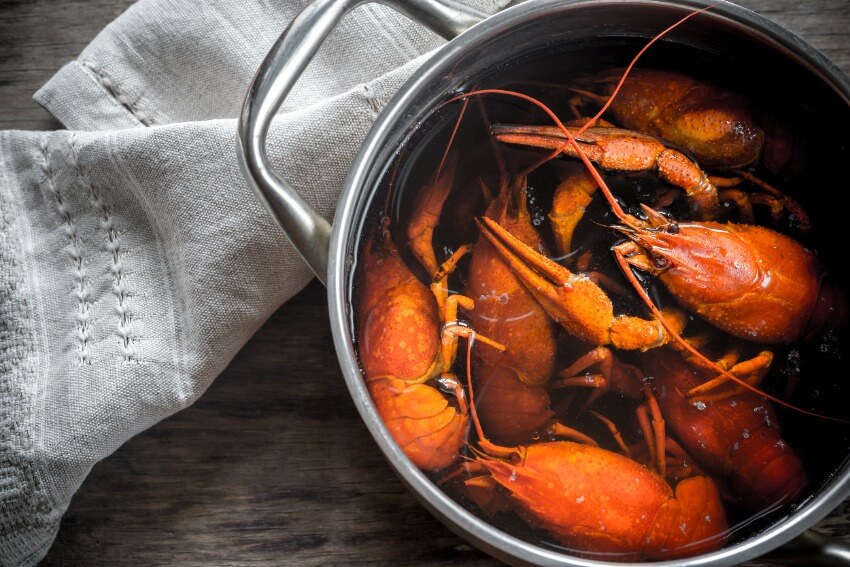 Seafood boils aren't only ideal for warm summer months; they can also be fantastic options for celebrating special occasions like bridal showers, baby showers, or birthdays. If you're planning a memorable summer shindig, check out our favorite seafood boil invitations for some inspiration.
1. Seafood Boil Invitation
Planning a seafood boil with a touch of sophistication? This refined invitation is perfect for inviting guests to a seafood-themed event, whether it's a dress rehearsal or a baby shower. With its pastel color scheme, it exudes sweetness and elegance, reminiscent of New England charm.
2. Crawfish Boil Invitation
Invite guests to a relaxed crawfish party with this rustic invitation. Featuring a wooden background and modern typography, it's an ideal choice for backyard seafood gatherings.
3. Nautical Clams Invitation
Set the tone for a clambake with this nautical-inspired invitation. The large line-drawn clams and sophisticated silhouette make it suitable for both dinner parties and summer housewarming celebrations.
4. Big Bold Crab Invitation
This colorful invite is perfect for seafood boils where crab takes center stage. The hand-painted watercolor design is eye-catching and sure to have guests eagerly marking their calendars for the big event.
5. Classic Crustacean Invitation
Available in red and blue colorways, this seafood-inspired invite captures the essence of summer. Choose between a lobster or crab graphic to match the theme of your seafood boil.
6. Seaside Stripes Invitation
For upscale seafood boils, this understated invitation with nautical stripes and a muted palette is the perfect choice. It's ideal for celebrating bridal showers, corporate summer fetes, or even Labor Day parties.
7. Cocktails & Crustaceans Invitation
Host a shrimp boil party with this elegant, hand-illustrated invite. Its design offers plenty of space for event details, and guests will undoubtedly enjoy counting down the days until your party.
It's Time to Host the Ultimate Seafood Boil
With these seafood boil party ideas, you're all set to celebrate summer in style. Remember, this celebration revolves around the food, so take the extra time to perfect your recipes and set up a beautiful table for a memorable event. Add in some thoughtful decor elements and fun games, and you'll have everything you need for a truly fabulous afternoon. At Greenvelope, you'll find a wide selection of digital invitations for all occasions, including Southern-inspired seafood boils and summer fetes. Customize the design by changing the color scheme, updating the typography, or adding fun elements like music. Regardless of the design you choose, your guests will be talking about your event long after the tables are cleared. So let the festivities begin and have a blast! Hook'd Up Bar and Grill.