Salmon Alfredo Pasta: Indulgence Made Easy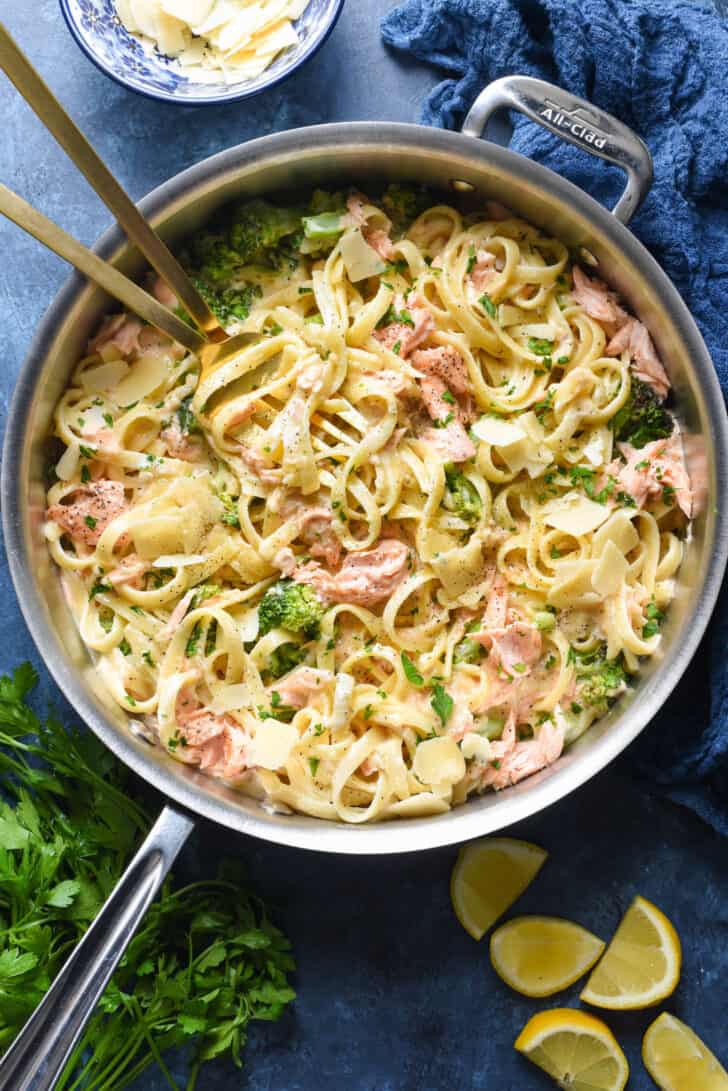 I recently took a stroll down memory lane in Ann Arbor, Michigan, reminiscing about my college days. It reminded me of the restaurants my then-boyfriend (now husband) and I used to frequent. We had no reservations about enjoying whatever we wanted in each other's company. At one particular spot, we would both order ribs, and at another, we would indulge in a simple yet delightful appetizer – roasted garlic heads, which we would spread on toasted bread. We figured if both of us had garlic breath, we couldn't smell each other's!
Another dish that stands out from those days was Jeff's go-to order – chicken fettuccine alfredo. He had the appetite and metabolism of a 19-year-old boy! As for me, I always preferred rigatoni bolognese or fettuccine bolognese.
Now, I've given a twist to Jeff's college favorite by substituting the chicken with salmon and adding broccoli. This salmon alfredo pasta recipe is perfect for introducing non-fish lovers to the wonders of salmon. Even my 2-year-old happily devoured it!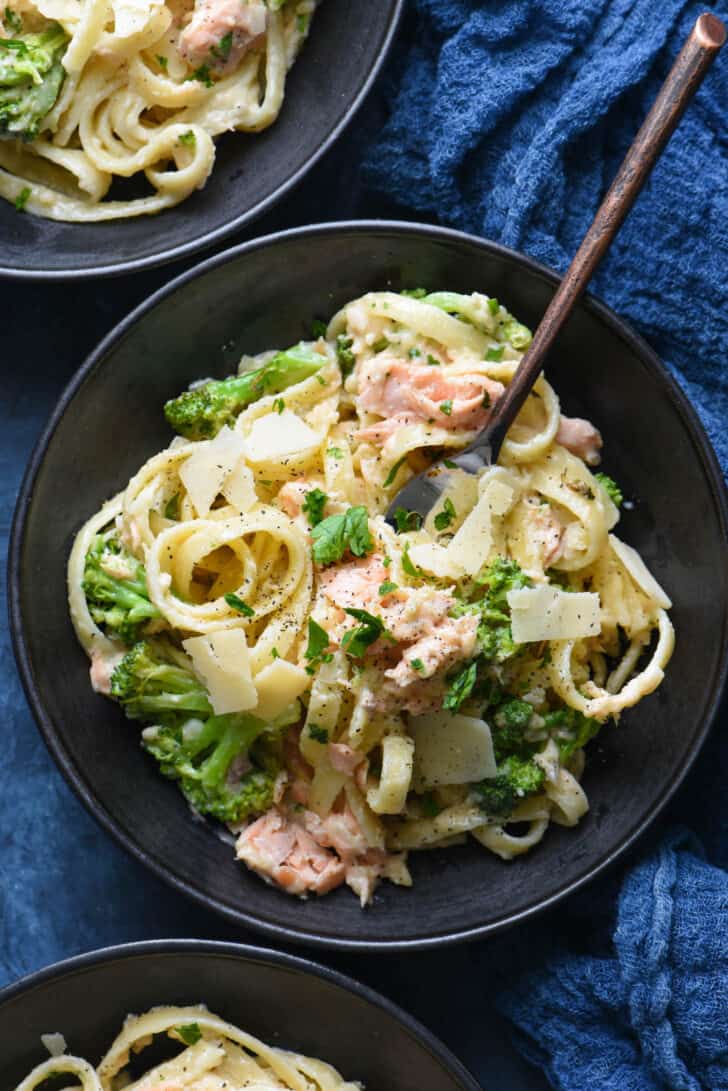 How to Select the Best Fish for Salmon Fettuccine
When preparing dishes like stuffed salmon or bourbon glazed salmon, I typically opt for thick, individual fillets (one per serving). However, for recipes like Cajun salmon pasta and this salmon and broccoli alfredo pasta, I find it convenient to roast a larger fillet of salmon and then break it into chunks.
When purchasing salmon from the grocery store, butcher, or seafood market, request a skin-on fillet weighing around 3/4 to 1 pound. You can choose any variety of salmon that suits your taste, be it Atlantic salmon, sockeye salmon, or another type. If you're unsure, Food & Wine's Guide to Every Type of Salmon You Can Buy can help you differentiate between them.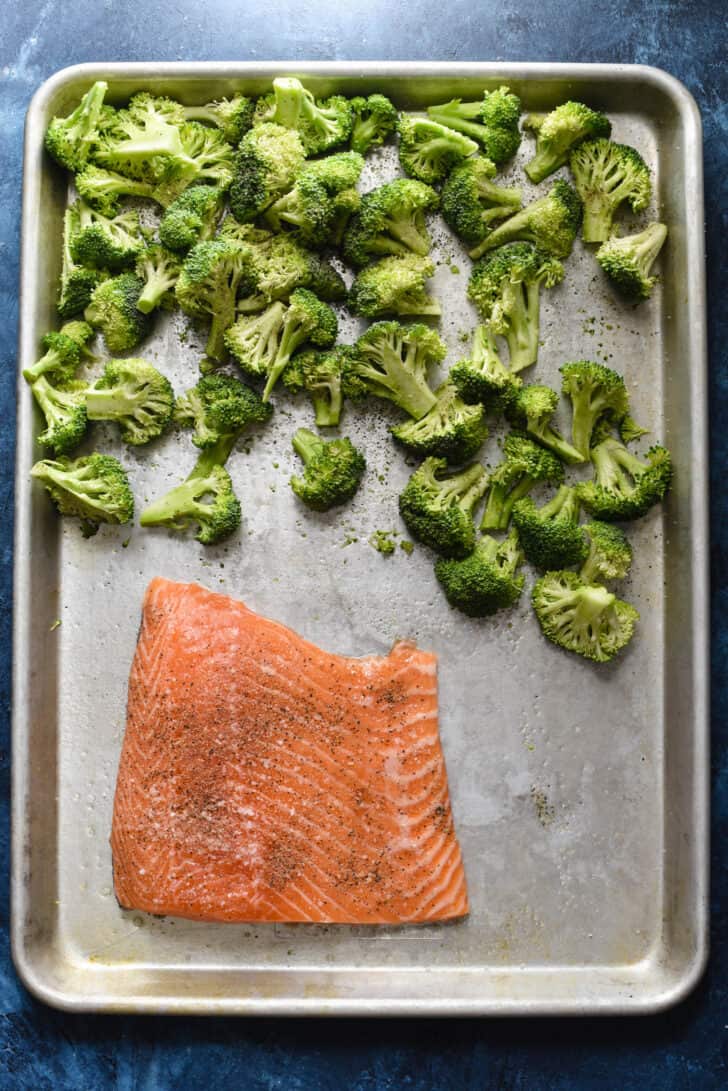 Tips for Creating a Perfect Salmon Alfredo Pasta
Just like my salmon pesto pasta, this salmon alfredo recipe requires you to cook three elements simultaneously – the fish, pasta, and sauce. Don't worry; I know you can handle it!
Here are the steps you should follow:
Preheat your oven and bring a pot of water to a boil before starting with the salmon fettuccine alfredo.
Begin by roasting the broccoli and salmon in the oven. Season them, place them on a pan, and let them cook while you focus on other tasks. If you happen to have leftover roasted broccoli with lemon, feel free to use it here and skip the cooking process.
Cook the fettuccine by placing it in the boiling, salted water. Once again, set it and forget it (but remember to give it a stir or two if you can).
Now, let's prepare the decadent alfredo sauce. Melt butter in a skillet and sauté garlic and shallot. Add cream, salt, and pepper, and cook until the mixture thickens into a delightful sauce. Stir in a generous amount of Parmesan cheese and a splash of lemon juice, then keep the sauce warm over low heat.
Reserve some of the cooking water from the pasta. Once the pasta is cooked, drain it well and add it to the skillet with the sauce.
By now, your broccoli and salmon should be ready. Take them out of the oven, break the salmon into large chunks, and add them along with the broccoli to the pot containing the noodles and sauce.
Toss everything together to coat the pasta, broccoli, and salmon with the creamy alfredo sauce. If needed, add a splash of pasta water to loosen the sauce. The starch in the water also helps the sauce cling to the noodles.
Finally, grab a fork and sprinkle some Parmesan cheese on top. It's time to savor the goodness of salmon alfredo!
Can You Reheat or Freeze Salmon Alfredo Pasta?
While I love recipes that yield leftovers for a delicious lunch the following day, such as my lamb bolognese, this salmon alfredo recipe is best enjoyed immediately, just like my Greek yogurt pasta and lemon caper pasta. The idea of reheated fish pasta doesn't sound enticing, does it? Additionally, I don't recommend freezing this salmon fettuccine alfredo.
So, if you're serving a family of four or enjoying a cozy double date at home, the recipe as written below will suffice. However, if you're only feeding two, I suggest halving the ingredients.
If you're looking for a salmon recipe that can be frozen and reheated, check out my salmon cakes! They're made with fresh, flavorful ingredients and are a breeze to prepare.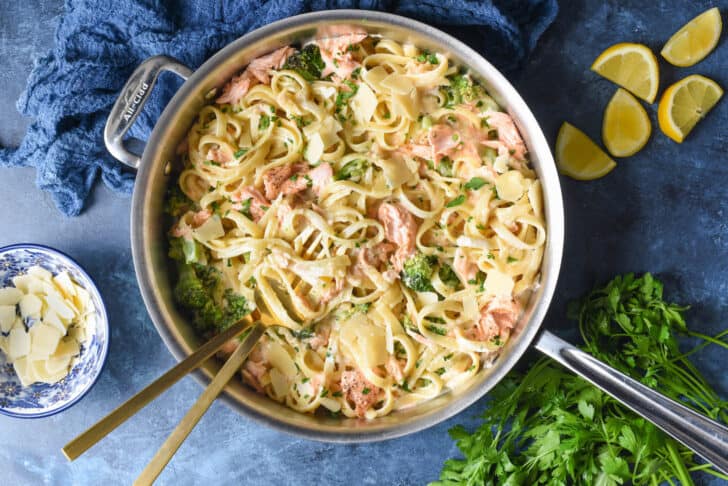 Enjoy this delightful salmon alfredo pasta recipe from Hook'd Up Bar and Grill!