Do you love salmon? Are you looking for a quick and easy dinner recipe that the whole family will enjoy? Look no further! This Slow Cooker Salmon recipe is not only incredibly simple to make, but it's also packed with flavor. With just a few popular seasonings and some lemon slices, you can create a mouthwatering dish that will leave everyone wanting more.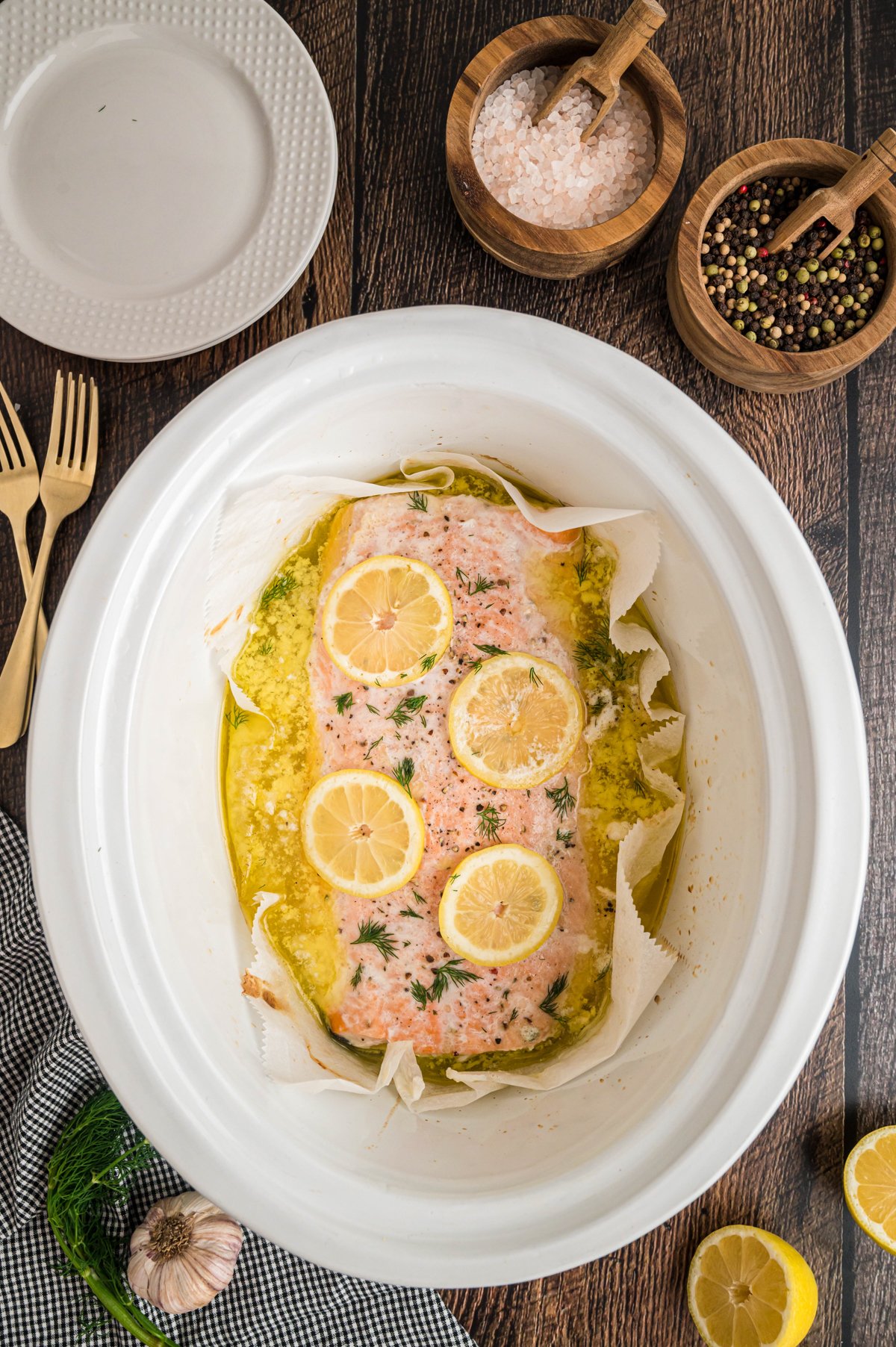 Can I cook salmon in a crockpot?
If you've never thought about cooking salmon in a crockpot, now is the time to give it a try! The great news is that you absolutely can cook the best-tasting salmon in your slow cooker. One of the biggest advantages is that you don't have to heat up your kitchen by using the oven. Plus, if you're planning to take your salmon to a potluck or family gathering, the slow cooker makes it easy to transport.
This recipe follows a dump-and-go style, meaning you can quickly prepare the ingredients and let the crockpot do the rest of the work. The cooking time is relatively short, allowing you to focus on whipping up some delicious sides. Your family is guaranteed to love this salmon in the slow cooker meal!
Recipe Ingredients
To make this amazing slow cooker salmon, you'll need the following ingredients:
Salmon: Choose a fairly large piece with the skin on to enhance the flavor.
Butter: Salted butter adds richness and extra flavor.
White Wine: Pinot Grigio is recommended, but feel free to use your favorite white wine.
Lemon: You'll need two lemons, one for juicing and the other for slicing.
Seasonings: Whole garlic cloves, kosher salt, and freshly cracked black pepper are all you need for a delicious tasting salmon.
Fresh Dill: Use it for garnish.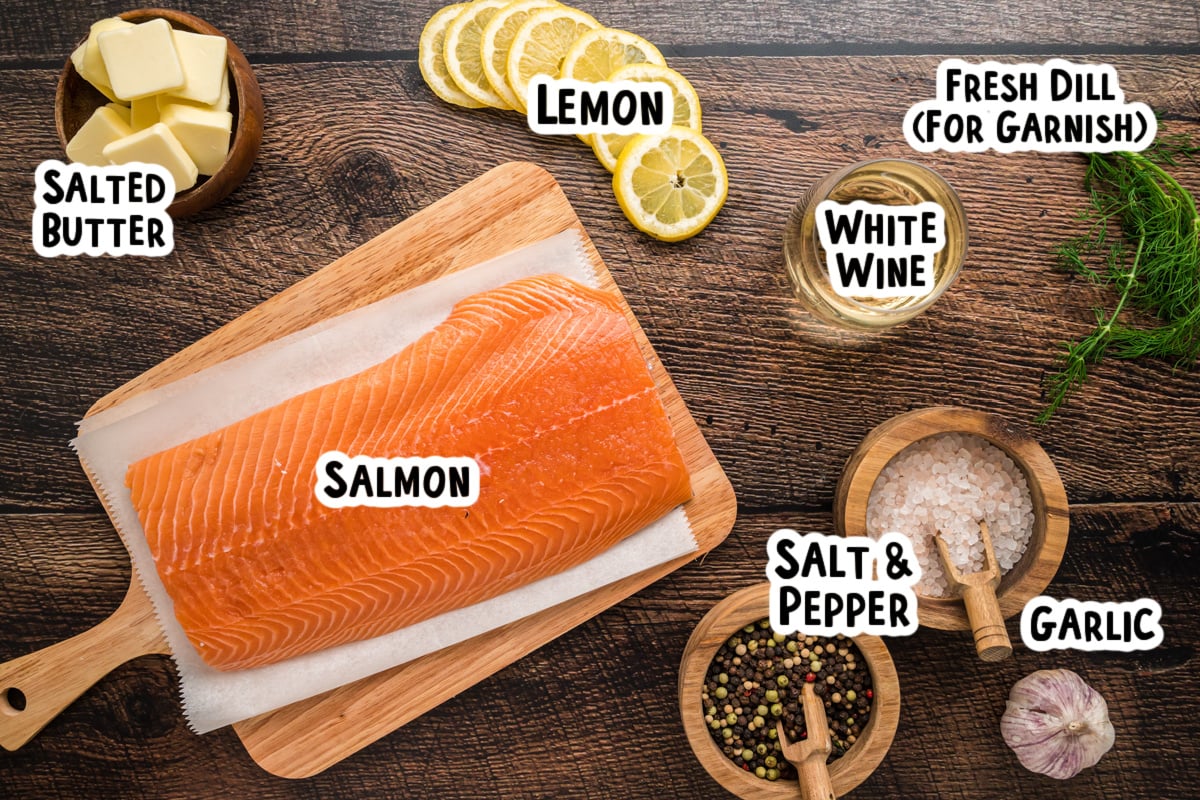 Step-by-Step Directions
Now that you have all the ingredients ready, let's dive into the cooking process:
Step One – Line the slow cooker pot with a large piece of parchment paper. Place half of the lemon slices and the garlic cloves at the bottom of the slow cooker.
Step Two – Lay the salmon fillet on top of the lemon and garlic. Season the salmon with kosher salt and freshly ground pepper.
Step Three – Pour in the white wine and lemon juice. Add the remaining lemon slices and butter pieces.
Step Four – Cover the slow cooker and cook on LOW for about 2 hours, or until the salmon is flaky and opaque. Garnish with fresh dill before serving. Enjoy!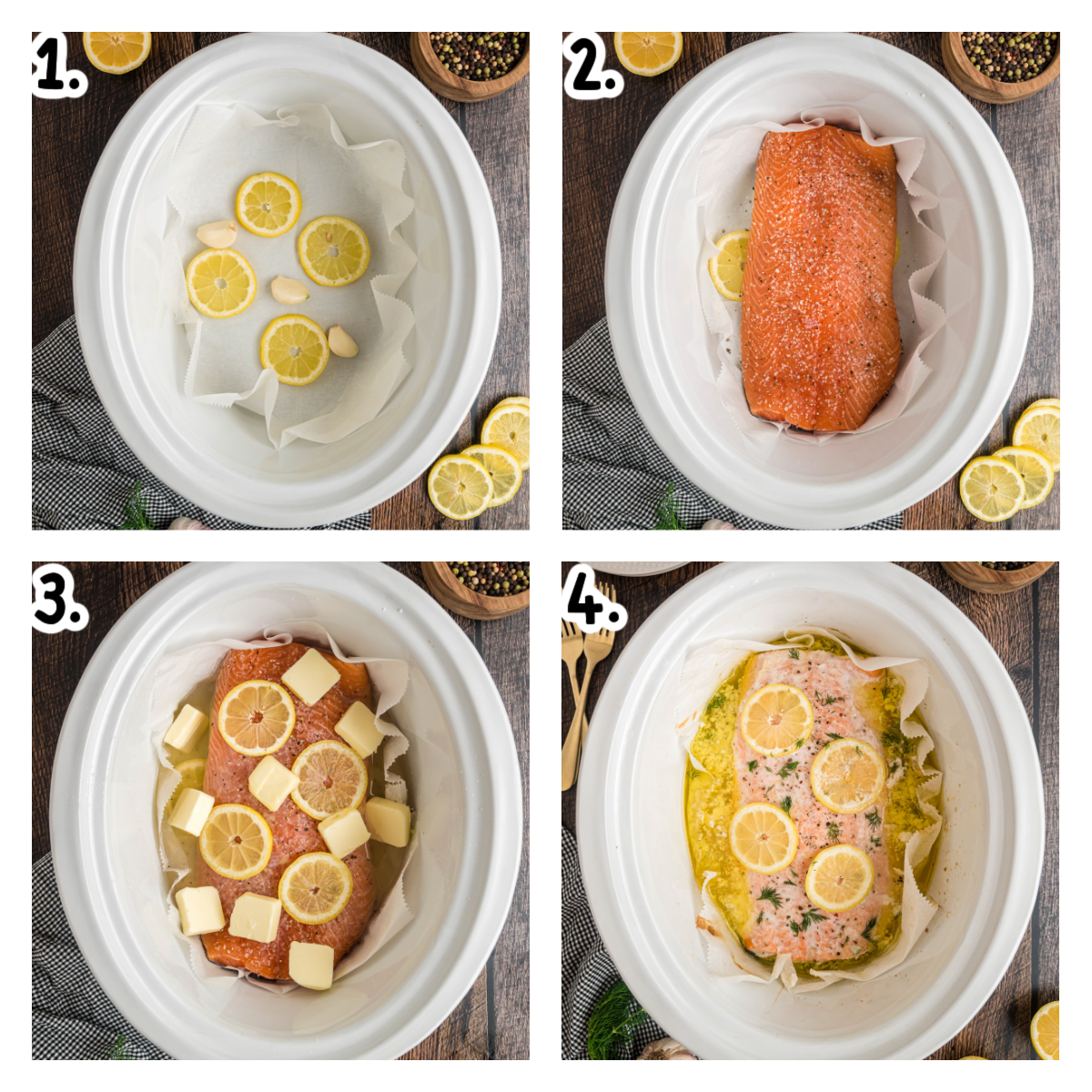 How to serve
Now that your delicious slow cooker salmon is ready, it's time to think about the perfect side dishes to accompany it. Here are some classic and tasty options:
Wild Rice: Classic and always a winner.
Steamed or Roasted Vegetables: Green beans, Brussels sprouts, or asparagus would be excellent choices.
Side Salad: A small salad, tomato cucumber salad, or lemon and kale salad can brighten up the meal.
Pasta: If you want to try something different, serving the lemon butter salmon on a bed of pasta is a great option.
Potatoes: Baby potatoes, sweet potato wedges, or herb-roasted carrots are less traditional but equally delicious choices.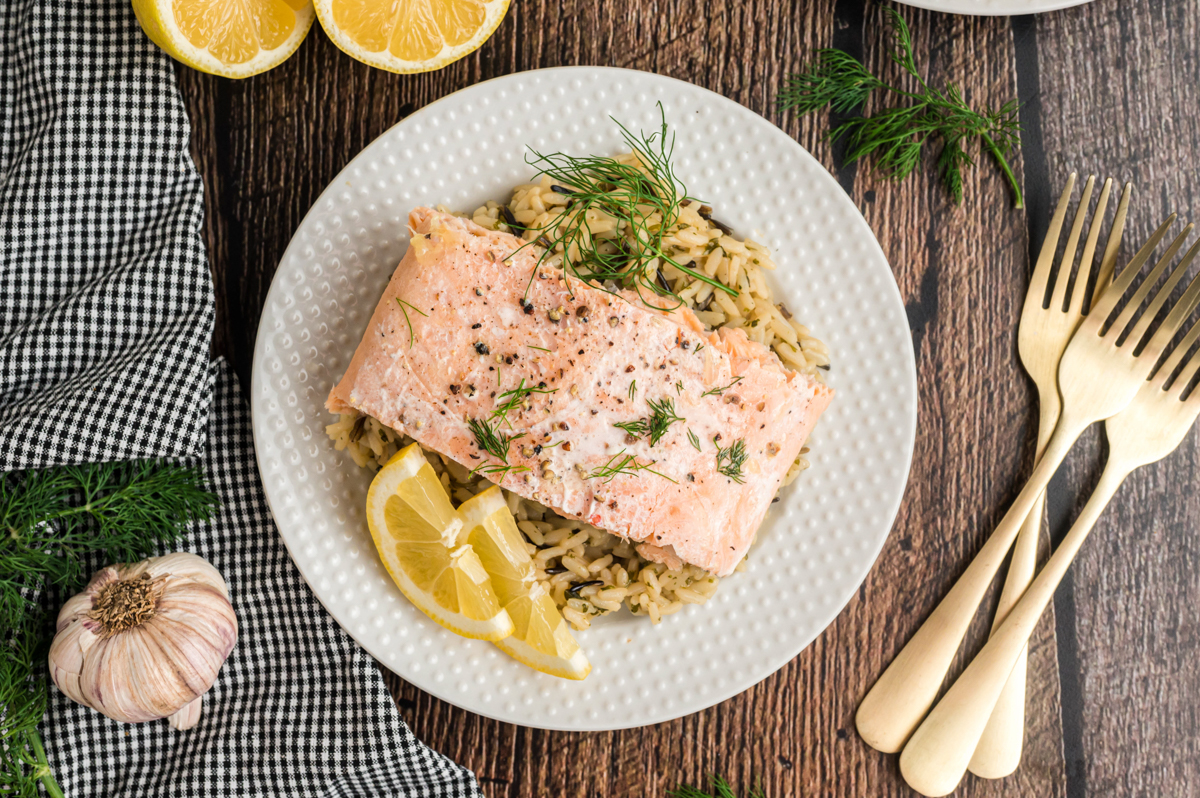 Frequently Asked Questions
More Slow Cooker Seafood
If you're a seafood lover, be sure to check out these other fantastic slow cooker recipes:
Slow Cooker Shrimp Boil
Slow Cooker Clam Chowder
Now that you have all the information, it's time to give this Slow Cooker Salmon recipe a try. Your family will be delighted by the delicious flavors and the ease of cooking. Enjoy a wonderful dinner with Hook'd Up Bar and Grill!