Breakfast is an essential part of the day, often overlooked or rushed. So why not kickstart your morning with a scrumptious (and nutritious!) meal featuring your favorite fish – salmon! This versatile fish can be prepared in numerous delightful ways that are sure to please your taste buds. Let's explore 13 mouthwatering salmon breakfast recipes, from savory scrambles to tangy toast.
1. Smoked Salmon Breakfast Toast from Snacking in Sneakers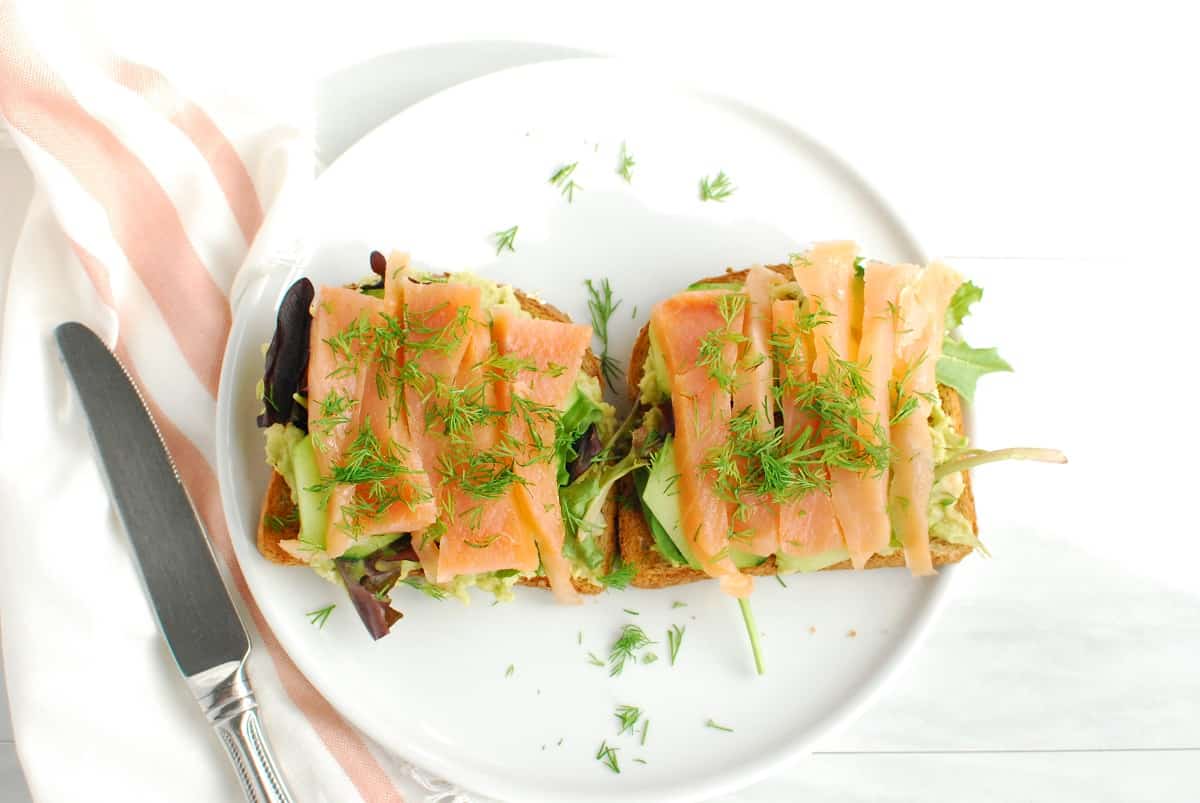 If you prefer a no-cook breakfast, this recipe will fulfill your desires. Besides toasting the bread, there's no need for any cooking in this delectable toast creation. Layer a hearty bread with an avocado and white bean mash, then add fresh greens, cucumber, smoked salmon, and a sprinkle of dill. Not only is it delicious, but this breakfast is also rich in protein, healthy fats, and fiber, keeping you satisfied and energized throughout the morning!
2. Salmon Patty Breakfast Sandwich from Snacking in Sneakers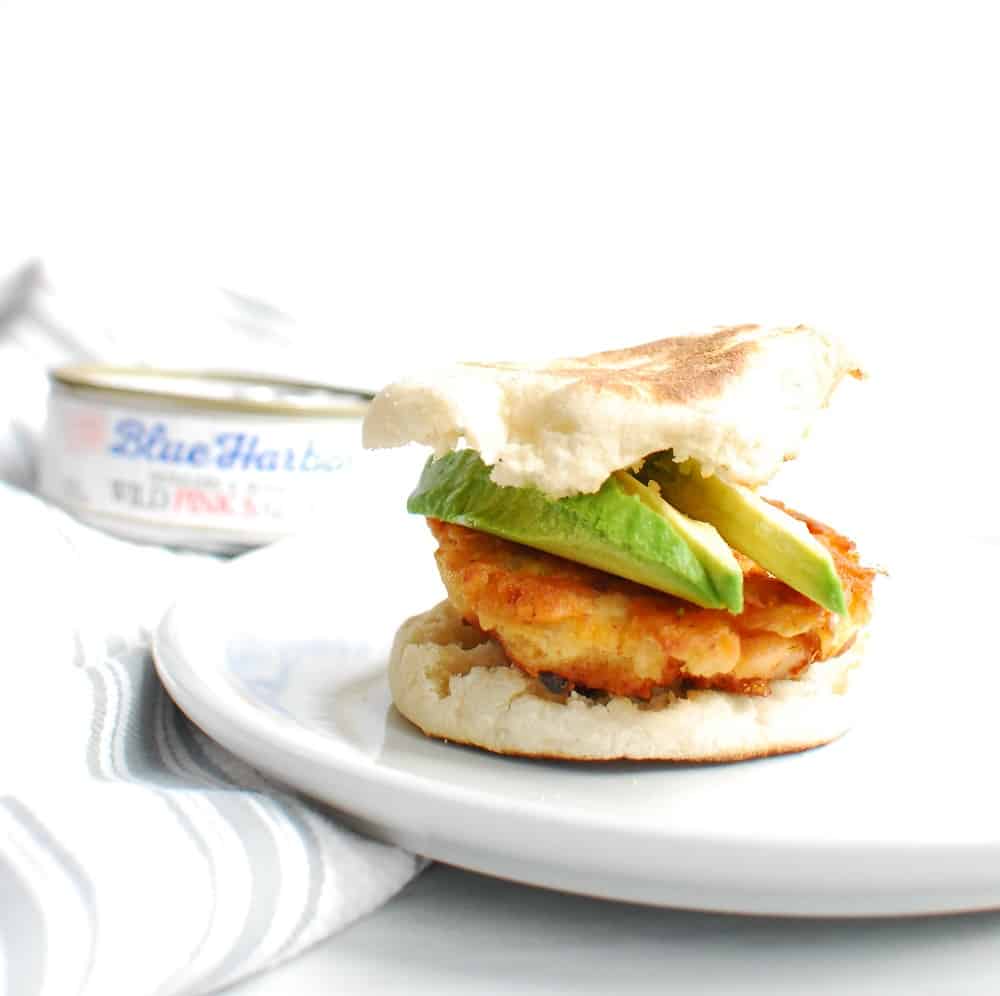 With just eight ingredients, this savory salmon breakfast sandwich is easy to make and packed with flavors. Start by creating a simple salmon patty using canned salmon, seasonings, and buttery crackers. Then load it onto an English muffin and top it with creamy avocado. Yum!
3. Smoked Salmon Scrambled Eggs from Life as a Strawberry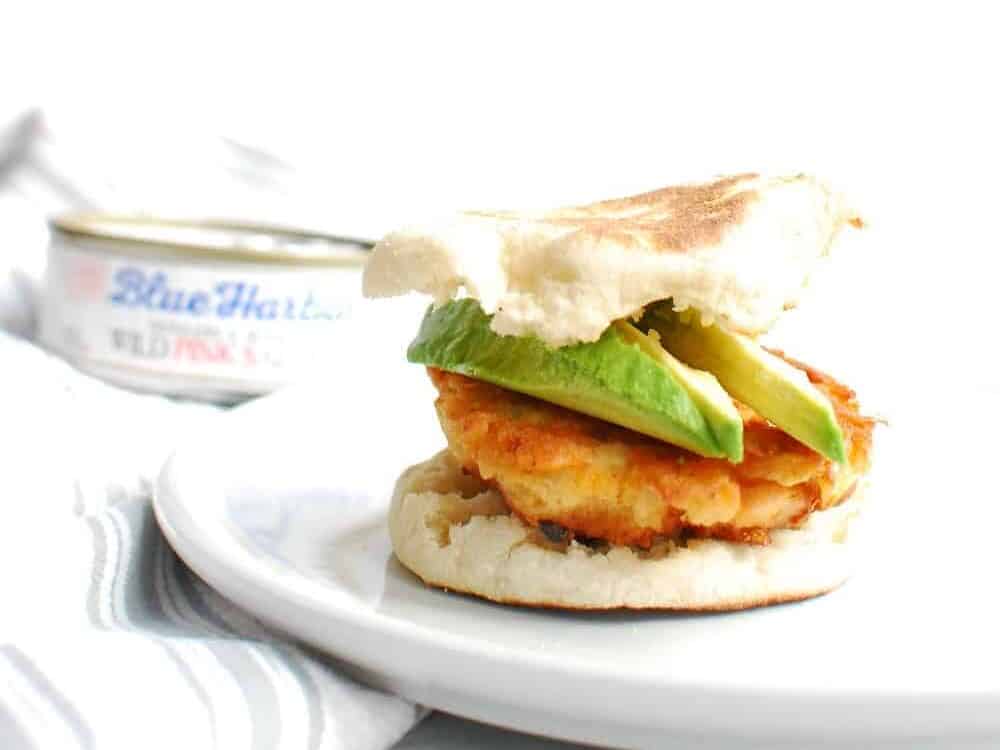 Elevate the classic favorite, scrambled eggs, by adding smoked salmon. A touch of cream cheese and green onions bring an extra burst of flavor to this recipe. Serve it on toast or wrap it in tortillas for a hassle-free, yet delicious, breakfast.
4. Omelet with Salmon and Cream Cheese from Just Gimme Fries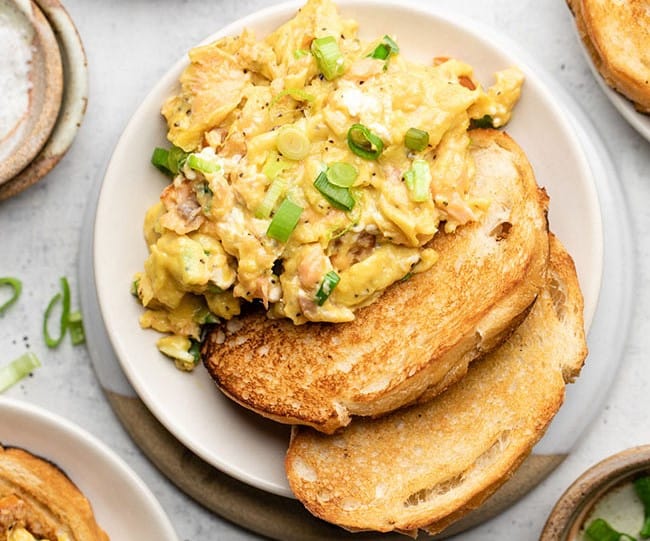 Similar to the previous recipe, this omelet swaps green onions with chives for a delightful twist. With just a few ingredients, this fluffy and creamy omelet is ready to satisfy your savory breakfast cravings in no time.
5. Smoked Salmon Dip from Dirt & Dough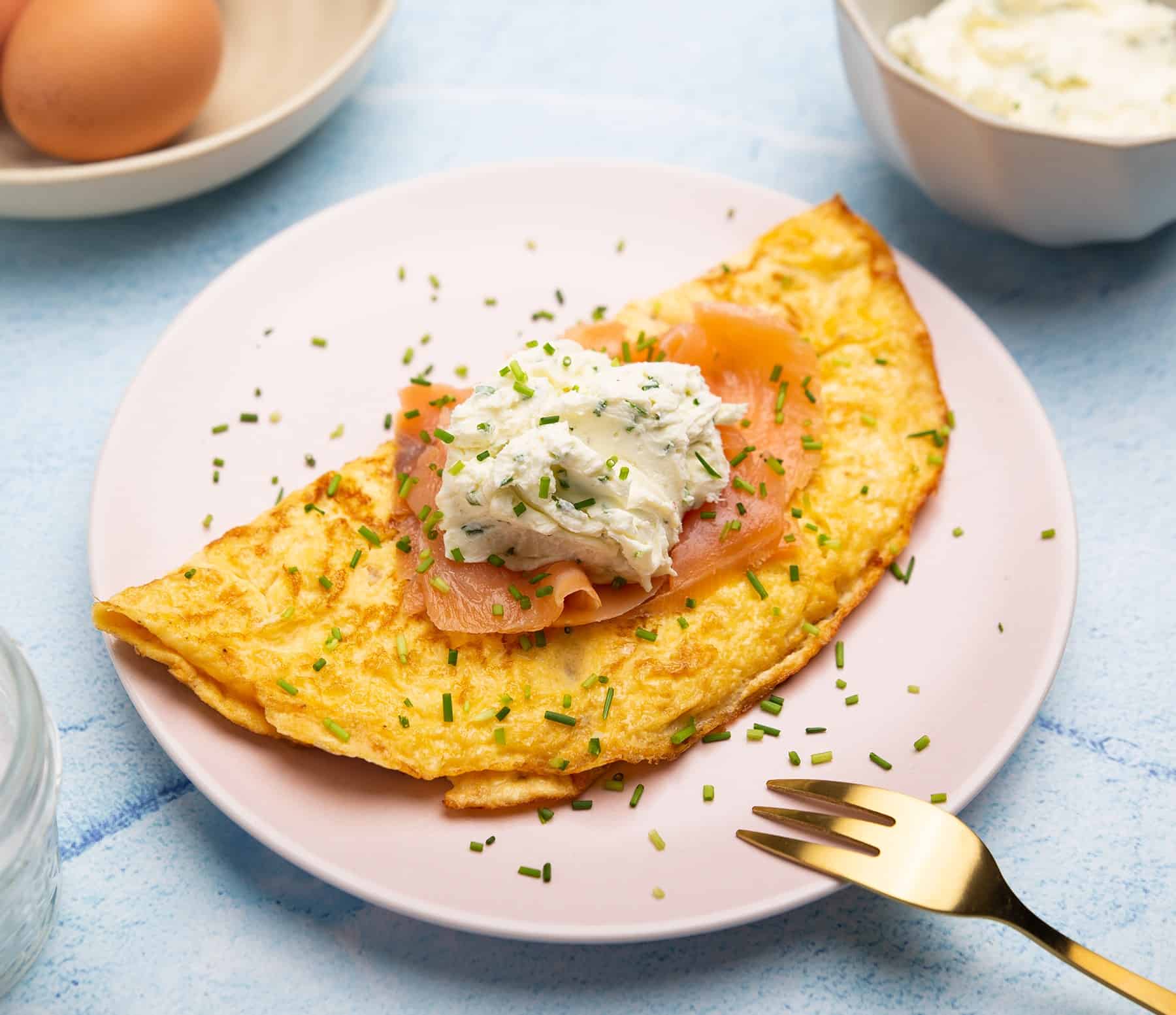 Don't limit smoked salmon dip to just snacking! Spread this delightful mixture of smoked salmon and cream cheese on your morning bagel or toast. Its creamy texture and burst of flavor add a protein boost to your breakfast.
6. Smoked Salmon Breakfast Wrap from Two Healthy Kitchens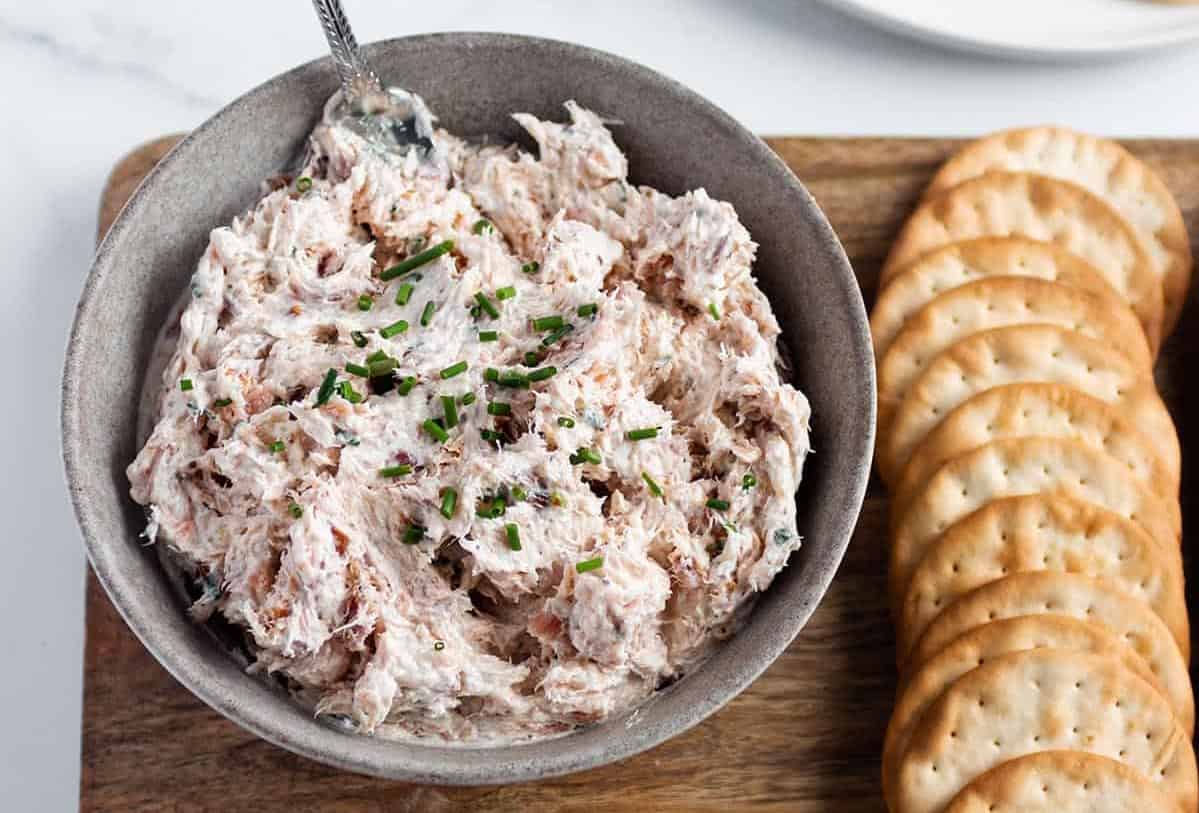 Enjoy the combination of warm, fluffy scrambled eggs and indulgent smoked salmon in a velvety cream cheese wrap. This nutritious and delicious breakfast option takes just a few minutes to prepare. If you're in a pinch, try substituting canned salmon and a few drops of liquid smoke – it won't be the same, but it's still a great choice!
7. Smoked Salmon and Spinach Eggs in Ramekins from Somebody Feed Seb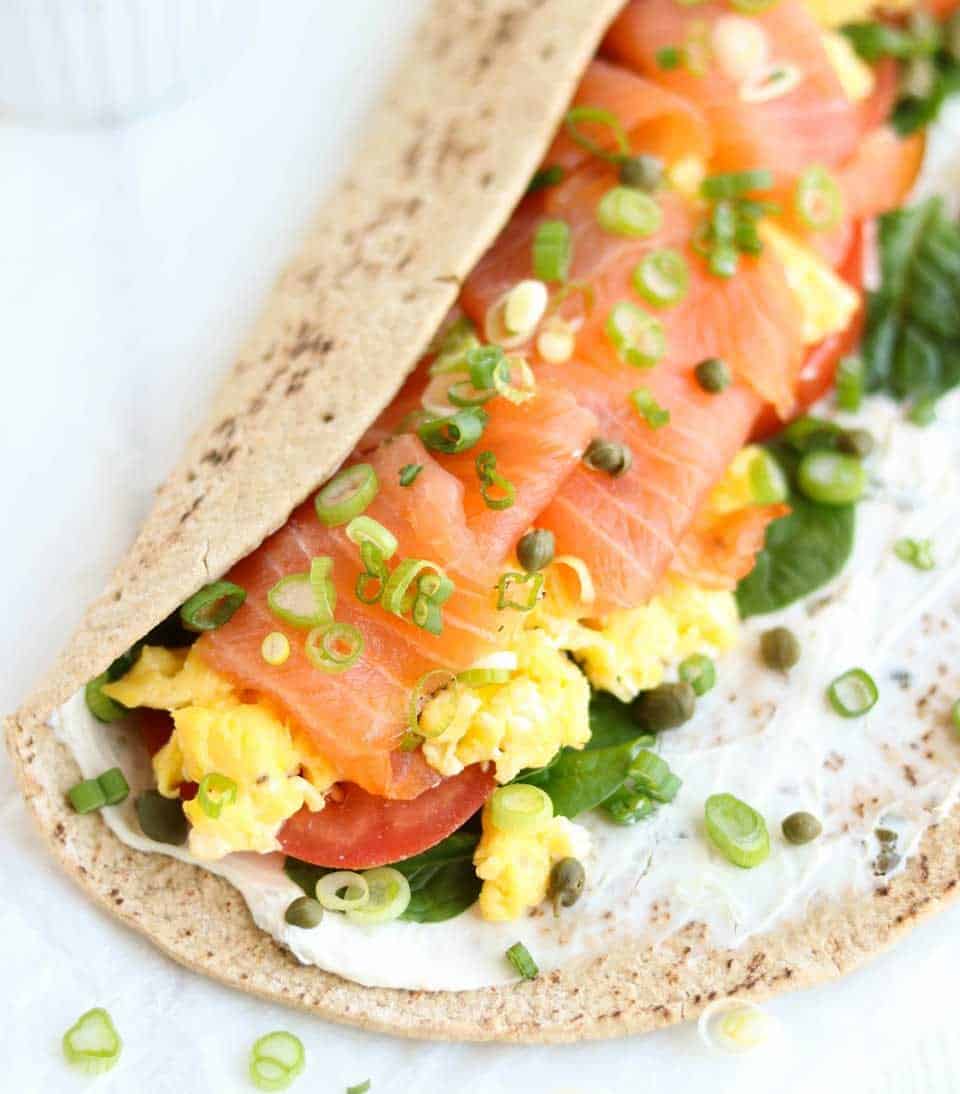 Individually portioned French baked eggs in ramekins are the perfect way to impress a crowd! Baked with spinach and smoked salmon, this breakfast dish is effortlessly elegant and incredibly easy to make.
8. Homemade Salmon Bacon from Plant Based with Amy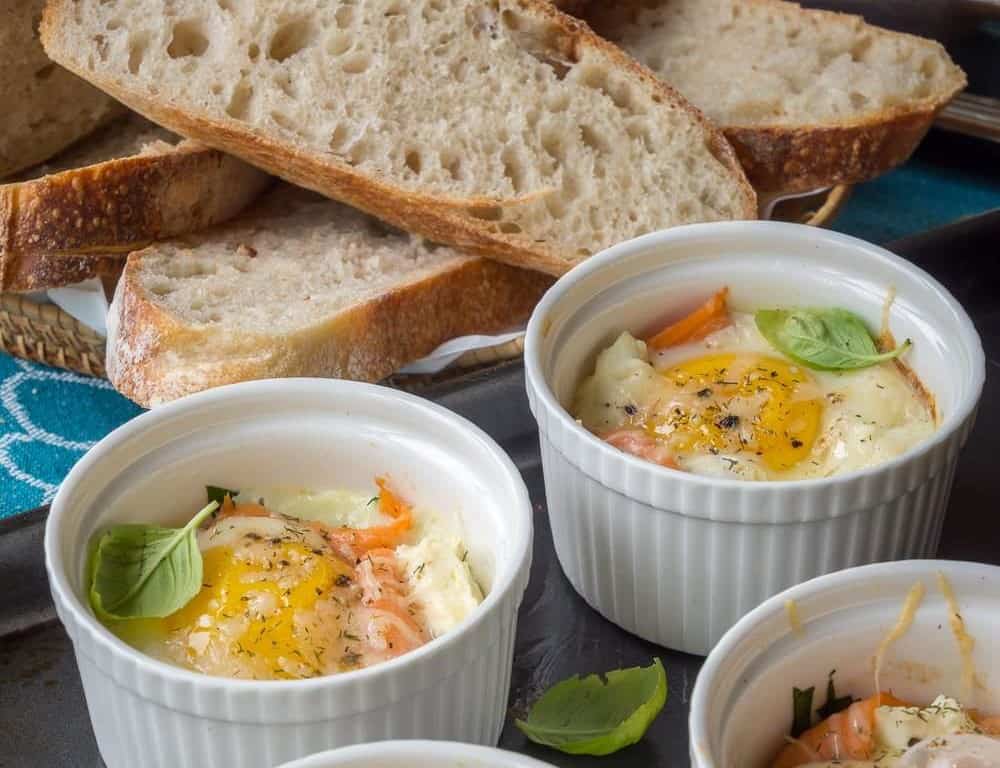 This creative twist on traditional bacon only requires two ingredients: salmon and cooking spray. Simply follow the instructions, bake it in the oven, and you'll have a flavorful and protein-rich breakfast side. It's an excellent alternative for those who don't consume pork but still crave a salty and savory option.
9. Savory Cottage Cheese Breakfast Bowl from Foxes Love Lemons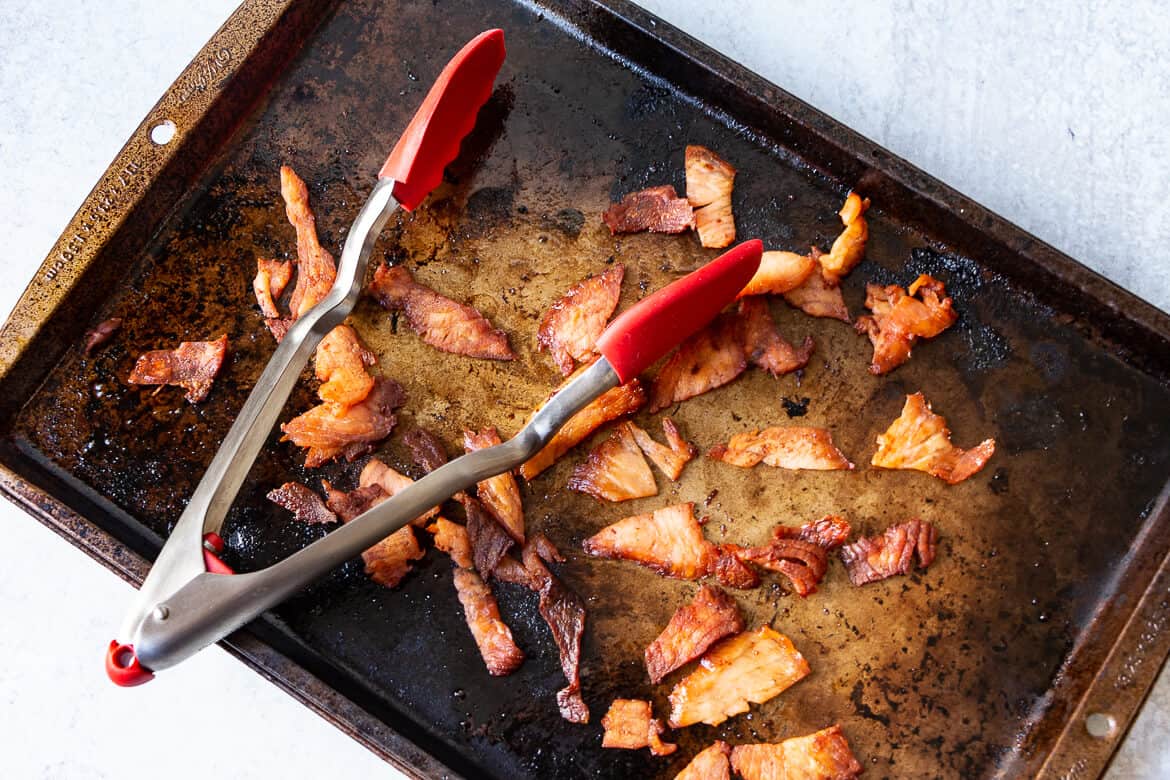 Power up your morning with a protein-packed breakfast bowl. Combine cottage cheese, smoked salmon, eggs, and a few other ingredients for a unique and savory start to your day. With just six simple ingredients, this dish is a breeze to whip up.
10. Salmon, Spinach, and Egg Skillet Bake from Melanie Cooks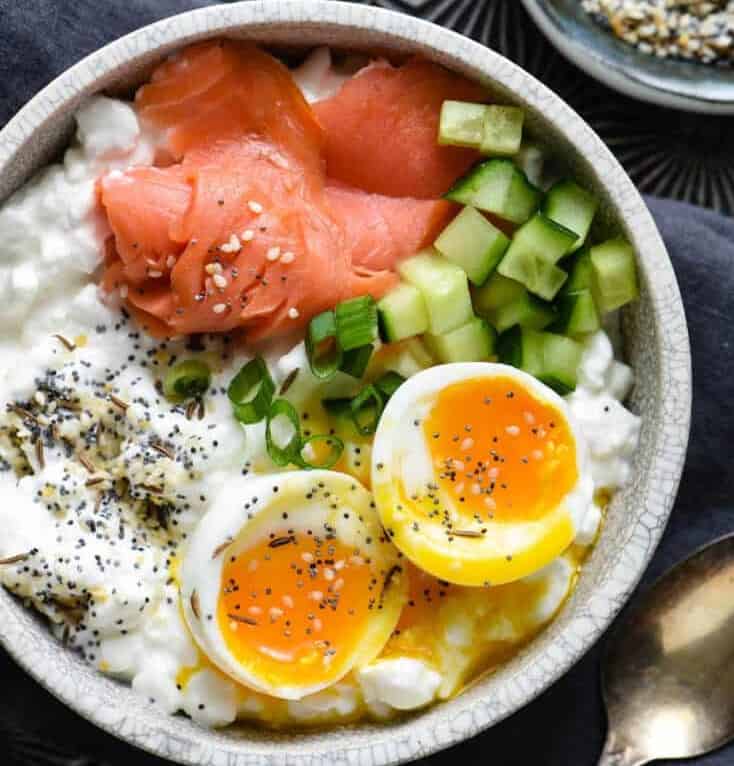 Savor a one-dish meal brimming with leafy greens to fuel your morning. This easy recipe calls for fresh salmon, spinach, eggs, olive oil, and seasonings. Bake it to perfection and enjoy it as is or pair it with breakfast potatoes for some additional carb satisfaction.
11. Smoked Salmon Quiche from A Baking Journey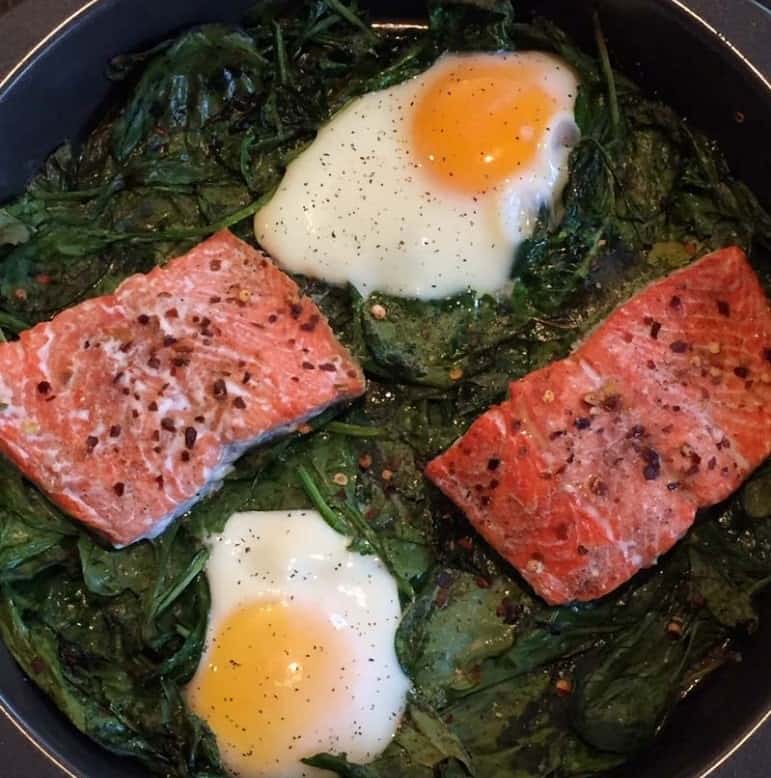 Flaky and delicious, this quiche is a delightful way to savor smoked salmon in the morning. Filled with eggs, leeks, dill, and smoked salmon, it's perfect for a leisurely weekend brunch. If you prefer a lighter texture, you can use milk instead of heavy cream.
12. Smoked Salmon Puff Pastry Tart from Coley Cooks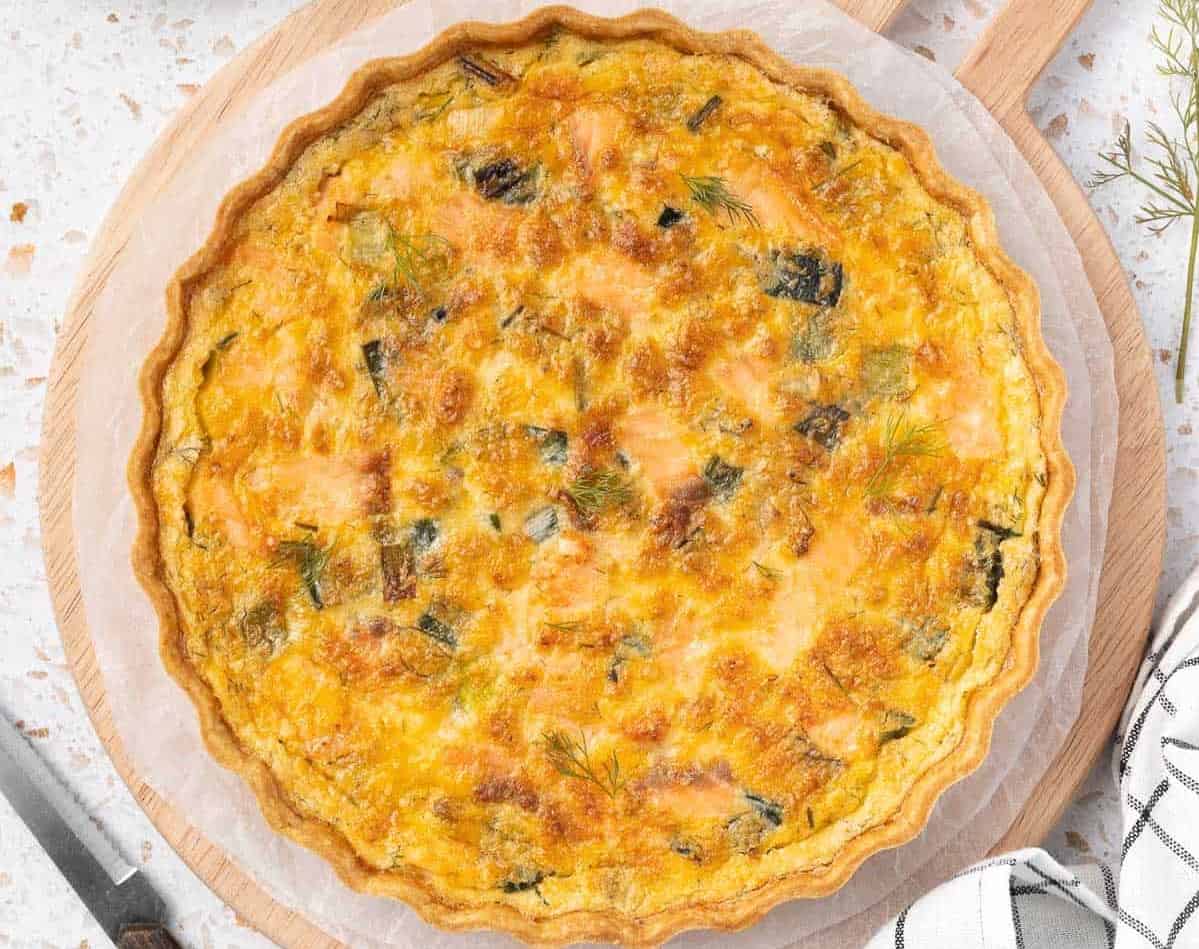 Impress your guests or treat your family to this easy and elegant appetizer or brunch recipe. Featuring buttery, flaky puff pastry and salty smoked salmon, this puff pastry tart is an absolute showstopper. It's a perfect choice for gatherings with friends or a special family breakfast.
13. Everything Bagel Quinoa Cakes from Foxes Love Lemons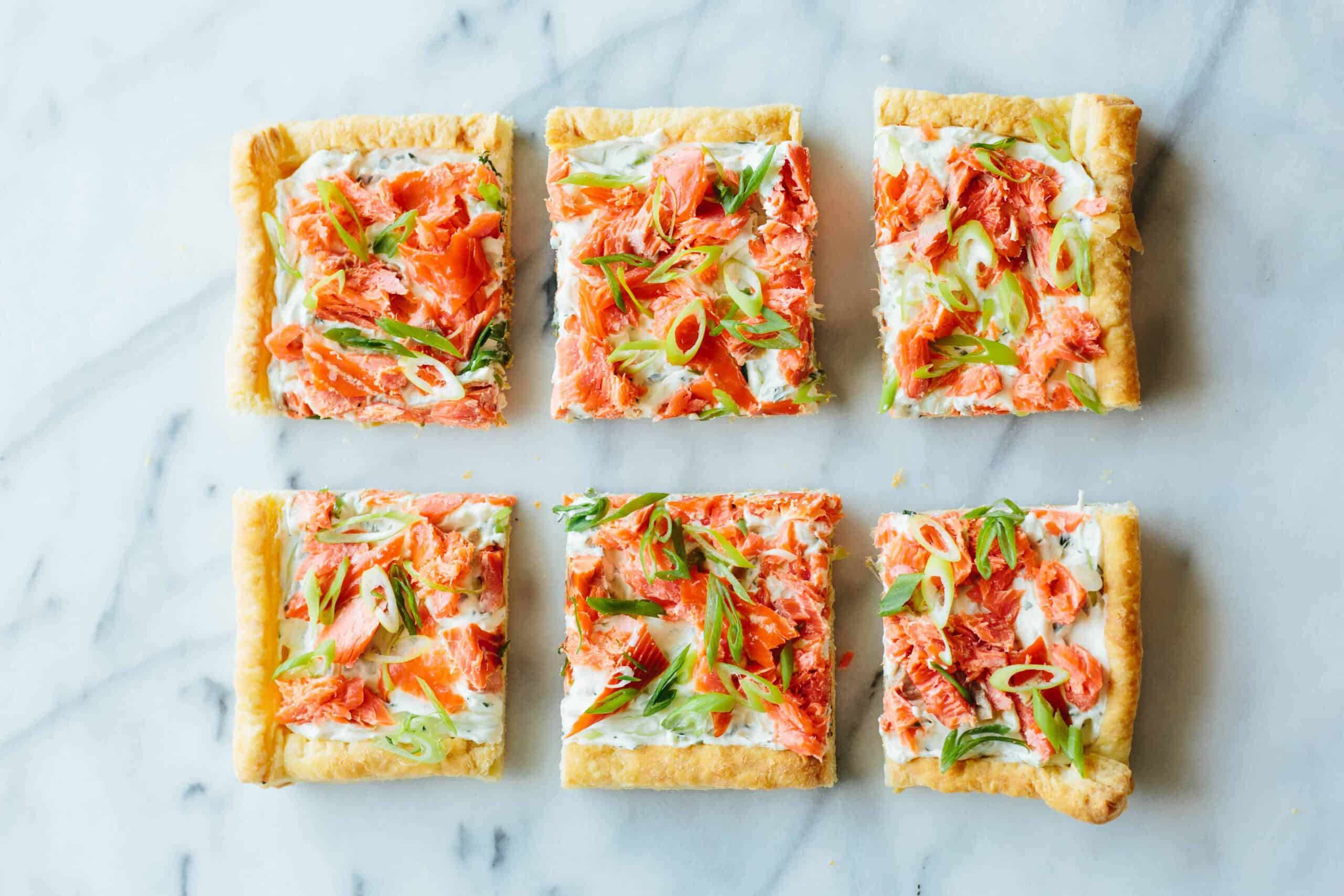 Start your day with a delightful twist by incorporating quinoa into your breakfast routine. These easy-to-make quinoa cakes are topped with smoked salmon and crème fraîche, offering a tantalizing combination of flavors and textures.
Time to Dive In!
With these 13 mouthwatering recipes, you can enjoy a hearty and delectable salmon-based breakfast every morning. Salmon is not only delicious but also an excellent source of healthy omega-3 fatty acids, making it a nutritious addition to your morning meal. Don't hesitate to try one of these salmon breakfast creations today!