This Cajun Shrimp and Crab Mac and Cheese is incredibly rich, creamy, and indulgent. This delightful twist on the classic dish is guaranteed to become your new favorite!
Cajun Shrimp and Crab Mac and Cheese
I prepared this mac and cheese for our Christmas dinner last year, and it was a huge hit! The fact that my entire family loved it was a big deal because we take mac and cheese seriously, especially in our community.
Since it received so many positive reviews, this has become my go-to macaroni recipe!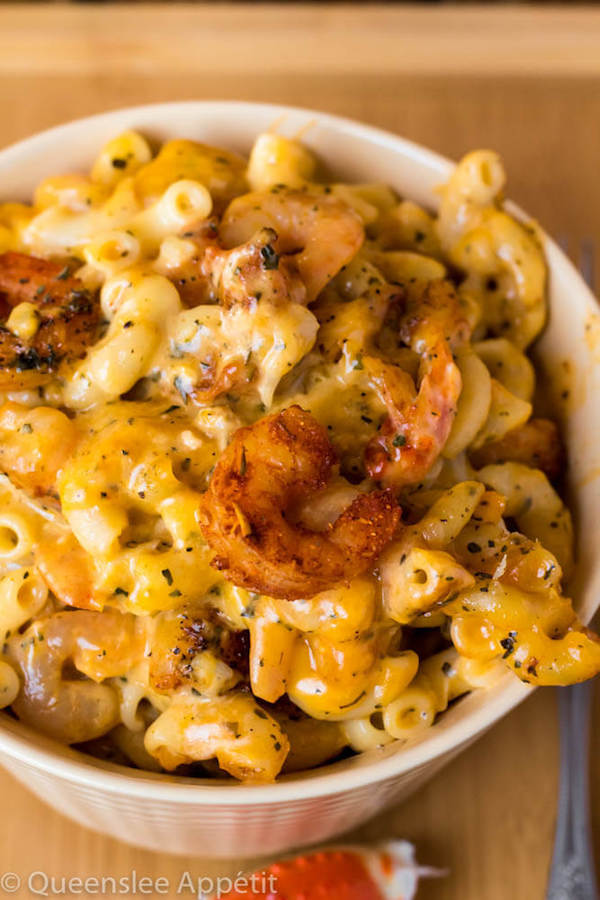 Regular baked mac and cheese is already amazing (if done right), but adding fresh crab and spicy Cajun shrimp takes it to a whole new level.
Each mouthful of this dish offers a delectable combination of shrimp, crab, and macaroni, smothered in a blend of gooey, stringy cheeses, and a burst of blended flavors!
Seasonings
Now, before I break down the layers of perfection in this dish, let's talk about the spice measurements. In my family, we don't follow specific recipes and just eyeball the ingredients. We add as much or as little as we want and hope it turns out delicious (which it always does!). However, since I planned on sharing this recipe, I measured everything according to my liking.
In the recipe below, you'll find the minimum and maximum amounts for the spices. I added quite a bit of cayenne and paprika since my family enjoys a bit of heat. Adjust the quantities based on your taste preferences.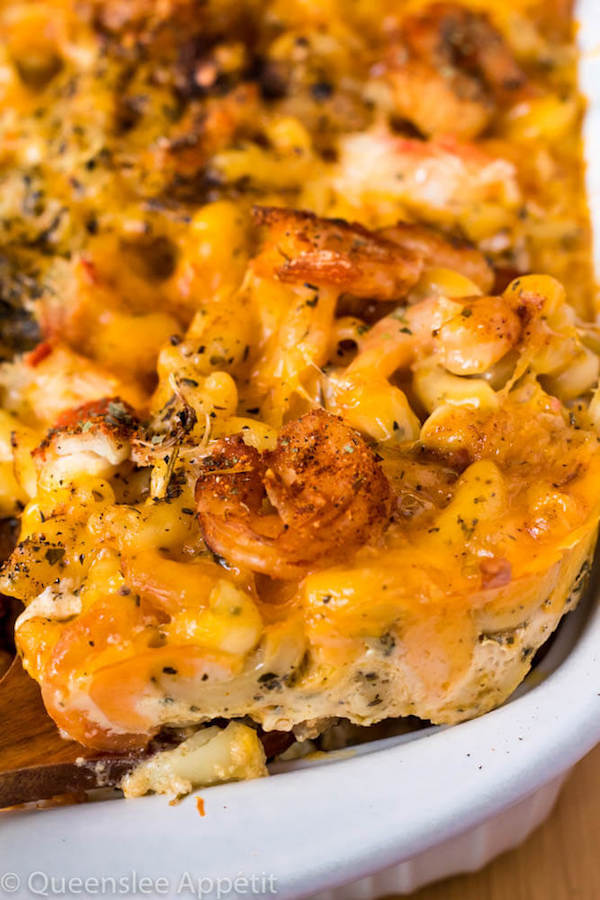 How to Make Cajun Shrimp and Crab Mac and Cheese
Now that we've got the seasoning lesson out of the way, let's dive into making the mac and cheese itself.
Note: Unfortunately, I didn't have time to take step-by-step photos, so bear with me as I guide you through the recipe.
What Kind of Pasta Should I Use?
Feel free to use any type of pasta you like, such as penne, farfalle (bow-shaped), or cavatappi (twisted elbow macaroni). I opted for regular elbow macaroni because, well, it's mac and cheese, not farfalle and cheese. However, use whatever pasta your heart desires.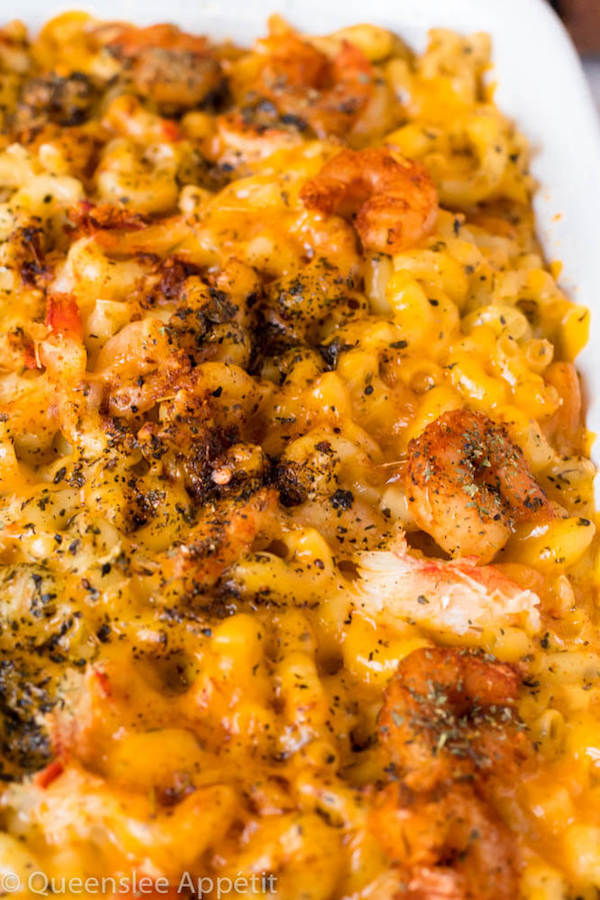 Cajun Shrimp and Crab
While the macaroni is boiling, let's prepare the Cajun shrimp. In this recipe, I used a generous 2 pounds of shrimp because I wanted the shrimp to be present throughout the entire dish. I can't stand shrimp dishes that have only a few measly pieces of shrimp and mostly plain pasta. That's just disrespectful!
I added 2 tablespoons of Cajun seasoning to the shrimp, but feel free to adjust the amount based on your taste preferences.
Once the macaroni is cooked, add the shrimp, crab, and basil. For the crab, I used a 1 lb (454g) package of crab legs, chopped into chunks, which yielded approximately 2 and ½ cups. Just like the shrimp, I want the crab to be distributed evenly in this mac and cheese.
Update
Several people have made this recipe, and some of them noticed that I used imitation crab. Honestly, I had no idea. I mistakenly picked up a package of crab legs, thinking they were fresh crab legs. But it turns out, they were imitation crab. My bad!
So, in the new photos, I have remade the recipe using fresh crab legs this time!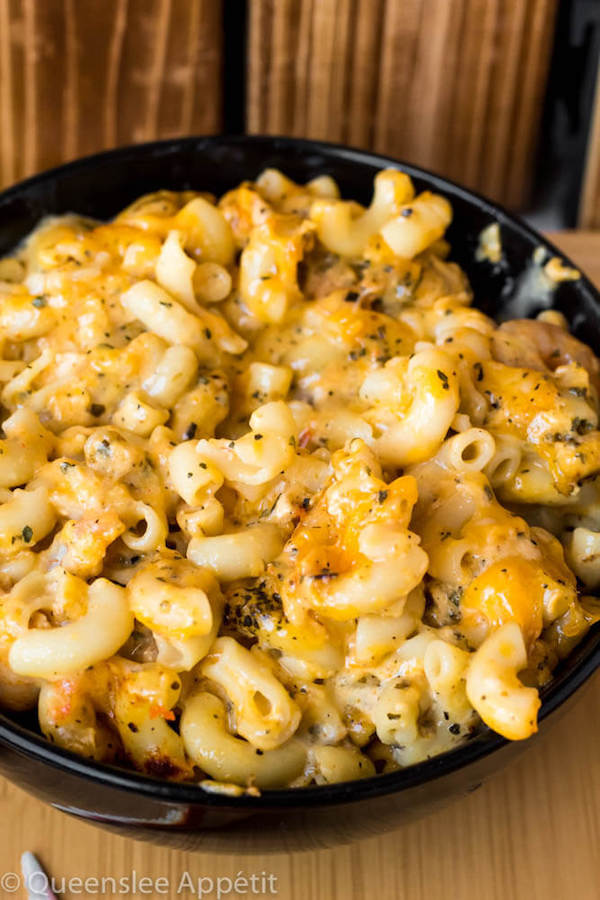 Here's the thing, though—crab legs are expensive. Like, super expensive! I purchased 1 and ½ pounds of crab legs for about $30. Instead of going through the hassle of pre-cooking the crab, I simply bought a snow crab dinner from Red Lobster. Let me tell you, cracking those crab legs was one of the worst experiences ever! And guess what? I ended up with just about 1 cup of meat from the entire ordeal. Take a look at the shrimp versus crab ratio:
Pretty sad, right? Even though there wasn't much crab in this updated version of the mac and cheese, the few moments I got a taste of it were incredible! The fresh crab tasted even better than the imitation crab, of course.
Fresh Crab vs. Imitation Crab
You might assume that fresh crab would be the obvious choice because of its superior flavor. However, there are a few drawbacks. If you can afford it, I recommend buying at least 2 pounds of fresh crab, boiling it, removing the meat, and adding it to the recipe. Hopefully, you'll end up with delicious chunks of crab instead of shredded meat.
On the other hand, if you can't afford or don't want to spend a lot of money on fresh crab, you can always use imitation crab like I did the first time. Not only does it still taste amazing, but you'll have a lot more crab to enjoy!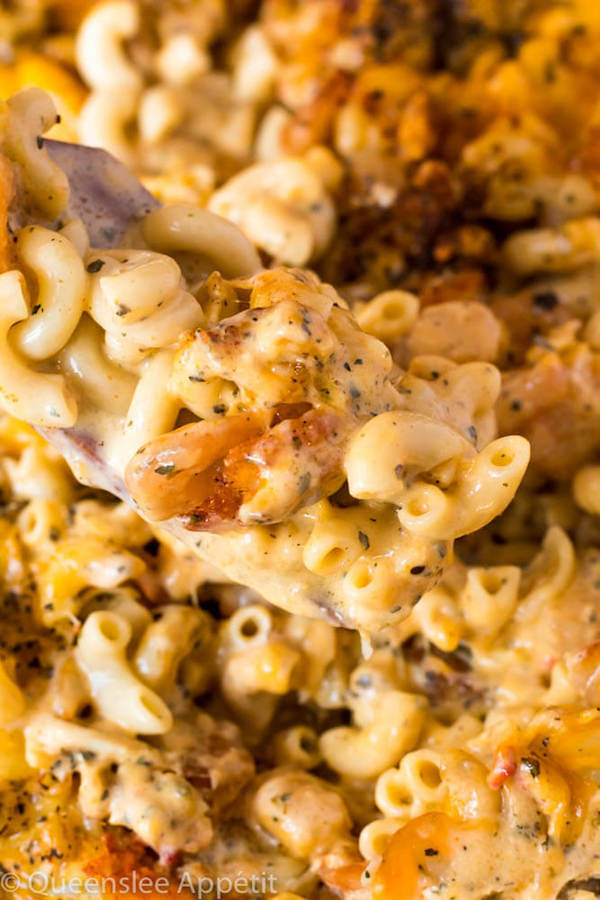 How to Make the Creamiest Mac and Cheese
One of the highlights of this mac and cheese is its extreme creaminess! To achieve this, I used a combination of whole milk and evaporated milk. You can use anywhere from 2 to ⅔ cups of evaporated milk, depending on how creamy you want the mac and cheese. In my case, I used 2 and ⅔ cups to achieve the desired consistency.
To the milk mixture, I added paprika and cayenne for an extra kick. Start with a small amount of seasoning, taste the milk, and gradually add more if desired. I recommend doing this before adding the eggs, for obvious reasons.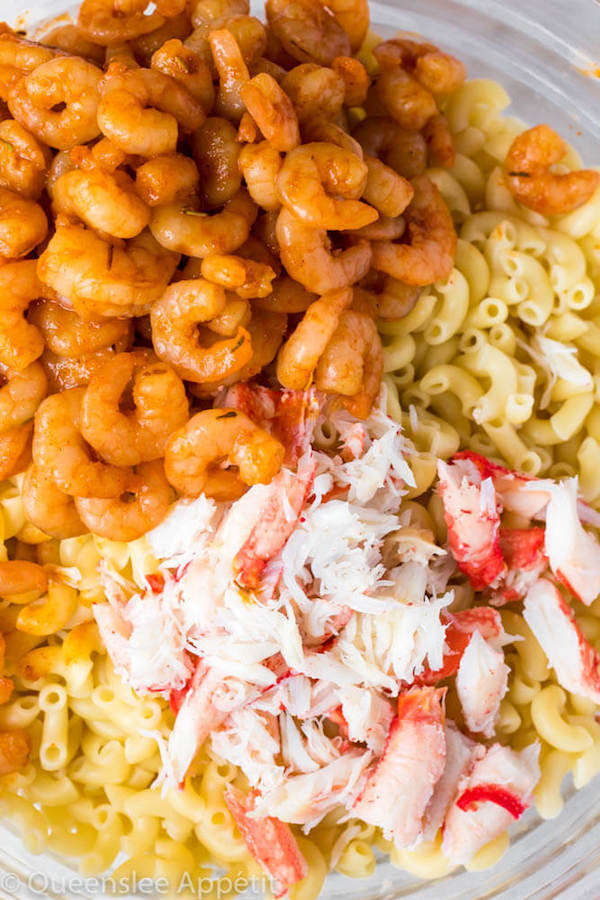 How to Make the Cheesiest Mac and Cheese
Now let's talk about the cheese. I used a combination of four different types: sharp cheddar, mild cheddar, colby & monterey jack blend, and Parmesan. That alone should give you an idea of the level of cheesiness in this dish!
Many people prefer making a cheese sauce separately and then adding it to the macaroni. However, in our family, we skip that step. I added the cheese (except for the Parmesan) directly to the milk mixture, and then mixed everything with the macaroni. I find this method easier and more effective than making a cheese sauce.
Just take a look at this cheese-filled goodness!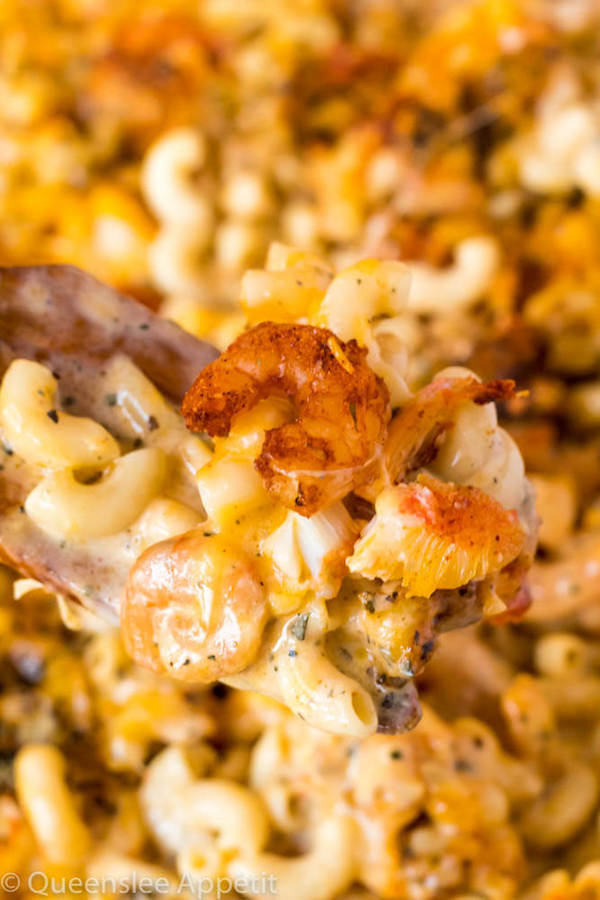 We bake the macaroni in a large 9×13-inch baking dish. Don't worry if it seems like it won't fit because it will!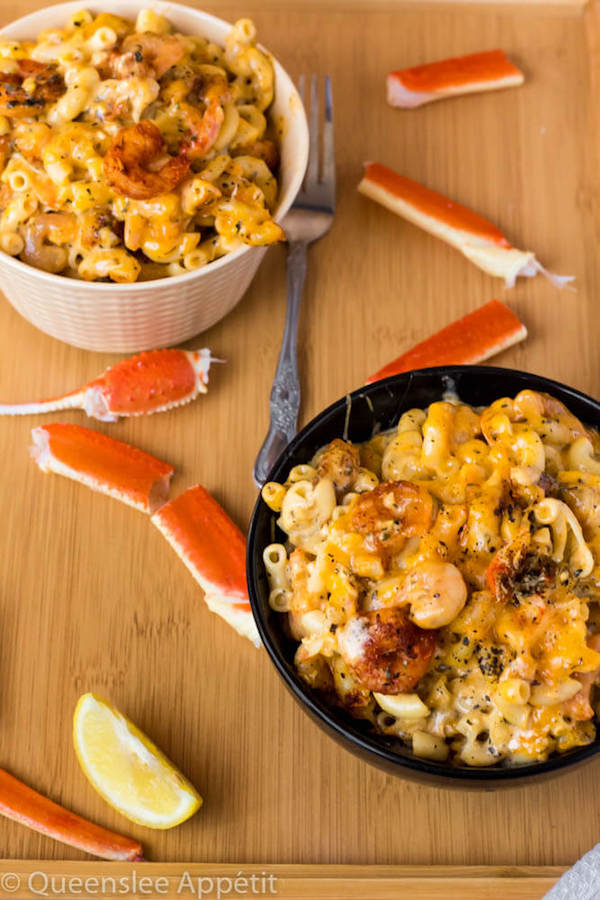 Top with Breadcrumbs or Cheese?
I've never been a fan of topping mac and cheese with breadcrumbs, but if that's your thing, go ahead and give it a try. In my family, we opt for more cheese on top, along with extra basil, paprika, salt, pepper, and Cajun seasoning. Although completely optional, these additions contribute to an even more flavorful dish! If you decide to use breadcrumbs, let me know how it turns out.
As you can see in the photos, I also garnished the mac and cheese with extra shrimp and crab. This was purely for photography purposes, so you don't need to do it. In fact, once the dish is baked, you can barely see the shrimp or crab anyway.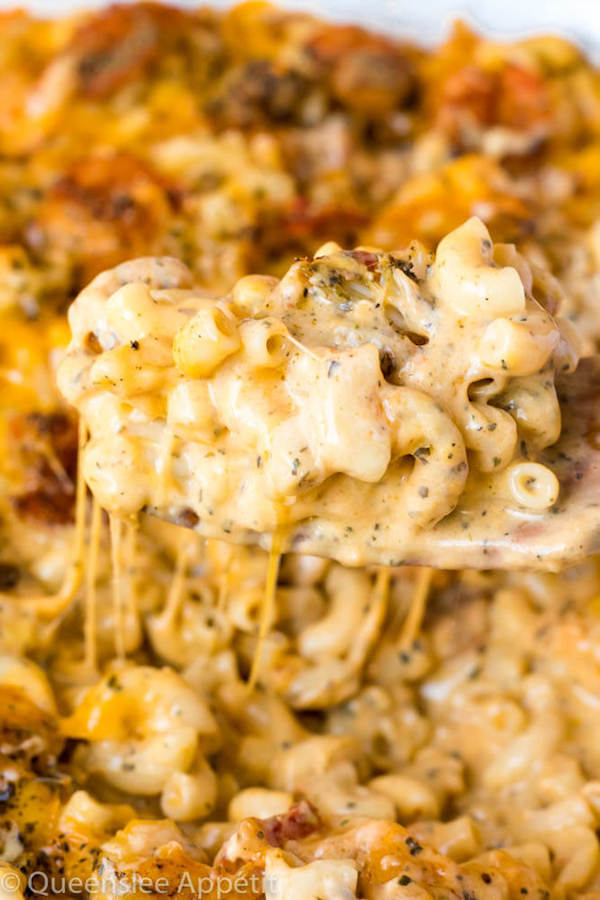 Speaking of baking, I recommend placing the mac and cheese on a baking sheet to catch any spills. Also, loosely cover the top with foil to prevent excessive browning. The mac and cheese should bake for about 45-55 minutes.
Once it's done baking, let it sit for at least 20-30 minutes to firm up. If you skip this step, the dish will turn into a soupy mess and you might think you've failed. But fear not! When everything sets properly, you can finally dig in and savor this delicious creation.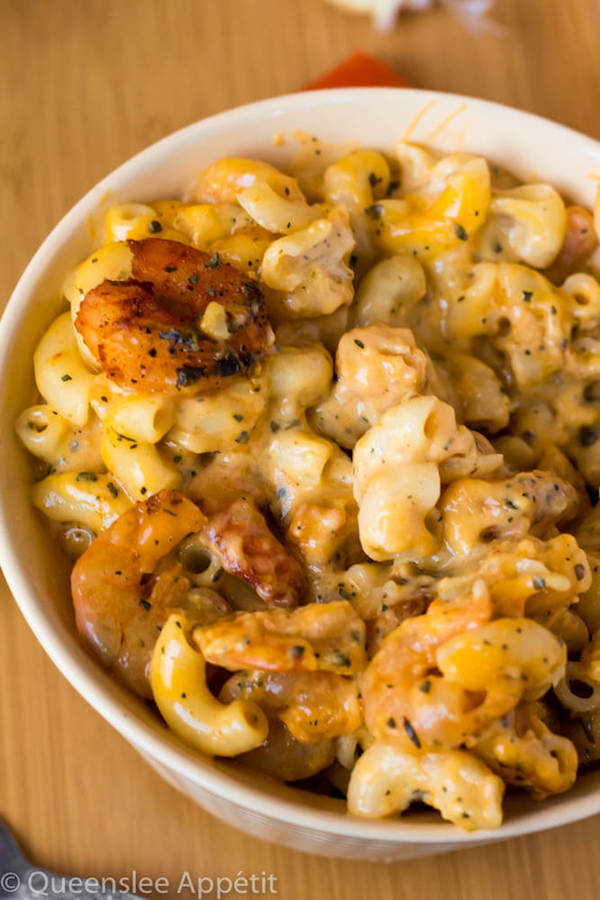 >>PIN ME FOR LATER<<
Make a Full Meal! Serve this Mac and Cheese with These Recipes:
FOLLOW HOOK'D UP BAR AND GRILL
Like what you see? Make sure you're following Hook'd Up Bar and Grill for more mouthwatering recipes!
Pinterest | Instagram | Facebook | Twitter
Have any questions about the recipe? Contact us and we'll be happy to help!
Let's get cooking!
© Hook'd Up Bar and Grill. All images & content are copyright protected. Please do not use the images without prior permission. If you want to republish this recipe, please rewrite it in your own words or provide a link back to this post.
BON APPÉTIT!
Love,
Dedra
DID YOU MAKE A RECIPE?
We'd love to see how it turned out! Follow us on Instagram and use the hashtag #hookdupbarandgrill so we can admire all the delicious recipes you've made!