Are you craving a hearty and flavorsome soup that will warm you up from the inside? Look no further! Pork Pozole Verde is the perfect bowl of comfort food that will satisfy your taste buds and leave you wanting more. And guess what? You can easily make a delicious chicken pozole verde using the same recipe. Let's get cooking!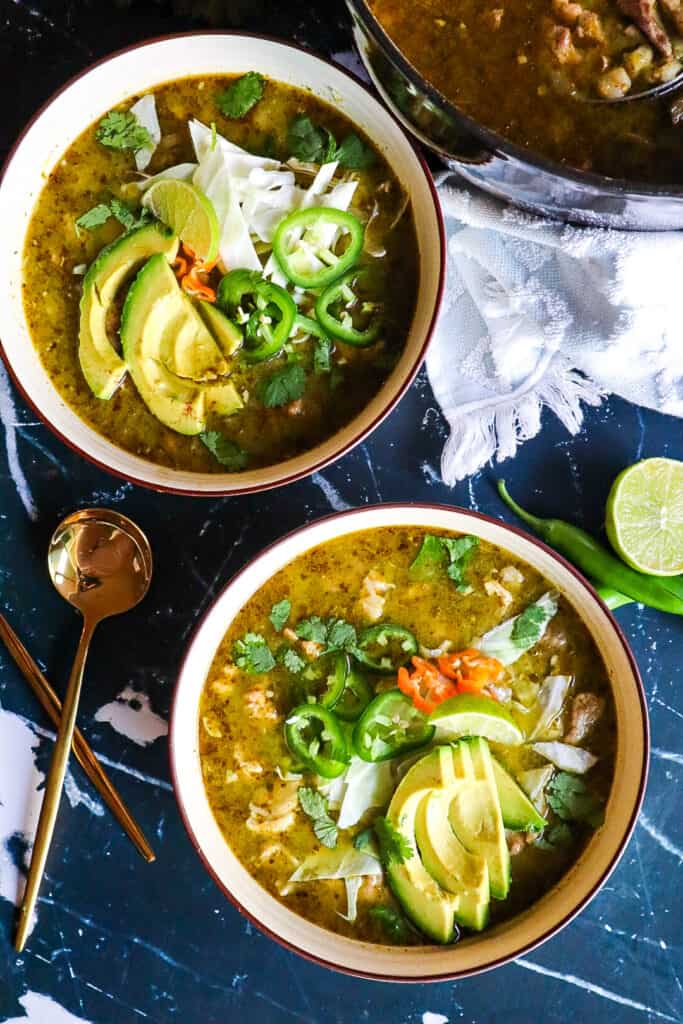 Homemade Goodness
Making Homemade Pozole Verde is incredibly easy, and the secret lies in using quality ingredients and a little bit of patience. Begin early in the day, and let the soup simmer slowly, filling your home with mouthwatering aromas. Trust me, the wait will be worth it!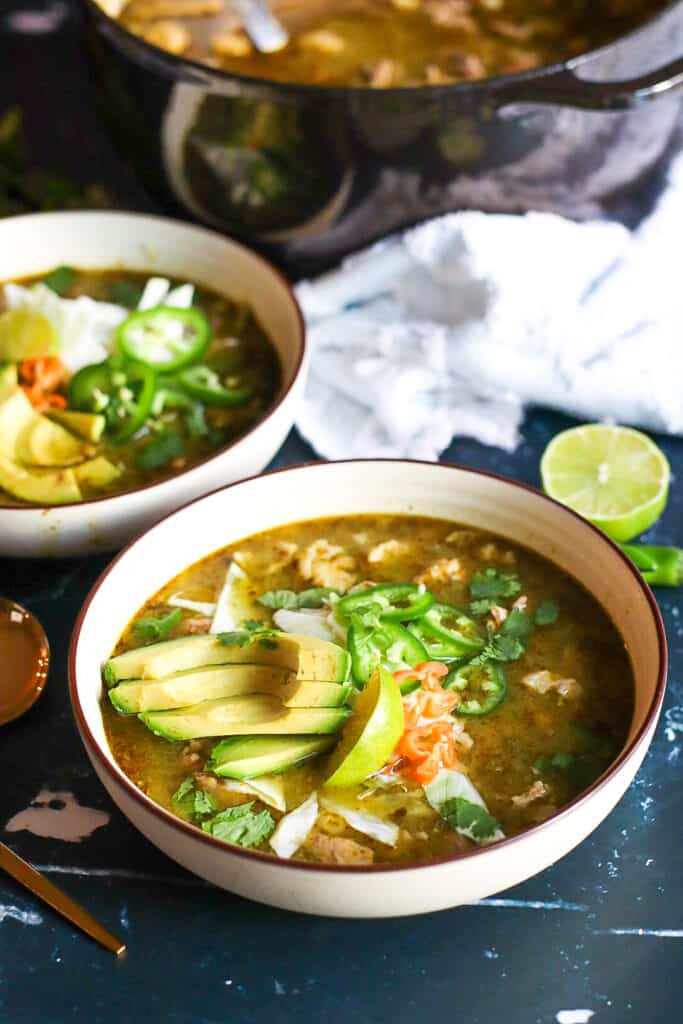 A Christmas Tradition
As the fall and winter seasons approach, it's time to indulge in this delightful soup. Pork Pozole Verde has become a Christmas tradition in my home, and it's always a hit at our annual holiday gathering. In fact, it's devoured within minutes! The hearty and delicious flavors make it the perfect dish to enjoy with your loved ones during the festive season.
Elevate Your Soup with Toppings
One of the best parts of pozole is adding toppings that take the soup to a whole new level of deliciousness. Don't skip out on shredded cabbage, Mexican oregano, tortillas, lime, and cilantro. These toppings perfectly complement the rich and savory flavors of the soup, making it completely irresistible.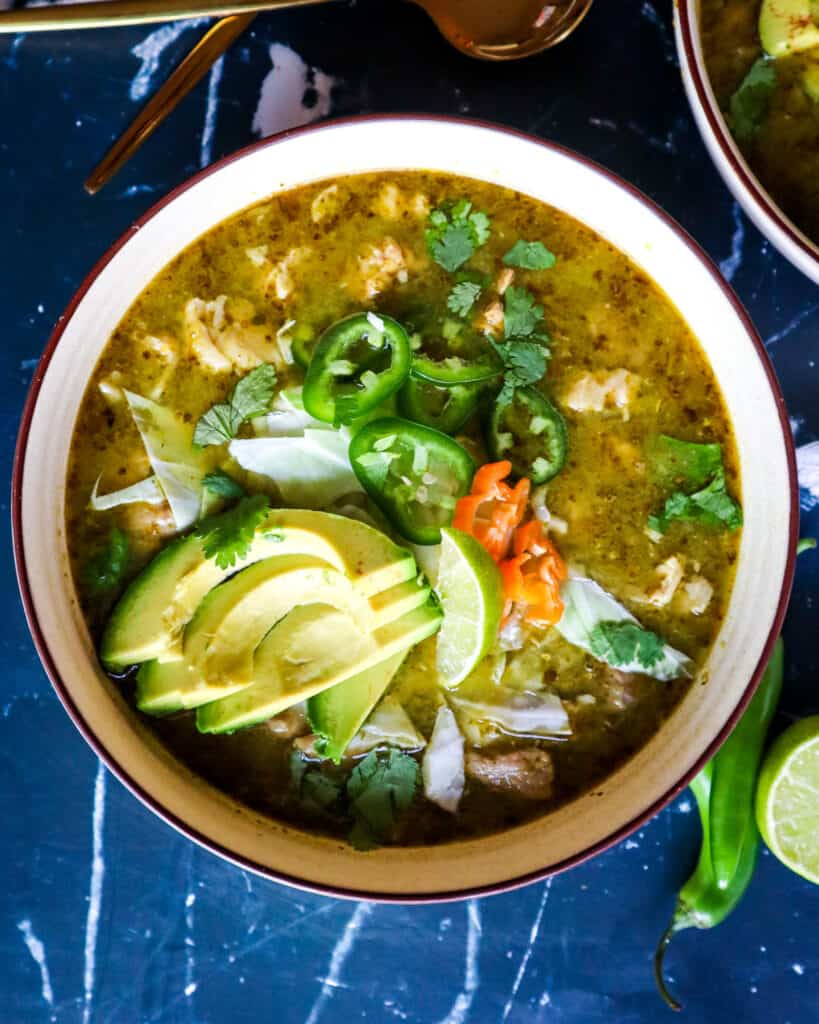 What is Pozole Verde?
Pozole Verde is a flavorful Mexican stew that combines hominy, your choice of chicken or pork, and a vibrant green chili broth. The process involves boiling the meat, shredding it, and then adding the Verde sauce and hominy. Finally, it's time to load up your bowl with toppings and enjoy every spoonful of this delectable dish.
Traditional Toppings
The richness of the Verde green pozole is further enhanced by the toppings that accompany it. When serving traditional pozole, don't forget to add cabbage, lime wedges, avocado, jalapenos, chiles, salsa, onions, radishes, tortilla chips, and cilantro. These toppings bring a burst of flavors and textures to the soup, making each bite a delight.
Pork or Chicken Pozole?
While pork is traditionally used in pozole, you can easily switch things up and make chicken pozole verde using the same recipe. Simply follow the instructions and substitute chicken for pork. Pan-sear and boil the chicken breast, then shred it into bite-sized pieces. Add the shredded chicken back into the broth, along with the verde sauce and hominy. Let it simmer for 15 minutes, and voila! Your chicken pozole verde is ready to enjoy.
Cooking Instructions
Here's a step-by-step guide to making the best Pork Pozole Verde:
Season the pork (or chicken) with salt and pepper. Pan-sear the meat in a large Enameled Cast Iron Dutch Oven until browned on all sides.
Add all the seared meat to the Dutch Oven. Pour in water, broth, bay leaf, and chopped onion. Cover and cook over low heat for 1 1/2 hours or until the meat is tender and easily breaks apart.
While the meat is simmering, prepare the verde sauce by blending the sauce ingredients until fully combined.
In a separate saucepan, simmer the verde sauce for 15 minutes or until it becomes a deeper green.
Remove any excess fat and bones from the simmering meat. Shred the larger pieces of pork (or all of the chicken if using).
Add the verde sauce and hominy to the Dutch Oven with the meat and broth. Stir to combine, cover, and simmer for about 15 minutes.
Serve the Pozole Verde with your favorite toppings and enjoy the burst of flavors!
Tips for the Best Pork Pozole Verde
Use a variety of pork pieces, preferably with the bone in. Pork shoulder and pork leg work best. This helps create a more flavorful broth. If using chicken, bone-in or boneless skinless chicken thighs and breasts are ideal.
Generously season the meat with salt and pepper before pan-searing for maximum flavor.
Experiment with a variety of green peppers like poblano, jalapeno, serrano, or habanero to adjust the spice level to your liking.
Don't skimp on the toppings! Lime, shredded cabbage, avocado, and radishes are a must for serving traditional pozole. They add a vibrant freshness that takes the soup to another level.
Homemade Goodness Made Easy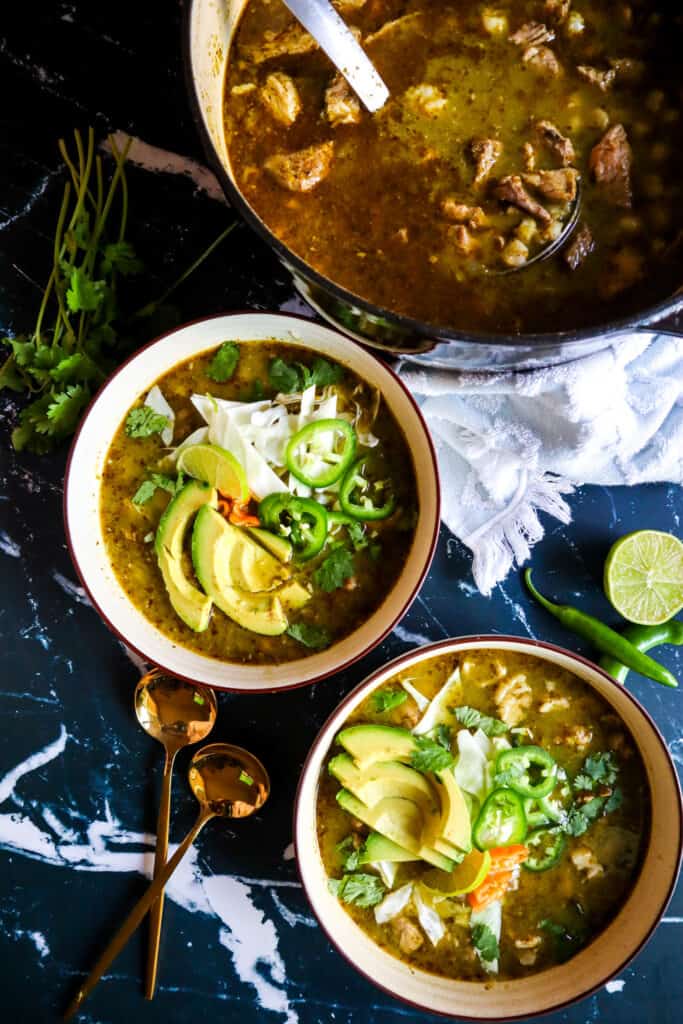 Make It in the Slow Cooker
If you prefer a hands-off approach, you can make this Pork Posole Verde in a slow cooker. Follow these simple steps:
Season and pan-sear the pork.
Blend the ingredients for the Verde sauce.
Add the pork, water, broth, bay leaf, onion, and Verde sauce to the slow cooker. Cook on the low heat setting for 6 hours.
Stir in hominy and cook on low for an additional hour.
Season to your liking with salt, pepper, and a bit of dried oregano.
Serve with your favorite toppings and enjoy the convenience of slow-cooked goodness!
Storing and Reheating
You can store leftover Pozole Verde in an airtight container in the fridge for up to 5 days or in the freezer for up to 2 months. Thaw it overnight in the refrigerator before reheating. Remember to store the toppings separately for the best results. To reheat, simply warm the pozole on the stovetop and savor the flavors once again.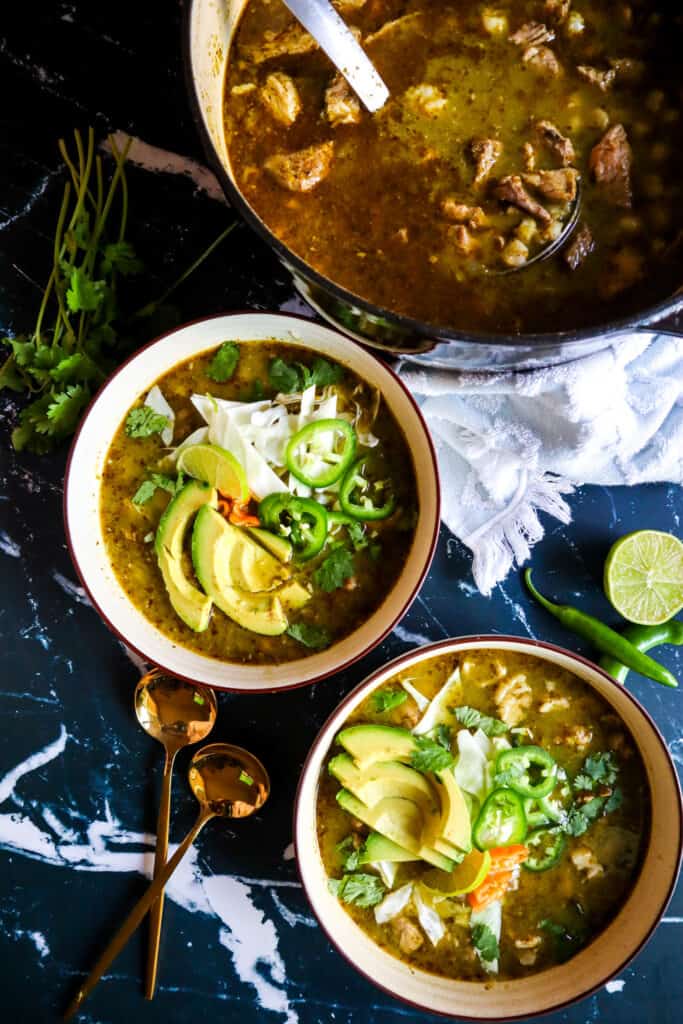 Hook'd Up Bar and Grill – Your Go-To Spot
If you're looking for a place to enjoy delicious Pozole Verde and a variety of mouthwatering dishes, head on over to Hook'd Up Bar and Grill. Our cozy atmosphere and friendly staff will make you feel right at home. Visit Hook'd Up Bar and Grill for the ultimate dining experience.
Conclusion
I hope you enjoy this Pork Pozole Verde recipe as much as I do! Don't forget to rate the recipe and share your thoughts in the comments. Take pictures and tag #goodfoodbaddie on Instagram, Facebook, and Pinterest to show off your culinary skills. If you're hungry for more flavorful recipes, check out my other popular creations. Happy cooking!