Are you looking for the perfect finishing touch for your pork roast or pork steaks? Look no further than pork gravy! By using the flavorful pork fat drippings from your main course, you can create a rich and savory gravy that will take your pork dinner to the next level. And the best part? It only takes 15 minutes to make!
Easy Homemade Pork Gravy Recipe
This homemade pork gravy is incredibly easy to make and pairs perfectly with any pork dish. The secret lies in utilizing the pork fat drippings from your roast, which adds an extra layer of deliciousness to the gravy.
It takes just 15 minutes from start to finish, giving you enough time to let your roast rest before serving it with a generous drizzle of flavorful gravy.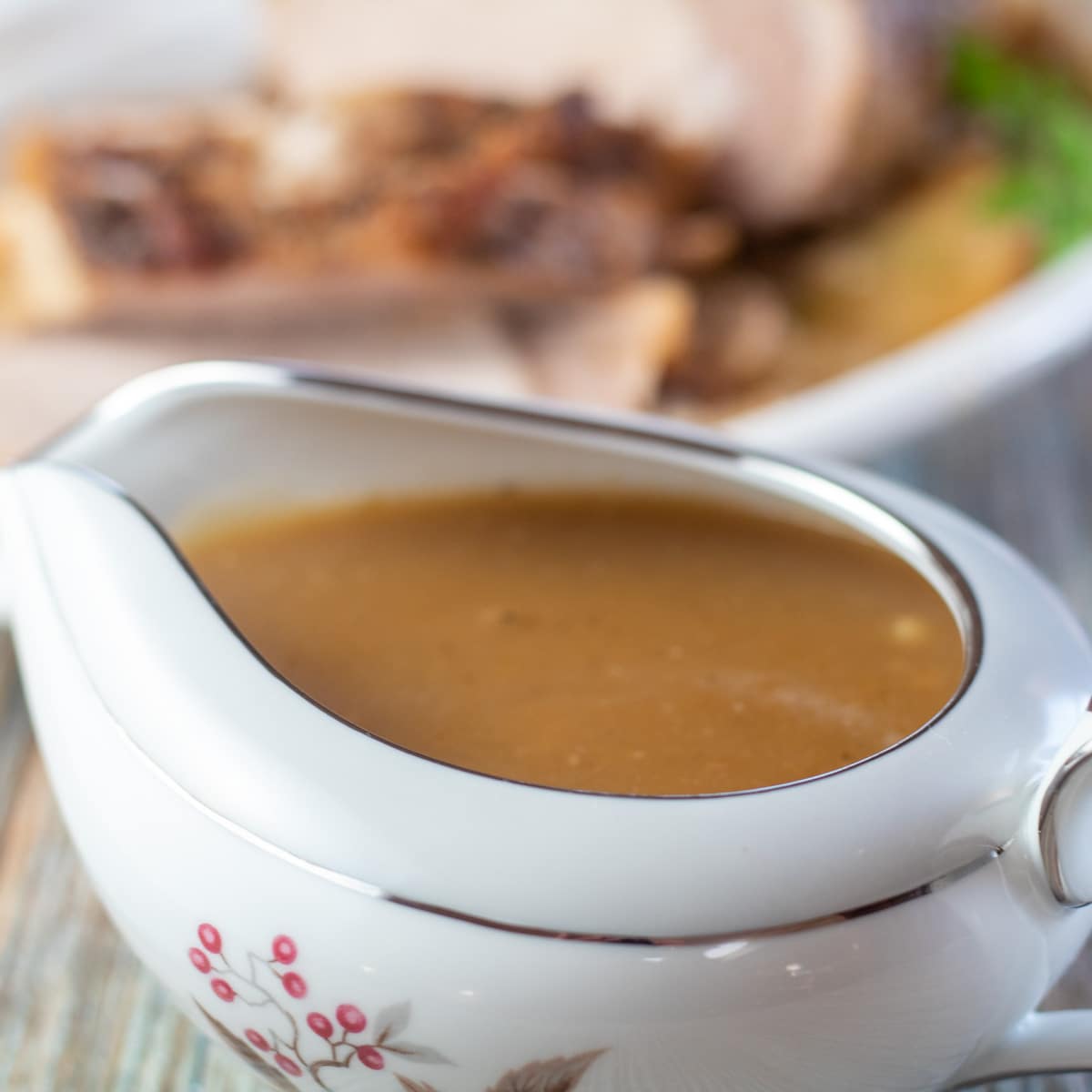 Smooth and creamy pork gravy is exactly what your pork dinner is missing!
🥘 Pork Gravy Ingredients
To make this gravy, you only need a handful of simple ingredients. In case you don't have any pork drippings on hand, you can check out my post on making chicken gravy without drippings for instructions on how to make it without.
¼ cup pork drippings from a pork roast
1 cup chicken broth
Salt and pepper to taste
¼ cup cool water
3 tablespoons cornstarch
For the exact amounts and instructions with tips, please refer to the printable recipe card below.
🔪 How to Make Pork Gravy
With just 5 minutes of prep and 10 minutes on the stovetop, you can whip up a batch of delicious gravy in no time. All you'll need is a saucepan, a wooden spoon, and a whisk.
This recipe yields approximately 6 servings, but feel free to double it if your family can't get enough of this delectable gravy!
Scrape the fond: Scrape all the flavor-packed brown bits (fond) from the bottom of the roasting pan and pour ¼ cup of pork drippings into a medium saucepan.
Boil: Add 1 cup of chicken broth to the drippings in your saucepan and bring it to a boil.
Simmer: Reduce the heat and let it simmer for 4-5 minutes, or until it reaches your desired flavor. Taste the gravy and season it with salt and pepper according to your preferences.
Whisk in slurry: In a small bowl, whisk together ¼ cup of cool water and 3 tablespoons of cornstarch to make a slurry. Slowly whisk the slurry into the gravy until it reaches your desired consistency.
Enjoy: Serve the gravy immediately while warm and savor every bite!
I love using the drippings from my pork roast to make the gravy. Once I've sliced the roast, I generously spoon the gravy over the top for an explosion of flavors!
💭 Tips & Recipe Notes
Enhance the flavor: To give your gravy an extra kick, use a bouillon base or cubes to make the chicken broth.
No pork drippings? No problem! You can use Better Than Bouillon pork base as a substitute for the drippings. To add some richness, you can also use butter.
Storage: Once cooled, store the gravy in an airtight jar or container in the refrigerator for up to 4 days. If properly sealed, it can also be frozen for up to 3 months.
Reheating: To reheat leftover gravy, simply warm it in a saucepan on the stovetop over medium heat for 10-15 minutes or until it reaches your desired temperature.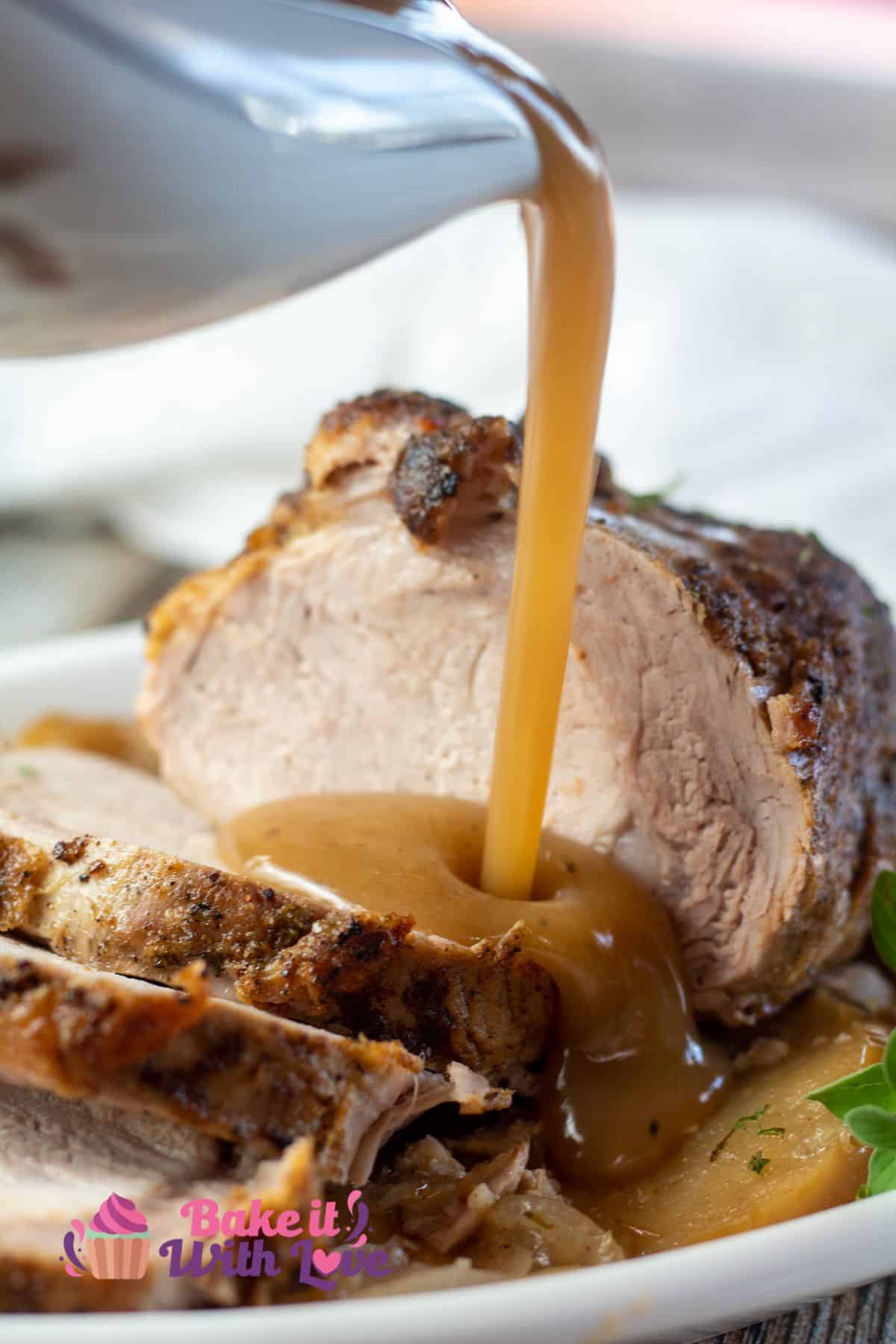 ❓ FAQs
❓ How Do I Make Pork Gravy Without Drippings?
If you don't have any drippings on hand, try using Better Than Bouillon pork base instead. It offers all the intense, condensed flavor you would get from pork drippings and more!
❓ Can I Make Pork Gravy Without Flour?
Absolutely! This recipe calls for cornstarch instead of flour. However, if cornstarch isn't to your liking, there are easy cornstarch substitutes you can try.
❓ What Should I Serve With Pork Gravy?
Pork gravy pairs beautifully with a variety of pork dishes. Whether it's a succulent pork shoulder roast, a roasted rack of pork, or even pork steaks, this gravy will take your meal to new heights.
🐷 More Delicious Pork Recipes
If you're craving more pork goodness, here are some mouthwatering recipes to try:
Instant Pot Pulled Pork: Effortlessly tender and perfect for a pulled pork sandwich.
Roasted Rack of Pork: A visually stunning dish that tastes as good as it looks.
Asian Roasted Pork Belly: Sweet, sticky, and melt-in-your-mouth goodness.
BBQ Baked Pork Spareribs: Finger-licking ribs that will leave you wanting more.
Air Fryer Thick Cut Pork Chops: Easy and perfectly cooked thick-cut pork chops.
Air Fryer Shake & Bake Pork Chops: A classic crispy coating that pleases both kids and adults.
Now that you have the recipe for delectable pork gravy, it's time to gather your ingredients and get cooking! Enjoy your pork dinner with a generous drizzle of this flavorful gravy, and let your taste buds rejoice.