Learn the Art of Crafting Delicious Pork Chops with Our Fool-Proof Recipe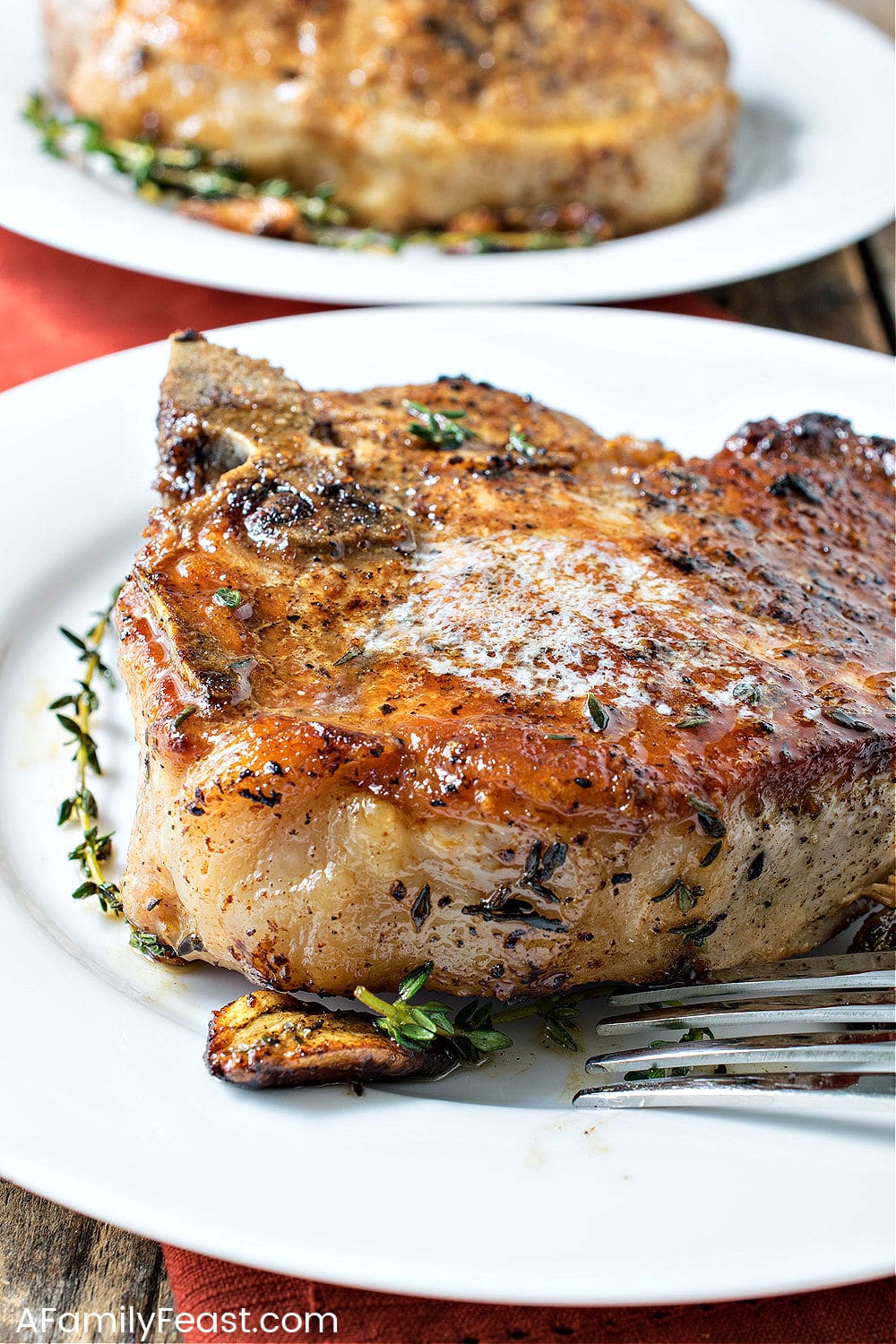 PIN THIS RECIPE NOW!
Cooking pork chops can be a challenge. If you've struggled with creating tender, juicy, and flavorful pork chops in the past, fear no more. We have the perfect recipe that will change the way you cook pork chops forever. Say goodbye to dry and tasteless results!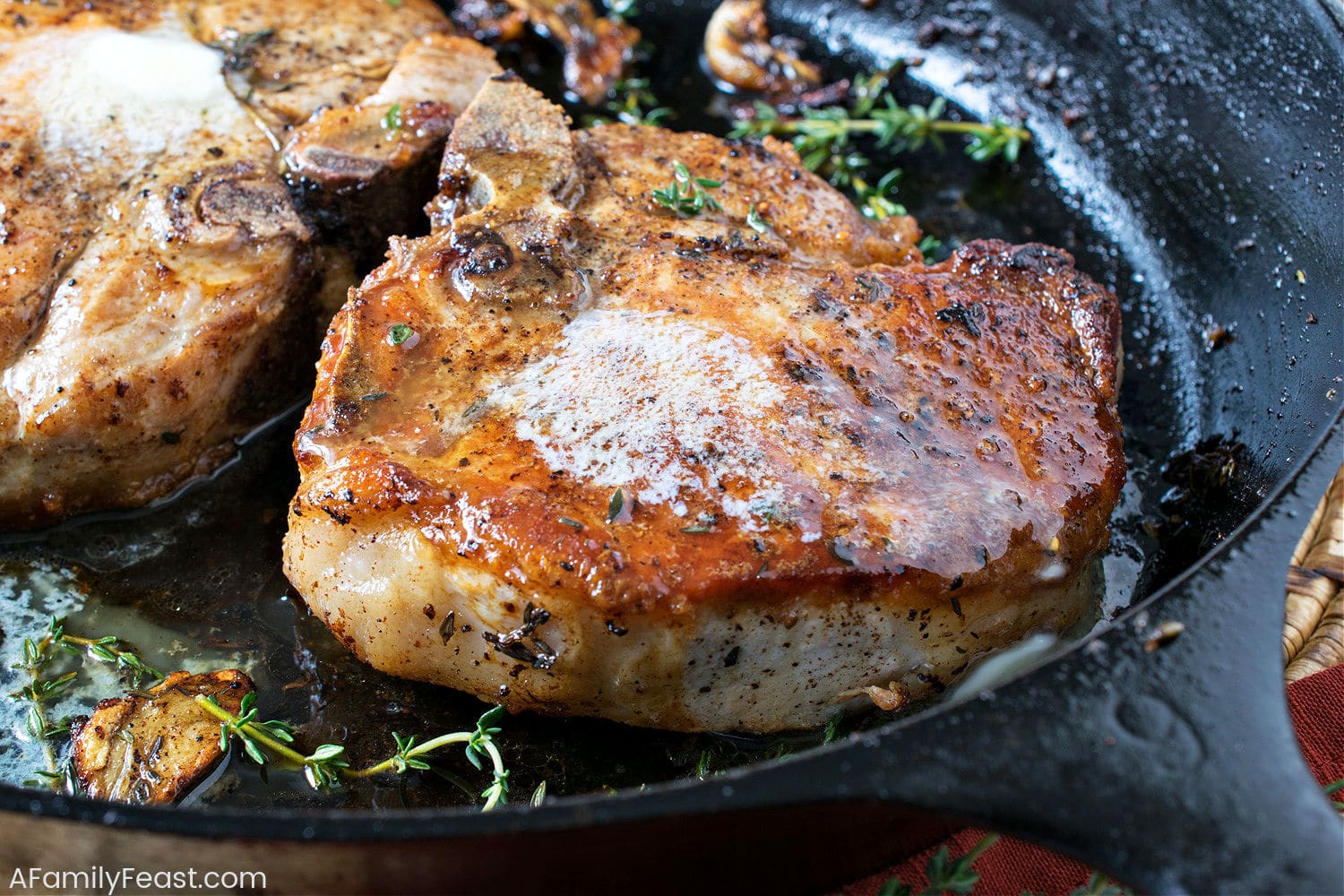 Chef's Tip – As an essential tool for every home cook, we highly recommend investing in a probe thermometer. It's the most accurate way to determine the doneness of meat or poultry. Relying solely on cooking time or cutting into the meat can lead to incorrect results.
Why You'll Fall in Love with Our Perfect Pork Chops Recipe
Fool-proof: Just follow our easy steps below.
Minimal effort: Only ten minutes of hands-on prep before your oven takes over.
Irresistible flavors: Your chops will turn out tender, juicy, and perfectly-cooked every time.
Key Ingredients and Substitutions
Pork Chops: Opt for bone-in, center-cut chops that are 1 ½ to 2 inches thick. Look for high-quality cuts at your local supermarket or butcher.
Pantry Ingredients: Keep it simple with kosher salt and freshly ground black pepper for seasoning, and a neutral oil with a higher smoke point for frying.
Sauce: Create a delightful sauce using unsalted butter, fresh garlic, and sprigs of thyme.
PIN THIS RECIPE NOW!
Special Supplies You'll Need
Cast iron skillet
Small sheet tray with a rack
Probe thermometer with a remote alarm (we recommend this one for home use)
Long-handled tongs
Aluminum foil for resting the pork
Should You Brine Pork Chops Before Cooking?
Some cooks suggest brining pork chops to add moisture, but we advise against it. Brining changes the texture and flavor of the meat. Our recipe ensures perfectly moist and flavorful pork chops without the need for brining. Save brining for other meats like poultry.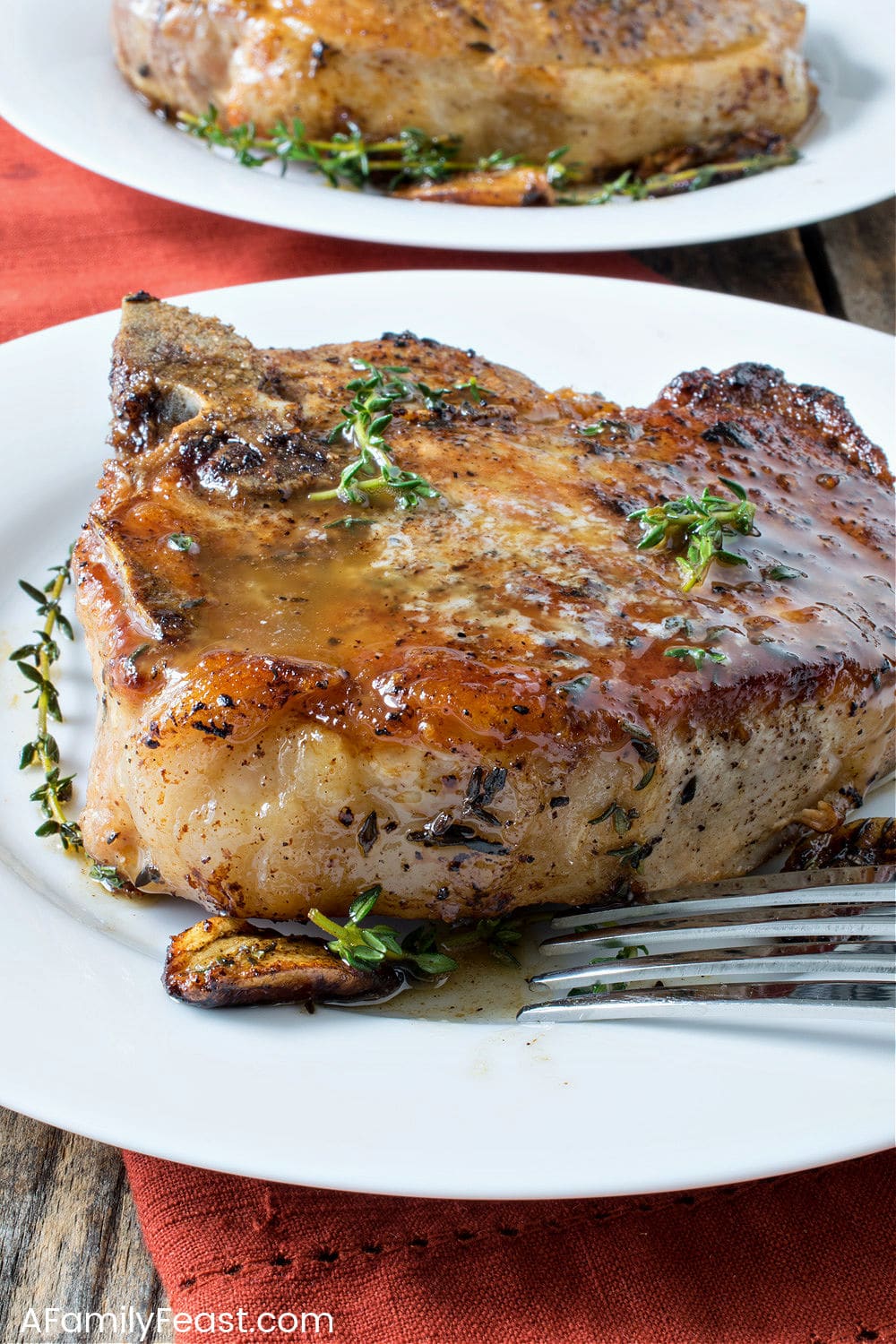 PIN THIS RECIPE NOW!
How to Create Perfect Pork Chops
Season: Generously season the chops with salt and pepper.
Sear: Give the pork chops a quick sear in a hot skillet.
Roast: Transfer the pork chops to the oven and let them roast for ten minutes.
Make Sauce: In the same skillet, gently cook butter, garlic, and fresh thyme to create a flavorful sauce.
Baste: Add the pork chops back into the skillet and baste them with the sauce for five minutes.
Rest: Let the chops rest on a rack covered loosely with foil for ten minutes. Serve with sauce on top.
Are Pink Pork Chops Safe to Eat?
Yes! It's perfectly safe to consume pork with a slightly pink center. Today's pork is bred differently and poses no risk of trichinosis, a concern in the past. Grain-fed pigs make pork safe to enjoy with a touch of pink. It also enhances the taste and keeps the meat moist.
According to USDA guidelines, pork is safe to consume when cooked to an internal temperature of 145 degrees F.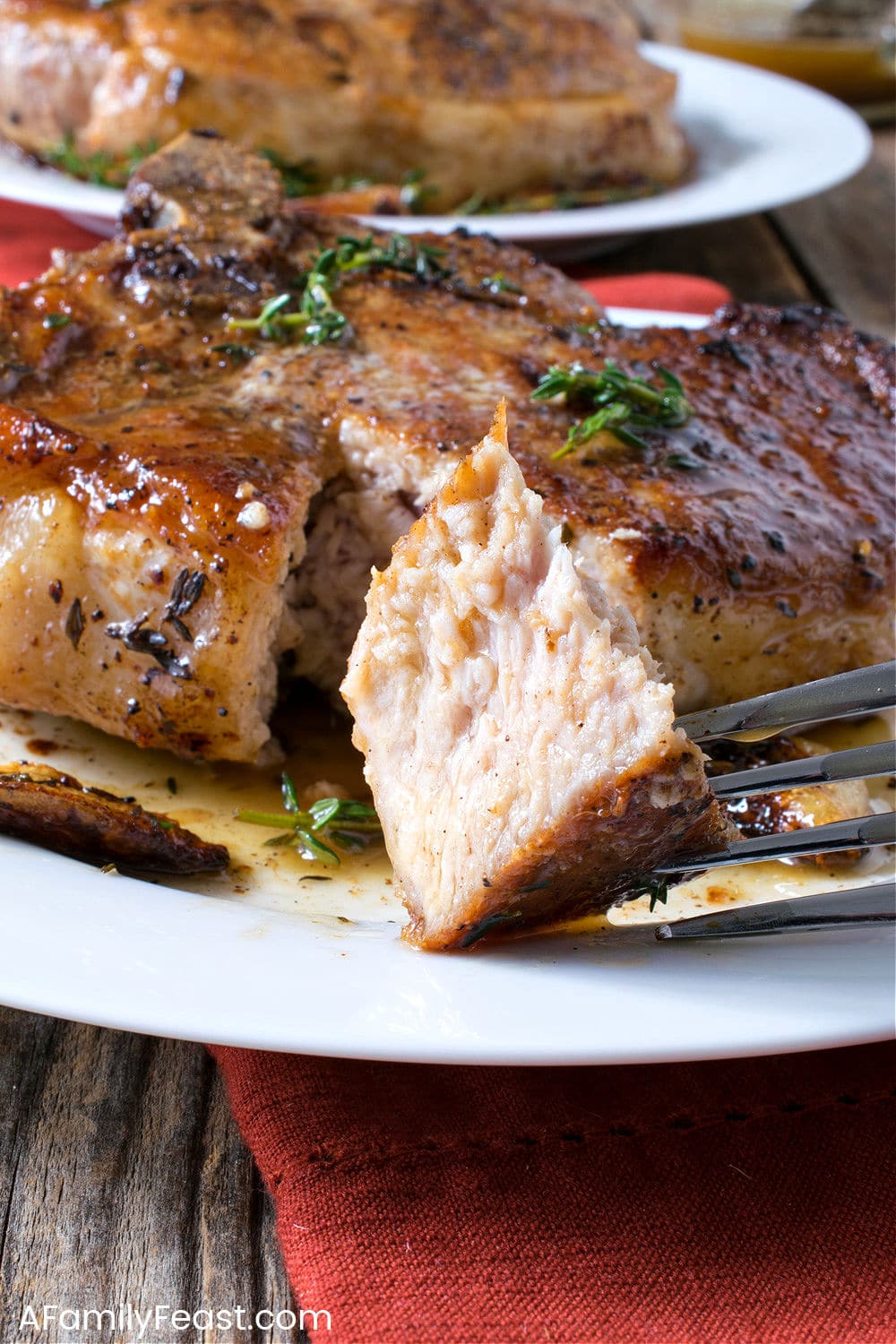 Frequently Asked Questions
Can I Make Perfect Pork Chops Ahead of Time?
No, for the best results, cook pork chops right before serving.
How Should I Store Leftovers?
Cover and refrigerate leftovers for up to two days.
How Should I Reheat Leftovers?
Gently warm leftovers in the oven or microwave without overcooking.
Can I Freeze Cooked Pork Chops?
Yes, you can freeze cooked pork chops. Thaw them completely before reheating.
This post was originally published on A Family Feast in April 2013. We have updated the post and recipe to make it even easier to prepare our Perfect Pork Chops.
You May Enjoy These Other Recipes:
Perfect Holiday Ham
Perfect Grilled Burgers
Perfect French Toast
Perfect Pan-Seared Scallops (with a Simple Pan Sauce)
Perfect Pan-Seared Steak
PIN THIS RECIPE NOW!