Are you looking for a quick and easy weeknight dinner that won't break the bank? Look no further! Our favorite Roast Pork and Garlic Sauce recipe is perfect for using up leftover pork roast, and it's absolutely delicious.
Recreating the Perfect Dish
Not all Chinese restaurants are created equal. We had a favorite in our neighborhood for years, but they disappeared one day, leaving us craving their mouthwatering Roast Pork and Garlic Sauce. Determined to fill the void in our lives, we embarked on a culinary experiment to recreate the dish ourselves.
After much trial and error, we finally hit the jackpot with our version of Roast Pork and Garlic Sauce. It's quick, easy to make, and budget-friendly, especially when using leftover pork roast.
The Versatility of Pork Tenderloin
Have you ever noticed how those big picnic roasts go on sale? We sure have, and we love taking advantage of those deals. With a nice 10 lb roast, we can whip up three or four meals easily. But don't worry if you don't have a pork roast on hand! This recipe works just as well with pork tenderloin or boneless pork chops.
A Word on Green Onions
While we're on the subject of ingredients, let's talk about these freakishly large green onions in the picture. We planted them from a few whites of a normal green onion in the spring, and they kept growing and growing. We couldn't resist capturing their impressive size in a photo. They're the perfect garnish for our Roast Pork and Garlic Sauce.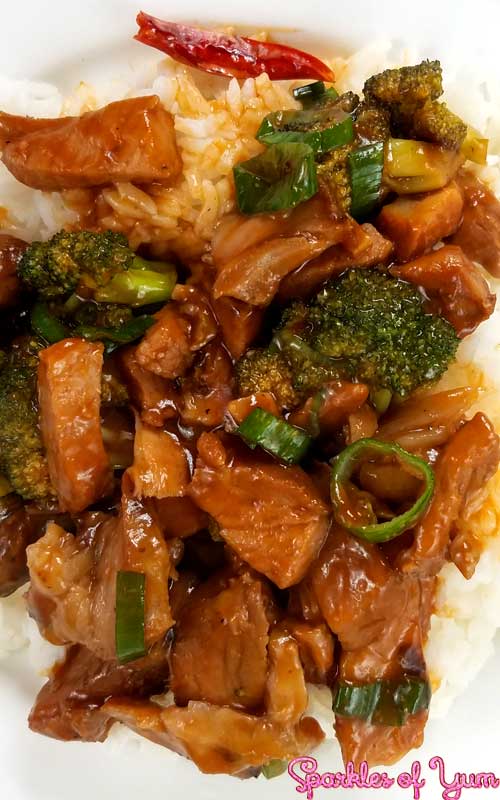 Serving Suggestions
Wondering what to serve alongside this delectable dish? Here are a few ideas to enhance your Roast Pork and Garlic Sauce experience:
White rice: A classic pairing that can't be beaten.
Noodles: Visit the Asian section of your local grocery store for a wide variety of options. We highly recommend lo mein noodles.
Frozen delights: Venture into the freezer aisle and discover egg rolls, fried rice, and dumplings that pair perfectly with this dish.
Pro Tips for Flavorful Success
To make the most of your Roast Pork and Garlic Sauce, keep these tips in mind:
Marinate the meat: Even though the pork has already been cooked, marinating it adds an extra layer of flavor to the dish.
Stir-in options: Consider adding water chestnuts and baby corn for some delightful crunch. Simply drain the cans and toss them in during step 3.
If you're craving more culinary adventures, we suggest trying our Sauteed Spinach and Mushrooms Asian-Style or our Thai Drunken Noodles (Pad Kee Mow) recipe!
Don't miss out on any delicious recipes and updates. Follow us on Facebook, Pinterest, Instagram, and Twitter. You can also join our Sparkles of Yum Recipe Swap Facebook group, a fun place to find and share your favorite recipes.
© 2023 Sparkles of Yum. All rights reserved. All images & content are copyright protected. Please do not use our images without prior permission. If you want to share this recipe, provide a link back to this post for the original recipe.