Have you ever tried grilled pork tenderloin with a sweet cherry glaze? If not, you're missing out on a mouthwatering dish that will leave you craving for more. In this easy recipe, we take whole pork tenderloins, season them to perfection, and then grill them on a Big Green Egg for a smoky, caramelized exterior and tender, juicy meat inside. To top it off, we add a sweet and savory cherry balsamic sauce made with dark sweet cherries, cherry preserves, and balsamic vinegar.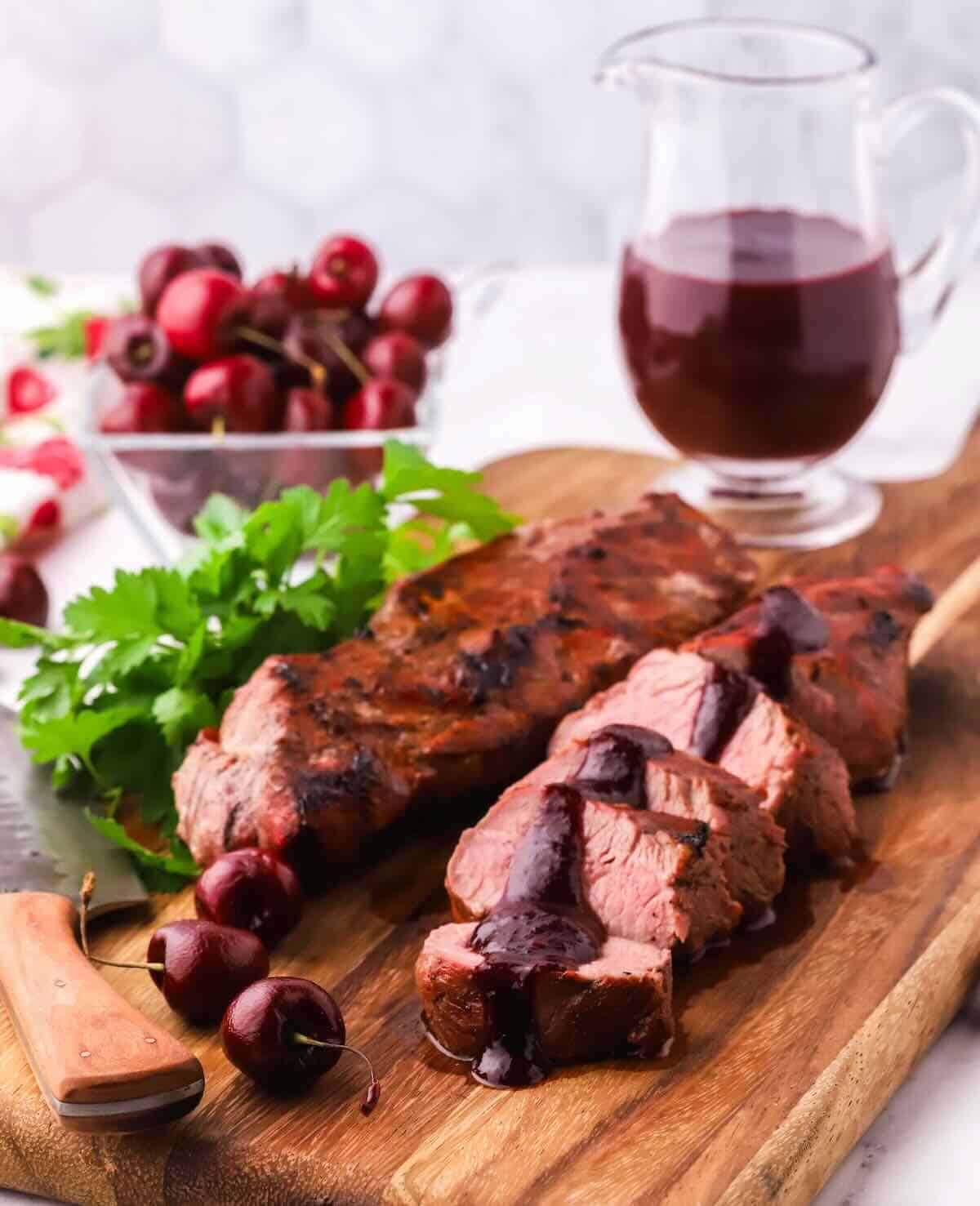 The Perfect Main Dish for Any Occasion
Just like our other pork tenderloin recipes, such as Chili Rubbed Pork Tenderloin with Apricot Glaze and Pork Tenderloin with Blackberry Sauce, this grilled pork tenderloin is versatile and can be enjoyed for any occasion. Whether it's a quick weeknight family dinner, a simple Sunday supper, or an evening with friends, this dish is sure to impress.
Ingredients You'll Need
Here's a list of ingredients you'll need to make this delicious grilled pork tenderloin:
Pork tenderloin: This lean and tender cut of pork cooks quickly and has a delicate mild flavor.
Cherry preserves: These sweet preserves are the key ingredient in both the glaze and the cherry balsamic sauce.
Balsamic vinegar: Adds a rich, sharp flavor that balances out the sweetness of the preserves.
Allspice, cayenne pepper, kosher salt, and pepper: These spices add depth of flavor and bring everything together.
Olive oil: Used to sauté the shallots.
Shallots: Bring their mild oniony goodness to the party.
Cherries: The star of the sauce, dark pitted cherries are recommended for convenience, but fresh ones will work too.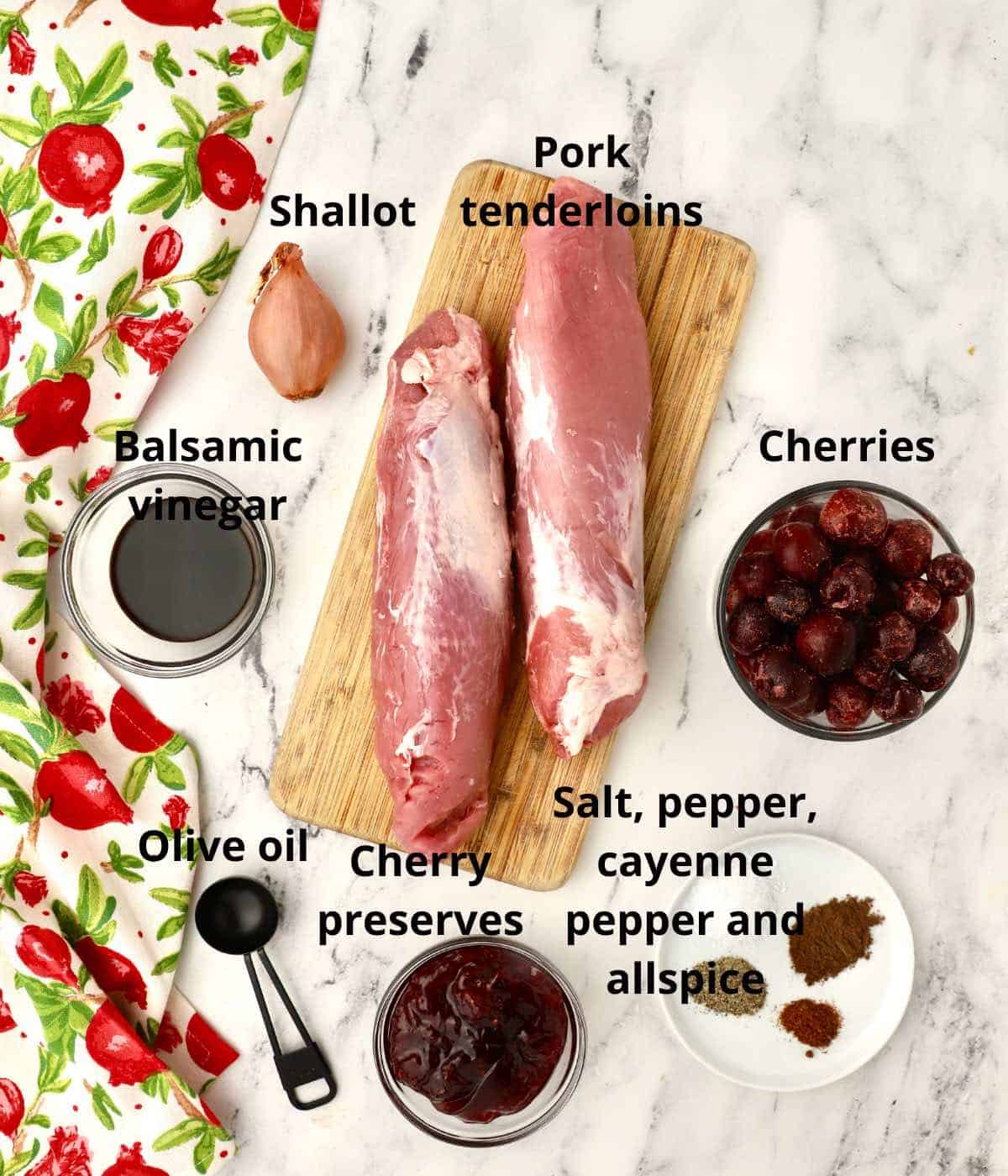 How to Make Grilled Pork Tenderloin with Sweet Cherry Glaze
Follow these easy steps to create this delectable dish:
Prepare your Big Green Egg or grill for direct grilling.
Clean and oil the cooking grate to prevent sticking.
Remove the silver skin from the pork tenderloins.
Combine the preserves, balsamic vinegar, and allspice in a small bowl.
Season the pork tenderloins with salt and pepper, and coat them with the glaze.
Grill the tenderloins using the 7-6-5 method, turning them over and applying more glaze.
Let the tenderloins rest, while you prepare the cherry balsamic sauce.
Saute the shallots in olive oil, then add the cherries and the remaining glaze mixture.
Let the mixture boil until the sauce thickens and is reduced slightly.
Blend the cherry balsamic sauce until smooth.
Slice the pork tenderloins and serve with the cherry balsamic sauce.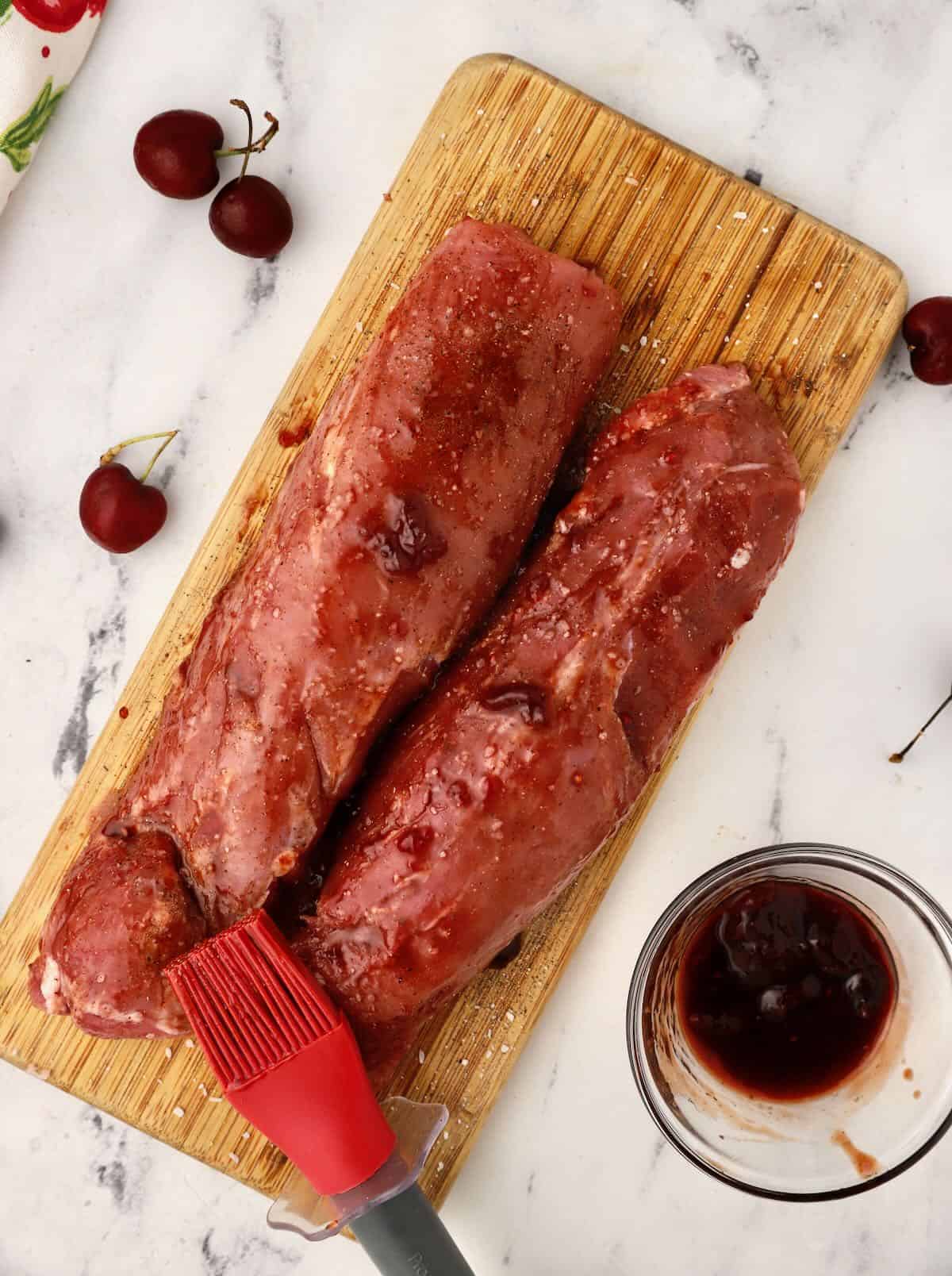 Frequently Asked Questions and Tips
Leftover grilled pork tenderloin and cherry balsamic sauce can be stored in the fridge for two to three days.
To reheat leftovers, microwave the sliced pork and top it with the sauce.
If your pork tenderloin is uneven in size, fold the thinner end under and tie it with kitchen string before grilling.
Adjust cooking time depending on the size of your tenderloins.
Explore More Big Green Egg Recipes
If you enjoy grilling, we have more quick and easy recipes for you to try on your Big Green Egg:
Grilled Ham Steak
Smoked Ribeye Steak
Grilled Spatchcock Chicken
Grilled Grouper with Mango Salsa
Best and Easiest Grilled Chicken and Rub
Easy Grilled Bone-In Pork Chops
Grilled Half Chicken
For more recipes and menu ideas, visit us at Hook'd Up Bar and Grill. We hope you enjoy this flavorful grilled pork tenderloin and come back for more delicious recipes soon!
★ If you make this recipe, please consider rating it and leaving a comment. We'd love to know how you liked it!
Thank you so much for visiting Hook'd Up Bar and Grill. We hope you'll come back soon!
Recipe originally published on June 8, 2016, updated with new pictures and additional details.