When you're looking to create a delectable dish in your kitchen for the holidays or a special Sunday Dinner, my Oven Roasted Rack of Pork will definitely be a hit with your guests. It's a simple recipe that can be prepared and roasting in your oven in under 10 minutes. In fact, it will take longer for your oven to preheat than to get this lovely pork rib roast ready.
Cooking pork is actually quite easy, and gone are the days of overcooking pork to ensure it's safe to eat. Nowadays, you can cook your pork a little less, serving it pink, juicy, and full of flavor. Of course, my recipe will also make sure your well-done pork roast is just as delicious.
Ingredients for Roasted Rack of Pork
Other than the pork rib roast itself, the ingredient list is short. Here, we have all the ingredients needed for the roasted rack of pork, including the vegetables for the bottom of the pan and my favorite seasoning for meats, Montreal Beef Seasoning. Instead of olive oil, you can also use mustard – either Dijon mustard or stone ground mustard.
How to Season a Pork Rib Roast
To prepare the pork rib roast, start by rubbing the meat with extra virgin olive oil and crushed garlic. Sprinkle it generously with sea salt and cracked black pepper, or you can use Montreal Beef Seasoning. Next, coat the top of the roast with Dijon or Stone Ground Mustard, and then sprinkle it liberally with Montreal Beef Seasoning.
Place rough-cut onion, celery, and carrots in the bottom of your roasting pan. These vegetables will not only add flavor to the pan drippings but also elevate the roast, allowing air to circulate freely around it.
How to Cook a Pork Rib Roast
Roasting meats follows a few simple rules. First, let the roast come to room temperature for about 30 minutes. Then, roast it at a high temperature of 450 degrees Fahrenheit for 15 minutes (or 30 minutes for roasts larger than 10 pounds). After that, reduce the oven temperature to 325 degrees Fahrenheit and cook for approximately 15 minutes per pound until it reaches your desired doneness. Cook the meat uncovered in your roasting pan and always place the fatty side up.
Using a meat thermometer, ensure that the roast reaches the temperature you desire. Keep in mind that the roast will continue to increase in temperature by about 10 degrees after removing it from the oven. For medium rare, aim for 145 degrees Fahrenheit, and for well-done, 160 degrees Fahrenheit.
Should You Cover the Roast While Cooking?
No, there's no need to cover the roast when cooking. The coating of seasonings will help keep the roast moist. However, if you prefer to cover it, you can do so for the first 45 minutes of cooking and then uncover it for the rest of the process.
What Should You Serve with a Pork Rib Roast?
I had a craving for garlic mashed potatoes, but since Lisa prefers a milder garlic flavor, I decided to roast the garlic beforehand. This way, it adds a subtle and creamy butter-like taste to the mashed potatoes without overpowering them. And for an extra burst of flavor, you can serve the dish with some delicious gravy. Although gravy isn't a necessity, it adds that extra touch that makes the meal even more delightful.
Don't forget to include your favorite vegetables as sides, and if you have friends who enjoy applesauce with their pork, be sure to serve some alongside.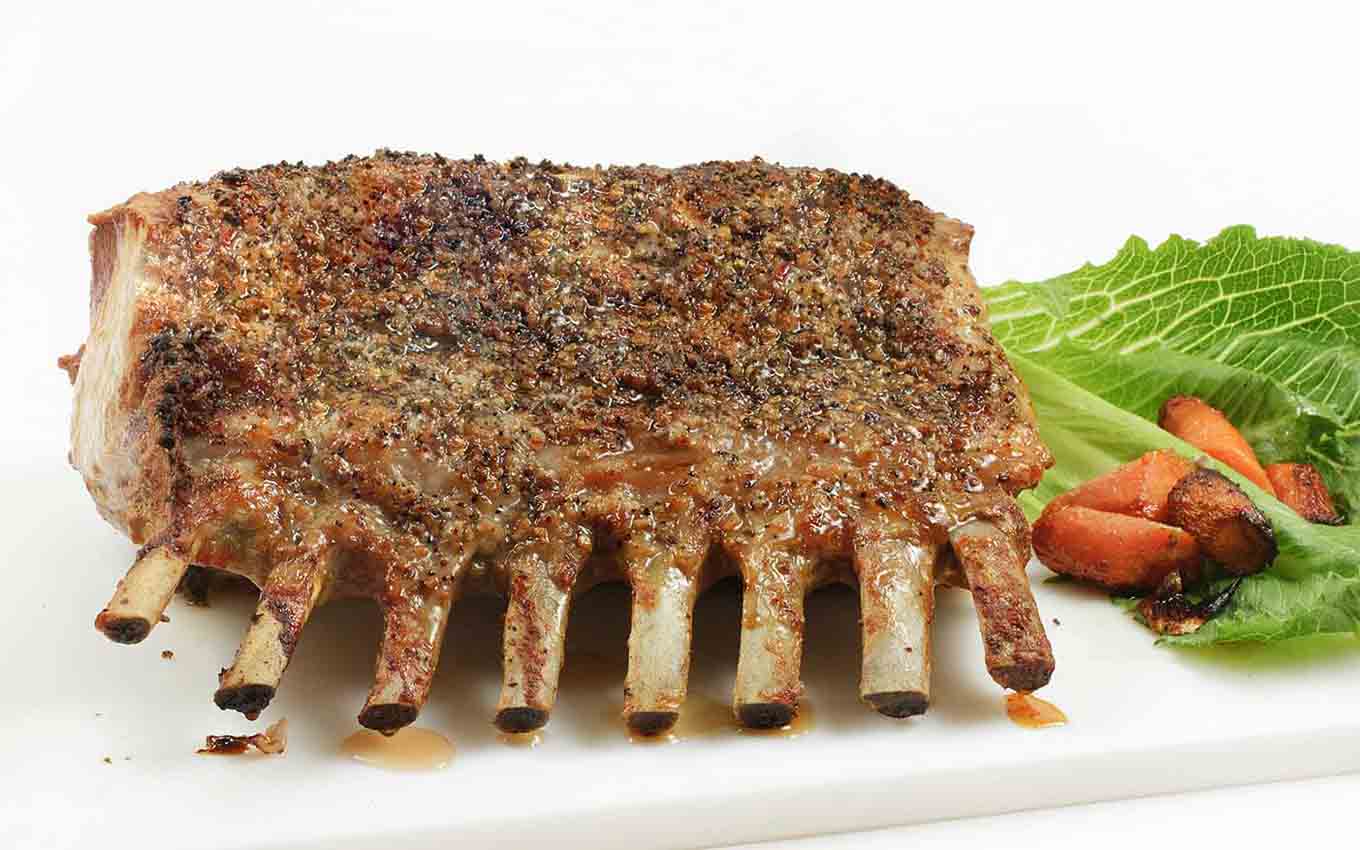 So, gather your ingredients and get ready to impress your guests with this succulent pork rib roast from Hook'd Up Bar and Grill. Happy cooking!