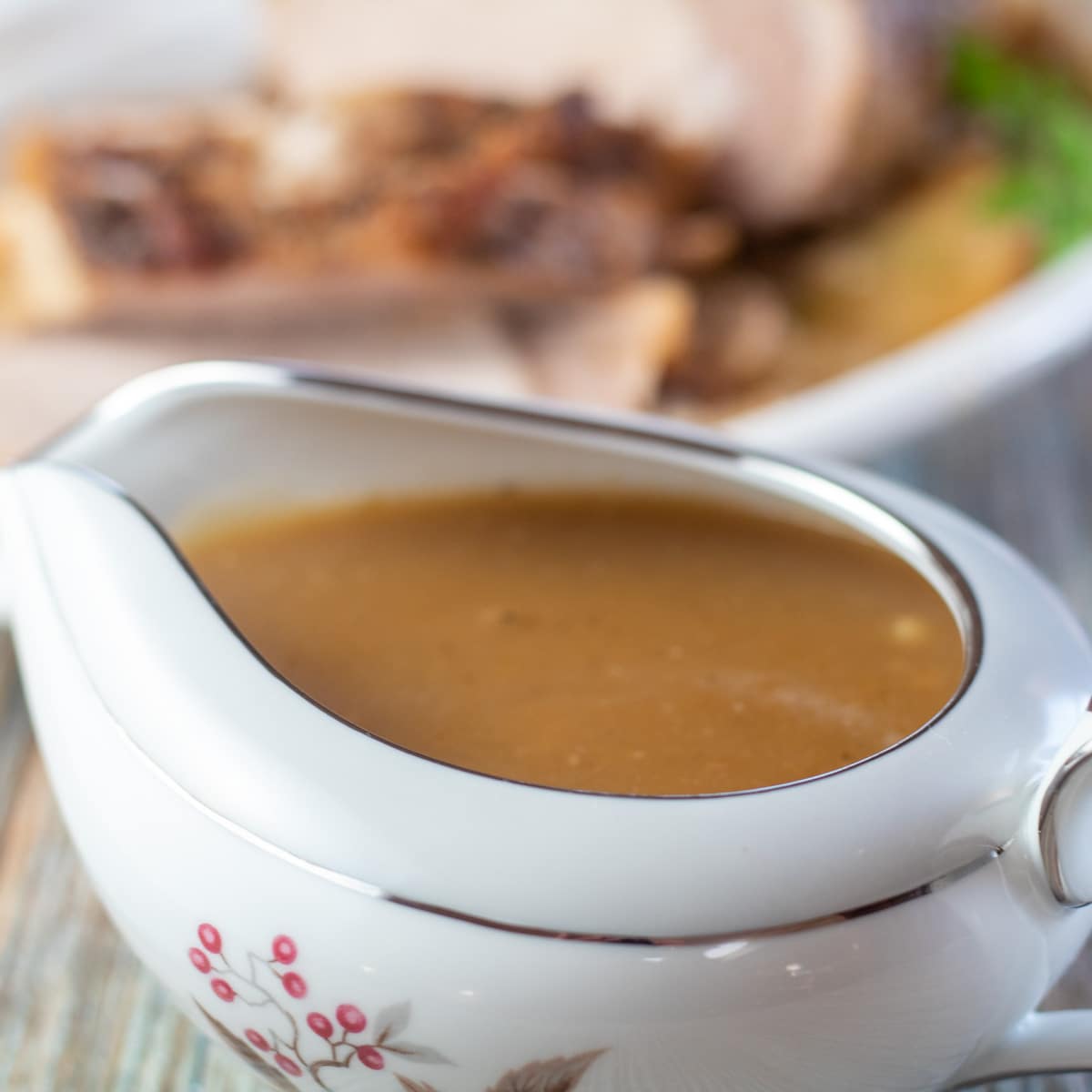 Smooth and creamy pork gravy is exactly what your pork dinner is missing!
Pork gravy, the cherry on top of a succulent pork roast or pork steaks, is a culinary masterpiece that adds an intense pork flavor. Unlike its store-bought counterparts, this homemade delight will seize your taste buds. And the best part? It takes just 15 minutes to create this masterpiece!
An Effortless Triumph: The Pork Gravy Recipe
Picture this: you're about to indulge in a delightful pork dinner, and you realize something is missing. That's where the magic of pork gravy comes in. This recipe not only complements any pork dish but also offers an opportunity to enhance the flavors further.
In a mere 15 minutes, you can create this velvety sauce that perfectly accompanies your roast. It gives you just the right amount of time to let your pork rest before serving it, accompanied by a generous drizzle of delicious gravy.
🔪 Pork Gravy Ingredients: A Few Staples for Perfection
To create this culinary delight, you'll only need a handful of simple ingredients. But don't worry if you don't have any pork drippings! You can refer to my chicken gravy recipe without drippings for a viable alternative.
Pork Drippings – ¼ cup of drippings from a pork roast (note: see full recipe for ingredients).
Chicken Broth – 1 cup of chicken broth (note: see full recipe for ingredients).
Salt & Pepper – To taste.
Water – ¼ cup of cool water.
Cornstarch – 3 tablespoons of cornstarch.
Please refer to the free printable recipe card below for the complete list of ingredients, precise measurements, and step-by-step instructions.
🔪 How To Make Pork Gravy: A Simple Symphony
With just a mere 5 minutes of preparation and 10 minutes on the stovetop, this flavorful gravy will come to life. All you'll need are a saucepan, a wooden spoon, and a whisk to complete this culinary symphony.
This recipe yields approximately 6 servings, but if you have a family that adores gravy, feel free to double the recipe!
Scrape the Fond: Begin by scraping all the fond (those irresistible brown bits) from the bottom of your roasting pan. Pour ¼ cup of pork drippings into a medium saucepan.
Boil: Add 1 cup of chicken broth to the drippings in the saucepan and bring it to a boil.
Simmer: Reduce the heat and let it simmer for approximately 4-5 minutes, or until it reaches your desired flavor. Taste the gravy and season it with salt and pepper accordingly.
Whisk in Slurry: In a small bowl, whisk together ¼ cup of cool water and 3 tablespoons of cornstarch to create a slurry. Slowly whisk the slurry into your gravy until it reaches the ideal consistency.
Enjoy: Serve the gravy immediately while it's still warm and embrace the flavors of your pork feast.
Personally, I utilize the drippings from my pork roast to make the gravy. It adds an extra layer of richness when spooned over the sliced roast. Pure bliss!
💭 Angela's Tips & Recipe Notes: Elevate Your Gravy Game
To elevate the flavors of your gravy, consider using a bouillon base or cubes to create the chicken broth. Better Than Bouillon pork base is an excellent option if you want to achieve the same rich flavors without the pork drippings. Additionally, adding butter can contribute to the desired fatty richness.
As for storage, once the gravy has cooled, it can be refrigerated in an airtight jar or container for up to 4 days. If sealed correctly in an airtight container or freezer bag, pork gravy can be frozen for up to 3 months. When reheating leftovers, simply warm the gravy in a saucepan on medium heat for 10-15 minutes, or until it reaches your preferred temperature.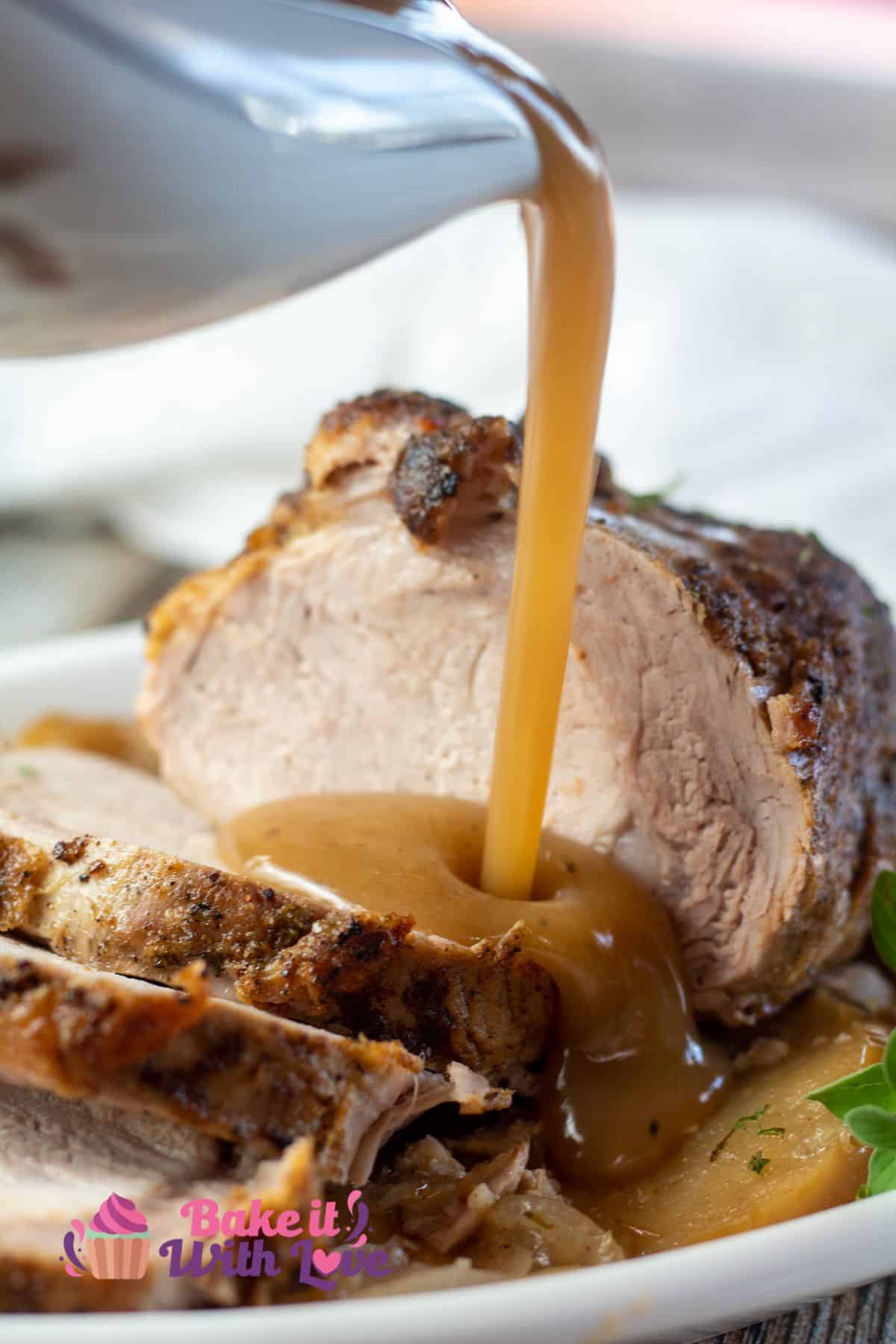 ❓ How Do I Make Pork Gravy Without Drippings?
If you're lacking pork drippings, fear not! You can try using Better Than Bouillon pork base as a substitute. This concentrated flavor bomb provides the intense taste you crave—with an extra dash of magic!
❓ Can I Make Pork Gravy Without Flour?
Absolutely! This recipe veers away from conventional flour-based gravies and instead opts for the use of cornstarch. However, if cornstarch isn't your cup of tea, don't fret! You can experiment with an easy cornstarch substitute to achieve your desired consistency.
❓ What Should I Serve With Pork Gravy?
While I adore serving a pork shoulder roast smothered in gravy, the possibilities are endless. Feel free to pair pork gravy with your favorite pork recipes. Whether it's a succulent roasted rack of pork or juicy pork steaks, this savory delight will elevate any dish.
🐷 Delicious Pork Recipes: Exploring the Pork Wonderland
Looking to expand your pork repertoire? Indulge in these tantalizing recipes:
Instant Pot Pulled Pork: This effortless recipe delivers a mouthwatering pulled pork sandwich.
Roasted Rack of Pork: This visually stunning dish is as delightful to behold as it is to savor.
Asian Roasted Pork Belly: Experience the succulent sweetness that melts in your mouth with this Asian-inspired dish.
BBQ Baked Pork Spareribs: These finger-licking ribs will have you savoring every bite.
Air Fryer Thick Cut Pork Chops: Discover the secret to achieving perfectly cooked, thick-cut pork chops with ease.
Air Fryer Shake & Bake Pork Chops: The classic crispy coating of Shake & Bake is a hit for both kids and adults alike!
📋 Recipe
For the comprehensive recipe, including detailed instructions and ingredient measurements, please visit the Hook'd Up Bar and Grill website.
In conclusion, mastering the art of pork gravy is a delightful journey that adds the perfect finishing touch to any pork dish. With a few simple ingredients and minimal effort, you can create a flavorsome masterpiece that will leave a lasting impression on your taste buds. So go ahead, unleash your culinary prowess, and savor the joy of homemade pork gravy!