If you're looking for a simple and delicious dinner recipe, look no further than Cream of Mushroom Pork Chops. With just four ingredients, including boneless pork chops, cream of mushroom soup, chicken broth, and onion mushroom soup mix, you can create a mouthwatering meal that will have everyone begging for seconds. Serve these fall-apart tender and creamy pork chops over a bed of mashed potatoes, and you have a winning combination that is sure to please.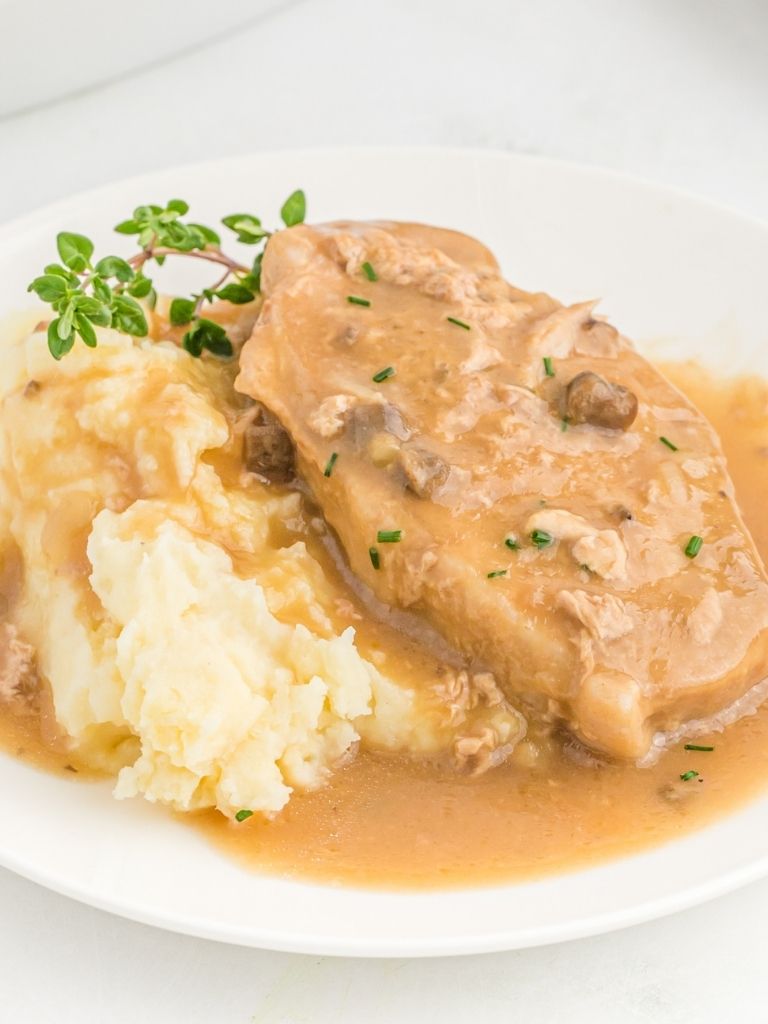 Cream of Mushroom Pork Chops (Crock Pot Pork Chops)
Even if you're not a fan of mushrooms, these crock pot mushroom soup pork chops will change your mind. The long and slow cook time transforms the mushrooms into a creamy and rich sauce that will leave you craving more. With just four ingredients, this dump-and-go recipe is perfect for busy days or a cozy weekend dinner with the family.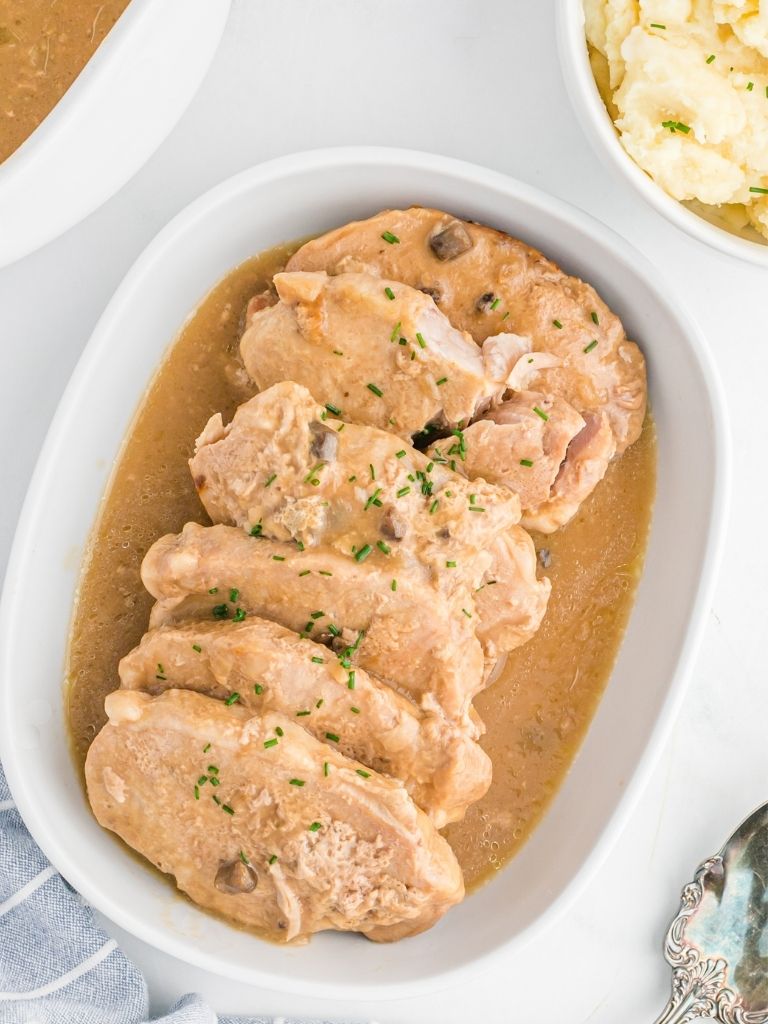 Ingredients Needed
To make these crock pot creamy pork chops with cream of mushroom soup, you'll need the following ingredients:
Boneless Pork Chops: Opt for regular cut pork chops, as the thickness and tenderness are perfectly suited for this recipe.
Low-Sodium Chicken Broth: Choose the reduced sodium variety for a healthier option.
Cream of Mushroom Soup: Don't hesitate to use canned cream of mushroom soup, as the long cook time turns it into a delectable sauce.
Onion Mushroom Soup Mix: Look for the Lipton brand in the dried and boxed soup mixes section of your local grocery store.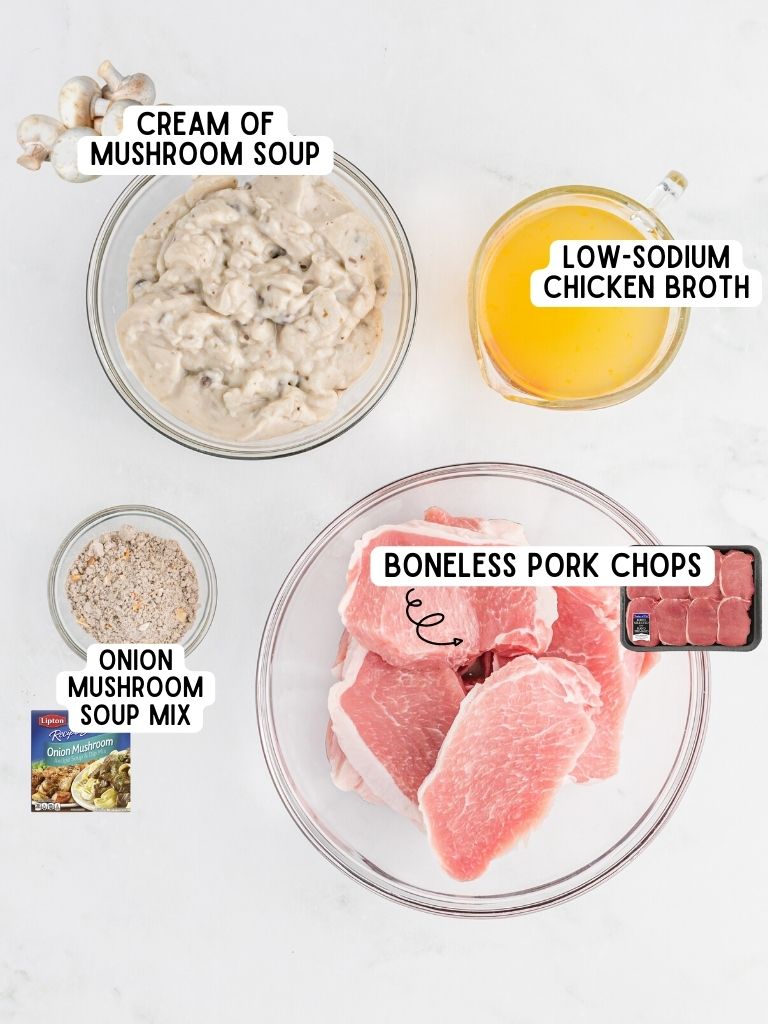 How To Make Crock Pot Pork Chops with Cream of Mushroom Soup
Creating these creamy mushroom pork chops in your own kitchen is a breeze. Follow these easy steps:
In a mixing bowl or glass measuring cup, whisk together the chicken broth, cream of mushroom soups, and onion mushroom soup mix until smooth and combined.
Spray the insert of the crock pot with cooking spray and lay the pork chops at the bottom, overlapping if necessary. Pour the gravy mix over the pork chops, ensuring everything is coated in the sauce.
Cook on LOW heat for 6-8 hours.
Serve a pork chop over mashed potatoes and drizzle some of the extra gravy over the top.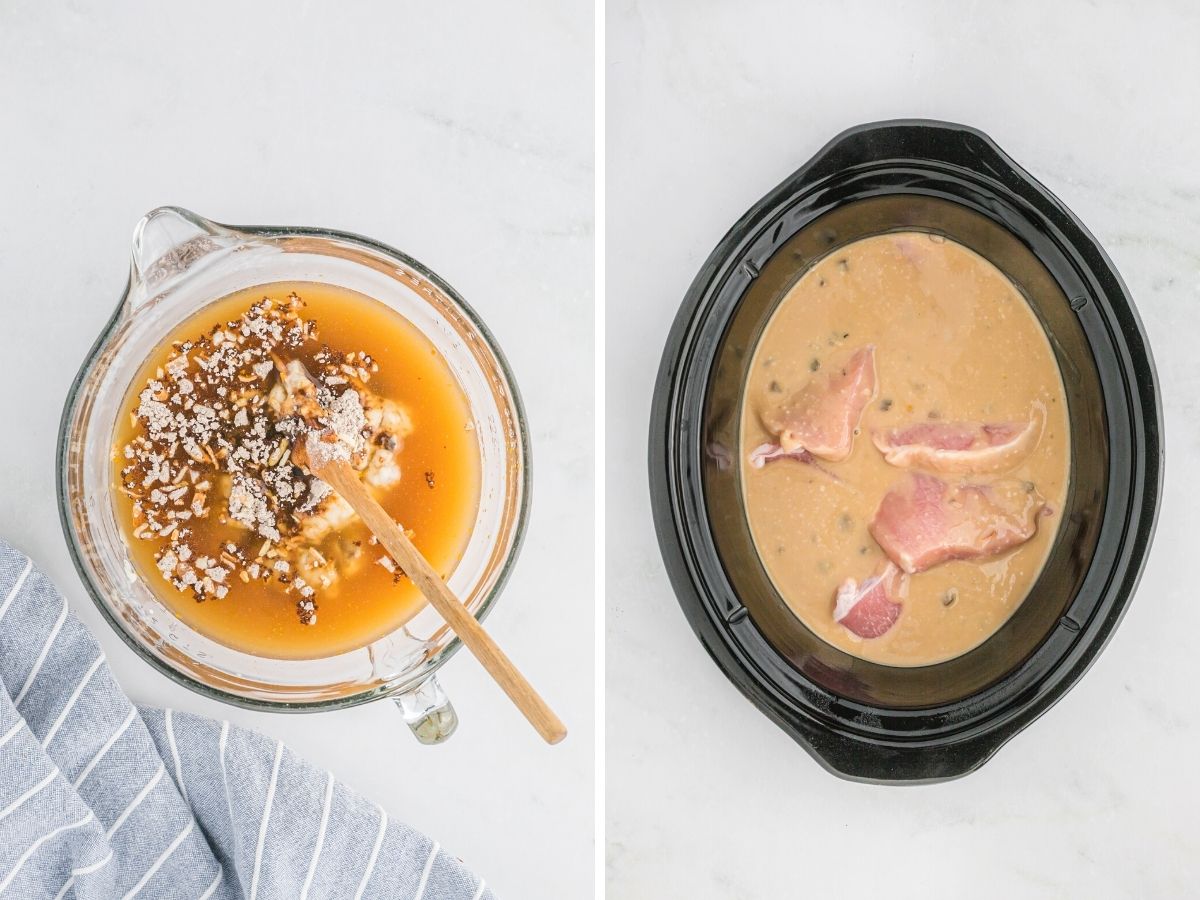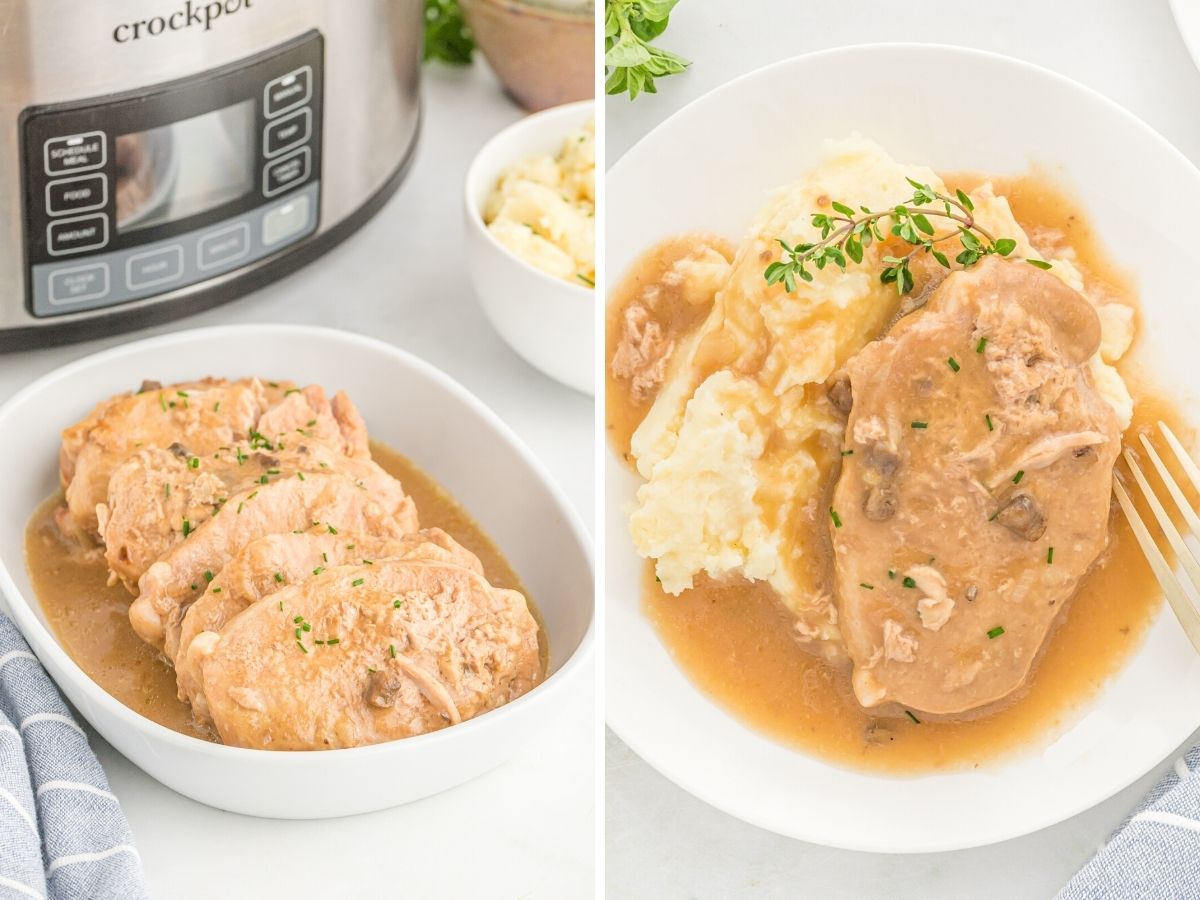 Tips For Success
To ensure your Cream of Mushroom Pork Chops turn out perfectly, keep these tips in mind:
Low & Slow: The key to achieving tender pork chops is to cook them for a long time at a low temperature. Don't worry about overcooking them, as the creamy gravy keeps them moist and flavorful.
Pork Chops: Stick to regular cut boneless pork chops for this recipe. While you can experiment with bone-in or thick-cut chops, the cooking time may need to be adjusted.
Serving: We highly recommend serving these mushroom pork chops over a bed of creamy mashed potatoes. However, they also pair well with rice, pasta, or egg noodles.
Chicken Broth: Opt for reduced sodium chicken broth to avoid excessive saltiness. The seasoning mix and canned cream of mushroom soup already provide sufficient flavor.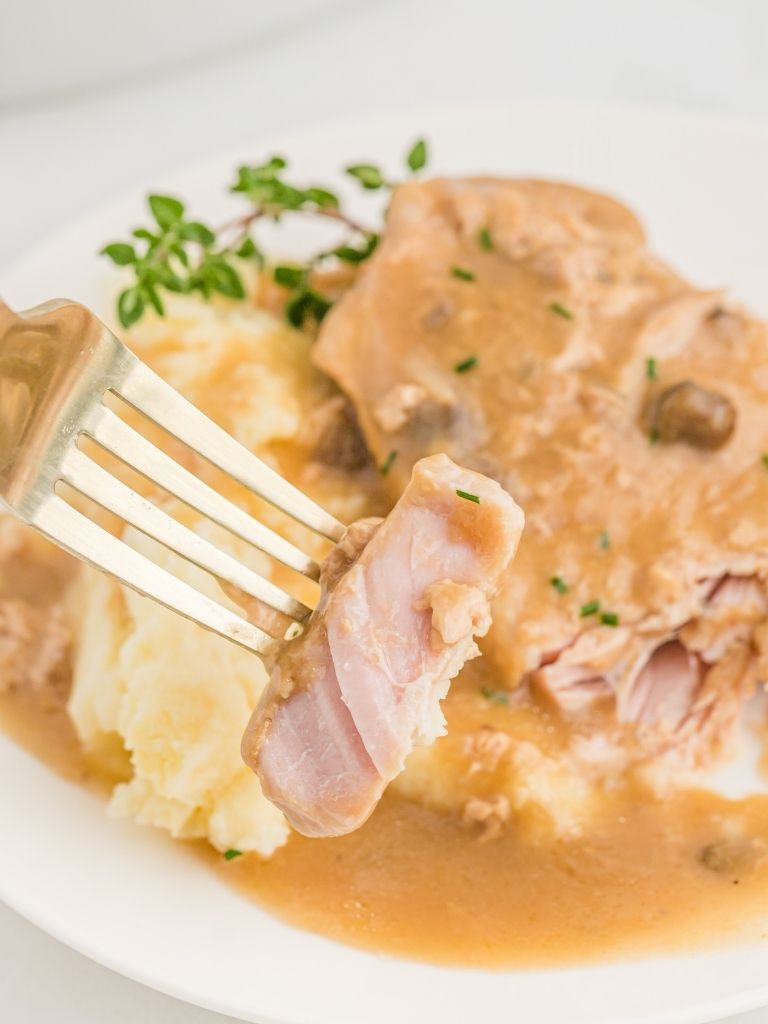 Cream of Mushroom Soup Pork Chops FAQ's
Here are some frequently asked questions about Cream of Mushroom Pork Chops:
Can I Freeze this Pork Chop Recipe?

Yes, you can freeze this recipe. You can freeze the uncooked pork chops as a freezer meal for later or freeze the already cooked pork chops. It's best to freeze the uncooked pork chops and gravy mix for an easy, dump-and-go slow cooker meal later. If you choose to freeze cooked pork chops, let them cool to room temperature and store them in a freezer-safe container or Ziploc bag. When reheating, warm them up on the stovetop or in a crock pot.

Serving Suggestions:

Serve the pork chops over mashed potatoes with extra gravy drizzled on top. Alternatively, serve them over cooked rice, egg noodles, or your favorite pasta. You can also enjoy the pork chops as is and pair them with Parmesan Roasted Potatoes or Roasted Red Potatoes.

Variation & Substitution Ideas:

While we recommend following the recipe as written, you can make a few substitutions if desired. If you can't find onion mushroom soup mix, try using just onion soup mix or mushroom soup mix. Feel free to substitute cream of chicken soup or cream of celery soup for the cream of mushroom soup. You can also make your own homemade cream of mushroom soup.

How To Store Leftovers:

Store leftovers in an airtight container in the fridge for up to 3 days.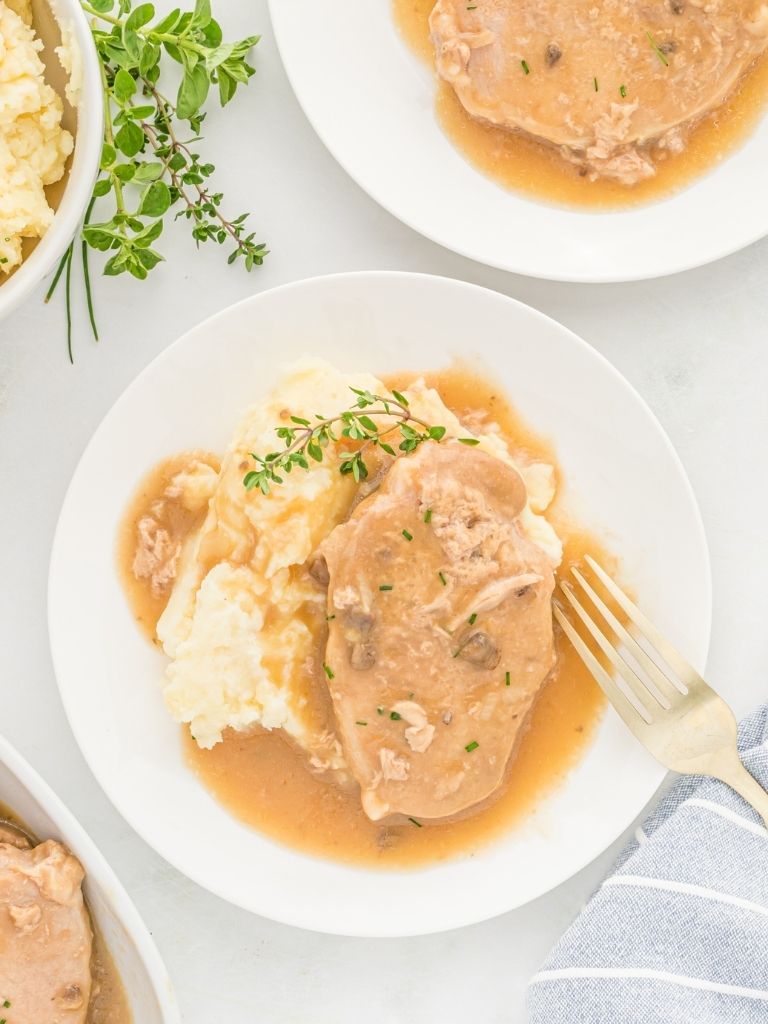 More Pork Recipes & Cream of Mushroom Recipes You'll Love
If you're a fan of pork recipes and creamy mushroom dishes, here are a few more recipes to try:
So why wait? Treat yourself to the irresistible flavors of Cream of Mushroom Pork Chops. Enjoy this comforting and delicious meal from the comfort of your own home.