Pork Chops on the Blackstone Griddle: Juicy and Flavorful
I am absolutely hooked on my Blackstone Products flat top grill! From succulent salmon and zucchini to Teriyaki Chicken Thighs and Chicken Tenders, I've been cooking up a storm. But today, I want to share with you my recipe for mouthwatering pork chops on the Blackstone Griddle.
These pork chops are incredibly tender and bursting with flavor, thanks to a quick and easy marinade. Whether you're planning a camping trip or need a simple weeknight meal, this recipe is perfect for the whole family.
Why You'll Love These Blackstone Pork Chops
Affordable: You can find budget-friendly pork chops at Aldi's. I bought a 1.2-pound package of 4 chops for a little over $5.
Paleo and Low Carb: If you're looking for a healthy pork chop recipe, this one is perfect. It features a Paleo pork marinade that adds flavor without the guilt.
Quick and Easy: With a cooking time of under 10 minutes, these pork chops are perfect for those busy days. Although you'll need to marinate them, the actual cooking process is super quick.
Ingredients
Paleo Pork Marinade: coconut aminos, avocado oil, honey, Dijon mustard, garlic cloves, coarse salt, black pepper
Pork Chops: I used center-cut pork chops. Approximately 1.2 pounds for 4 chops.
Tips & Tricks for Tender Pork Chops
To ensure your pork chops turn out tender and juicy, keep these tips in mind:
Don't rush the marinade time! Allowing the pork chops to marinate for at least an hour is essential to prevent them from drying out.
Cook the chops on medium-high heat. This will create a delicious caramelized flavor on the outside and help retain their juiciness.
Be careful not to overcook them. Use a meat thermometer to gauge the internal temperature, and when it reaches 145F, it's time to remove them from the grill. The pork chops should be golden brown on the edges, not burnt.
Tools for This Easy Recipe
For this recipe, I recommend using the 22-inch portable tabletop flat griddle grill station. It's perfect for RV travel! Alternatively, the Blackstone Adventure Ready 2-Burner 28″ Outdoor Griddle works great too.
Cooking Instructions on a Blackstone Griddle
Start by making the pork chop marinade. This step is crucial to ensure tender and flavorful chops.
Pork chops tend to be dry, so marinating them for at least an hour helps seal in the moisture and enhance the taste.
Once marinated, preheat the Blackstone Griddle on medium-high heat.
Add the pork chops and the marinade to the hot griddle. Cook for 2-4 minutes on each side until the internal temperature reaches 145F.
As they cook, you'll notice the edges of the pork chops getting a beautiful caramelized color. Don't mistake it for burning; it adds a delicious flavor.
Let the pork chops rest for 5 minutes before serving or cutting into them. This resting period helps retain their juiciness.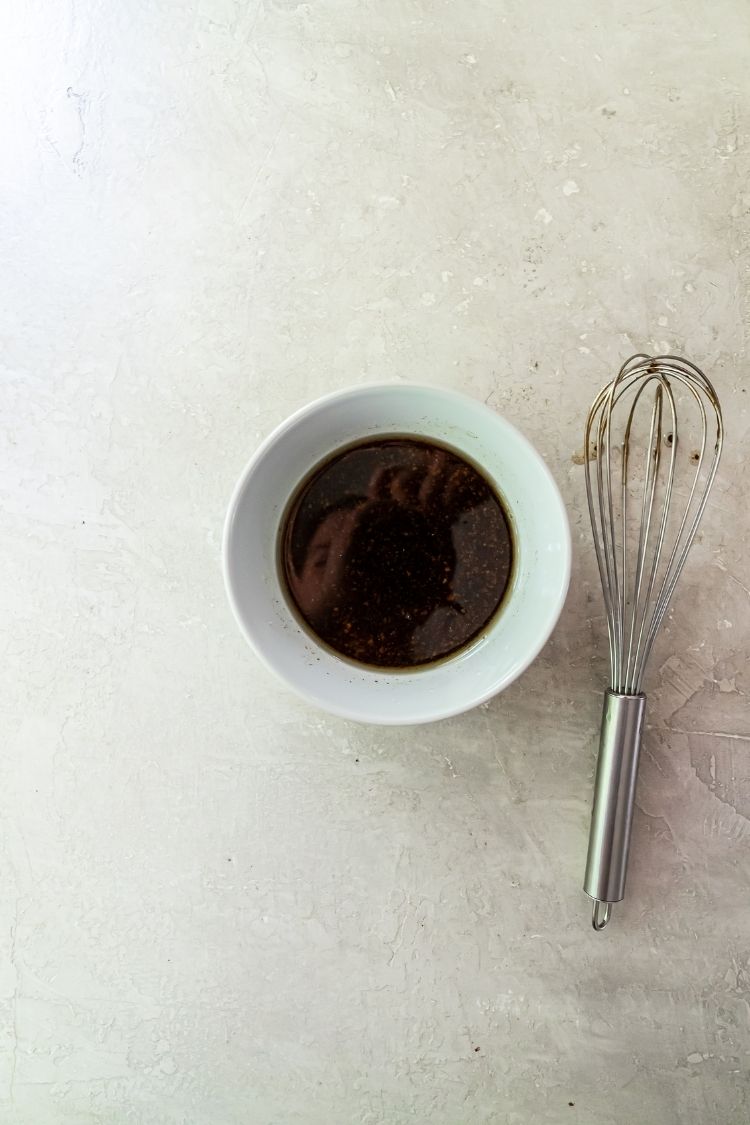 Make the marinade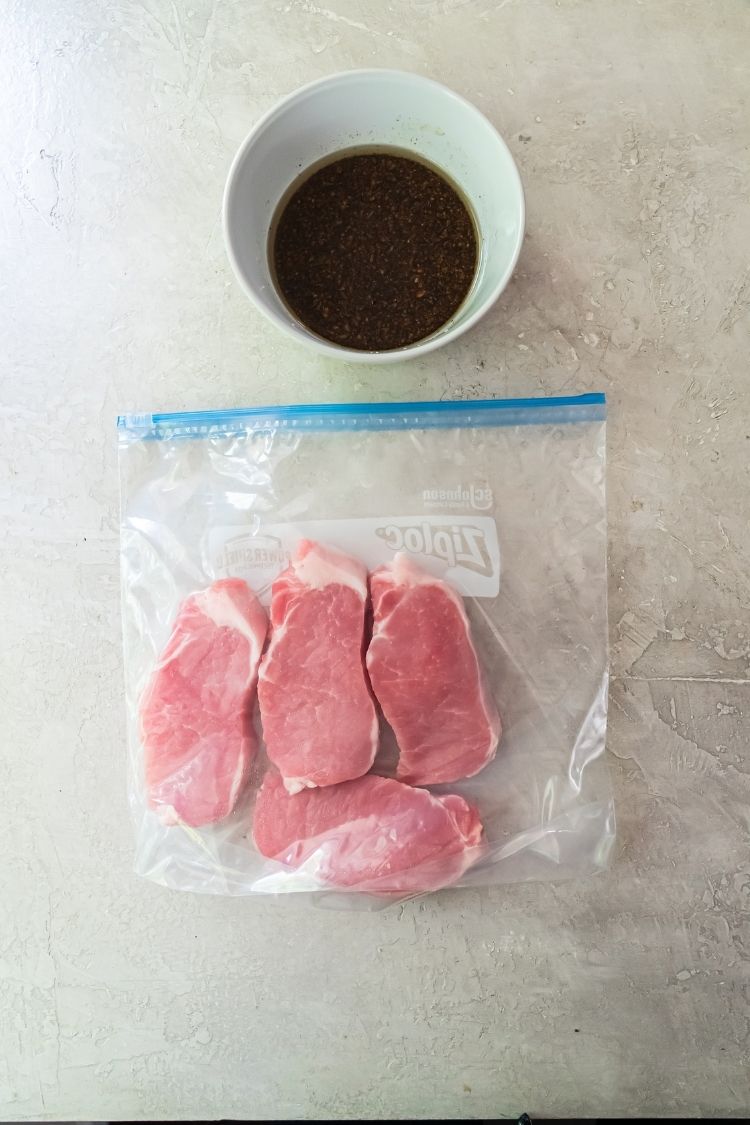 Place pork chops in a baggie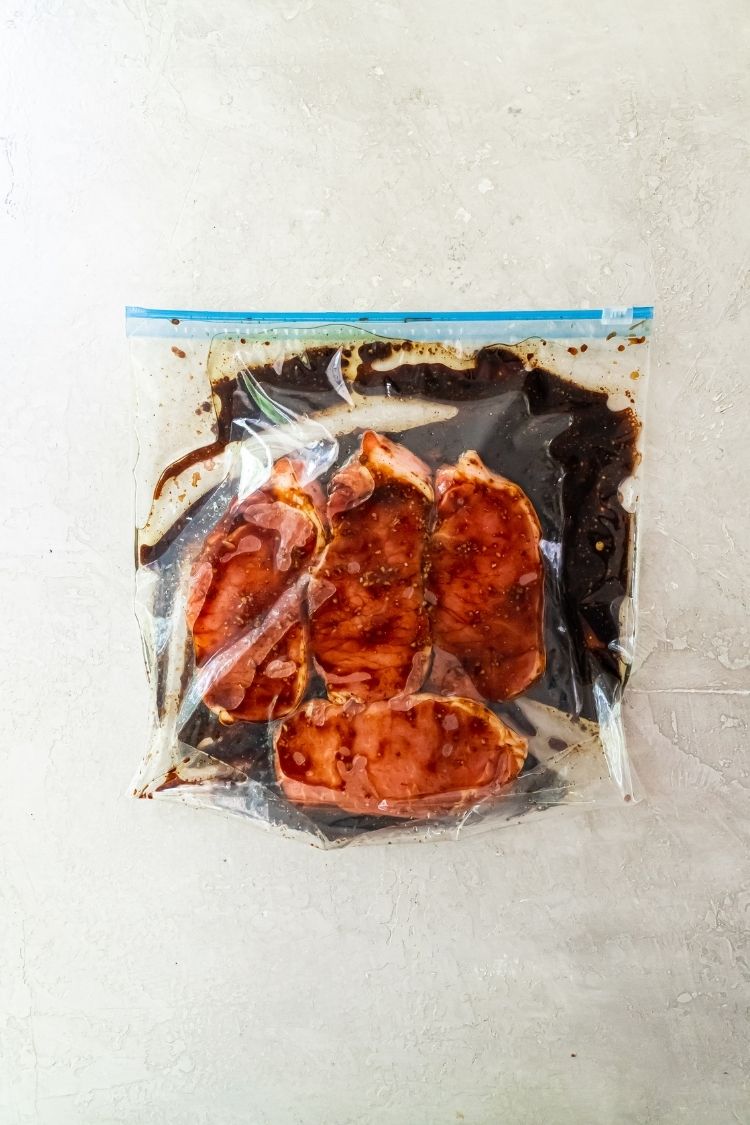 Marinate the pork chops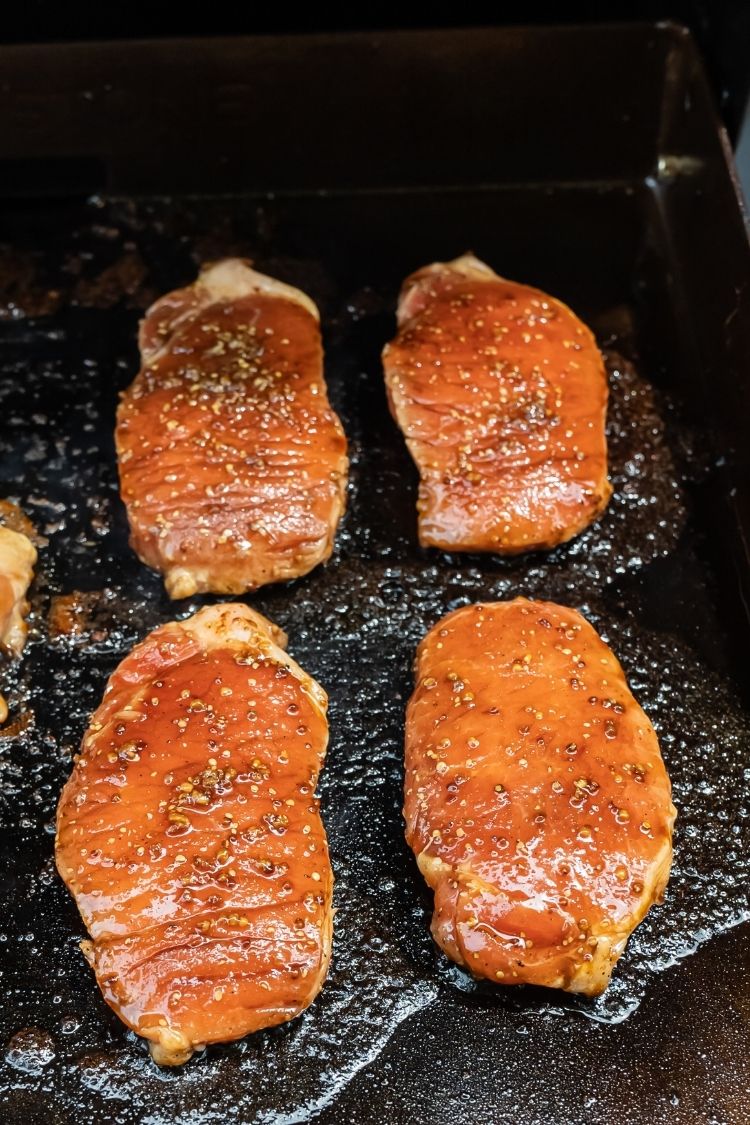 Grill the pork chops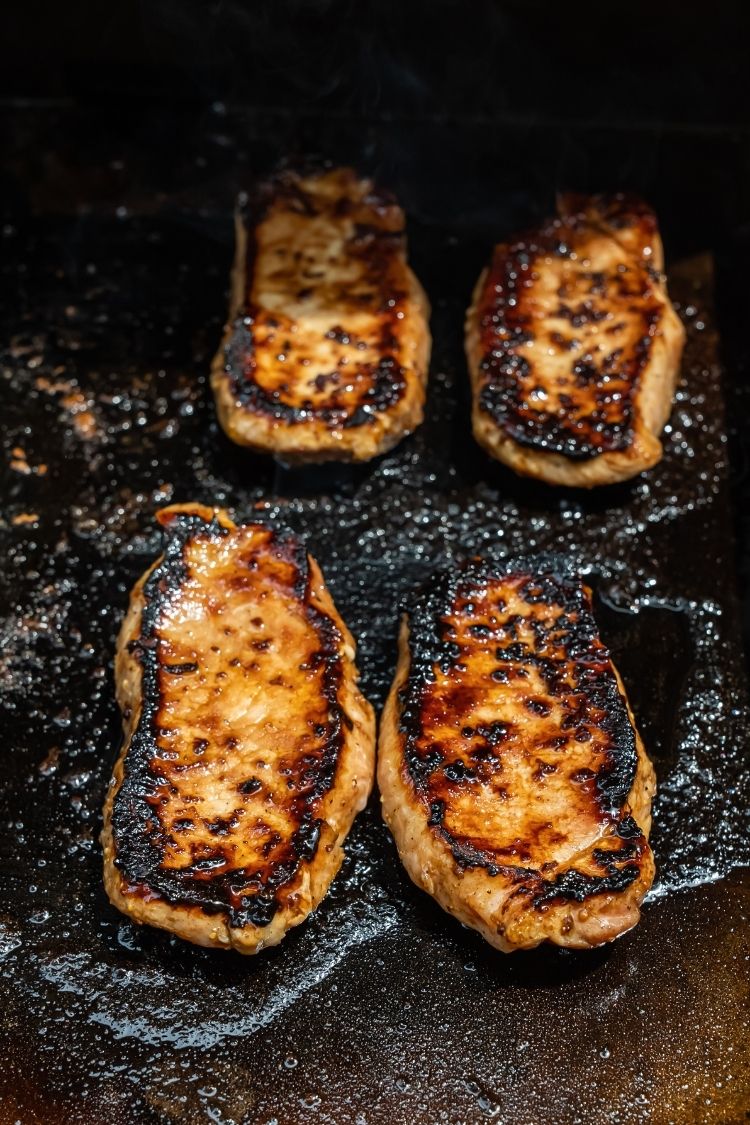 Flip the pork chops – nice and caramelized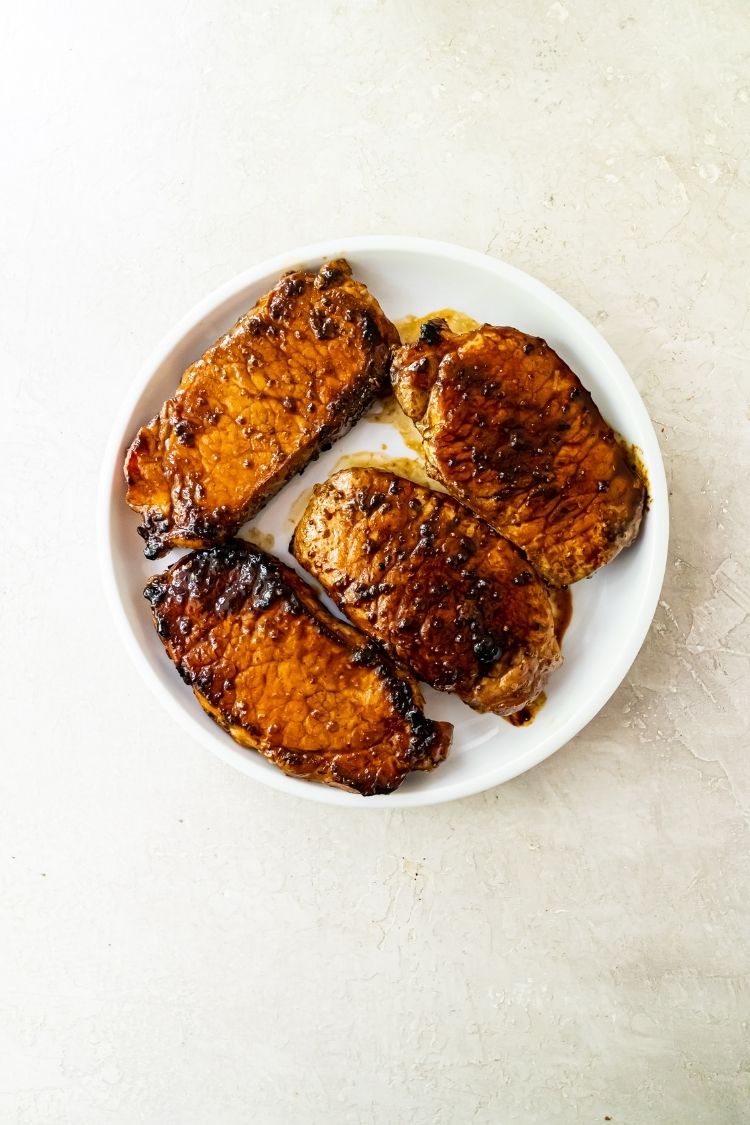 Let the pork chops rest
Stovetop Directions
If you don't have a Blackstone Grill or gas grill, you can still enjoy these delicious pork chops by following these steps:
Prepare the pork chop marinade and let the chops marinate for at least an hour.
Heat up a large skillet over medium-high heat.
Add the pork chops and all the marinade to the skillet.
Cook for 2-4 minutes on each side, until the pork chops caramelize and reach the desired doneness.
Substitutions
If you don't have all the ingredients or want to switch things up, here are some substitutions you can make:
Coconut aminos: Substitute with soy sauce or tamari.
Honey: Use maple syrup or brown sugar as an alternative.
Avocado oil: While avocado oil is ideal, olive oil works too. Just be cautious with the heat level due to the smoke point.
Thin boneless center-cut pork chops: If you prefer different cuts of pork chops, like thicker ones or those with bones, adjust the cooking time accordingly.
Pork Marinade: If you don't have time to make your own, store-bought options like Soy Vay Veri Veri Teriyaki Sauce or Primal Kitchen's no-soy teriyaki sauce work well. Alternatively, you can create a marinade based on balsamic vinegar.
Perfect Pairings for Blackstone Pork Chops
These pork chops are a great match for asparagus! Whether you prefer grilling them on the Blackstone Griddle, using an air fryer, or roasting them in the oven, they're sure to complement the delicious chops.
Additionally, you can serve them with mashed cauliflower or sweet potatoes, depending on your carb preferences. For an all Blackstone meal, try some of these delectable Blackstone side dishes. And if you're in the mood for something lighter, pair the griddled pork chops with a refreshing green salad.
Storing and Reheating
Store any leftover pork chops in a glass airtight container, and they will stay fresh for up to 5 days. When ready to reheat, simply place the pork chop on a microwave-safe plate and microwave for 45-60 seconds for smaller chops or 1.5-2 minutes for larger ones.
FAQs
Q: Can you recommend any other recipes?
A: Absolutely! Check out some of our readers' favorite recipes:
Enjoy your flavorful and tender pork chops on the Blackstone Griddle, and don't forget to visit Hook'd Up Bar and Grill for more delicious recipes and dining experiences. Happy cooking!