Easy Pineapple Pork Chops—juicy and tender pork chops infused with the sweet and tangy flavors of pineapple, onion, and garlic, with a hint of honey for extra sweetness. This quick and easy skillet dish is the perfect weeknight meal.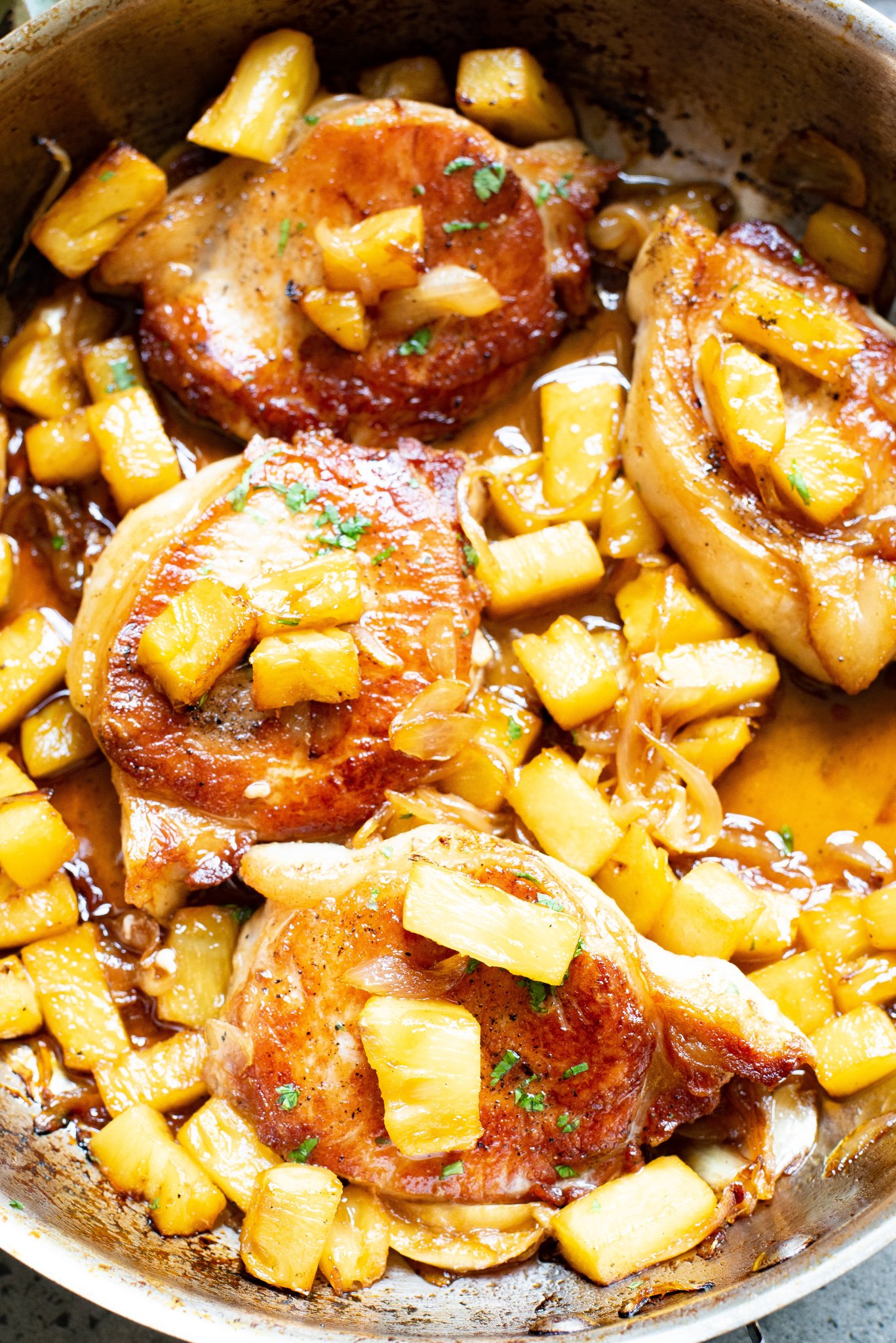 Discover the Delight of Pineapple Pork Chops
Pork chops have always been a family favorite—succulent pieces of meat coated in a tangy sweet and sour sauce that everyone loves. But what sets our Easy Pineapple Pork Chops apart is the irresistible combination of sweet pineapple and savory pork.
This recipe takes just 5 minutes to prepare and 10 to 15 minutes to cook—the ideal choice for a quick and delicious meal. Whether you're looking for a satisfying dinner at home or hosting friends and family, this easy pork skillet recipe will surely impress.
In our house, these Easy Pineapple Pork Chops are a top choice. We love rotating between this delightful dish and other mouthwatering options like BBQ Baked Pork Chops, Maple Bourbon Pork Chops, Parmesan Crusted Pork Chops, or Hawaiian Grilled Pork Chops.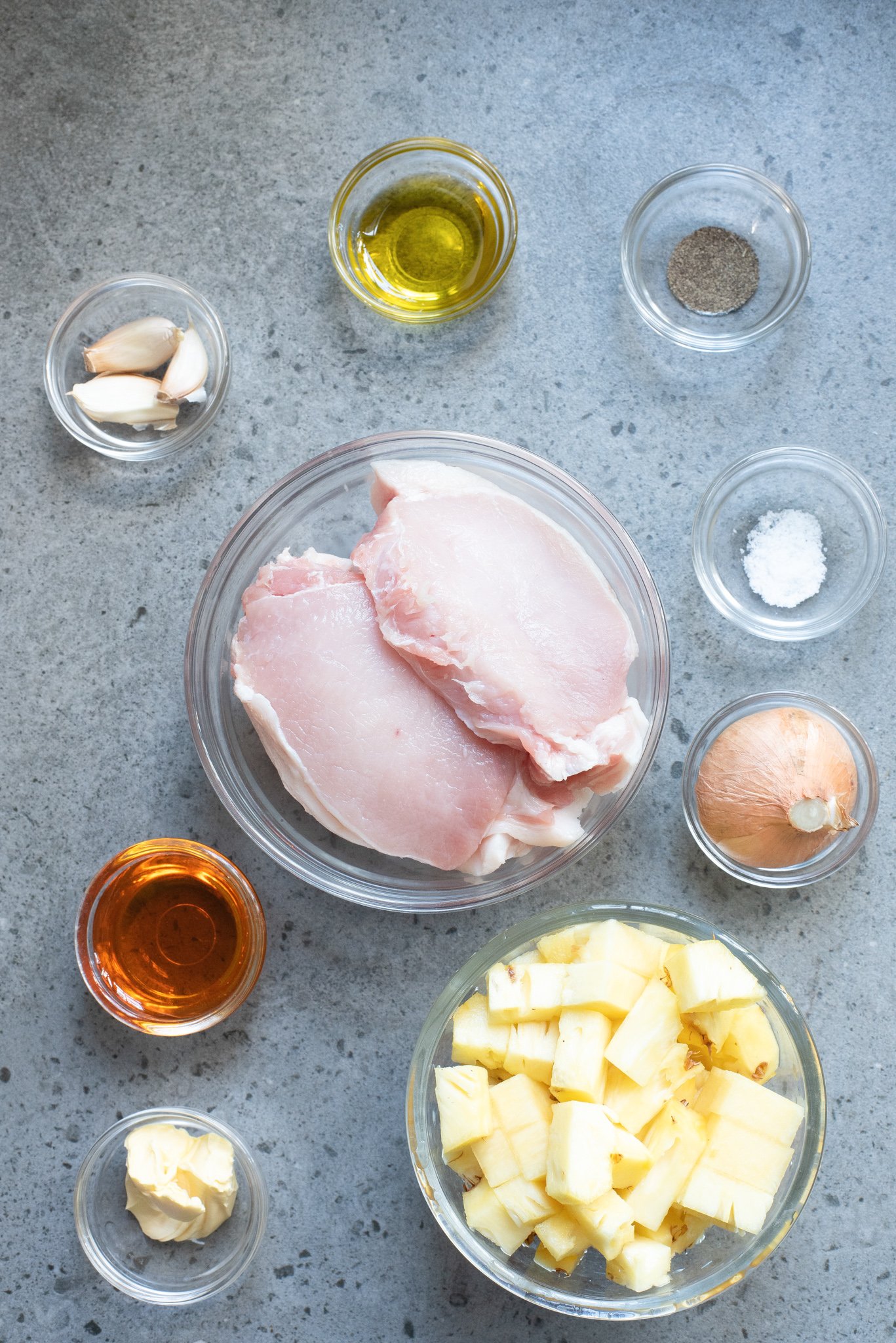 Ingredients You Need to Make Pineapple Pork Chops
To create our signature Pineapple Pork Chops, you'll need the following ingredients:
Pork: 4 medium-sized boneless pork chops (you can also use bone-in chops)
Oil: We recommend olive oil for its delightful flavor, but you can substitute with any light-flavored oil.
Butter: Add a teaspoon of butter while cooking the chops to enhance the finished sauce's flavor. We suggest using unsalted butter to control the saltiness, but any butter will do.
Garlic: Fresh garlic offers the best flavor, but you can also use garlic paste.
Onion: Opt for a white or yellow onion for a robust onion flavor. You can also use red onion for a milder taste or shallots for a unique twist.
Pineapple: We use fresh pineapple cubes in this dish, but you can also use canned pineapple as a quick substitute.
Honey: Sweeten the sauce with honey, or try maple syrup as a delightful unrefined sugar alternative.
Seasoning: Season the chops generously with salt and black pepper to elevate the dish's overall flavor.
Garnish: Finish off your Pineapple Pork Chops with freshly chopped cilantro or flat-leaf parsley.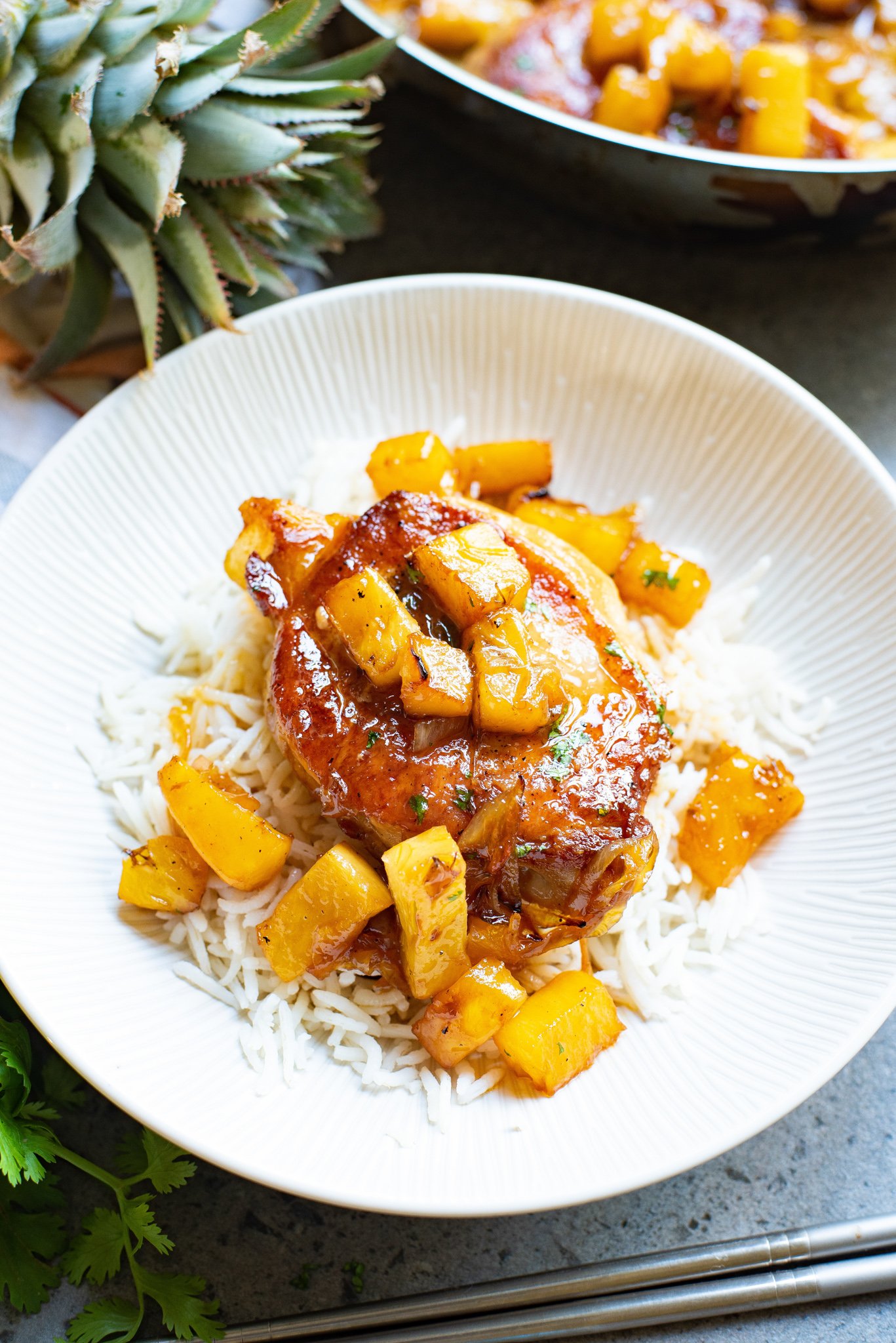 How to Make Easy Pineapple Pork Chops in a Skillet
Follow these simple steps to create the perfect Pineapple Pork Chops in a skillet:
Cook the Chops: Season the pork chops with salt and pepper. Heat a non-stick skillet with oil over medium-high heat. Place the chops in the skillet and cook for 4-5 minutes on one side until golden. Move the chops to one side of the skillet, making space to flip them and cook the other side.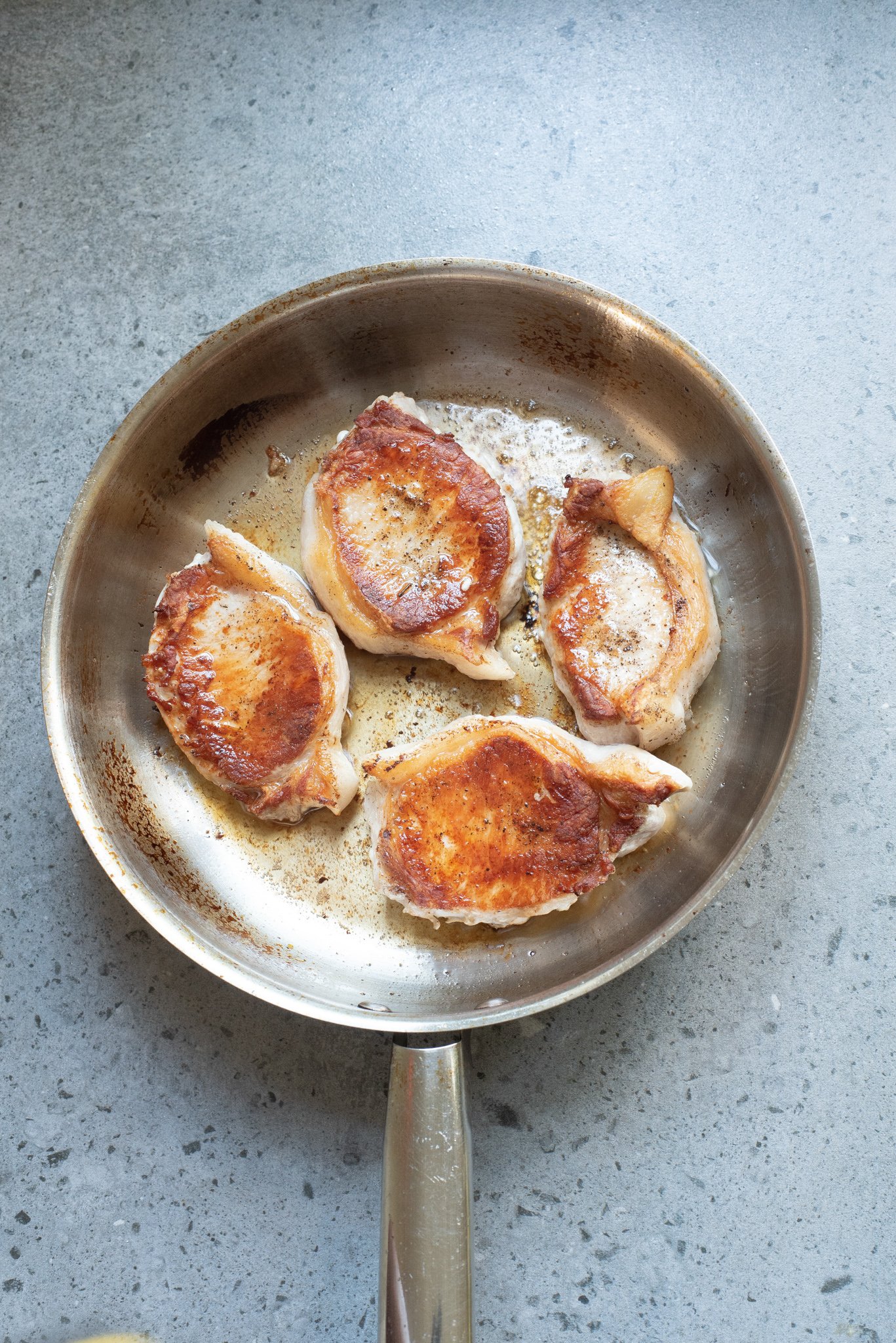 Add the Pineapple: In the empty space of the skillet, add butter, garlic, onion, and pineapple to create the sweet and sour sauce. Cook for approximately 3 minutes, stirring regularly until everything is combined.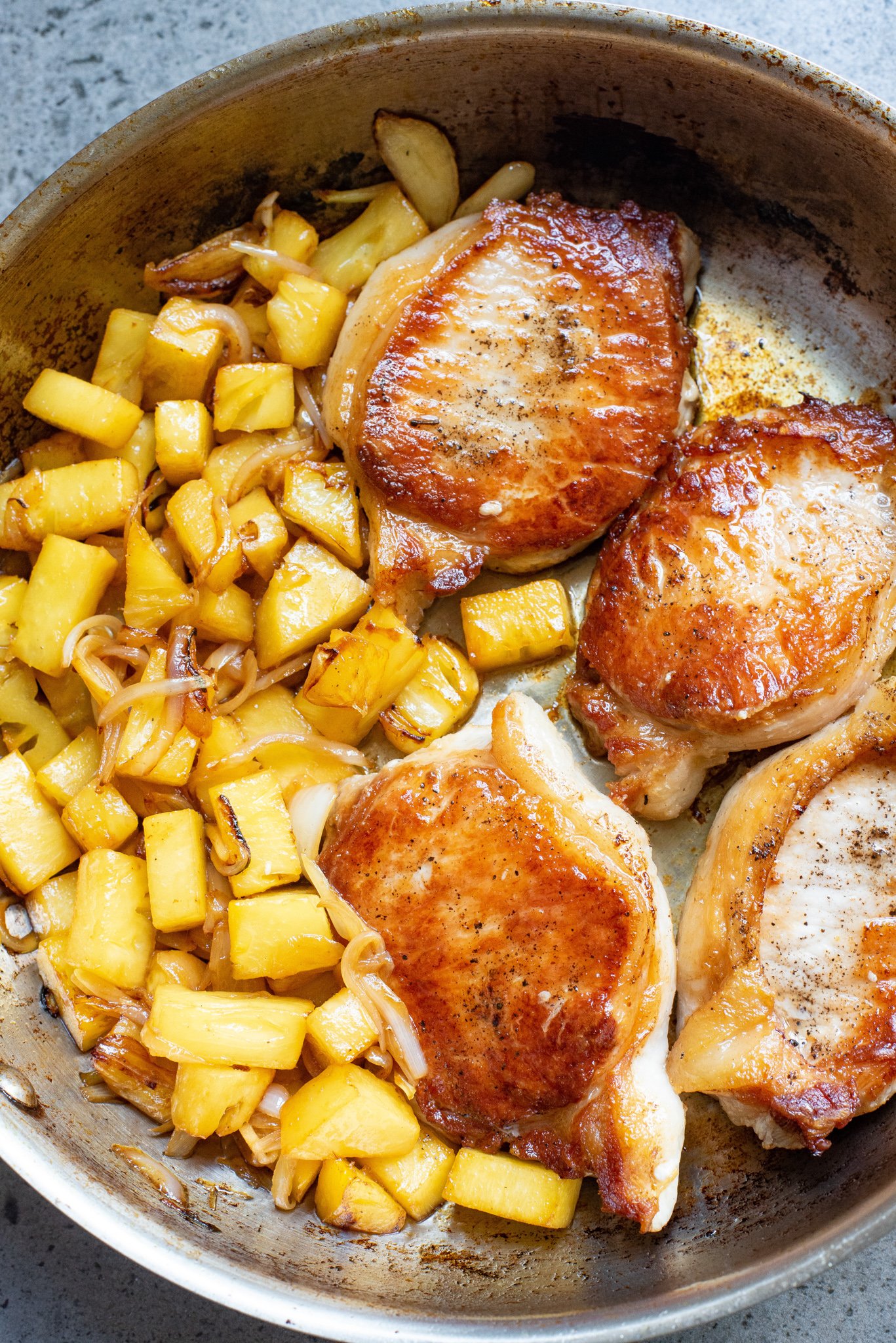 Finish the Dish: Reduce the heat to medium and add honey to the skillet. Stir the pineapple sauce with the honey and remove from heat. Let it rest for 5 minutes.
Serve the Pineapple Pork: Plate your delicious Pineapple Pork Chops alongside a side of rice and garnish with freshly chopped cilantro.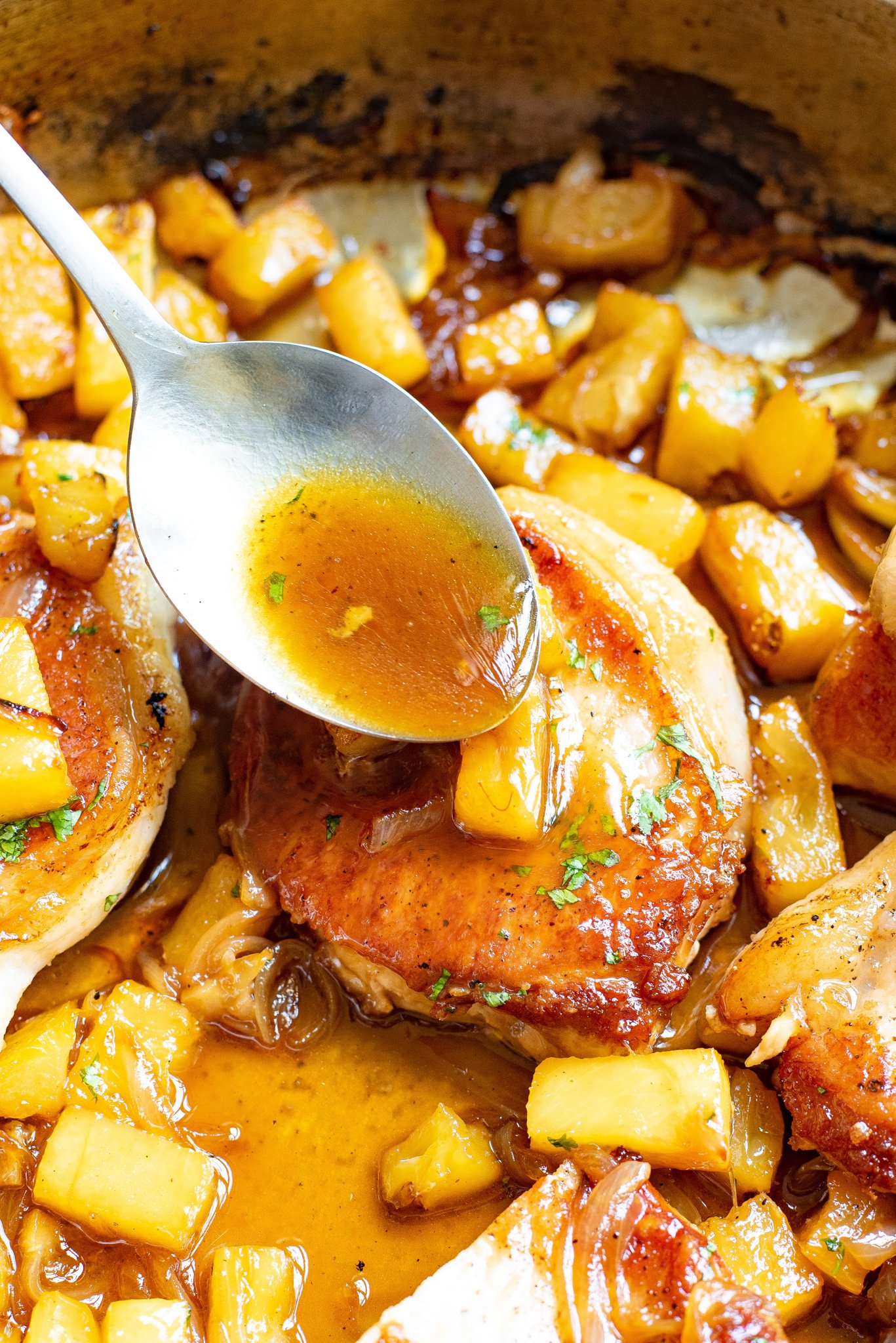 Recipe Hints & Tips
Here are some helpful hints and tips for the best Pineapple Pork Chops experience:
Storing Pineapple Pork Chops: Once cooked, allow the pork to cool down before storing it in an airtight container in the refrigerator for up to 3 days.
Freezing Pork Chops: Let the pork chops cool down and place them in an airtight container. Freeze for up to 1 month. When ready to enjoy, defrost in the refrigerator before gently reheating in a pan until warmed through.
Temperature of Pork: To ensure juicy and tender pork, only cook the chops until they reach an internal temperature of 145°F. Rest the chops for 5 minutes after cooking to allow the juices to redistribute and retain moisture.
Cut of Pork: While we recommend pork chops for this recipe, you can also use pork tenderloin (pork filet) as a delicious alternative. Feel free to experiment with chicken thighs or chicken breasts too!
Vegetables: Enhance the sauce by adding extra veggies such as bell peppers, broccoli, or carrots.
Your Delicious Meal Awaits at Hook'd Up Bar and Grill
Indulge in the delectable flavors of our Pineapple Pork Chops at Hook'd Up Bar and Grill. Experience the perfect blend of juicy pork, tangy pineapple, and aromatic spices—all in a friendly and relaxed atmosphere.
Visit Hook'd Up Bar and Grill and treat yourself to a mouthwatering dining experience.