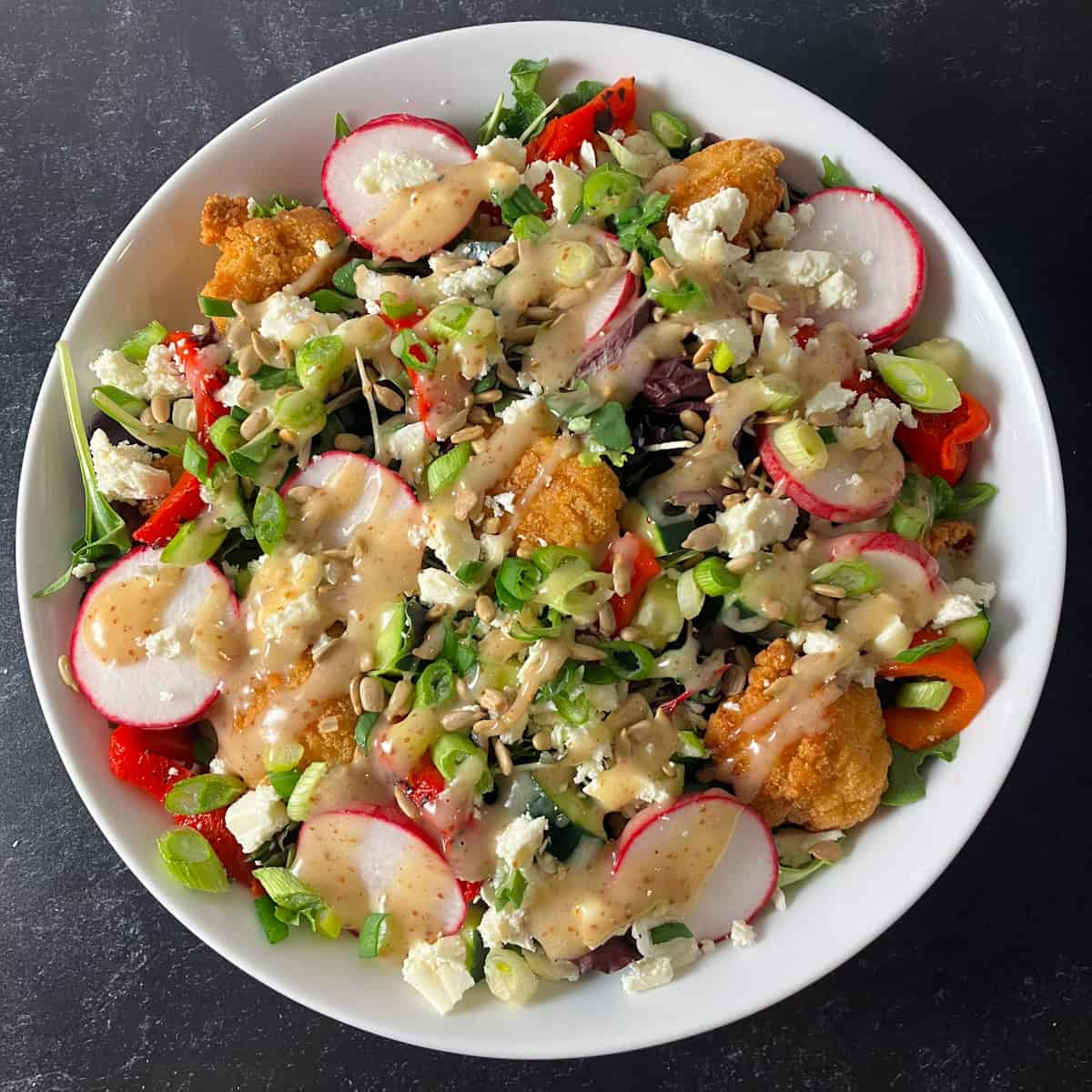 Are you craving a delightful dish that combines the crispiness of popcorn chicken with the freshness of a salad? Look no further than our mouthwatering Popcorn Chicken Salad Bowl. This delectable recipe features tender chicken bites, expertly breaded and seasoned, baked to perfection. We then place them atop a bed of baby greens and mustardy microgreens, complemented by fresh radish slices, sunflower seeds, tangy feta, and a zingy honey mustard dressing. Prepare to be amazed by the simplicity and deliciousness of this healthier twist on popcorn chicken salad!
A Healthier Take on Popcorn Chicken Salad
Traditionally, popcorn chicken is deep-fried and served with other fried foods and sugary dips. However, with our recipe, we've eliminated the need for excess oils by baking the breaded chicken instead. By transforming popcorn chicken into a salad, we have created a much healthier alternative to satisfy your cravings.
Now, it's important to note that our Popcorn Chicken Salad Bowl is not a copycat recipe of the popcorn chicken served at popular fast-food chains. We've crafted a unique and delightful combination of flavors that we believe you and your family will find absolutely delicious in its own right.
Perfect for Work or School Lunch
One of the best things about this popcorn chicken salad bowl is its versatility. It's the ideal meal to take with you to work or pack for your kids' school lunch. In fact, it's perfect for meal prep, as long as you keep the salad dressing separate until it's time to serve.
Here's what you can expect from this article:
Popcorn Chicken Salad Calories
Popcorn Chicken Salad Ingredients
How to Cook Popcorn Chicken
How to Make Popcorn Chicken Salad
How to Store Popcorn Chicken Salad
Is Popcorn Chicken Healthy?
What goes well with Popcorn Chicken?
Expert Tips from a Dietitian
Frequently Asked Questions
Other Salad Ideas with Chicken
The Disclaimer
Recipe
📋 Popcorn Chicken Salad Calories
You may be wondering about the nutritional information of our Popcorn Chicken Salad Bowl. Each serving of this delightful dish contains approximately 492 calories, 28.6 grams of net carbs, and 26.4 grams of protein. However, please keep in mind that these values may vary depending on the brand of popcorn chicken and the type of salad dressing you use.
🥗 Popcorn Chicken Salad Ingredients
To create this irresistible salad, you'll need the following ingredients:
Cooked popcorn chicken
Baby lettuce mix
Microgreens
Cucumber
Roasted red pepper strips
Radishes
Crumbled feta cheese
Scallions
Toasted sunflower seeds (no shell)
Honey mustard dressing
For specific quantities, please refer to the recipe card at the bottom of this article.
💡 How to Cook Popcorn Chicken
Before assembling the salad, you'll need to cook the popcorn chicken. We recommend following the instructions on the packaging for the brand you choose. However, if you're looking for guidance, here are a few cooking methods:
Frozen Popcorn Chicken in Ninja Foodi
Preheat your Ninja Foodi to 400F (200C). Place the frozen popcorn chicken in the air fryer basket and bake for 8-10 minutes. Don't forget to flip (or shake) the chicken halfway through to ensure even cooking. Make sure the cooked popcorn chicken reaches a minimum safe internal temperature of 165F (74C).
Cook Frozen Popcorn Chicken in the Oven
Preheat your oven to 400F (200C). Arrange the frozen popcorn chicken on a baking sheet and bake for 15-20 minutes until it reaches a safe internal temperature of 165F (74C).
Cook Frozen Popcorn Chicken in the Microwave
Place the frozen popcorn chicken on a microwave-safe plate. You may need to cook it in batches. Microwave 9 pieces at a time for 2.5-3 minutes on high. Allow the chicken to rest for 1-2 minutes before adding it to your salad. Please be aware that microwaving may not achieve the same level of crispiness as other cooking methods.
🔪 How to Make Popcorn Chicken Salad
Follow these simple steps to create a tasty popcorn chicken salad:
Cook the popcorn chicken according to the instructions provided above.
Chop the cucumber, thinly slice the radishes and scallions, and cut the roasted red peppers into strips.
Divide the baby lettuce between four salad bowls or meal prep containers.
Top each salad container with ¼ of the baked popcorn chicken, microgreens, cucumber, roasted red pepper, scallions, radish, feta, and sunflower seeds.
Drizzle the salads with honey mustard dressing just before serving. Enjoy every delightful bite!
🌡️ How to Store Popcorn Chicken Salad
If you have leftovers, you can store your popcorn chicken salad in a covered container in the refrigerator for up to 3-4 days. To maintain freshness, keep the salad dressing in a separate container and add it right before serving.
🐔 Is Popcorn Chicken Healthy?
Determining whether popcorn chicken is healthy depends on individual needs and preferences. If you're looking for the most nutrient-dense option, roasted chicken without breading may be a better choice. Popcorn chicken often contains white flour, which doesn't contribute significantly to its nutritional value.
🥬 What Goes Well with Popcorn Chicken?
Wondering what to serve alongside your popcorn chicken salad? The possibilities are endless! You can experiment with different variations, such as a Buffalo popcorn chicken salad with buffalo sauce and ranch dressing or a Chinese chicken salad featuring mandarin oranges and chow mein noodles. You can even substitute the popcorn chicken with air fryer chicken nuggets for a delightful twist. Additionally, here are some other tasty ingredients that pair well with popcorn chicken:
Red cabbage
Shredded carrots
Edamame
Pickled jalapenos
Banana peppers
Teriyaki sauce
Caesar dressing
💭 Expert Tips from a Dietitian
Our seasoned dietitian has a few valuable tips for you:
This recipe falls under Level 1, which may aid in fat loss. Salads with plenty of non-starchy vegetables offer a low-calorie, high-volume meal.
If you require a higher energy meal, consider using whole milk feta cheese.
You can elevate the calorie content of your salad by adding goodies such as blue cheese, whole-grain croutons, or homemade crispy onions.
While popcorn chicken traditionally falls under Level 3 due to its white flour content, the overall composition of your meal is more important than individual ingredients. By incorporating an abundance of fresh vegetables instead of fries, you're enjoying a nutritious, filling meal under 500 calories.
If you're aiming for weight loss, opting for a popcorn chicken salad is a smart move. High-volume salads with sufficient protein can help you feel full while consuming fewer calories, enabling you to achieve your weight loss goals. Alternatively, you can choose low-oil side dishes packed with non-starchy vegetables if you prefer alternatives to salads.
Frequently Asked Questions
For your convenience, we've compiled some frequently asked questions about popcorn chicken salad:
👩🏻‍🍳 Other Salad Ideas with Chicken
If you're looking for more chicken salad inspiration, here are a few other tantalizing options you might enjoy:
Chick-Fil-A Southwest Chicken Salad
Healthy Chicken Salad in Air Fryer
Orange Chicken Salad with Strawberries
Chicken Salad with Apples and Pecans
Join Our Community!
Stay up-to-date with all the latest and greatest recipes by subscribing to our newsletter. You can also follow us on Pinterest, Twitter, Instagram, and YouTube!
The Disclaimer
We want to emphasize that the recipes on our website may or may not be suitable for everyone, depending on individual medical needs and personal preferences. If you require assistance in determining the dietary pattern that works best for you, we encourage you to consult a registered dietitian or your physician.
Please note that the nutritional information provided is an estimate and should be used as a courtesy. The specific brands and ingredients you choose may cause variations in calorie counts. Additionally, calorie information on food labels can sometimes be inaccurate, so please don't fret too much over the numbers.
For more information on how the three recipe levels can assist you in achieving your weight management goals, refer to our post on overnight oats without sugar. Let's get cooking!
📖 Recipe
This popcorn chicken salad recipe has been updated in 2022 with new photos, recipe tweaks, additional nutrition information, and a brand-new recipe video. Get ready to indulge in a delightful culinary adventure!
For the full recipe, click here.