Are you feeling a bit restless at home and craving some delectable Yard House poke nachos? Look no further, because we've got you covered. Yard House has made a name for itself with its extraordinary poke nachos, particularly their Ahi Tuna Poke Nachos, which offer an explosion of distinctive and delightful flavors. These light bites are ideal for any occasion, whether you're hosting a summer soirée or simply indulging in a tasty treat at home.
What is Poke?
Poke is a traditional Hawaiian dish that originated from local fishermen who would thinly slice smaller reef fish and serve them raw, seasoned with condiments such as sea salt, candlenuts, seaweed, and limu. Traditionally, poke is made with ahi tuna.
Ingredients:
12-ounce crispy wonton chips
1 pound marinated raw ahi (sushi-grade tuna)
1 cup vegetable oil
One lime
One tablespoon of soy sauce
1 fresh avocado
½ cup lemon sriracha aioli
For Toppings:
Sweet soy
Creamy white truffle sauce
Cilantro
Serrano chilies
Sliced green onions
Toasted black & white sesame seeds
Nori strips
Tools:
A mixing bowl
Knife
Teaspoon
Tablespoon
Non-stick frying pan
Tongs
A large platter
How to Create Your Own Yard House Poke Nachos
Cutting the Ahi Tuna:
Begin by cutting the raw ahi into sushi-grade tuna pieces measuring approximately ½ inch. Place all the slices in a medium mixing bowl.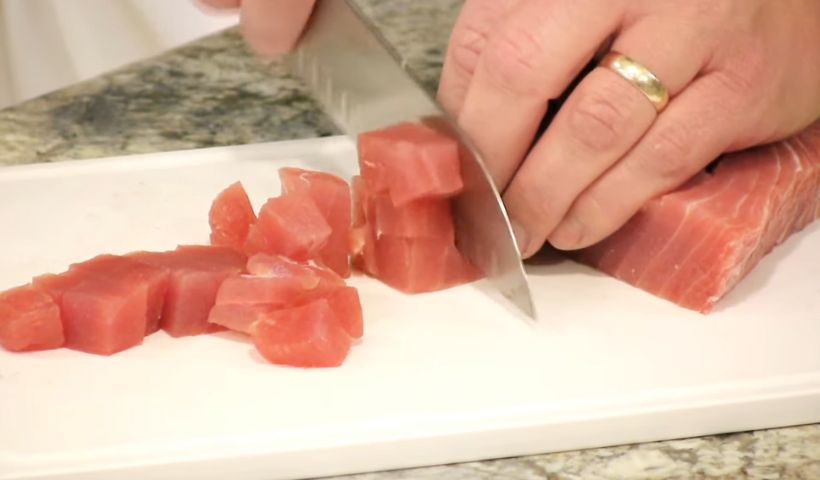 Marinating the Raw Ahi:
Combine the diced ahi with ½ cup of chopped red onions, one tablespoon of soy sauce, and the juice of a lime in a mixing bowl. Let the ahi marinate for the optimal amount of time.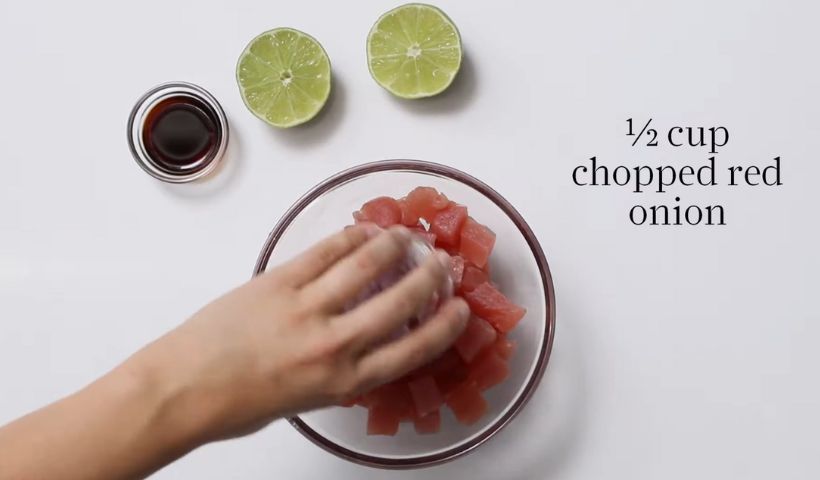 Cutting the Wonton Wrappers:
If you prefer not to make your own wonton wrappers, they can be purchased from a store. Simply cut the wrappers into triangular shapes using a knife. Square wrappers can be cut in half to form triangles.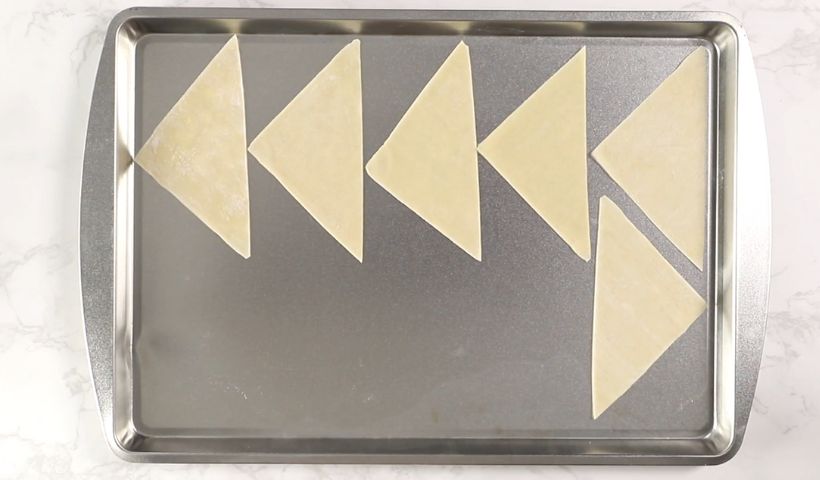 Frying the Crispy Wonton Chips:
Heat a non-stick frying pan over medium heat and add vegetable oil. Make sure the pan contains approximately ½ inch of oil to achieve perfectly fried wrappers. Fry 2-3 pieces of wonton at a time, flipping them with tongs to ensure even frying and a golden brown texture. Place the fried chips on a wire rack or use paper towels to absorb any excess oil.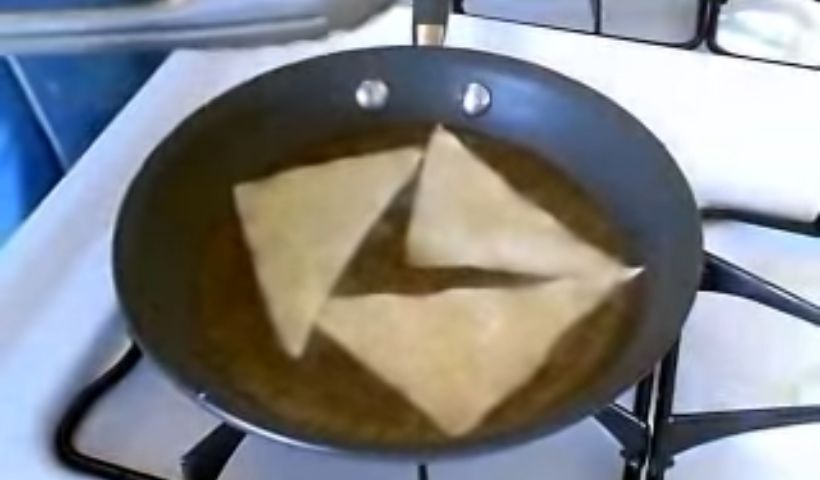 Assembling the Platter:
Take a large platter and arrange the fried crispy wonton chips. Scatter the marinated raw ahi over the chips, followed by freshly sliced avocado.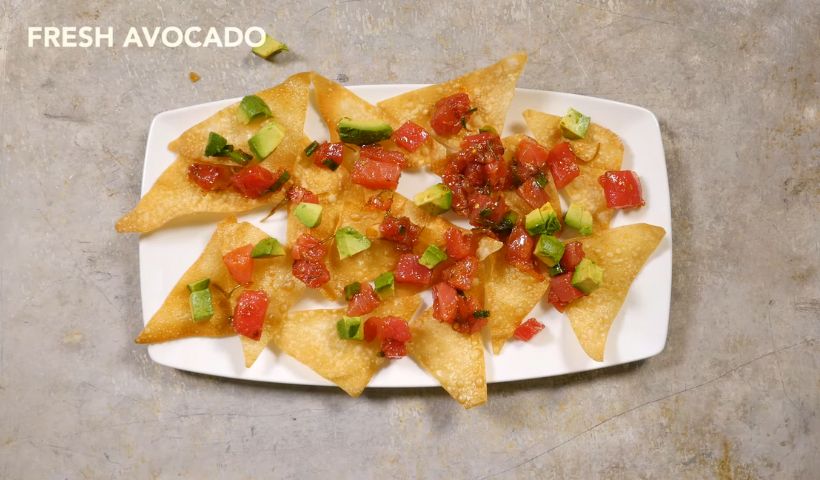 Adding the Sriracha Aioli and Sweet Soy:
Drizzle half a cup or two tablespoons of sriracha aioli over the chips to introduce more color and flavor to the nachos. Then, include two tablespoons of sweet soy sauce to enhance the juiciness and unique taste of the nachos.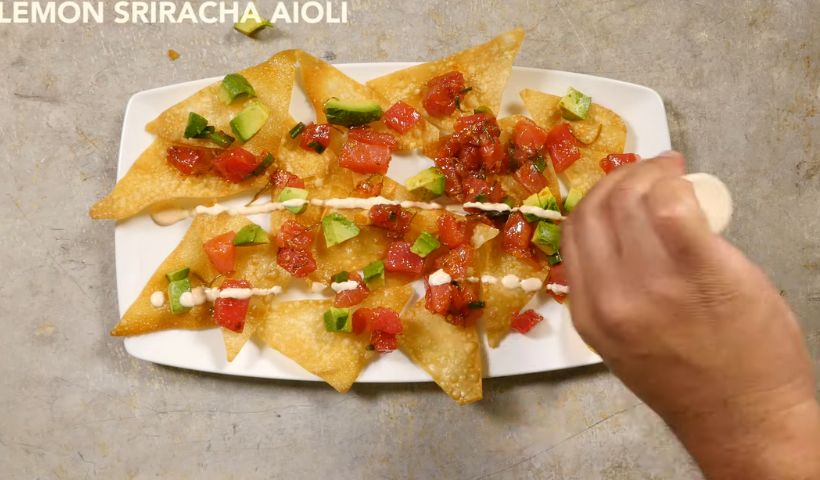 Drizzling the Creamy White Truffle Sauce:
Finish off by generously drizzling the creamy white truffle sauce all over the wonton chips, providing them with an extra burst of flavor.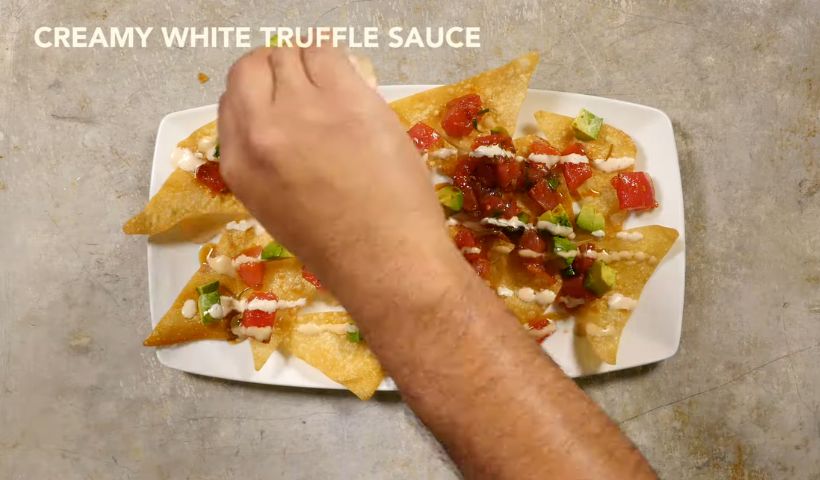 Topping it Off:
Complete the presentation by adding cilantro, Serrano chilies, sliced green onions, toasted black & white sesame seeds, and nori strips. These toppings will elevate the flavors of the nachos.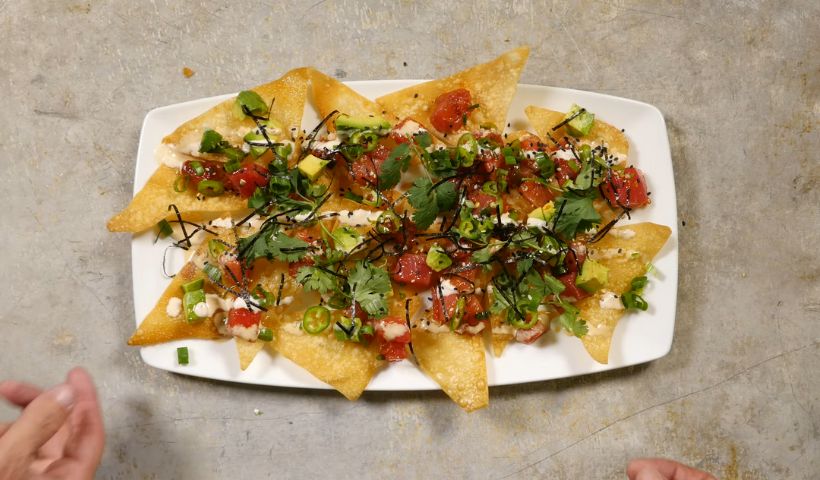 Additional Tips:
If you're looking for a quick and easy alternative, pre-made wonton chips or other types of chips can be used.
In the absence of sriracha aioli, spicy mayo works as a suitable alternative or you can make your own homemade version.
Feel free to experiment with additional toppings such as mint, dill, basil, olives, black beans, or jalapenos.
It's advisable to use fresh sushi-grade ahi tuna for the best taste.
Serve your poke nachos alongside side dishes like spiced pumpkin soup, chicken tortilla soup, honey garlic shrimp, or Mexican rice.
In Conclusion
Yard House Poke Nachos have revolutionized the culinary world with their incredible flavors. Now, you have the opportunity to recreate this clandestine recipe in the comfort of your own kitchen and relish it at any time. The combination of flavors will tantalize your taste buds and leave you longing for another bite.
We hope this recipe has simplified the process so that you can effortlessly whip it up for your friends, family, or even just for yourself at home. So go ahead and treat yourself to these mouthwatering Yard House Poke Nachos. Enjoy!