Are you ready for a culinary adventure that will transport you to the sunny tropics? Look no further than our Pineapple Mango Habanero Sauce. This delightful combination of sweet and spicy flavors will tantalize your taste buds and leave you craving more. Whether you use it as a dip, a side serving, or to spice up your favorite dishes, this versatile sauce is sure to impress.
Reasons to Make Your Own Hot Sauce
There are plenty of reasons why making your own hot sauce is a great idea:
It's fun and easy to prepare.
You have complete control over the ingredients, ensuring freshness and avoiding unhealthy additives and preservatives.
Customize it according to your taste buds by adjusting the level of spiciness, adding or omitting peppers, vinegar, and herbs.
It makes a fantastic homemade gift for family and friends.
Ingredients You'll Need
To create this tropical hot sauce, you'll need the following ingredients:
Mango: Opt for fresh or frozen mango that's wonderfully ripe.
Pineapple: Fresh or frozen pineapple works perfectly.
Habanero: These fiery peppers bring the heat to the sauce.
Seasonings: Thyme, garlic, ginger, allspice, and onion enhance the flavors.
Vinegar and Lime: Used to preserve the sauce.
Agave Nectar: Adds a subtle hint of sweetness.
How to Make Pineapple Mango Hot Sauce
Preparing this mouthwatering sauce is a breeze. Just follow these simple steps:
Add all the ingredients (except the thyme and tapioca starch) to your blender or food processor.
Puree until you achieve a smooth consistency (strain if desired).
Transfer the mixture to a saucepan and add the thyme.
Bring to a boil while stirring, then reduce the heat to low.
Stir in the tapioca starch/water.
Simmer the hot sauce on low for 10 minutes.
Allow the sauce to cool completely, then pour it into sterilized glass jars and refrigerate.
The Heat Factor
The level of spiciness is entirely up to you! Here's a guide to help you determine how many scotch bonnet peppers to use:
No heat: Use only the skin of the scotch bonnet. Discard the membrane and seeds.
Mild heat: Include 1-2 whole scotch bonnet peppers.
Medium heat: Opt for 3 whole scotch bonnet peppers.
Extreme heat: For the brave, use at least 5 peppers or more.
Hot Sauce Preservation
To extend the shelf life of your sauce, add lime/lemon and/or vinegar. If you prefer a milder vinegar taste, use lime by itself or a combination of lime and vinegar. For a stronger, pungent vinegar flavor, add up to a cup.
Experiment with Different Peppers
Feel free to experiment with other peppers like habaneros, chilis, serranos, scorpions, or even ghost peppers. You can mix and match various peppers to tailor the sauce to your preferences.
Where to Store Your Sauce
If you're wondering where to find suitable bottles for storing your sauce, check out the swing-top glass sauce bottles available on Hook'd Up Bar and Grill. They offer a wide range of quality options.
Additional Tips and Notes
Here are some extra tips to ensure success with your homemade sauce:
Use latex gloves: To protect your hands while handling the peppers, especially if you're working with several of them.
Sterilize your bottles: Ensure your chosen bottle(s) are properly sterilized before pouring in the sauce.
Keep it refrigerated: For optimal freshness and longevity, always store the sauce in the refrigerator.
Choose super soft fruit: To avoid the need for additional sugar, use very ripe, soft mangoes and pineapples. They'll bring natural sweetness to the sauce.
Add a splash of water: If your blender or food processor isn't powerful enough, a little water can help puree the mango and pineapple to a smooth consistency.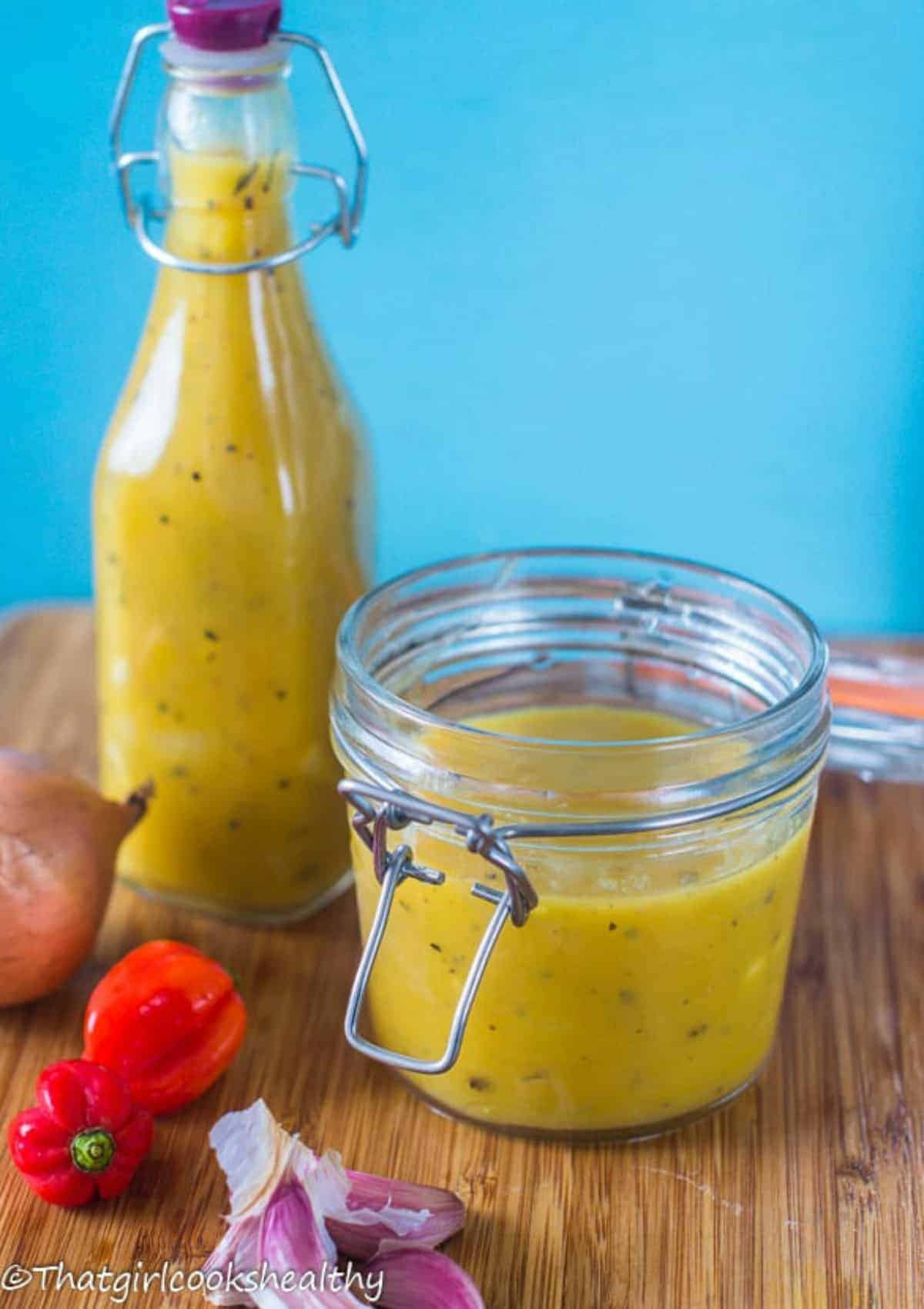 Other Pineapple and Mango Recipes to Explore
If you're a fan of pineapple and mango, don't stop at hot sauce. Check out our other mouthwatering recipes on Hook'd Up Bar and Grill. From refreshing beverages to delightful desserts, we've got you covered.
Don't forget to comment below and give us your star rating if you've tried our recipes. Let's be friends and engage on Facebook and Instagram. We also have a Pinterest account where you can find more amazing recipes.
Enjoy the taste of the tropics with our Pineapple Mango Habanero Sauce!