Introduction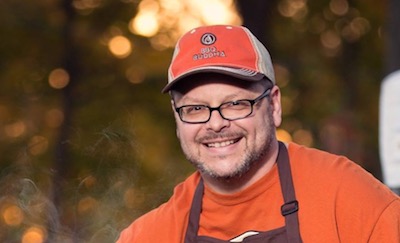 By Ray Sheehan, BBQ Buddha
What happens when you combine a leaf blower with a Weekend Warrior's burning desire for the perfect cook? Enter the Perfect Draft BBQ Blower. This revolutionary invention, born from the mind of Stephen Thibodeaux in Baytown, Texas, solves the age-old challenge of maintaining consistent pit temperatures without compromising the quality of your meat. Let's dive into the details of this game-changing device.
Blowing Away the Competition
Thibodeaux's quest to create the Perfect Draft BBQ Blower began with a simple experiment. One day, while tending to his yard, he propped his leaf blower onto the firebox of his pit to combat a drop in temperature. As the heat soared, a lightbulb flickered above his head. He realized that he needed to design a temperature controller that could regulate airflow and ensure complete combustion, all while preventing ash from ruining the meat. Easier said than done, right? It took over three years of relentless testing and refinement before the Perfect Draft BBQ Blower was ready for market in June 2016.
A Versatile Airflow Solution
While other draft systems exist, Thibodeaux's creation stands apart. The Perfect Draft BBQ Blower can handle airflow as low as 1 cfm (cubic feet per minute) and go as high as 124 cfm. This impressive range means that the Perfect Draft is equally at home in small backyard charcoal pits and large competition-level reverse flow offset smokers. But what truly sets it apart is its portable power source. No longer limited to areas with electricity access, this blower is powered by a long-lasting 12-volt lithium battery that can provide over 17 hours of continuous operation on a single charge. And if you find yourself needing an extra boost, you can even use the blower while it's charging through an AC plug.
Putting it to the Test
Our team had the opportunity to test the Perfect Draft BBQ Blower 2.0 with the adapter. This impressive unit, priced at $250, quickly proved its worth. Connecting it to our Meadow Creek TS250 reverse flow smoker was a breeze, thanks to high-powered magnets and a safety hook. The only minor inconvenience was drilling a small hole into the firebox to attach the safety hook. However, this small hiccup was quickly forgotten once we witnessed the blower in action.
Despite the chilly outdoor temperature, the Perfect Draft brought our pit to the target temperature of 275 degrees promptly. With a solid base of hot coals and periodic additions of wood, we were able to maintain the desired temperature with ease. Notably, we observed a significant reduction in wood and charcoal usage compared to previous cooks without the blower. Setting the blower on automatic mode, which adjusts the fan speed according to the set temperature, relinquished control but delivered consistent and reliable results.
Unrivaled Endurance and Performance
To thoroughly test the endurance of the Perfect Draft Blower, we ran it for nearly 12 hours on a fully charged battery. Throughout the day, we cooked a delightful assortment of sausages, pork loin, brisket, and pork butt. Impressively, the blower effortlessly managed our large pit with just one fan. This device proudly boasts a run time of up to 17 hours, making it a perfect companion for low and slow cooking sessions.
Expertly Crafted for BBQ Enthusiasts
Speaking with Stephen, the mastermind behind this incredible invention, we discovered the driving force behind his company's mission statement: "We strive to provide consistent temperatures and airflow to help regulate your smoker and give you a healthier and efficient way to BBQ." The Perfect Draft BBQ Blower lived up to its promises. Our temperature remained stable throughout the cook, the unit operated silently, the fire burned cleanly, and the meat was perfectly smoked. The Perfect Draft is compatible with nearly 20 different smoker brands, as well as custom pits. It comes with a generous one-year warranty and lifetime customer service phone support. Furthermore, this draft system proudly bears the "Made in the USA" label.
For more information or to order online, visit the Hook'd Up Bar and Grill website. The Perfect Draft BBQ Blower is eagerly waiting to join you in your BBQ adventures and elevate your cooking experience to new heights.