Looking for a rich and luxurious dinner option that's ready in a flash? Look no further than this creamy oat milk alfredo sauce recipe! Made with spices, garlic, and your favorite oat milk (make sure it's plain and unsweetened), this recipe will have you coming back for seconds. It's not only delicious but also easy on the pocket, making it the perfect pantry alfredo recipe. Serve it with some sourdough garlic bread and a fresh side salad to make it a complete and satisfying meal.
A Vegan Oat Milk Alfredo Recipe Worth Trying
Rich
Thick
Creamy
Garlicky
Made with Pantry Staple Ingredients
Ready in 20 Minutes
Vegan, Dairy-Free, and SO Good!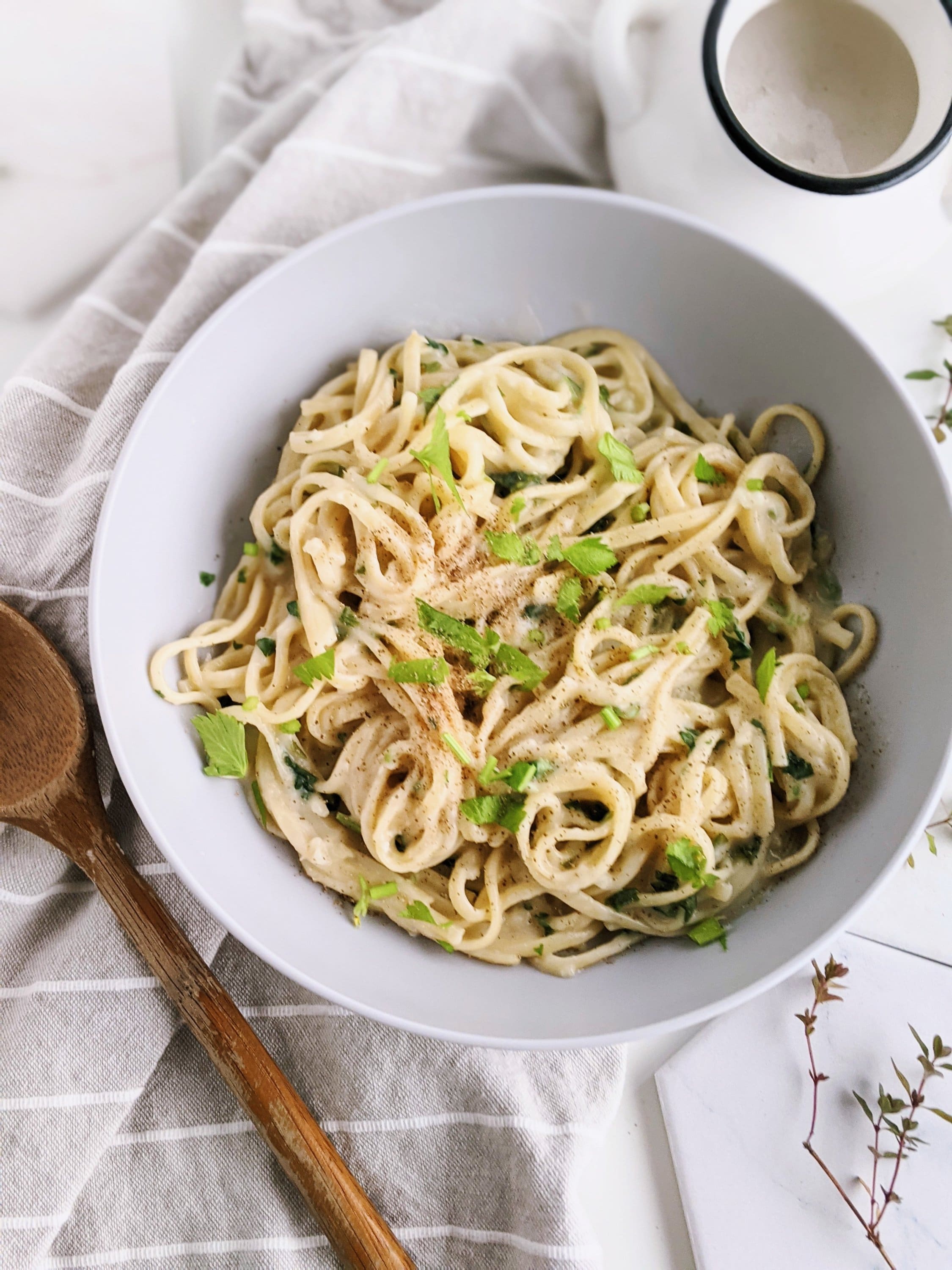 A Pantry Staple Dinner Recipe
What makes this oat milk alfredo pasta recipe extraordinary is that it can be made using ingredients you likely already have in your pantry. It's a fantastic pantry-staple meal that allows you to create delicious and healthy dishes without having to make a trip to the store. To make things even easier, check out the list of my Top 125 Plant-Based Pantry Staples that I always keep on hand. By stocking up on these healthy whole ingredients, you'll be able to whip up mouthwatering recipes anytime you want.
What You'll Need for This Alfredo with Oat Milk Recipe
Pasta: Linguine, fettuccine, spaghetti, angel hair, bucatini, or any other long pasta shape will work perfectly.
Olive Oil: I recommend using ZOE brand olive oil for its exceptional flavor and great value.
Garlic: Fresh garlic is ideal, but jarred garlic will work if you're looking for a pantry-staple-friendly option.
Corn Starch: A mixture of corn starch and cold water will give the sauce its irresistible creaminess.
Oat Milk: You can use store-bought oat milk, but make sure it's unsweetened and unflavored. If you prefer making your own, use certified gluten-free oats.
Garlic Salt: Adds an extra layer of flavor and spice to the pasta.
Fresh Ground Pepper: Tellicherry pepper corns are my personal choice for their robust flavor and hint of spice.
Parsley: Gives the alfredo pasta sauce a fresh, vibrant finish.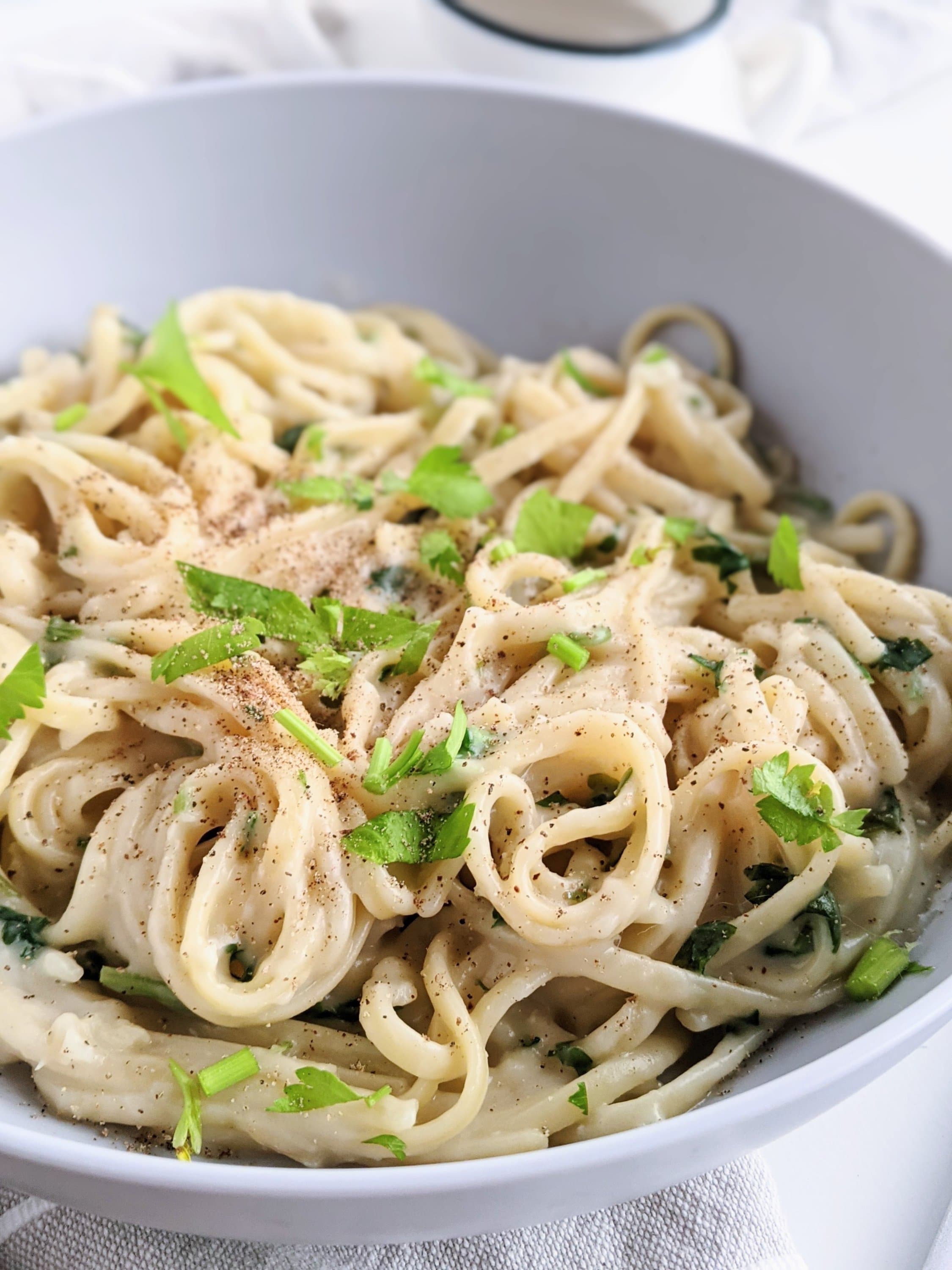 Making This Oat Milk Pasta Sauce Recipe
Start by reading through my list of Top 125 Vegan Pantry Staple Ingredients & Recipes for more inspiration. Then, follow these simple steps to bring this delicious oat milk alfredo sauce to life.
Get the Same Ingredients I Use for My Oat Milk Alfredo Recipe
For the freshest produce and amazing food finds at a discounted price, check out Misfits Market. They offer a wide range of groceries, healthy pantry staples, and even wine, all delivered straight to your door. Plus, you can save up to 40% off regular grocery store prices. It's a win-win!
This post may contain affiliate links. As an Amazon Associate, I may earn from qualifying purchases, at no additional cost to you. Thank you for supporting the brands that support Hook'd Up Bar and Grill and our beehives!
Remember, when it comes to a delightful meal that's both indulgent and easy to make, this oat milk alfredo sauce is guaranteed to satisfy your taste buds. So why wait? Head over to Hook'd Up Bar and Grill and get cooking!