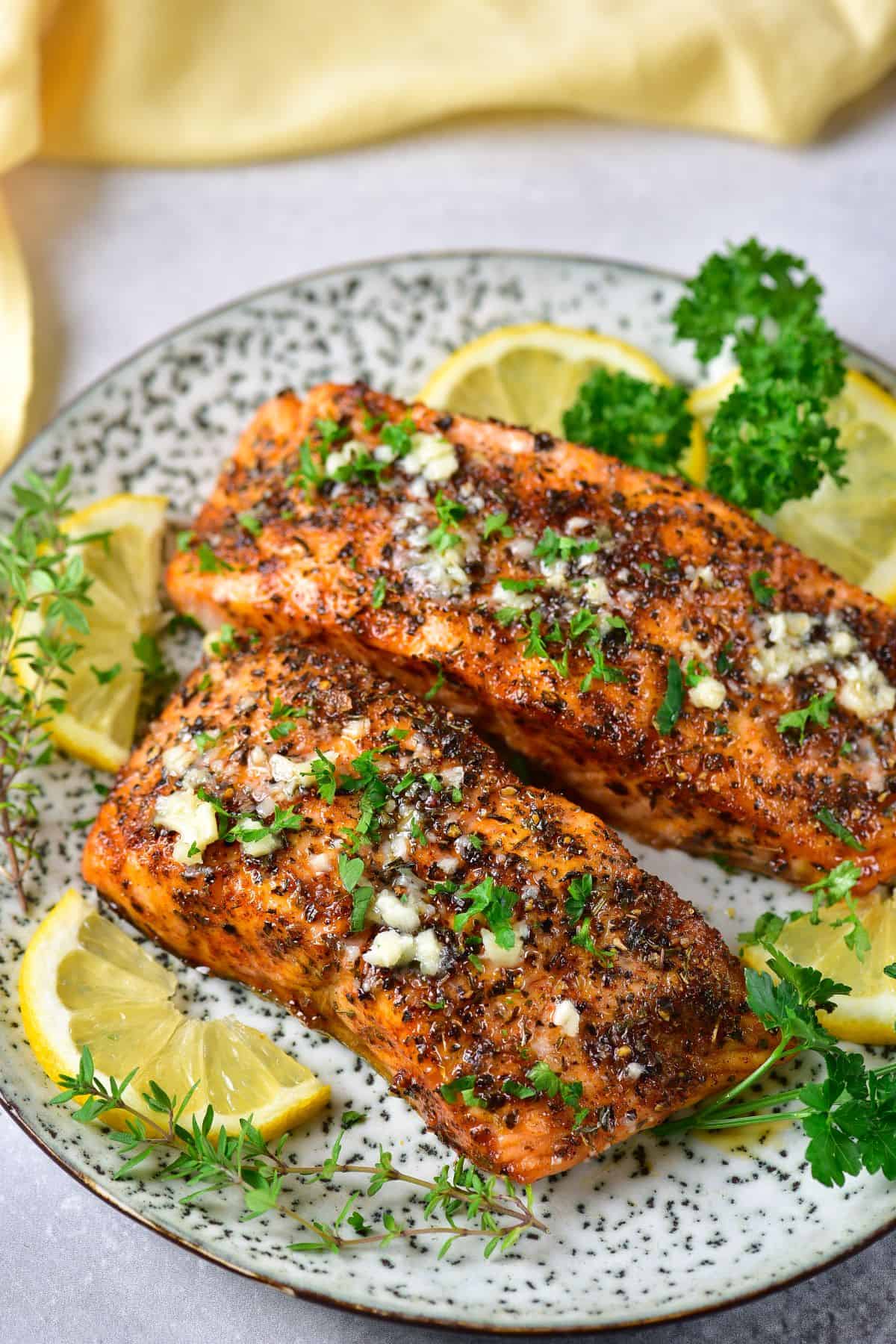 Salmon is one of my all-time favorite proteins. When cooked properly, it's incredibly juicy, has a melt-in-your-mouth texture, and is bursting with flavor. Not to mention, it's packed with essential vitamins, minerals, and protein, making it one of the healthiest foods you can eat. That's why I turn to this Ninja air fryer salmon fillet recipe whenever I want a quick, healthy, and delicious meal.
Why You'll Love This Salmon
There's a lot to love about this juicy and tender salmon recipe. Here's why you should give it a try:
So easy: This recipe is one of the simplest and quickest ones I know. Just season the fish, cook it in the air fryer, add a touch of butter, and it's ready to be enjoyed. With minimal effort, you'll have a flavorful salmon dish on your plate in less than 10 minutes.

Healthy: Despite its indulgent taste, this air fryer salmon recipe is actually quite healthy. While it features a small amount of butter, the rest of the ingredients – salmon, herbs, spices, and olive oil – are super nutritious. It's a keto-friendly recipe that will leave you feeling great.

Versatile: One of the things I love most about this dish is its versatility. You can serve it alongside a variety of sides, put it in a wrap or sandwich, or even use it as a topping for salads or pasta dishes. The possibilities are endless!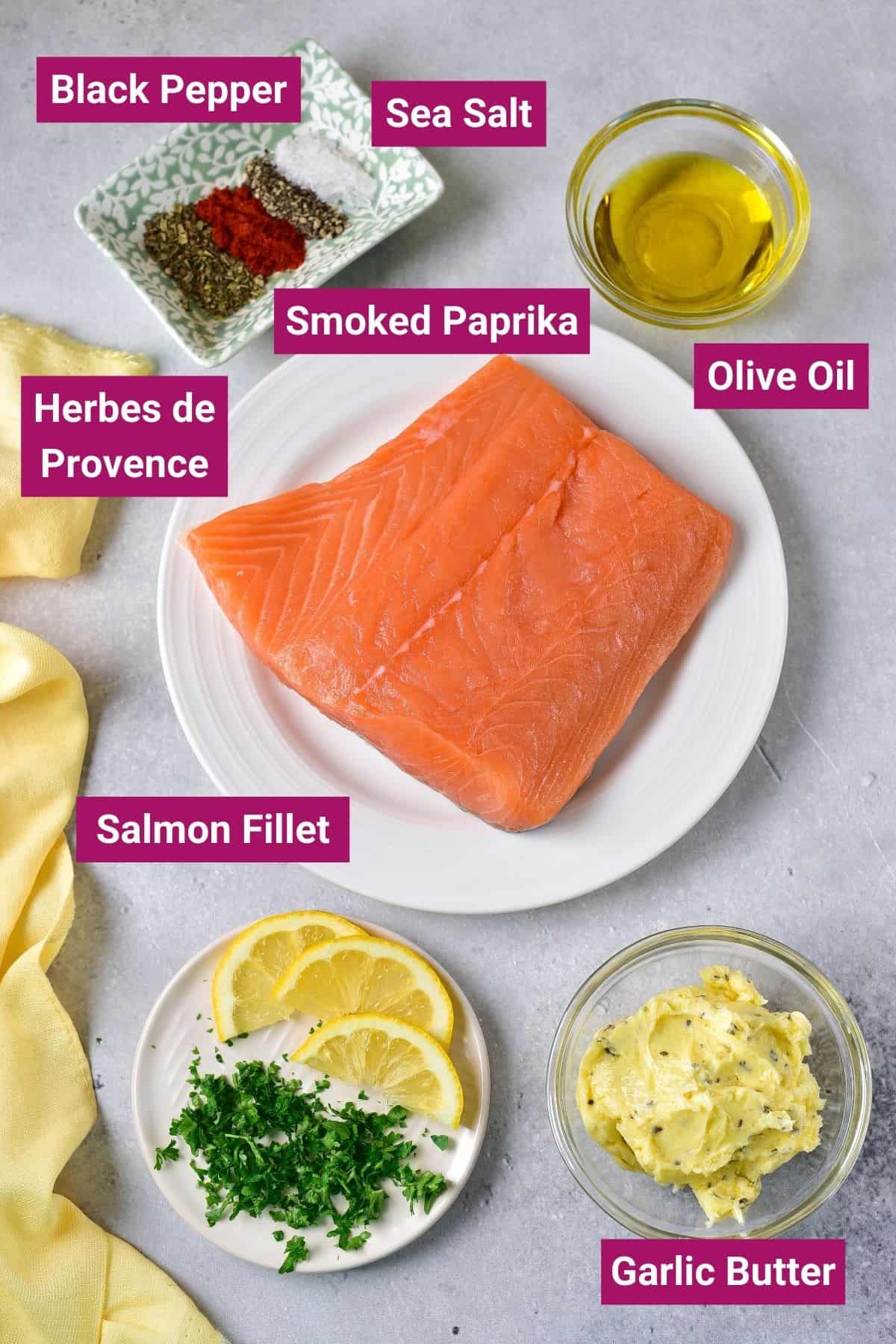 Ingredients Needed
Before we get started, here's a list of everything you'll need to make this moist salmon recipe:
Salmon (fresh or fully defrosted)
Herbes de Provence (or your favorite herb blend)
Salt
Black pepper
Smoked paprika
Olive oil (or avocado oil)
Garlic butter (or flavored butter of your choice)
What is Herbes de Provence?
Herbes de Provence is a popular herb blend in French cuisine. It typically consists of dried basil, rosemary, thyme, oregano, and savory, with a flavor profile similar to Italian seasoning.
How to Make Ninja Air Fryer Salmon Fillets
Here's a step-by-step guide to making this healthy keto salmon dish in under 10 minutes:
Dry your salmon fillets using a paper towel and ensure there are no bones.

Drizzle olive oil over the fish and rub it on both sides.

Mix the herbs and spices together, then sprinkle them on both sides of the salmon.

Set your air fryer to 390F and cook the fish until it can be easily flaked with a fork, approximately 5-8 minutes.

While the fish is cooking, melt the butter in the microwave.

Once the salmon is done, pour the melted butter over it and serve immediately.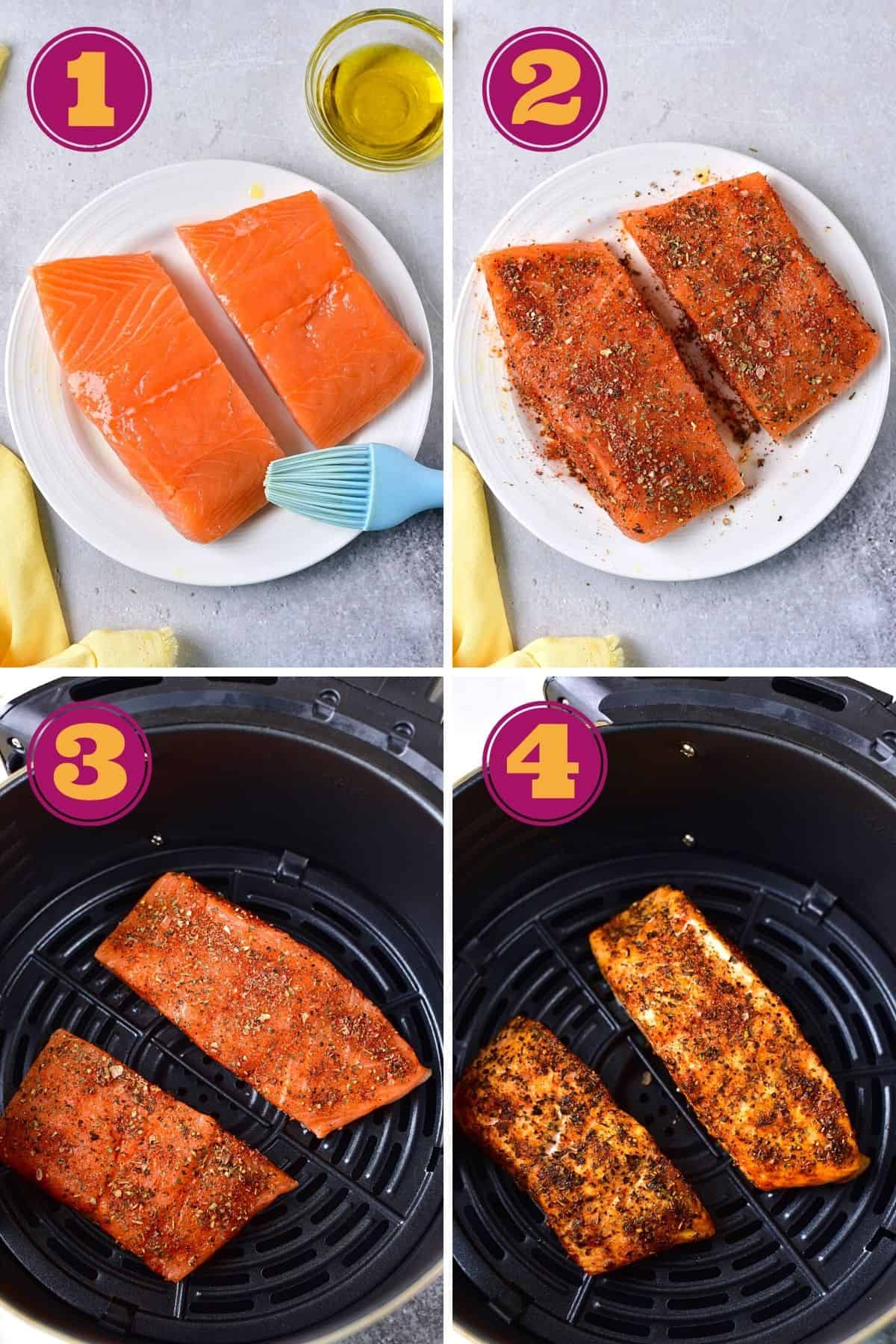 Tips and Tricks
To ensure the best results, here are some helpful tips for making this moist keto fish recipe:
Adjust the amount of salt based on whether your herb blend contains salt. Too much salt can overpower the flavors.

Opt for skinless salmon fillets, as the skin doesn't crisp up well in the air fryer.

Thoroughly dry the salmon with a paper towel before seasoning it to enhance both texture and flavor.

Check the doneness of the salmon frequently to prevent overcooking. Air frying for 5 minutes and then checking with a fork is a good starting point.
What to Serve It With
This air fryer salmon recipe pairs perfectly with some classic side dishes. Here are a few of my recommendations:
Keto Mushroom Rice Risotto
Keto Cauliflower Fried Rice
Loaded Cauliflower
Air Fryer Green Beans
Feta & Zucchini
How to Store and Reheat Leftover Air Fryer Salmon
If you have any leftovers, store the salmon in an airtight container in the fridge, where it will stay fresh for up to 4 days. To reheat, simply place the fish in a 350F air fryer for 3-5 minutes until heated through. Alternatively, you can cover the salmon with aluminum foil and reheat it in a 300F oven for 10 minutes.
Can This Recipe Be Frozen?
Absolutely! You can freeze the salmon in an airtight container for up to 3 months. Just make sure to defrost or thaw it before reheating.
More Ninja Air Fryer Salmon Recipes
If you're a fan of air fryer salmon, here are a few more recipes you might enjoy:
Air Fryer Frozen Salmon
Air Fryer Salmon Bites
Air Fryer Salmon Patties
More Keto Air Fryer Recipes
If you loved this 10-minute air fryer salmon recipe, here are some other keto air fryer meals you'll want to try:
Garlic Parmesan Wings
Air Fryer Fried Chicken
Whole Chicken in the Air Fryer
Air Fryer Shrimp Scampi
Air Fryer Turkey Meatballs
Ninja Foodi Air Fryer Bacon
Air Fryer Brussels Sprouts
If you try this recipe, please leave it a star rating and/or a review in the comments. And don't forget to stay connected with us on Instagram, Facebook, and Pinterest!
Learn more about Hook'd Up Bar and Grill at Hook'd Up Bar and Grill.