If you're looking for a fast, affordable, and tasty snack, look no further than our Ninja Foodi Chickpeas! Also known as garbanzo beans, these roasted chickpeas are a breeze to prepare and are suitable for vegan, vegetarian, and gluten-free diets. They are a delicious way to incorporate plant-based protein into your diet.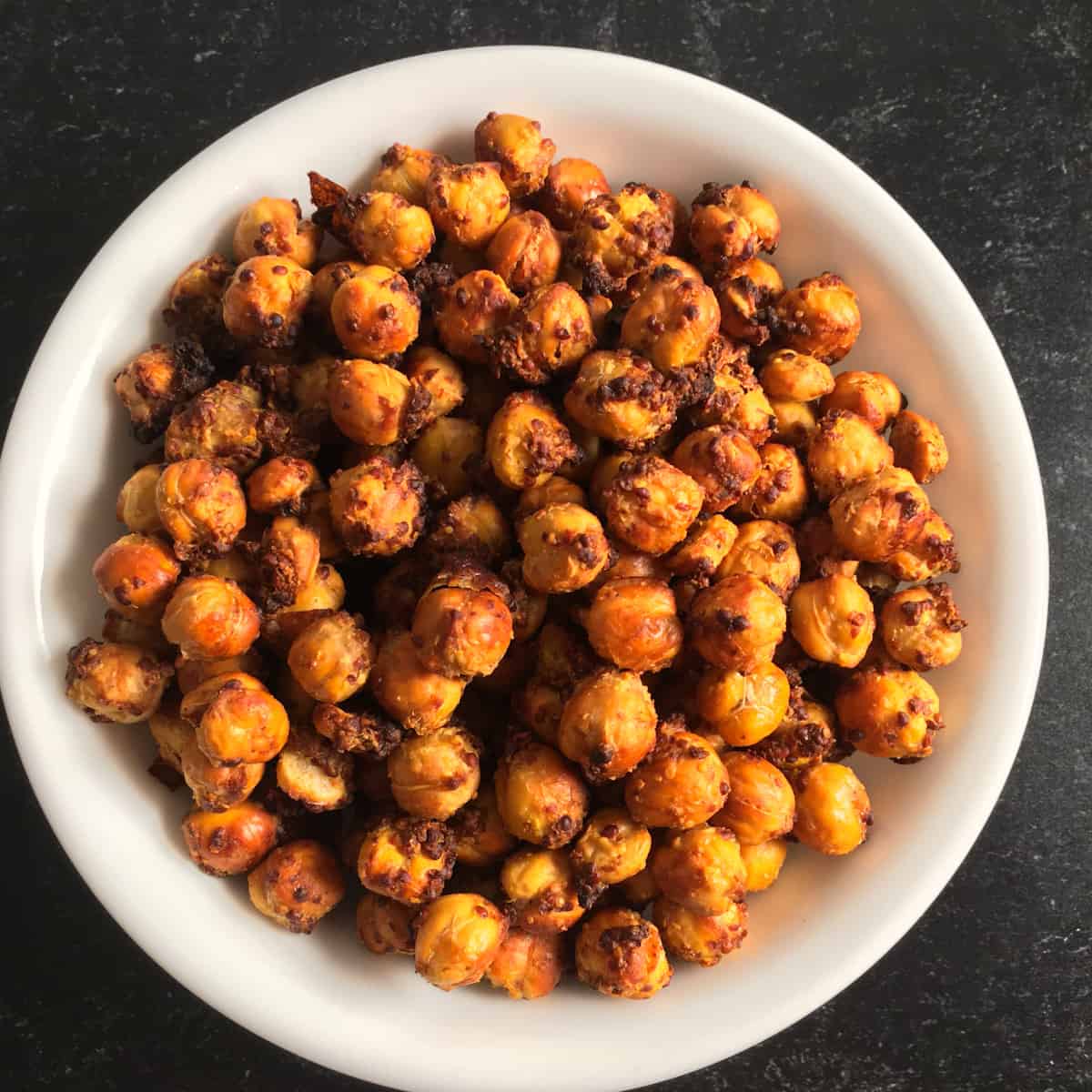 The Benefits of Chickpeas in Ninja Foodi
Why should you try our Chickpeas in Ninja Foodi recipe? Here are some great reasons:
High Fiber: Chickpeas are packed with heart-healthy fiber, which aids in digestion and helps regulate cholesterol levels.
Plant-Based Protein: These garbanzo beans are a protein-packed treat, perfect for those following a vegan diet.
Cost-Effective: Dried and canned beans are budget-friendly options compared to meat.
Minimal Oil: Our Chickpeas come out crispy without the need for excessive oil. The Ninja Foodi's dry moving heat crisps the beans without the mess.
Quick Cooking Time: Air frying Chickpeas in the Ninja Foodi only takes 15-18 minutes, much faster than roasting in the oven.
Delicious: This recipe is easy and flavorful, making it a hit with the whole family.
Ingredients for Chickpeas (Ninja Foodi)
To make our Chickpeas in Ninja Foodi, you'll need the following ingredients:
Canned Chickpeas
Grainy Mustard
Avocado Oil (or another cooking oil, such as canola or olive oil)
Onion Powder
Garlic Powder
For specific quantities, refer to the recipe card at the bottom of the page. With just these five ingredients, you can create a fantastic snack!
Flavoring Ideas for Roasted Chickpeas
If you prefer different seasonings, don't worry! There are plenty of options for flavoring your roasted chickpeas. Consider trying:
Garlic and Herb
Taco Seasoning
Ranch Salad Dressing Seasoning
Garam Masala
BBQ Seasoning
Cinnamon Sugar
Simple Salt and Pepper
Parmesan Cheese
Buffalo Sauce
Salt and Vinegar
Remember that seasonings containing sugar may burn more easily and may need to be added after baking. Sauces instead of dry seasonings may also affect cooking time.
How to Make Chickpeas in Ninja Foodi
Follow these simple steps to make our Chickpeas in Ninja Foodi:
Rinse and drain the canned chickpeas, then spread them out on paper towels to dry them thoroughly.
In a bowl, mix the chickpeas, grainy mustard, avocado oil, onion powder, and garlic powder. Ensure the mixture isn't too liquidy.
Preheat the Ninja Foodi air fryer to 375°F (191°C) for 5 minutes. Place the chickpeas in the hot air fryer basket.
If using an oven, preheat it to 400°F (200°C) and spread the chickpeas on a parchment-lined baking sheet.
Cook the chickpeas in the Ninja Foodi for 15-18 minutes, stirring after 10 minutes to ensure even cooking. For extra crispiness, air fry for an additional 2-3 minutes.
If using an oven, bake the chickpeas for 45-55 minutes, stirring every 20 minutes to promote even cooking.
Let the chickpeas cool to room temperature and enjoy!
Can You Freeze Chickpeas?
While our homemade roasted chickpeas are best enjoyed fresh, they can be stored in the refrigerator for up to 3-4 days. However, they may become soggy. Freezing is not recommended for this reason.
Creative Ways to Use Chickpeas
Looking for ideas on how to use chickpeas? Here are a few suggestions:
Enjoy them as a snack on their own.
Use them in a Ninja Foodi chickpea curry.
Make chickpea tacos.
Add them to wraps and sandwiches.
Blend them into a dip, like hummus (avoid overcooking for this purpose).
Use them as a topping for soups or salads.
Chickpeas: Carbs or Protein?
Chickpeas can be considered either a carb-rich vegetable or a protein food. Our Ninja Foodi Chickpeas recipe provides 284 calories, 34.3 grams of net carbs, and 12.3 grams of protein per serving.
Expert Tips from a Dietitian
This recipe falls into the level 3 category for weight maintenance and active lifestyles. With nearly 300 calories per serving, it is a substantial snack. It's perfect for growing children or when you need an energy boost.
Regarding food groups, chickpeas belong to both the protein group and the vegetable group. While chickpeas provide more net carbs than protein, they are an excellent plant-based protein source for those avoiding animal products.
When it comes to satiety, everyone is different. Compare how full you feel after eating chickpeas, skinless chicken breast, or tilapia. Protein-rich animal foods tend to provide greater satiety, while the fiber in chickpeas may also contribute to a feeling of fullness. Listen to your body and choose what works best for you.
FAQs
For more information, please refer to our FAQs section.
Enjoy Hook'd Up Bar and Grill's Ninja Foodi Chickpeas!
We hope you enjoy our Ninja Foodi Chickpeas recipe! For more tasty recipes, subscribe to our newsletter and follow us on Pinterest, Twitter, Instagram, and YouTube. Visit Hook'd Up Bar and Grill for more exciting content and updates on our latest offerings.
DISCLAIMER: Please consult a registered dietitian or your physician to determine the dietary pattern that suits your needs. The nutrition information provided is an estimate and may vary depending on specific brands and ingredients. Calorie information on food labels can be inaccurate. Don't worry too much about the numbers and let's start cooking!
Recipe
For the full recipe, refer to the recipe card below.