IMHO, Cobb salads are hands down one of the most satisfying salad options out there! This best Cobb salad is packed with veggies, eggs, blue cheese, and a crumble of bacon, not to mention the protein-packed chicken. If you think a plate of eggs and bacon is filling, just wait until you try this incredible meal prep salad for weight loss. With under 500 calories, 33 grams of protein, and 7 grams of net carbs, it's a winner in every way!
Why You'll Love This Meal Prep Salad
Whether you're on a weight loss journey or simply looking for delicious culinary creations, this Cobb salad has got you covered. It was one of my go-to meals during my own weight loss transformation, and for good reason. It's tasty, colorful, and incredibly satisfying. Trust me, it has truly earned its title as the "best" Cobb salad.
Feel free to make adjustments to this simple weekday meal based on your budget and taste preferences. You can use store-bought dressing instead of homemade or swap out the bleu cheese crumbles for goat cheese. The beauty of salad meal prep for weight loss is that it's versatile and customizable.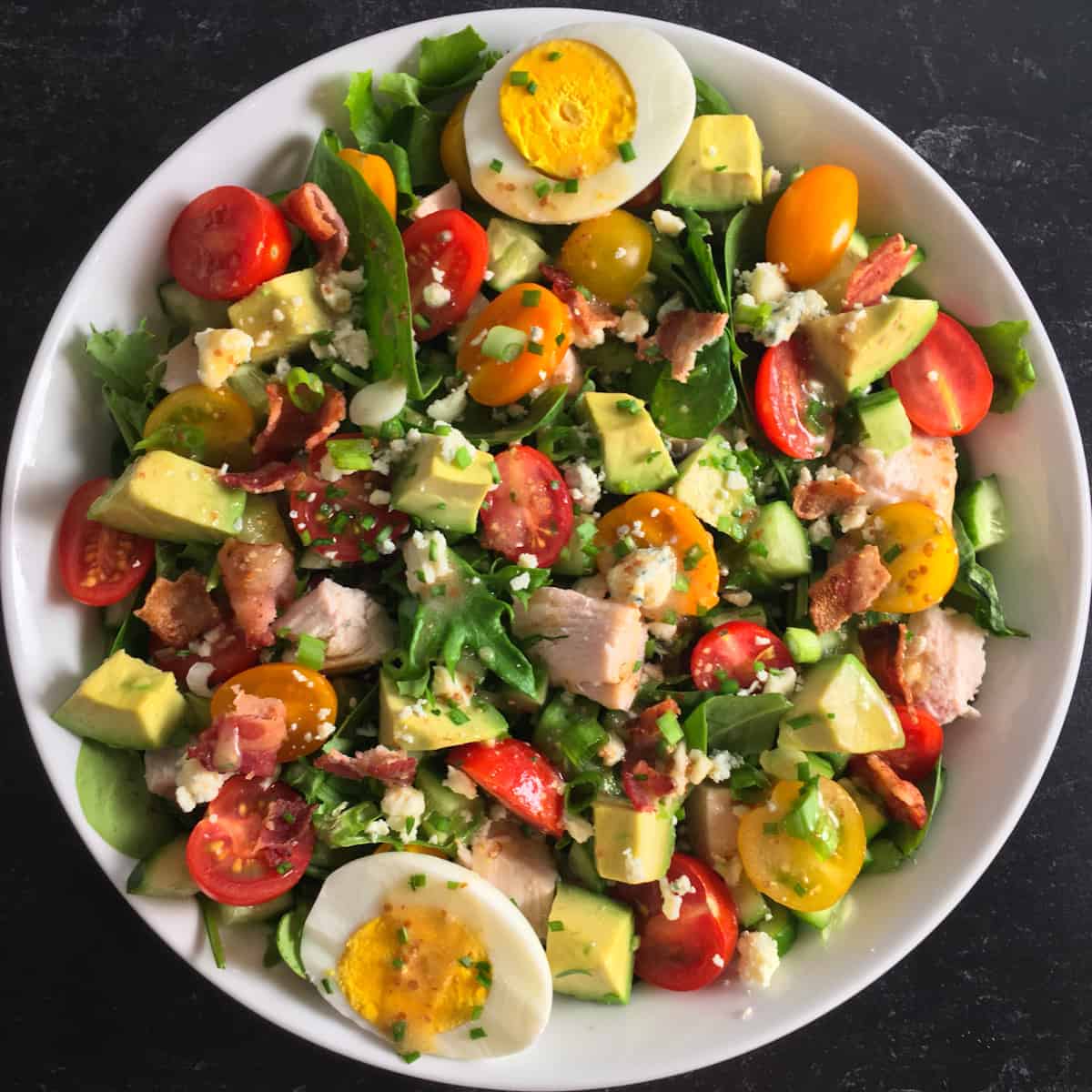 Cobb Salad Calories
Wondering how many calories are in a Cobb salad? This meal prep salad recipe contains approximately 413 calories per serving, along with 7 grams of net carbs and 32.9 grams of protein. It's a perfect choice for those aiming for under 500 calorie meals.
The Benefits of Healthy Salads for Weight Loss
There are several reasons why meal prep salads are a great addition to your weight loss journey:
Low calorie salads: Salads are an ideal option for low-calorie meals. You can create a substantial salad under 500 calories while still enjoying delicious ingredients.
Filling meal prep salads: Salads provide a high volume of food for fewer calories. Packed with fluid and fiber-rich veggies, they keep you feeling full and satisfied.
Keto-friendly salad meal prep: If you're following a special diet like keto, this salad recipe is perfect for you. It's low in carbs, gluten-free, and grain-free.
Phytonutrients: The veggies in this salad contain beneficial phytochemicals that may not be found in animal-based foods. Snacking on low-calorie options won't provide the same level of nutrients needed for optimal health.
High protein salad meal prep: With eggs and chicken as protein powerhouses, this salad will keep you feeling satiated and full.
Vitamin and mineral benefits: Most salads, including this one, are packed with essential vitamins and minerals. You'll get antioxidants like vitamin A and C, as well as heart-healthy minerals like potassium.
Deliciously versatile: Salads are incredibly forgiving. You can adjust this recipe to include your favorite ingredients. Just keep in mind that any changes may affect the nutrition information.
What You'll Need: Ingredients for Meal Prep Salads
To create these delicious meal prep salads for weight loss, here's what you'll need:
Leftover cooked and chopped chicken breast (turkey can be substituted)
Hard-boiled eggs
Cooked bacon
Spring mix (or your preferred baby lettuce or leafy greens)
Avocado
Fresh lime juice
Crumbled blue cheese
Grape tomatoes
Persian cucumbers (mini cucumbers)
Scallion
Chives
Red wine vinegar
Extra virgin olive oil
Dijon mustard
Minced garlic clove
Specific quantities of each ingredient can be found in the recipe card at the end of this article.
Pro tip: Sprinkle some lime juice on the avocado to prevent browning. Alternatively, you can use individual guacamole cups if you're particular about leftover avocado.
For optimal meal prep, it's recommended to have all your ingredients cooked and ready before starting the recipe. Firm hard-boiled eggs work best for meal prep salads, boiled for 10 minutes. You can adjust the bacon's crispiness to your liking, and if you don't have leftover chicken, rotisserie chicken breast from the grocery store works just as well.
Meal Prep Salad Containers
In order to make this Cobb salad meal prep, you'll need a few essentials:
A good knife for prepping ingredients
A jar for shaking up the dressing
Salad containers
There are many great options for salad containers that can hold generous portions and even come with individual lidded dressing containers. Mason jars, food-safe Pyrex, or Tupperware containers are also suitable choices. Just make sure to store the dressing separately to keep the lettuce fresh and crispy.
How to Make a Delicious Cobb Salad
Let's dive into the steps for making this mouthwatering Cobb salad:
Begin by prepping your ingredients. Chop the chicken, avocado, Persian cucumbers, chives, and scallions. Halve the hard-boiled eggs and grape tomatoes. Crumble the cooked bacon and blue cheese.
Sprinkle lime juice over the chopped avocado to prevent browning.
Divide the leafy greens among four containers or salad bowls. Add ¼ of the eggs, bacon, chicken, avocado, cheese, tomatoes, cucumbers, chives, and scallions to each container.
In a small canning jar, combine the vinegar, mustard, olive oil, and minced garlic. Close the jar tightly and give it a good shake. Divide the dressing evenly among four dressing cups.
Dress your salad just before serving, and enjoy!
How Long Do Meal Prep Salads Last?
It's important to consider the freshness and safety of your meal prep salads. While it's possible to prepare salads for the entire week, it's recommended to make them no more than 3-4 days in advance to ensure food safety.
To keep your salads fresh, store the liquid and solid ingredients separately. This means keeping the lettuce undressed until right before serving. Using lidded salad dressing cups or mason jars is a great way to separate the dressing from the salad. If using mason jars, place the dressing at the bottom and the lettuce at the top. When you pour the salad into a bowl, the dressing will coat the ingredients perfectly.
Avoid freezing your meal prep salads, as the lettuce will become mushy when defrosted.
Expert Tips from a Dietitian
As a registered dietitian, I can confidently say that this Cobb salad is a level 1 recipe that may support fat loss. With 33 grams of protein, under 10 net carbs, and fewer than 500 calories, it's an excellent choice for those looking to reduce calories or carbs for weight loss. Additionally, the rainbow of phytochemical-rich vegetables in this salad will make any dietitian smile.
Maintaining a healthy weight is crucial for overall health and well-being. When it comes to reducing the risk of cancer, maintaining a healthy weight is far more important than occasional indulgences like bacon. Incorporating bacon or other flavorful ingredients into salads can actually help you enjoy and consume more veggies, which is a win-win.
Unfortunately, there's a lot of noise that distracts us from the basic nutrition and fitness advice that would truly benefit us. Weight loss itself may not be a behavior, but the lifestyle behaviors that promote weight loss can be targeted. One of the first steps you can take is to create meals that are satisfying and nourishing. Incorporating protein, fiber, and high water volume foods can help you maintain a calorie deficit necessary for weight loss.
What's your favorite salad that you find most satisfying? Even if it's not a Cobb salad, I guarantee you'll feel like this Cobb salad recipe is the best you've ever made!
FAQs
Other Salad Recipes for Weight Loss
If you're looking for more weight loss salad ideas, consider trying Greek salad, chicken salad, or even a taco salad. The possibilities are endless! Here are some additional salad recipes to inspire you.
More Meal Prep Recipes
Meal prepping can be a game-changer for weight loss. If you're interested in other meal prep ideas, here are some recipes you might enjoy:
Air Fryer BBQ Chicken Breast
Air Fryer Roast Beef
Kodiak Blueberry Muffins
Kodiak Cakes Banana Bread
Air Fryer Pork Roast
Join our community!
Stay up to date with the latest delicious recipes by subscribing to our newsletter. You can also follow us on Pinterest, Twitter, Instagram, and YouTube!
The Disclaimer…
Please note that all recipes on this website may not be suitable for everyone, depending on individual medical needs and preferences. It's always a good idea to consult with a registered dietitian or your physician to determine the dietary pattern that works best for you.
The nutrition information provided is an estimate and should be used as a courtesy. Actual values may vary depending on specific brands and ingredients used. Calorie information on food labels can be inaccurate, so don't stress too much over the numbers.
For more information on how different recipe levels can support your weight management goals, refer to our overnight oats no sugar post. Now let's get cooking!
Recipe
Here's the recipe for the ultimate Cobb salad meal prep:
---
Now that you have the rephrased and rewritten content, you can further format and organize it in Markdown to create an engaging and visually appealing article. Remember to include appropriate headings, subheadings, and images from the original article, while maintaining a relaxed and friendly tone throughout to resonate with readers.