Introduction
Looking for a delicious low sodium corned beef recipe? Look no further! This flavorful dish is made with brisket that has been marinated overnight in a salt-free 'brine.' With all the traditional flavors of corned beef and some healthy spice swaps, this recipe is perfect for St. Patrick's Day or any time of year! Serve it up with some low sodium mashed potatoes for a truly satisfying meal.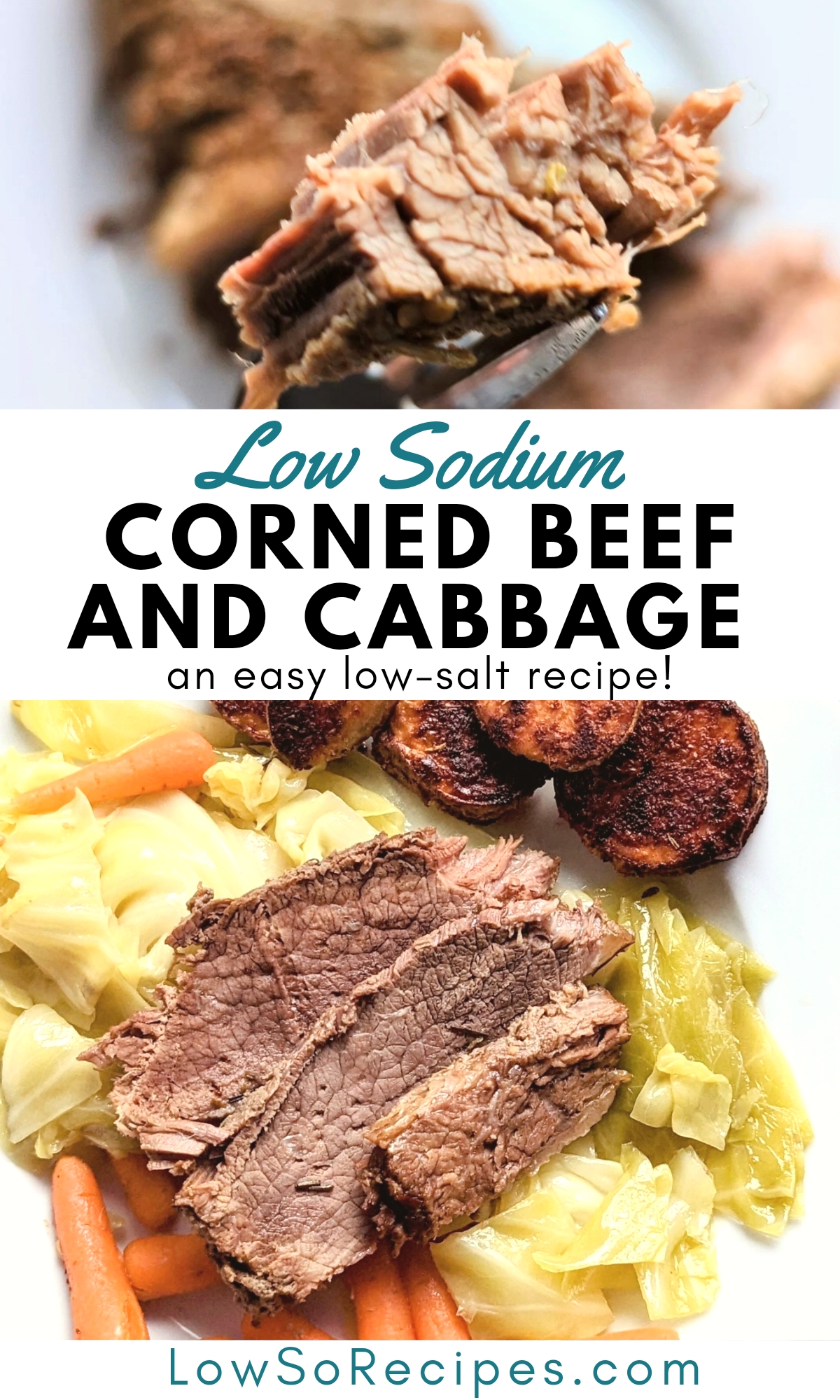 A Healthier Take on Corned Beef and Cabbage
As someone with Irish heritage, I have always loved a good old-fashioned corned beef and cabbage dinner. However, store-bought corned beef roasts are usually loaded with salt. That's why I decided to create a healthier version for my family.
I started by marinating a large piece of brisket overnight in a flavorful mixture of spices and apple cider vinegar. This "brine" adds the perfect amount of flavor to the corned beef without the excessive salt.
This Low Sodium Corned Beef & Cabbage Recipe Is:
Hearty
Filling
Flavorful
Made without salt
Simple to make
A great choice for a healthy St. Patrick's Day recipe
Low Sodium Dinner Recipes The Family Will Love
Don't believe the myth that low sodium cooking is bland and flavorless. It's quite the opposite when done right! By using salt-free pantry staples and making a few ingredient swaps, you can create healthier meals for your whole family. Check out all our low sodium dinner recipes for more inspiration.
What's In This No Salt Added Corned Beef and Cabbage?
Here are the ingredients you'll need for this flavorful dish:
Brisket: Get fresh meat from a local butcher for the best flavor and quality.
Cabbage: Use green cabbage, as it is traditional for this recipe.
Carrots: Add some color and sweetness to the dish.
Lager Beer: I recommend using a flavorful beer like Sam Adams Boston Lager. You can also use your favorite beer with a low sodium content.
Garlic Powder: A pantry staple that adds a savory kick to any recipe.
Onion Powder: Enhances the overall flavor of the dish.
Mustard Seeds: These provide fantastic texture and flavor. Perfect for brines and homemade pickles.
Mustard Powder: Use this instead of traditional mustard to avoid extra sodium. It adds a tangy and sharp flavor to the marinade.
Celery Seed: Adds a hint of that great pickle flavor to the beef.
Apple Cider Vinegar: Gives the sauce a little extra tang and depth.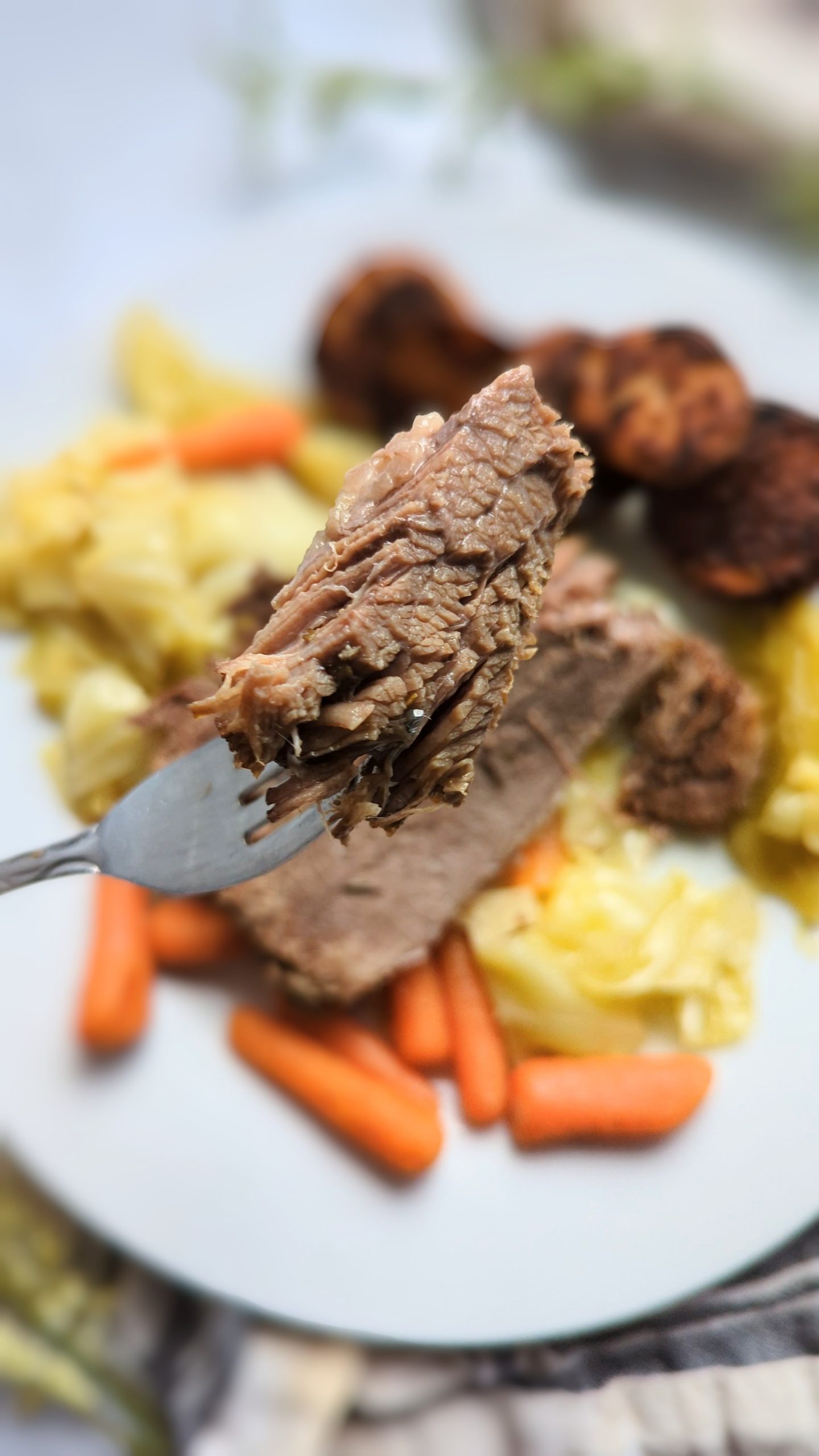 A Great Low Sodium Holiday Recipe to Share with Guests
Entertaining can be challenging when managing a low sodium diet. However, this corned beef and cabbage recipe is perfect for serving guests on St. Patrick's Day. If you're looking for more low sodium entertaining and appetizer recipes, we have you covered. Check them out here!
How Do I Make This Corned Beef and Cabbage Without Salt?
To Make the Marinade/Brine:
Place the brisket in a plastic bag or a bowl with a lid.
Add the onion powder, garlic powder, mustard seeds, ground mustard, celery seed, apple cider vinegar, and enough water to cover the brisket.
Mix well and let the brisket marinate for 8-24 hours.
To Make the Corned Beef and Cabbage:
Preheat the oven to 350 degrees Fahrenheit.
Place the marinated brisket in a large Dutch oven or oven-safe pot with a lid.
Add water and cover the brisket with lager beer.
Sprinkle onion powder, rosemary, and mustard seed on top of the brisket. Add more water if needed to ensure the brisket is submerged.
Cover the pot with a lid and bake in the oven for 2 hours. Then, flip the brisket and cook for an additional 30 minutes.
Remove the pot from the oven, add the cabbage and carrots, and cook for another 30 minutes.
Take out the corned beef from the pot, slice it against the bias, and enjoy!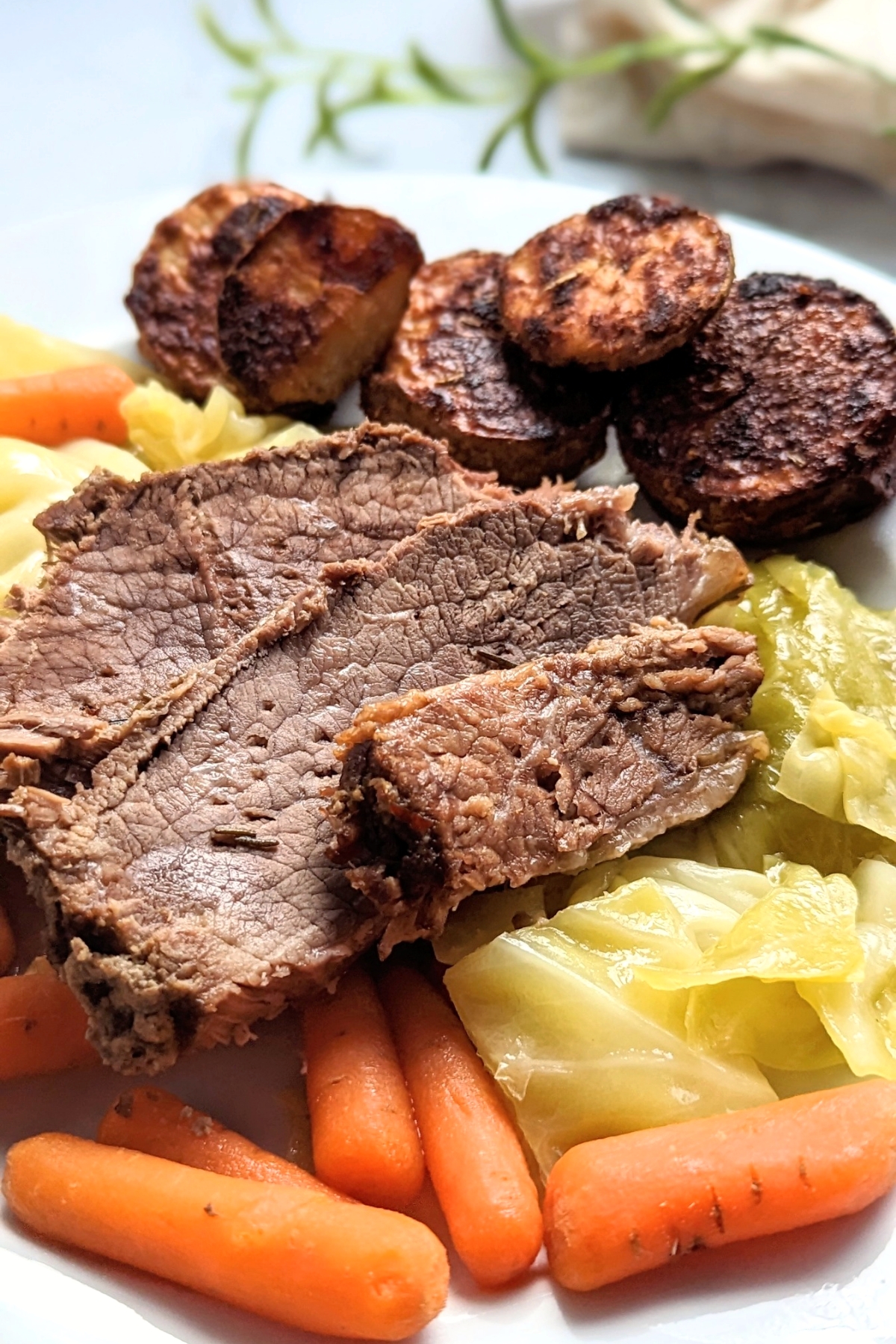 More Easy Low Sodium Dinner Recipes You'll Love!
Low Sodium Baked Ziti Pasta Recipe
Low Sodium Chicken Salad Recipe (No Salt Added)
No Salt Added Tomato Sauce with Basil Recipe
Low Sodium French Onion Soup Recipe
Low Sodium Burger Patties Recipe
Get the Same Ingredients for this Low Sodium Corned Beef Brisket & Cabbage Recipe
If you want to recreate this low sodium corned beef and cabbage recipe, you can find all the ingredients at your local grocery store or online. For the best discounts and convenient delivery, I recommend checking out Misfits Market. They offer fresh produce, healthy pantry staples, and fantastic food finds at discounted prices. Choose what goes into your box and enjoy up to 40% off grocery store prices with free delivery to your door.
As always, if you try out this recipe, don't forget to leave a comment and rate it. Tag us @lowsorecipes on Instagram so we can feature your creation. We love seeing your photos of our recipes!
Let's stay connected! Follow us on Instagram, Facebook, and my YouTube channel for more amazing low sodium recipes. We would love to connect with you there!
This post may contain affiliate links. As an Amazon Associate, I may earn from qualifying purchases, at no additional cost to you.