If you're craving a comforting bowl of chicken noodle soup but want to avoid the high sodium content of canned versions, you've come to the right place. In just one pot and about an hour, you can whip up a delicious and healthy low sodium chicken noodle soup that will leave you feeling warm, nourished, and satisfied.
Sodium in Chicken Noodle Soup
Store-bought chicken noodle soup can be shockingly high in sodium. The popular name brand soup contains between 890 and 940mg of sodium per cup, depending on the variation. Consuming a cup of this soup would instantly exceed your recommended daily sodium intake and leave you wanting more. Even the reduced sodium option still contains a whopping 120mg of sodium per 10.75 can or 1 1/3 cups.
In contrast, my low sodium chicken noodle soup recipe contains just 26mg of sodium per half-cup or 104mg for a realistic two-cup serving. That's low enough to allow for a complimentary side dish without exceeding most sodium meal budgets.
Tips for Making Low Sodium Chicken Noodle Soup
Cooking
Traditionally, chicken noodle soup requires hours of stove or slow cooker preparation. However, with the convenience of an Instant Pot, you can enjoy this comforting meal on a weeknight without spending too much time in the kitchen. All the ingredients, from the vegetables to the chicken to the noodles, cook together in the Instant Pot, making this recipe an easy and time-saving option. If you prefer the slow cooker method, simply add all the ingredients except for the noodles and cook on low heat for 6-8 hours. Once the noodles are tender, remove the chicken, shred it, and add it back to the pot.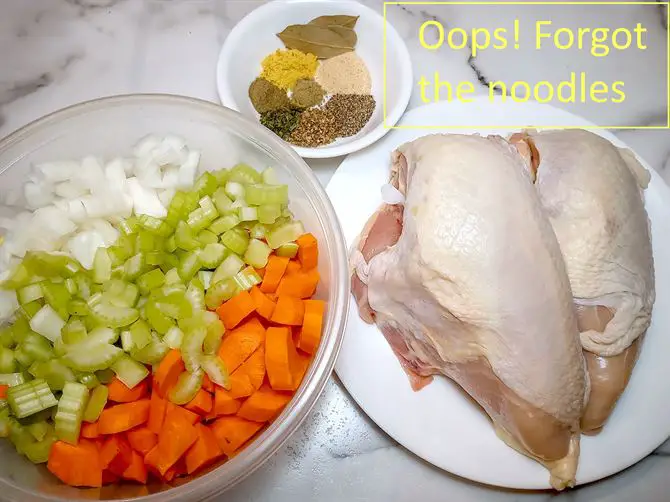 Ingredients for low sodium chicken noodle soup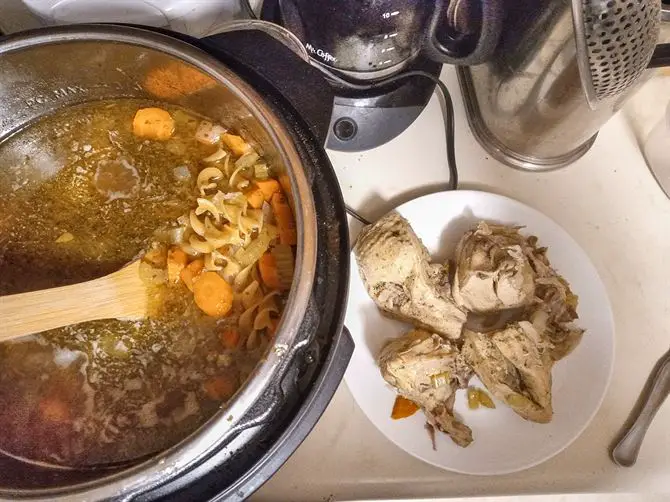 Removing chicken and adding noodles
One important tip: because this recipe contains a significant amount of liquid, cover the Instant Pot vent with a dish towel when releasing the pressure to prevent steam and splatters.
Big Sodium Savings
One of the main sources of sodium in traditional chicken noodle soup is the chicken broth. By using unsalted chicken broth, you can significantly reduce the sodium content of the soup. Regular chicken broth contains a staggering 860mg of sodium per cup, but I recommend using Swanson's Unsalted Chicken Broth, which contains just 35mg of sodium per cup.
The Chicken
While you can use boneless, skinless chicken breasts, I highly recommend using bone-in, skin-on chicken for this recipe. The bones and skin add extra flavor to the soup, enhancing its taste and richness. Plus, removing the bones and skin after cooking is a breeze since the chicken meat will be falling apart.
The Herbs
To compensate for the reduced sodium content, I rely on a flavorful blend of herbs and spices. Thyme, oregano, bay leaves, parsley, smoked paprika, garlic powder, black pepper, Herb-Ox no sodium chicken bouillon, and ground savory all play a role in creating the delicious taste of this low sodium soup. The Herb-Ox no sodium chicken bouillon adds depth to the broth, while ground savory brings out the classic chicken noodle flavor. If you feel like the soup needs a little extra kick, you can gradually add more of these spices. However, if you've been following a low sodium diet for some time, you may find that the original recipe is already packed with flavor.
The Noodles
When it comes to chicken noodle soup, nothing beats the classic choice of egg noodles. These noodles are made with more eggs, resulting in a richer and more satisfying taste. Plus, they stay on the spoon without sliding off! While you can use other types of pasta or noodles if you prefer, be cautious about adding too much, as they tend to absorb the soup's liquid over time. If you have leftovers, don't worry—the soup tastes fantastic with any noodle variation.
Sides to Serve with Chicken Noodle Soup
To complement your bowl of chicken noodle soup, consider adding a refreshing salad. You can try a low sodium Caesar salad using any type of lettuce you prefer. Another excellent option is a hearty, crusty loaf of bread. Slather it with a little butter, and you'll have the perfect accompaniment to soak up every last drop of soup. If you're short on time, you can also opt for reduced sodium oyster crackers for a quick crunchy addition. For a sweeter side, my low sodium cornbread with honey is a great choice and pairs well with any leftovers.
Storing, Reheating, and Freezing Tips
When storing the soup, make sure it has cooled down before placing it in the refrigerator. Store it in an airtight container for up to 4-5 days. To reheat, you can use a covered saucepan on the stove over medium-low heat until hot. However, if you're in a rush, simply heat the soup in a microwave-safe bowl for about two minutes, stirring halfway through. If the noodles have absorbed more liquid during storage, you may need to add a little more broth or water.
Freezing the soup is an excellent option for meal prep. Portion it into serving-size airtight freezer containers to make it easier to thaw and reheat. When you're ready to enjoy the soup, let it thaw overnight in the refrigerator before reheating.
Please share your experience with this low sodium chicken noodle soup in the comments, along with a rating. Your feedback is valuable, and I hope this recipe exceeds your expectations. For more tasty recipes, follow me on Facebook and Pinterest.
Nutrition Information – Please note that the information shown is provided by an online nutrition calculator and should not substitute for professional advice. Sodium requirements may vary for individuals, so it's crucial to consult with your doctor regarding your recommended daily sodium intake.
---
Remember, you can always enjoy a comforting bowl of chicken noodle soup without sacrificing your health. With this low sodium chicken noodle soup recipe from Hook'd Up Bar and Grill, you can indulge in a delicious and nourishing meal that won't leave you feeling bloated and thirsty. So grab your Instant Pot or slow cooker, gather the ingredients, and let's get cooking!