If you're a fan of queso but want to avoid the high sodium content typically found in cheese dips, then this low sodium queso recipe is perfect for you! Made with a combination of cashews, garlic, jalapeño, lime, and cilantro, this flavorful dip is a great appetizer or snack that doesn't compromise on taste.
A Sneaky Twist on Traditional Queso
Say goodbye to processed cheeses and hello to a creamy and irresistible dip that mimics the taste of queso without the actual cheese. By blending together cashews, garlic, chilis, and spices, you can create a fantastic salt-free dip that closely resembles the original with very little sodium. It's a game-changer for anyone watching their sodium intake.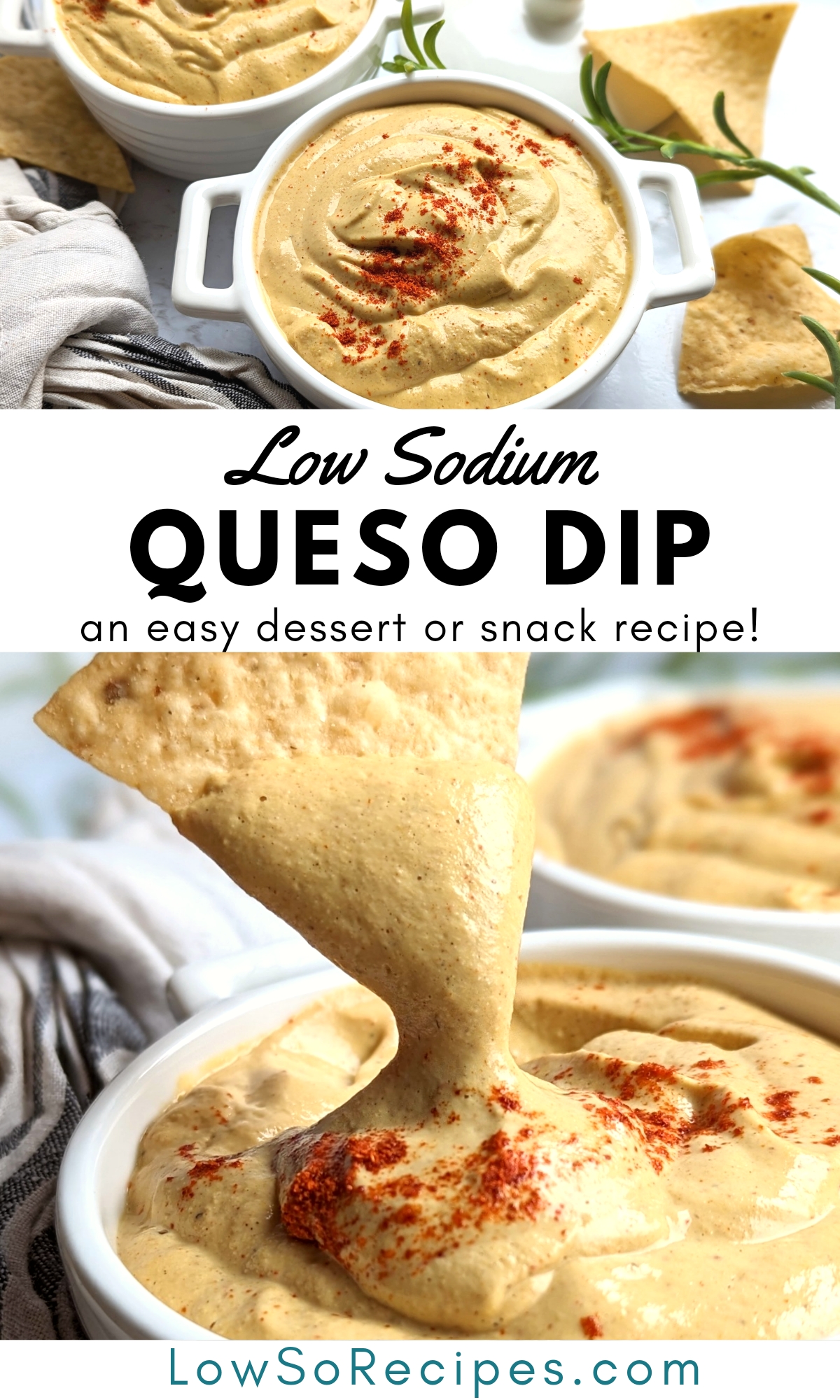 The Perfect Snack Without the Salt
This low sodium queso is not only delicious but also incredibly easy to make. With no cooking required, you can have this delightful dip ready in just 15-20 minutes. It's the ideal choice for a quick bite or a snack that doesn't compromise on flavor. Plus, you can rest easy knowing that all the ingredients are no-salt-added, making it a healthy option for salt-conscious individuals.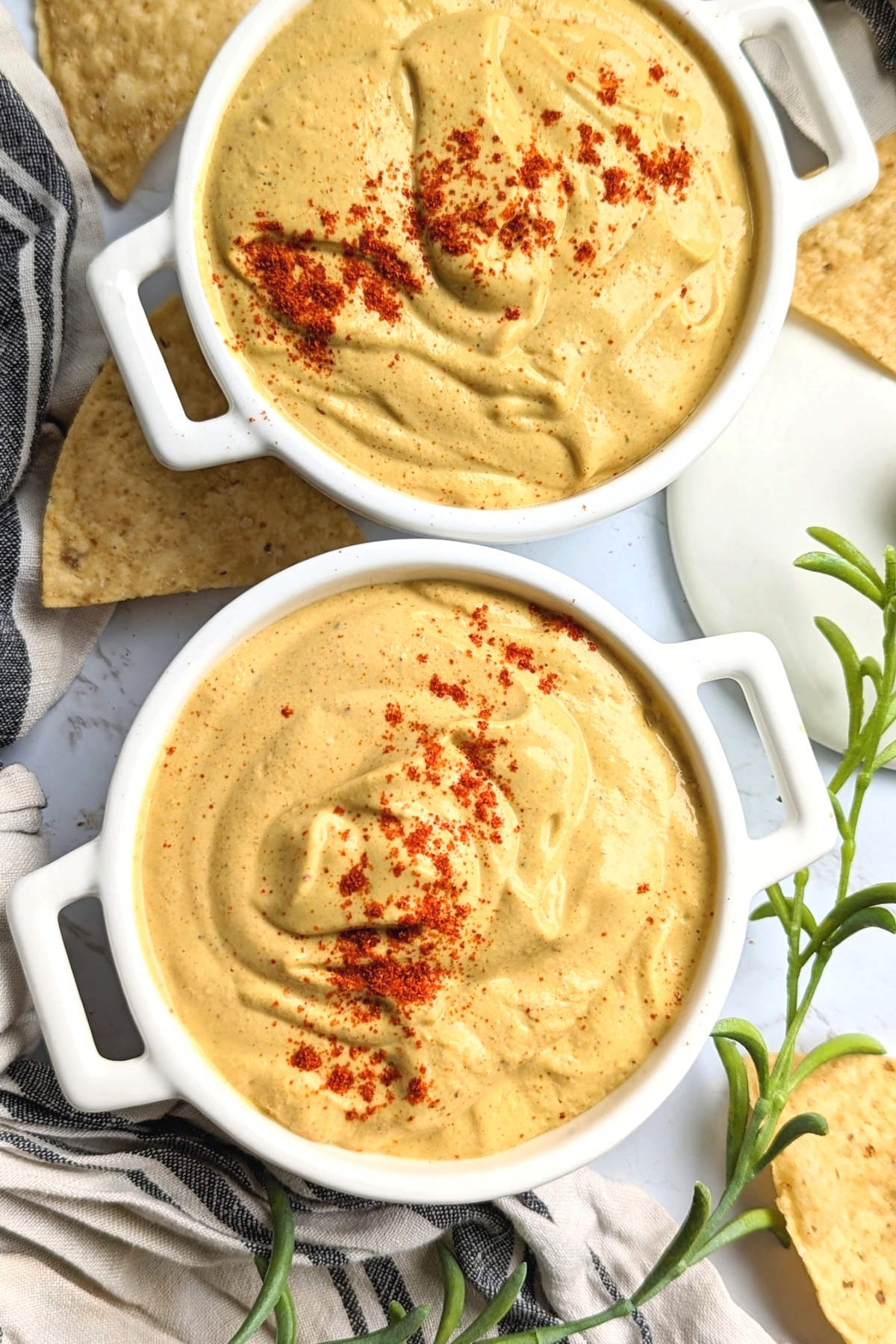 A Flavorful Lineup of Ingredients
Here's what you'll need to create this mouthwatering low sodium queso:
Cashews: Choose raw unsalted cashews for this recipe. No need to get roasted cashews since everything will be blended together.
Almond Milk: Opt for an unsweetened plant-based milk, such as almond milk, which adds a creamy texture to the dip.
Lime Juice: Squeeze in some fresh lime juice to enhance the tangy flavor.
Cumin: This savory spice brings a classic taco seasoning taste to the queso.
Jalapenos: Fresh jalapenos are preferred for a hint of pleasant heat.
Chili Powder: Add some chili powder for a rich and vibrant flavor that isn't spicy.
Smoked Paprika: Elevate the dish with a depth of smoky flavor.
Fresh Cilantro (optional): Top it off with some fresh cilantro for an extra burst of freshness.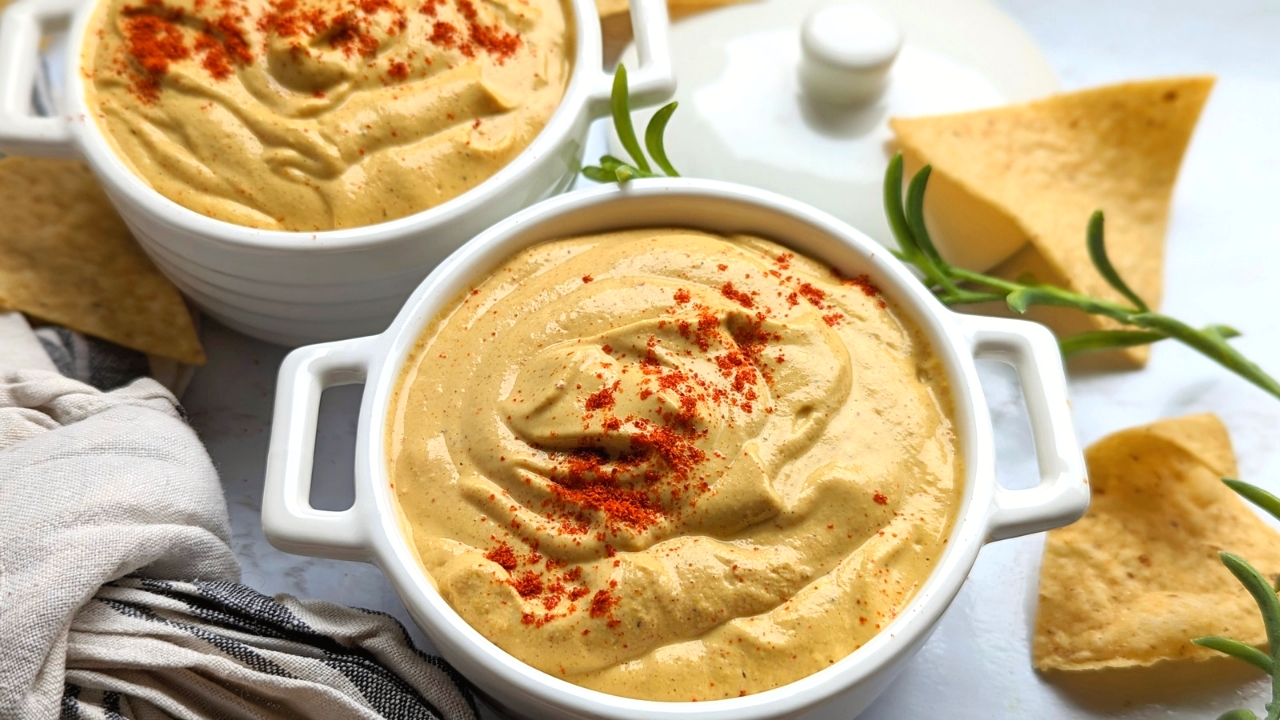 Easy Entertaining in Just 30 Minutes
When you're in need of a quick and effortless dish for entertaining or simply want a healthy home-cooked meal without spending hours in the kitchen, this low sodium queso won't disappoint. It's part of our Easy Entertaining Dish collection, which can be on your table in about 30 minutes. These recipes are perfect for last-minute party invites or when you're craving a speedy, wholesome meal. And, they're much healthier than grabbing a store-bought queso!
How to Make Salt-Free Queso
Making this queso is a breeze! Just follow these simple steps:
Place the cashews in a heatproof dish and pour in boiling water. Let them soak for 15 minutes until they begin to soften.
Drain the cashews and add them to a blender along with the rest of the ingredients. Blend on high for 1-2 minutes until the cashews have completely broken down and the queso becomes thick and creamy.
Taste and adjust the seasoning as necessary. You can add more jalapeños, smoked paprika, or lime juice to suit your preferences.
Serve the queso as a dip for tortilla chips, a sauce for tacos or burritos, or as a spicy veggie dip. Enjoy!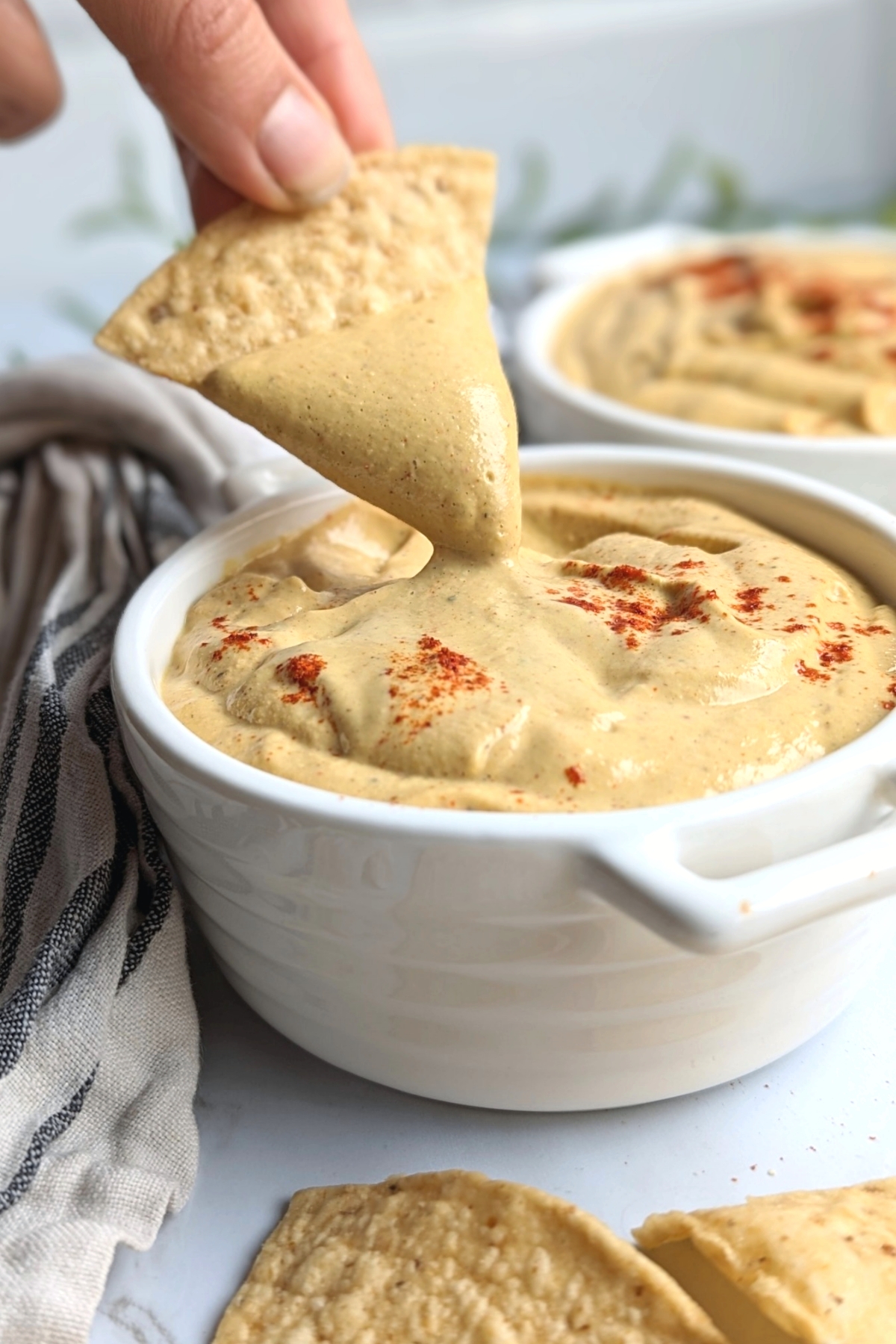 More Healthy Low Sodium Snacks to Try
If you're looking for more delicious low sodium snacks, we've got you covered! Here are a few recipes you'll love:
Low Sodium Caprese Salad Bites Recipe (No Salt!)
Low Sodium Salsa Recipe (No Salt Added!)
No Salt Added Deviled Eggs Recipe
Low Sodium Bean Salad Recipe (No Salt Added)
Low Sodium Rice Krispie Treats Recipe
Get the Ingredients for Low Sodium Queso
For all the ingredients needed to make this fantastic low sodium queso recipe, visit Hook'd Up Bar and Grill. They offer a wide range of organic pantry items, natural home and beauty products, and great foods at affordable prices. Take advantage of their special offer: save 30% off your first order and receive a $60 free gift by signing up.
As always, if you try this low sodium queso dip recipe, don't forget to leave a comment, rate the recipe, and tag us @lowsorecipes on Instagram. We'd love to feature your photos and hear about your experience. And be sure to follow us on Instagram, Facebook, and our Youtube channel for more amazing low sodium recipes. Let's connect and keep the conversation going!
This post may contain affiliate links. As an Amazon Associate, I may earn from qualifying purchases, at no additional cost to you.