A Hassle-free Twist on a Classic Favorite
If you've been craving the flavors of traditional cabbage rolls but don't have the time or energy to roll them up, then you're in luck! Our low carb and keto unstuffed cabbage rolls recipe is here to save the day. With this one-pot cabbage roll casserole, you can enjoy all the deliciousness without the hassle. And if you're not concerned about carbs, we've got a version with rice too! This hearty comfort food is perfect for a satisfying weeknight meal.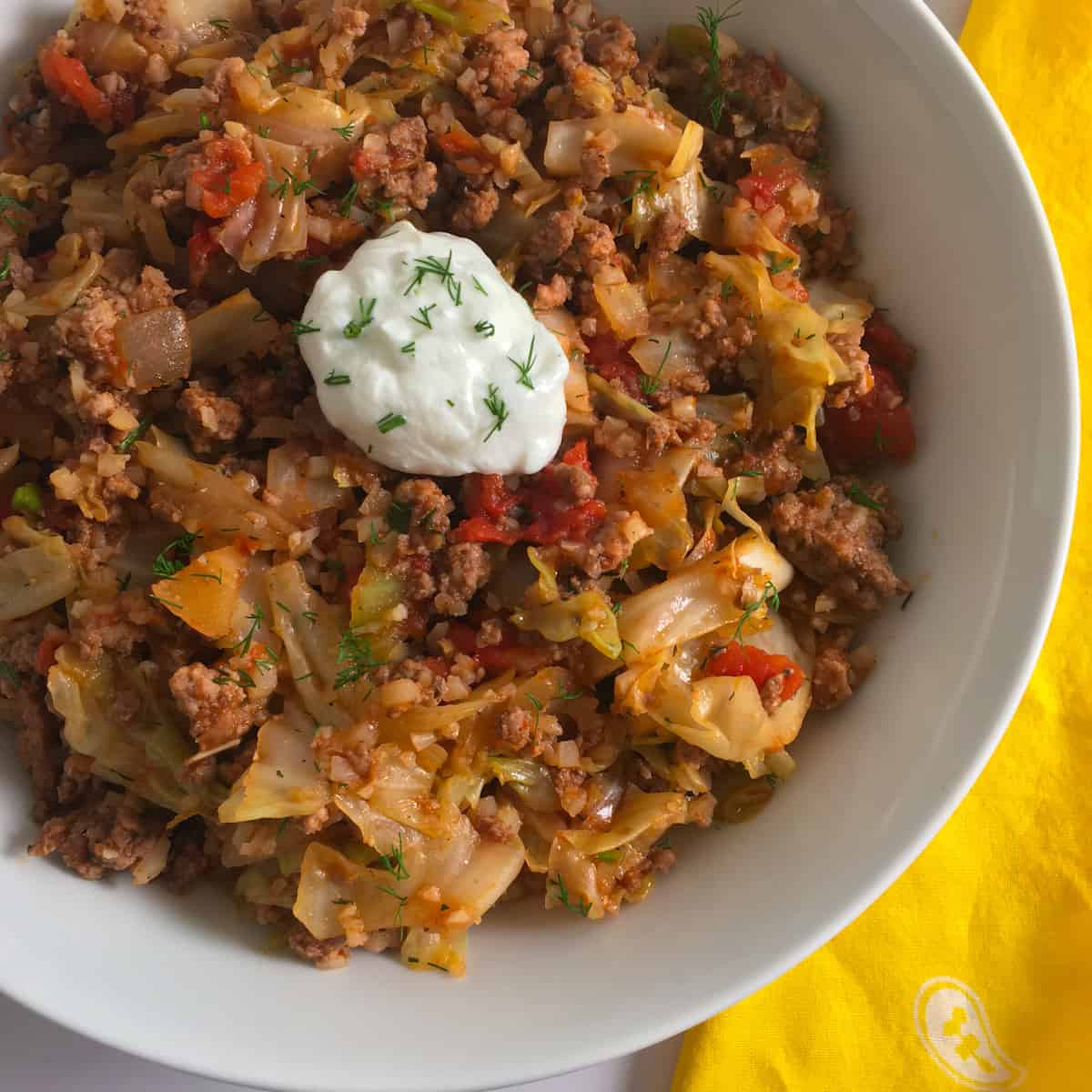 The Perfect Blend of Flavors
Imagine tender shreds of cabbage, combined with a mouthwatering blend of pork and beef, all simmered to perfection in a rich tomato sauce. These deconstructed cabbage rolls will soon become a regular feature on your dinner menu. It's all the taste with none of the fuss!
Save Time, Reduce Stress
While I love spending hours in the kitchen crafting elaborate dishes, I understand that it's not always feasible. We all lead busy lives, and preparing dinner shouldn't add unnecessary stress. That's where our keto unrolled cabbage rolls come to the rescue.
By choosing simple recipes like this cabbage roll in a bowl, you not only save time but also prioritize your overall well-being. After all, reducing stress is just as important as nourishing your body.
The Benefits of Our Easy Keto Unstuffed Cabbage Rolls
Helps prevent food waste: No need to worry about cabbage leaves that are too small for rolling. We use the entire cabbage, sliced into thin shreds, delivering maximum flavor.
Easy one-pot meal: With our keto version, everything cooks in a single pot, saving you precious time when it comes to cleanup.
No precooking of cabbage: Unlike traditional rolled cabbage rolls, there's no need to pre-cook the cabbage leaves. Simply add the raw cabbage shreds to the pot along with the rest of the ingredients.
Nutritional powerhouse: Surprisingly, our low carb recipe packs a nutritional punch. It's rich in fiber, iron, potassium, provitamin A, vitamin C, and various other essential nutrients. Plus, you'll get a generous 33 grams of protein per serving.
Simply delicious: Of course, taste is key! And this recipe delivers on flavor in every bite.
Ingredients You'll Need
To make this super easy and keto-friendly dinner, gather the following ingredients:
Cauliflower rice (or brown rice for a non-keto version)
Lean ground beef
Ground pork
Olive oil
Finely chopped garlic clove
Chopped onion
Thinly sliced or shredded cabbage
Tomato sauce (without added sugar or oil)
Diced tomatoes (from a can, without draining)
Finely chopped fresh parsley
Salt and pepper
Dried dill
Nonfat plain Greek yogurt (or sour cream)
Fresh dill or fresh parsley for garnish
Feel free to use pre-riced cauliflower or shred your own in a food processor. Frozen cauliflower rice works well too and saves you some effort. Don't worry about the large amount of cabbage required; it will cook down, and the other ingredients will provide a burst of flavor to the dish. Using larger pieces of cabbage adds a nice texture to the meal.
Both Greek yogurt and sour cream are low-carb friendly options. Choose the one you prefer based on taste and enjoy the slight difference in protein and saturated fat content.
For kitchen equipment, a large cast iron Dutch oven, a good knife, and a spatula are recommended. Once you have everything ready, we can start putting together this delicious meal.
How to Make Keto Unstuffed Cabbage Rolls
If you're making the non-keto version with rice, begin by cooking the rice separately. While it cooks, prepare all the vegetables by thinly slicing the cabbage, chopping the onion, mincing the garlic, steaming the cauliflower rice if needed, and chopping the parsley. Having everything ready beforehand will make the cooking process smoother.
In a Dutch oven, brown the ground beef and pork without adding any oil. Break up the meat into crumbles using a spatula. Once cooked, remove the meat from the pot and set it aside.
Next, add the olive oil to the Dutch oven and sauté the cabbage, onion, and garlic until the cabbage softens and lightly browns. This step takes around 10 minutes.
Return the cooked meat to the pot and stir in the tomatoes, tomato sauce, parsley, dill, salt, and pepper. Heat everything until it simmers, which should take about 1-2 minutes. Now, add the steamed cauliflower rice (or cooked and drained brown rice) and mix well with the other ingredients.
Divide your deconstructed low carb cabbage rolls into four bowls. Top them with fresh herbs and a dollop of plain yogurt (or sour cream) for a creamy finish. Now, dig in and enjoy!
Pairing Suggestions
If you're looking for side dishes to complement your cabbage rolls, consider adding egg noodles or some additional veggie dishes. Polish cabbage rolls (golabki) work well with roasted carrots or the roasted potatoes from our Kielbasa Salad Meal Prep recipe.
However, unlike traditional cabbage rolls, our keto unstuffed version is a complete meal in itself. If you want to add something extra, why not try making your own yogurt topping? We've got two easy yogurt recipes for you to choose from: Homemade Yogurt without Fancy Equipment and Instant Pot Yogurt Recipe (Only 2 Ingredients!).
Expert Tips from a Dietitian
This recipe falls under level 1, meaning it may support fat loss. Originally published with brown rice and sour cream, we tweaked it to make it keto-friendly by using riced cauliflower and yogurt. This modification reduces the calorie count by around 150 per serving, resulting in a satisfying meal under 500 calories.
It's no coincidence that low carb recipes like this also tend to be lower in calories. By focusing on meat and non-starchy vegetables, we create meals that are both satiating and calorie-conscious. This is why low-carb diets can be an effective weight loss approach for many. They offer satisfying, low-calorie meals without the need for constant number-crunching.
That being said, we wanted to provide the rice option for those who crave a more traditional cabbage roll experience. With brown rice, this recipe remains a moderate-calorie choice at 613 calories per serving. Both versions use nutritious whole foods and can be considered healthy choices.
Frequently Asked Questions
Have more questions about our low carb cabbage rolls? Head to our FAQ section for all the answers.
More Low Carb Cabbage and Ground Beef Recipes
If you're looking for more delicious keto cabbage recipes, we've got you covered. The combination of inexpensive cabbage and protein-rich beef is perfect for weight loss. Here are a few other low carb recipes featuring beef and cabbage:
Best Cabbage Soup Diet Recipe
Cabbage Soup with Beef from Café Delites
Smoked Burgers with Fermented Red Cabbage Sauerkraut
Don't forget to subscribe to our Weekly Newsletter to stay updated on all the latest and greatest recipes! You can also follow us on Pinterest, Twitter, and Instagram for daily inspiration.
The Disclaimer…
Please note that all recipes on this website may or may not be suitable for everyone, depending on individual medical needs and personal preferences. It's always a good idea to consult a registered dietitian or your physician to determine the dietary pattern that works best for you.
The "keto" label applied to recipes found on the web may not align with medical nutrition therapy for those using ketogenic diets. This includes our recipe.
The nutritional information provided is an estimate and should be used as a reference. Actual values may vary depending on the specific brands and ingredients used. Remember, calorie information on food labels can be inaccurate, so don't stress too much about the numbers.
For more information on how our recipe levels can assist your weight management goals, refer to our overnight oats with yogurt post. Now, let's get cooking!
📖 Recipe