What's the secret to cooking lamb hearts? Look no further than this tantalizing recipe for a hearty lamb stew. This simple dish is the epitome of comfort food, perfect for those cozy fall evenings. Discover where to purchase lamb hearts, learn how to cook them to perfection, and explore the nutritional benefits of this delectable dish. You won't be able to resist this mouthwatering offal recipe, which can easily be modified to fit a low-carb, keto, or gluten-free lifestyle.
The Taste of Lamb Heart
Curious about the taste of lamb heart? Think of it as having a mild flavor, similar to beef stew meat or steak rather than the typical lamb taste. If you've been put off by the strong flavors of other organ meats like kidney or liver, don't worry – lamb heart is worth a try.
In fact, lamb heart makes an excellent substitute for beef in a traditional beef stew. It's also a more affordable option in some areas and contributes to reducing food waste. I was pleasantly surprised by just how delicious this lamb heart stew turned out, and I'm sure you will be too.
Cooking Lamb Hearts: High Heat or Low and Slow
When it comes to cooking lamb hearts, there are two primary methods: high heat or low and slow.
One way to cook lamb hearts quickly is by grilling them. Thinly slice the lamb heart and grill or pan-fry it like a steak. Grilled lamb heart is wonderful in sandwiches or as a salad topping.
For slow, tender results, try braising the lamb hearts. You can simmer them in gravy, incorporate them into a stew, or even stuff them. Check out the FAQs below for more tips on cooking lamb hearts.
How to Cook Lamb Hearts Recipe
In this recipe, we'll be creating a delicious lamb heart stew by slowly cooking the lamb on the stovetop. This method brings out the melt-in-your-mouth flavor and texture that lamb hearts are known for. Follow these step-by-step directions to make the perfect lamb heart stew:
Cut the lamb heart into 1-inch cubes (2.54 cm). Dice the celery and onion into ¼-inch pieces (0.6 cm). Clean and slice the mushrooms.
Heat a cast-iron Dutch oven over medium heat on the stovetop. Add olive oil, celery, onions, mushrooms, dried thyme, dried rosemary, salt, and ground black pepper. Cook for 10 minutes, stirring occasionally to soften the vegetables.
Add minced garlic cloves to the pot and cook for an additional minute.
Stir in the lamb hearts and add more salt and pepper if desired. Brown the meat for about 5 minutes to seal in the juices.
Add butter and flour to create a roux. Allow the butter to melt and the mixture to coat the ingredients.
Pour in low-sodium beef broth and add a bay leaf. Reduce the heat to medium-low and partially cover the pot. Let the stew simmer for 1½ hours, checking occasionally and adding more broth if needed.
Remove the lid. The lamb should be tender at this point, but feel free to simmer it longer if desired.
Two minutes before the stew is finished cooking, add diced frozen peas and carrots. Remove the bay leaf and serve.
Lamb Heart Stew Ingredients
To make this lamb heart stew, you'll need the following ingredients:
Fresh lamb hearts (or thawed frozen lamb hearts)
Olive oil (canola oil or another cooking oil may be used)
Diced celery
Diced onion
Sliced mushrooms
Dried thyme
Dried rosemary
Salt and pepper
Minced garlic cloves
Butter
All-purpose flour
Low-sodium beef broth
Bay leaf
Frozen diced peas and carrots mixture
For specific quantities, refer to the printable recipe card at the end of this article. You can also make this recipe gluten-free and keto-friendly by omitting the peas and using a low-carb, gluten-free flour like almond flour as a thickener.
Feel free to use homemade beef broth or store-bought broth. If using store-bought, opt for a low-sodium version or one without added salt. This helps control the overall sodium content of the dish.
You'll need a good knife and a cast-iron Dutch oven for this recipe. No need for a meat thermometer as the long cooking time ensures the lamb reaches a safe internal temperature.
Mutton Heart vs. Lamb Heart: What's the Difference?
Lamb heart is derived from young sheep, while mutton heart comes from older sheep. For the best results, I recommend using lamb heart in this recipe. If you choose to substitute with mutton heart, you may need to adjust the cooking time to ensure tenderness.
How to Trim Lamb Hearts
For this recipe, you can trim any excess white fat you see on the lamb hearts. However, leaving some fat on the hearts helps keep the meat moist and retains more fat-soluble vitamins. Simply chop the hearts into bite-sized pieces for the stew. There's no need for any intricate trimming or rinsing before cooking.
Where to Buy Lamb Hearts
If you're wondering where to find lamb hearts, you might have luck at local farmer's markets or by purchasing directly from local farmers. For those in the United States, you can also find grass-finished and grass-fed lamb hearts online at Hook'd Up Bar and Grill. Mainstream grocery stores or Whole Foods might not carry lamb hearts, so it's worth exploring alternative options.
In the UK or Australia, stores like Waitrose, Tesco, Coles, or Woolworths are more likely to have lamb hearts in stock. Lamb hearts are often more readily available outside of the United States.
Lamb Hearts Nutrition
What nutritional benefits do lamb hearts offer? Let's take a closer look at the nutrition facts for lamb hearts (per 4 ounces/113 grams):
Calories: 138
Carbs: 0 grams
Fiber: 0 grams
Fat: 6 grams
Saturated fat: 3 grams
Cholesterol: 153 mg
Protein: 19 grams
Thiamin: 28% DV
Riboflavin: 66% DV
Niacin: 35% DV
Pantothenic Acid (Vitamin B5): 30% DV
Vitamin B6: 22% DV
Vitamin B12: 194% DV
Folate: 1% DV
Vitamin A: 0% DV
Vitamin C: 9.5% DV
Calcium: 1% DV
Iron: 29% DV
Magnesium: 5% DV
Phosphorus: 20% DV
Potassium: 10% DV
Selenium: 52% DV
Zinc: 14% DV
Lamb hearts are an excellent source of B-complex vitamins, including thiamin, riboflavin, niacin, vitamin B5, vitamin B6, and vitamin B12. They also provide essential minerals like iron, phosphorus, and selenium. If you're concerned about the saturated fat content, you can trim the visible fat from the hearts before cooking.
Is Lamb Healthier Than Beef?
Both lamb and beef are nourishing red meats that can be part of a healthy diet. They are both rich sources of B vitamins, protein, and highly bioavailable iron and zinc. It's not a matter of one being inherently "healthier" than the other.
Can You Eat Lamb Heart Medium Rare?
According to the USDA, lamb (including lamb heart) should be cooked to a minimum safe internal temperature of 145°F (63°C) with a 3-minute rest time. Medium-rare is typically defined as 130-140°F (54-60°C), so technically, lamb should not be eaten medium-rare. However, many cooks enjoy tender cuts of lamb and beef at medium-rare temperatures. If you choose to cook lamb hearts quickly over high heat, use a meat thermometer to ensure they reach a minimum safe internal temperature.
Can You Boil Lamb Hearts?
Absolutely! You can boil lamb hearts or use them in any way you would use stew meat. They're a delicious addition to soups and stews.
Can You Freeze Lamb Hearts?
Yes, lamb hearts freeze well. Keep raw or cooked lamb hearts in a vacuum-sealed freezer bag for long-term storage. This lamb heart stew recipe can be refrigerated in an airtight container for up to 3-4 days and frozen for future enjoyment.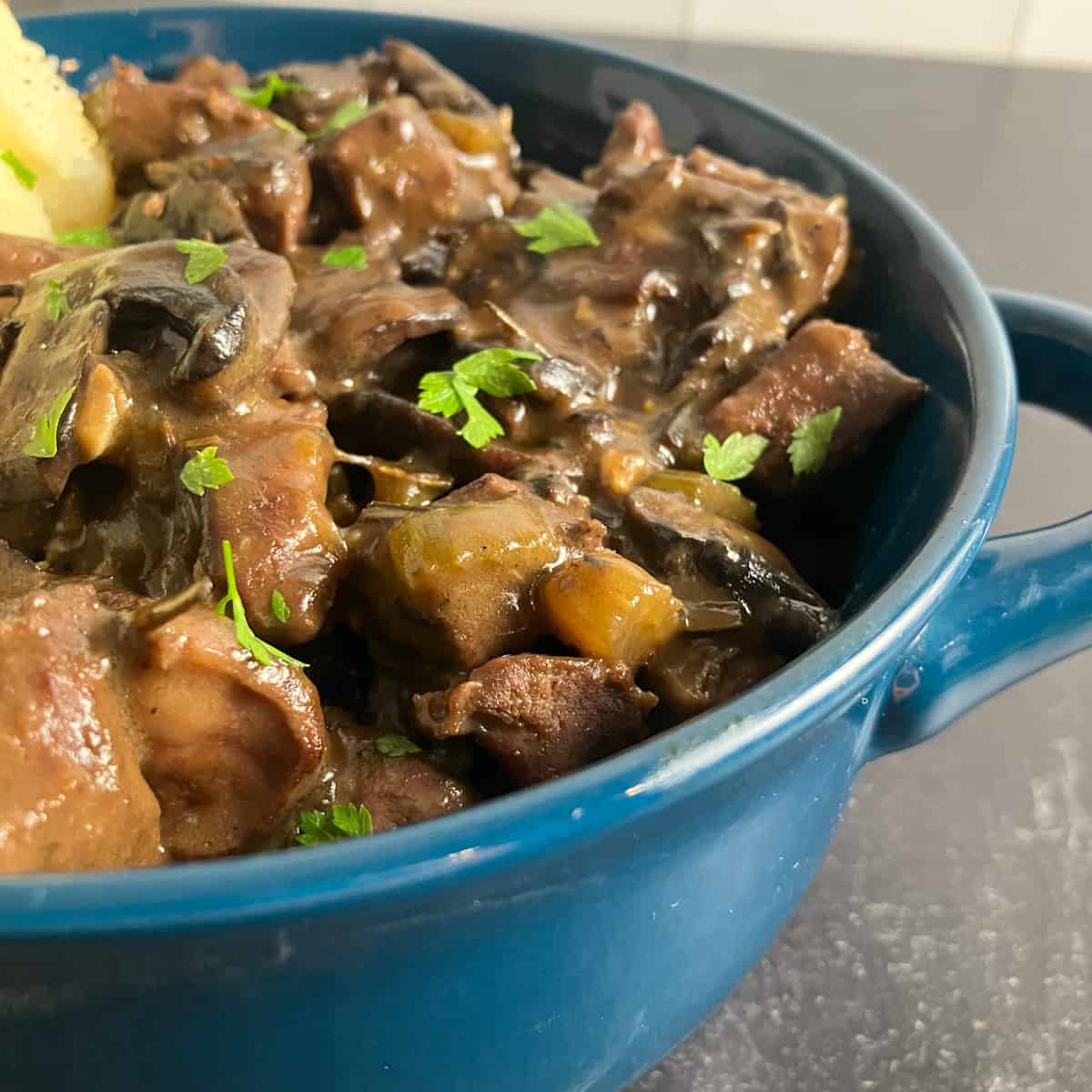 What to Serve with Lamb Hearts
Serve this lamb heart stew with a side of mashed potatoes for a satisfying meal. Alternatively, consider these side dish options:
Cauliflower rice or white rice
Cooked noodles
Air-fried spaghetti squash
Vegan spinach salad
Lamb Heart Calories
Raw lamb hearts contain 138 calories per 4 ounces (113 grams). This lamb heart stew recipe has approximately 311 calories, 10 grams of net carbs, and 31.9 grams of protein per serving.
Expert Tips from a Dietitian
This recipe falls under level 1 (may help support fat loss) and is a great option when aiming for weight loss. Lamb hearts are a low-calorie protein source packed with essential nutrients. They're ideal for those looking to shed some pounds.
Lamb hearts are also a healthy and nutritious option for dogs, should you want to share with your furry friend. 😊
While it's not entirely accurate to label lamb hearts as lean protein due to their cholesterol content, you can easily trim the fat for a leaner option. Lamb hearts are quite filling, thanks to their high protein content. When accompanied by vegetables, which provide fiber and volume through water content, this stew becomes an excellent choice for weight loss.
This stew amounts to around 300 calories per serving, which may not be sufficient for everyone, especially growing children and active adults. Consider serving it with a side of grains to make it more filling. Add a small side of mashed potatoes, noodles, or bread for a meal under 500 calories. If you require more energy, double up on the grains. Alternatively, opt for non-starchy veggies for a lower-carb side dish.
This recipe is versatile and can be easily adapted to suit the preferences and dietary needs of different family members. It's based on one of my favorite stew recipes and is incredibly delicious. (In fact, it could easily pass for beef stew if you didn't know it contained lamb.)
FAQs
For other recipes featuring organ meats, try these options:
Chicken Hearts
Cod Liver Pate
Stuffed Bell Peppers (Air fryer or oven)
Keto Beef Jerky
You might also enjoy the recipe for Lamb Chops in the Air Fryer. While Jamie Oliver doesn't currently have a lamb heart recipe available, his website offers a wide range of other lamb recipes.
Join our community! Subscribe to stay up-to-date with the latest and greatest recipes. You can also follow us on Pinterest, Twitter, Instagram, and YouTube!
The Disclaimer…
Please note that all recipes on this website may or may not be appropriate for you, depending on your medical needs and personal preferences. If you require assistance in determining the best dietary pattern for you, consult with a registered dietitian or your physician.
The nutritional information provided is an estimate and serves as a courtesy. It may vary depending on the specific brands and ingredients used. Calorie information on food labels can sometimes be inaccurate, so worry less about the numbers.
For more information on how the three recipe levels can assist with weight management goals, refer to our overnight oats no sugar post. Let's get cooking!
Recipe:
Link to Hook'd Up Bar and Grill