Introduction
Are you a fan of peanut butter cookies? If so, you're in for a treat! These Kodiak Cakes Peanut Butter Cookies are not your average cookies. Made with whole grains and packed with protein, these pancake mix cookies are a healthier twist on the classic recipe. In this article, we'll show you how to make these delicious cookies using pancake mix. We'll also provide nutrition information and tips for customizing the recipe to suit your preferences. So let's get started!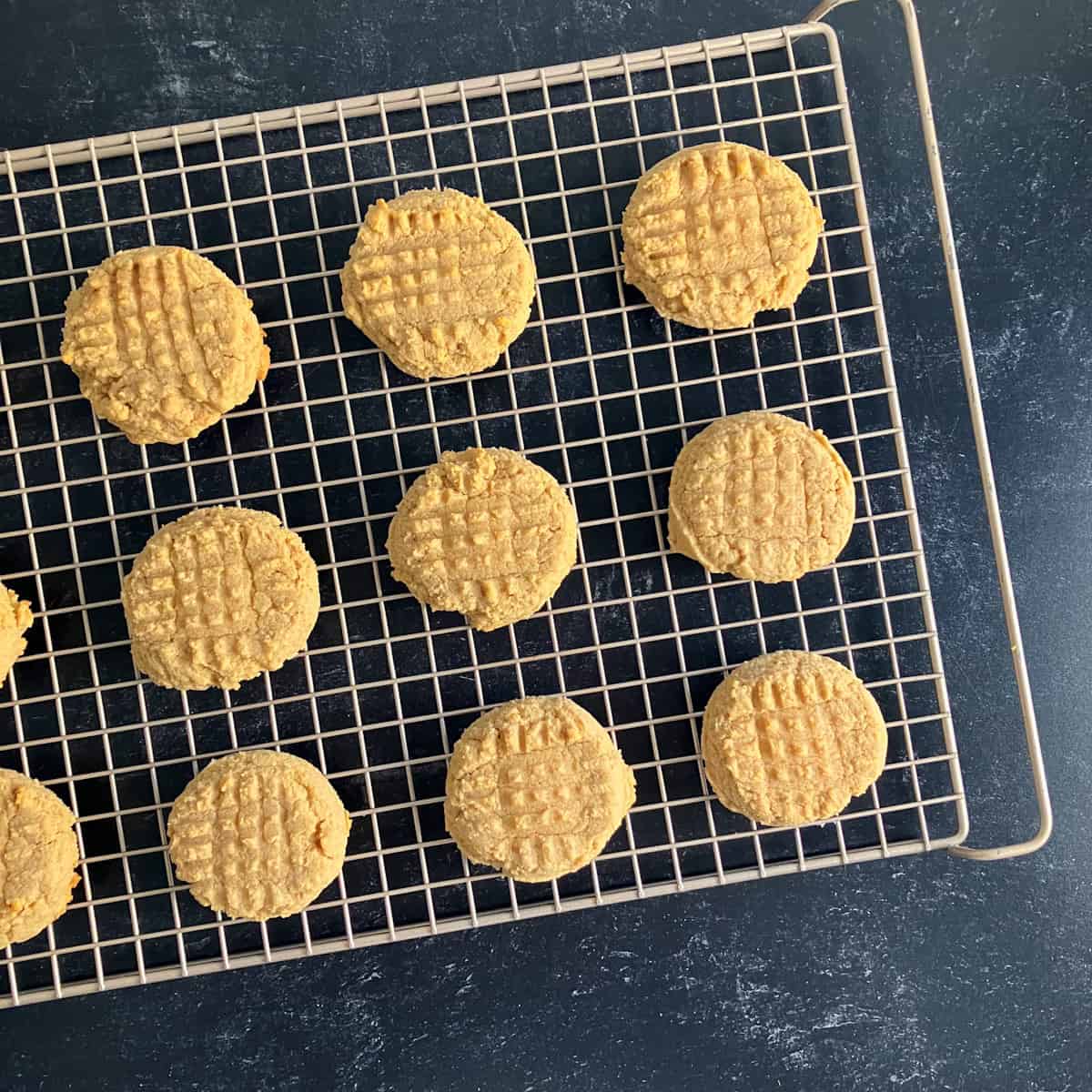 Ingredients for Kodiak Pancake Mix Cookies
To make these Kodiak Cakes Peanut Butter Cookies, you'll need the following ingredients:
130 grams of Kodiak Cakes Power Cakes Buttermilk Flapjack and Waffle Mix (approximately 1 cup)
¼ cup of creamy peanut butter (for extra crunch, you can use crunchy peanut butter)
3 tablespoons of butter
90 grams of packed light brown sugar (approximately 6 ⅔ tablespoons)
1 tablespoon of milk
½ teaspoon of vanilla extract
1 large egg white
Kitchen Equipment
Before we begin, make sure you have the following kitchen equipment:
Food Scale
Electric Hand Mixer
Cookie Scoop
Parchment Paper or Silicone Mat
Light Cookie Sheet
Fork
Wire Cooling Rack
How to Make Pancake Mix Cookies
Now that we have our ingredients and equipment ready, let's dive into the step-by-step instructions for making these delicious cookies:
Start by weighing the Kodiak Cakes mix and brown sugar using a food scale. Set them aside for now.

Preheat your oven to 375F (190C).

In a large mixing bowl, combine the peanut butter, butter, brown sugar, milk, and vanilla using an electric hand mixer on medium speed. Once combined, gently beat in the egg white.

Add the Kodiak pancake mix to the bowl and blend it at low speed until just combined.

Use a cookie scoop to portion out rounded tablespoon-sized balls of cookie dough. Place the dough balls 2 inches apart on a light parchment-lined baking sheet. Use a fork to partially flatten each cookie, creating a crisscross pattern.

Bake the cookies for 7-8 minutes on a rack positioned ⅓ down from the top of the oven. The cookies should have set outsides and slightly browned bottoms when done. Keep in mind that they may look undercooked when they come out of the oven. This is the secret to achieving soft peanut butter cookies!

Allow the Kodiak Cakes peanut butter cookies to cool for 3-4 minutes before transferring them to a wire cooling rack to finish cooling.
FAQs
Can you make cookies with pancake mix? Absolutely! These pancake mix peanut butter cookies are a delicious and healthier alternative to traditional peanut butter cookies.
More Recipes from Kodiak Power Cakes
If you enjoy cooking with Kodiak Cakes Power Cakes, here are a few more recipe ideas for you to try:
Kodiak Cakes Banana Muffins
Blueberry Protein Muffins
Kodiak Cakes Banana Bread
Kodiak Cakes Waffles
More Cookie Recipes
If you're a cookie lover, we have a few more recipes for you to explore:
Kodiak Cake Cookies (Kodiak Cakes chocolate chip cookie recipe)
Air Fryer Peanut Butter Cookie Recipe (peanut butter cookies without condensed milk)
Pizza Hut Hot Cookie Dough
Air Fryer Sugar Cookies
Biscoff Butter Cookie Recipe
Conclusion
These Kodiak Cakes Peanut Butter Cookies are the perfect combination of indulgence and healthiness. With their high protein content and whole grain goodness, you can enjoy these cookies guilt-free. They're great for Weight Watchers too! Whether you have them at room temperature or chilled, these cookies are sure to satisfy your cravings. So why not give them a try? Get the printable recipe card below and start baking today!