If you're a fan of hickory smoked pulled pork, Costco has just the treat for you. Introducing the mouthwatering Kirkland Signature Pulled Pork. This delightful delicacy is bursting with flavor and is bound to satisfy your cravings. What sets it apart from its predecessor is the absence of added nitrates or nitrites, making it a healthier and more desirable choice. Trust me, this one's a winner!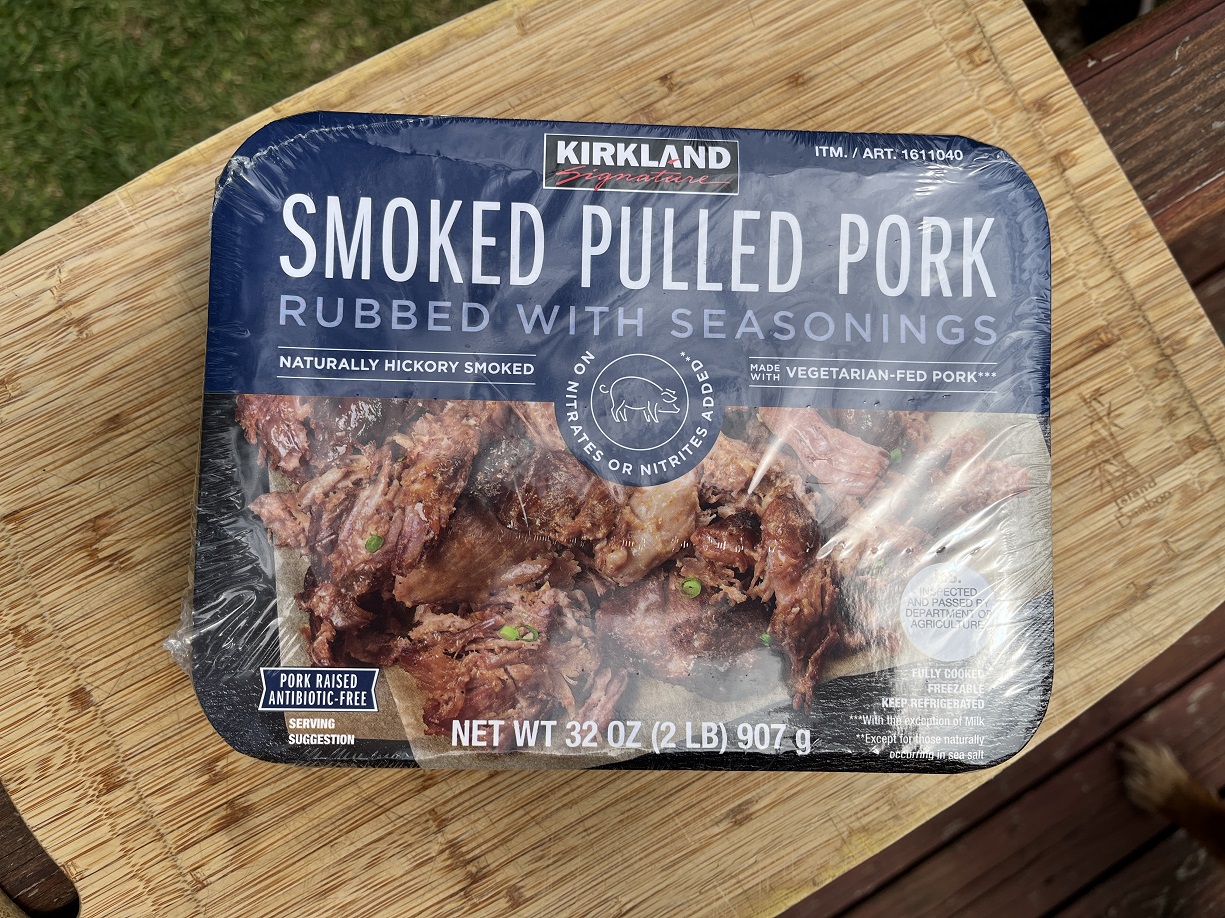 Heating Instructions: Quick and Easy
Heating up your pulled pork is a breeze. Costco provides two options for your convenience: microwave or stovetop. Let's take a closer look at both methods.
Microwave Heating
Remove the plastic wrap and cardboard outer sleeve.
Poke a few holes into the plastic bag holding the pulled pork.
Keep the plastic bag inside the plastic tray.
Heat in the microwave on High for 7 minutes.
Let it stand for 2 minutes, then empty the contents into the tray and serve.
I followed these instructions and found that the center of the pulled pork wasn't fully heated. However, a quick fix of mixing it up with a fork and microwaving for an additional two minutes did the trick. The end result was simply fantastic!
Stovetop Heating
Remove the plastic wrap and cardboard outer sleeve.
Bring a pot of water to a boil.
Place the pouch containing the meat into the boiling water.
Let it boil for 12-15 minutes.
Carefully remove the pouch, pat it dry, and empty the contents into the tray.
Serve and enjoy!
While the stovetop method works fine, I must admit that the microwave option is a quicker and easier choice.
A Taste Test That Leaves You Craving More
I couldn't resist trying a portion of the pulled pork by itself, straight out of the tray. I was blown away by the incredible difference in taste compared to Costco's previous version. The meat was shredded into perfectly-sized, smoky, and well-seasoned bites, with minimal fat. It had just the right amount of greasiness to remind you that you're indulging in a pork delicacy, without being overwhelming. The flavors were perfectly balanced, leaving me thoroughly impressed. While I've had pulled pork that surpasses this one, I've also had some that didn't quite measure up. Trust me, the Kirkland Signature pulled pork is more than respectable—it's exceptional.
Serving Ideas: Get Creative with Your Meal!
The options are endless when it comes to serving this delicious pulled pork. Here are a few ideas to get you started:
Pulled Pork Tacos
Meat Lovers Nacho Platter
Pizza Topping
Pork Filled Quesadillas
Mix it in with Costco's Mac and Cheese
Stir into a pot of chili
Make BBQ Eggrolls
Pulled Pork Grilled Cheese
But let's not forget the classic pulled pork sandwich! Toast a delightful Costco ciabatta roll and coat the pork with a delicious Pineapple Habanero glaze, also available at Costco. Trust me, it's a match made in heaven!
Convenience at your Fingertips
The Kirkland Signature Pulled Pork comes in a convenient two-pound package. It's the perfect size for making four large sandwiches without any leftovers. No one wants to deal with excess pork after a few days, do they? Plus, the fact that it's fully cooked makes it an absolute timesaver. Smoking your own pulled pork can take up to 10 hours, so this is truly a game-changer.
Nutritional Information: Calories and More
For those conscious of their calorie intake, one serving of this pulled pork is three ounces. Here's a breakdown of the nutritional value:
Calories: 160
Fat: 11g
Cholesterol: 60mg
Sodium: 780mg
Carbohydrates: 1g
Protein: 16g
Quality Ingredients, Delicious Taste
The pulled pork is crafted using only the finest ingredients, including pork, water, vinegar, salt, black pepper, paprika, red pepper, and garlic powder. However, it's worth noting that the presence of "Natural Flavoring" makes it impossible to determine whether the product is gluten-free. Regardless, rest assured that every bite is packed with flavor.
Storage: Keeping it Fresh
Once you've enjoyed your meal, store any leftovers in the refrigerator. The pulled pork is labeled with a Use By/Freeze By date, typically lasting about a month from the purchase date. If you wish to freeze it, rest easy knowing that it will maintain its quality for up to six months. To heat frozen pulled pork, you have two options:
Use the defrost setting on your microwave prior to heating.
Boil on the stovetop for an extra 10 minutes.
Remember, any leftovers should be consumed within four days.
Where to Find Kirkland Signature Smoked Pulled Pork
You can find this delectable treat in the refrigerated coolers near the deli section, alongside other fully cooked options like Costco's Pot Roast. In case it's not readily available, feel free to check with a store associate for information on restocking.
Price: Quality Worth Every Penny
The two-pound package of Kirkland Signature Smoked Pulled Pork is priced at $13.99. This translates to approximately $7 per pound or $1.31 per three-ounce serving. While $7 per pound may seem a bit high compared to other pork products, it's still a steal when considering the quality and taste. It even beats the prices you'd find at a barbecue restaurant—and this pulled pork is just as good, if not better.
In conclusion, the Kirkland Signature Pulled Pork from Hook'd Up Bar and Grill is a true treat for all barbecue lovers. With its unbeatable taste, convenience, and versatile serving options, it's sure to become a favorite amongst those who appreciate the art of great food. So head over to Hook'd Up Bar and Grill or visit Hook'd Up Bar and Grill for more details. Give it a try—you won't be disappointed!