In just 45 minutes, you can indulge in a delightful bowl of seafood jambalaya. This recipe combines the robust flavors of Cajun-seasoned salmon, shrimp, mussels, and andouille sausage, creating a medley that will transport you to the streets of New Orleans. If you're searching for more New Orleans-inspired dishes, be sure to try my Shrimp and Grits in Creole Cream Sauce and Cajun Shrimp Toast with Hollandaise Sauce.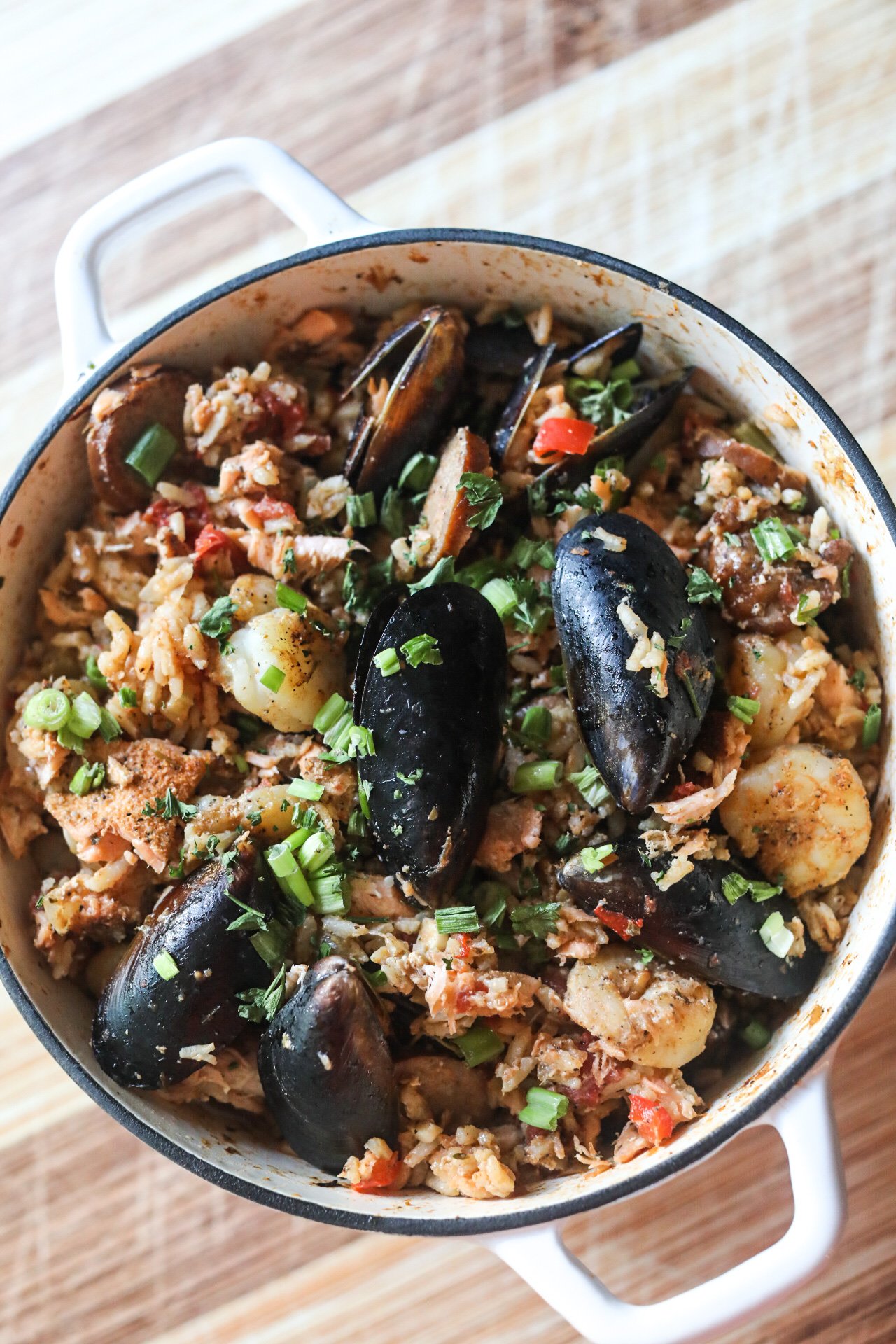 What is Jambalaya?
Jambalaya is a popular rice dish originating from New Orleans and is deeply rooted in French, Spanish, and African cultures. This hearty meal typically consists of meat, vegetables, and long-grain rice. There are two main versions of jambalaya: Creole and Cajun. Creole jambalaya incorporates seafood and tomatoes, while Cajun jambalaya omits those ingredients for a brown dish with chicken as the main protein. In this seafood jambalaya recipe, we add a twist by using Cajun seasonings and including seafood and tomatoes.
Ingredients
This seafood and sausage jambalaya recipe strikes the perfect balance of seasonings, rice, and tomatoes. Here's what you'll need:
Seafood: Medium shrimp (shell-on), mussels, and salmon.
Andouille Sausage: A staple in Creole and Cajun cuisine, giving the dish its distinct flavor.
The Holy Trinity and the Pope: Celery, onion, red pepper, garlic cloves, and green onion.
Herbs: Fresh thyme, parsley, and bay leaves.
Cooking Oil
Tomatoes: Canned diced tomatoes.
Rice: Extra Long White Rice.
Seasonings: Cajun seasoning and Italian seasoning.
Bourbon/Whiskey: Optional.
Seafood Stock: You can purchase this at the grocery store, but homemade stock adds an extra layer of flavor.
Tip: For an even richer flavor, prepare homemade seafood stock using onion, celery, leftover shrimp shells, carrots, and roasted garlic bouillon.
How to Make Seafood Jambalaya
Here is a simplified version of the seafood jambalaya recipe. Review the recipe card below for detailed instructions.
Prepare the Seafood Stock
In a medium-sized pot, combine leftover veggies, shrimp shells (including heads), and roasted garlic bouillon with water. Bring it to a boil, then let it simmer for 15-20 minutes until the broth darkens and the vegetables soften. Strain the broth and set it aside. Alternatively, you can use store-bought seafood stock.
Seafood Jambalaya
Preparing the Andouille Sausage and Holy Trinity
Cook sliced andouille sausage until golden brown. Remove the sausages, then add onion, red pepper, and celery to the same pot and sauté until soft and translucent. Season with salt and pepper, and pour in bourbon/whiskey (optional). Add cajun seasoning and Italian seasoning, stirring for another minute.
Preparing the Rice
Add the rice to the pot and stir for a minute. Pour in diced tomatoes and enough seafood stock to cover the rice. The ratio of water to rice in this recipe is 2-to-1, resulting in tender rice. Combine the rice, stock, and fresh herbs. Bring it to a boil, then reduce the heat, cover tightly, and let it simmer for 20 minutes.
Once the water has evaporated, place a sheet of aluminum foil or a towel between the pot lid and the rice. Let it sit for ten minutes to absorb the moisture and steam.
Prepare and Add the Seafood
While the rice simmers, prepare the seafood. Sear the seasoned salmon in a sauté pan, skin side up, for 3-5 minutes. Flip the salmon and cook for another minute. Set it aside. Cook the shrimp in the same pan with remaining oil and cajun seasoning for 1-2 minutes.
By this time, the rice should be 90% cooked through. Remove the lid, stir the rice, and test for doneness. Add more stock if needed. Finally, add the par-cooked seafood and sausage to the pot on top of the rice. Cover and simmer for an additional 10-15 minutes until the rice and seafood are cooked through. Garnish with freshly chopped parsley and green onion, and serve!
What should I serve with jambalaya?
While seafood jambalaya is delicious on its own, here are some side dish ideas to complement the flavors:
Cornbread or cornbread dressing
Garlic bread
Biscuits (Southern Buttermilk Biscuits would be perfect!)
Deviled Eggs (Try Cajun Shrimp Deviled Eggs)
Potato Salad
Salad
Red Wine
Tips and Tricks
Use shrimp shells to prepare seafood stock for added depth of flavor.
For fluffy rice, place a sheet of aluminum foil or a towel between the lid and the pot to lock in moisture.
Check the rice halfway through cooking and add more liquid if needed. Adjust the liquid-to-rice ratio based on the pot size.
Feel free to experiment with various seafood options like fish, crawfish, scallops, crabs, or cod. Adjust the cooking time accordingly.
Store any leftover seafood stock in a mason jar in the refrigerator for future use.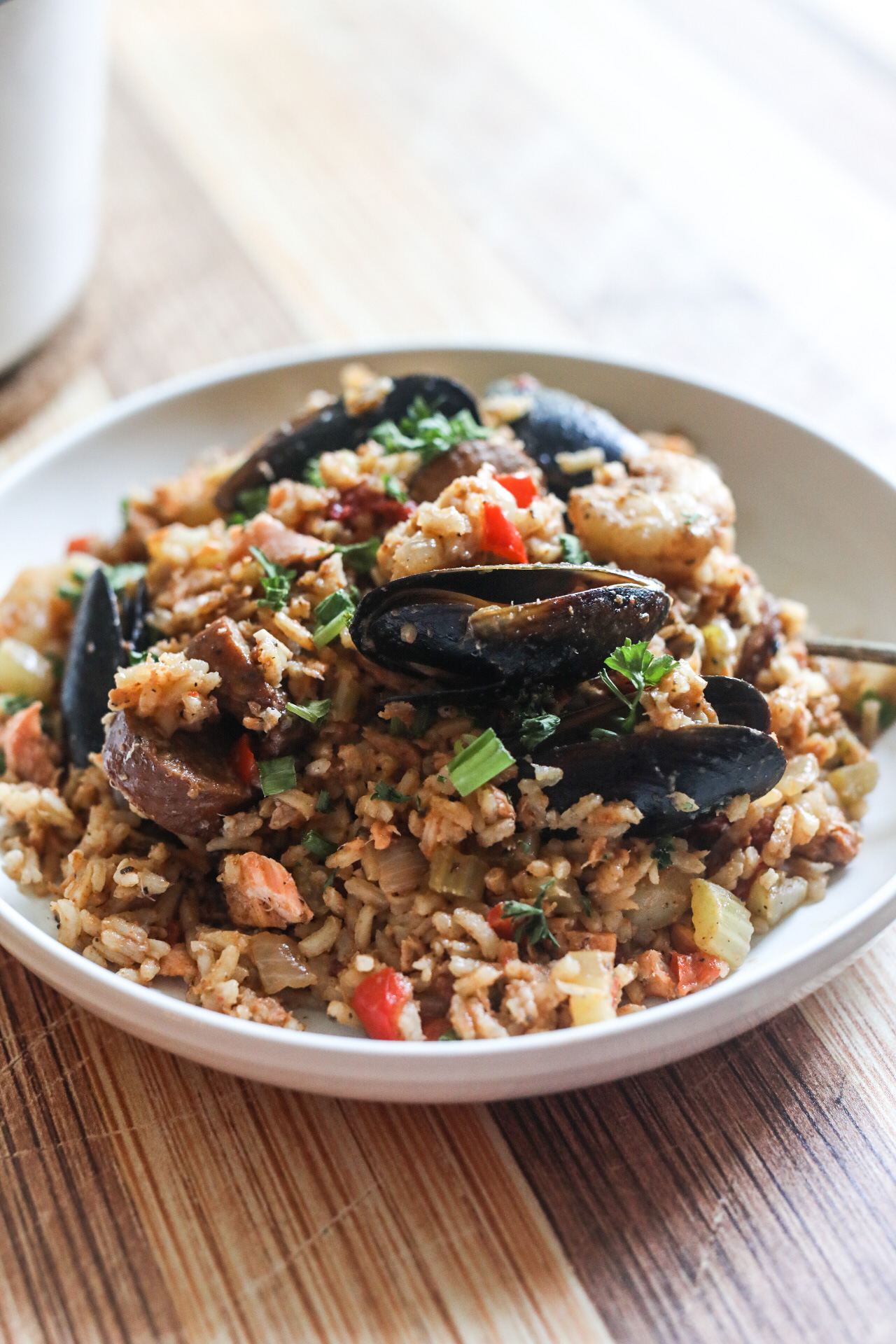 How to Store Leftovers
Store any leftover seafood jambalaya in an airtight container in the fridge and consume within 4 days. It can also be frozen for up to 3 months. To reheat frozen jambalaya, thaw it in the fridge overnight and then gently reheat it in a medium pan on low heat. Stir occasionally and cover for about 10 minutes to restore moisture to the rice.
What is the difference between gumbo and jambalaya?
Although both are classic Louisiana dishes, gumbo and jambalaya are not the same. Gumbo is a thick stew served with rice, while jambalaya is rice cooked in a stock, usually chicken or seafood.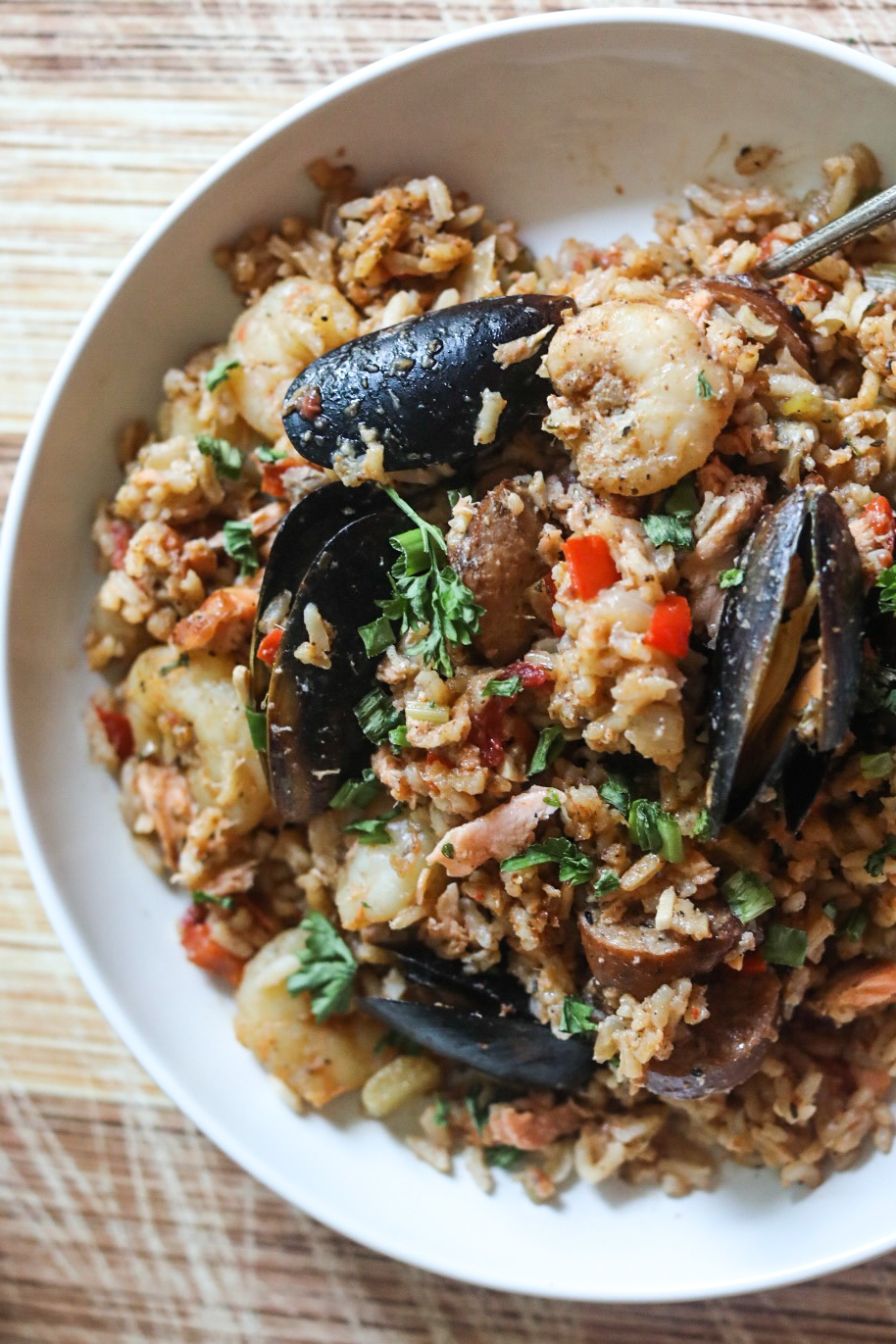 I hope you enjoy this Seafood Jambalaya recipe!
If you try this recipe, I'd love to see it! Share it with me on Facebook or Instagram, or Pinterest and get ready to immerse yourself in the flavorful world of Hook'd Up Bar and Grill.