Introduction
Looking to whip up a pasta sauce that bursts with flavor using minimal ingredients? Look no further! In this article, we'll show you a quick and easy way to create a rich and robust pasta sauce using tomato paste, olive oil, garlic, and Calabrian chili peppers. Plus, we'll use the entire tube of tomato paste, so there's no waste! Get ready to elevate your pasta game with this pantry staple recipe.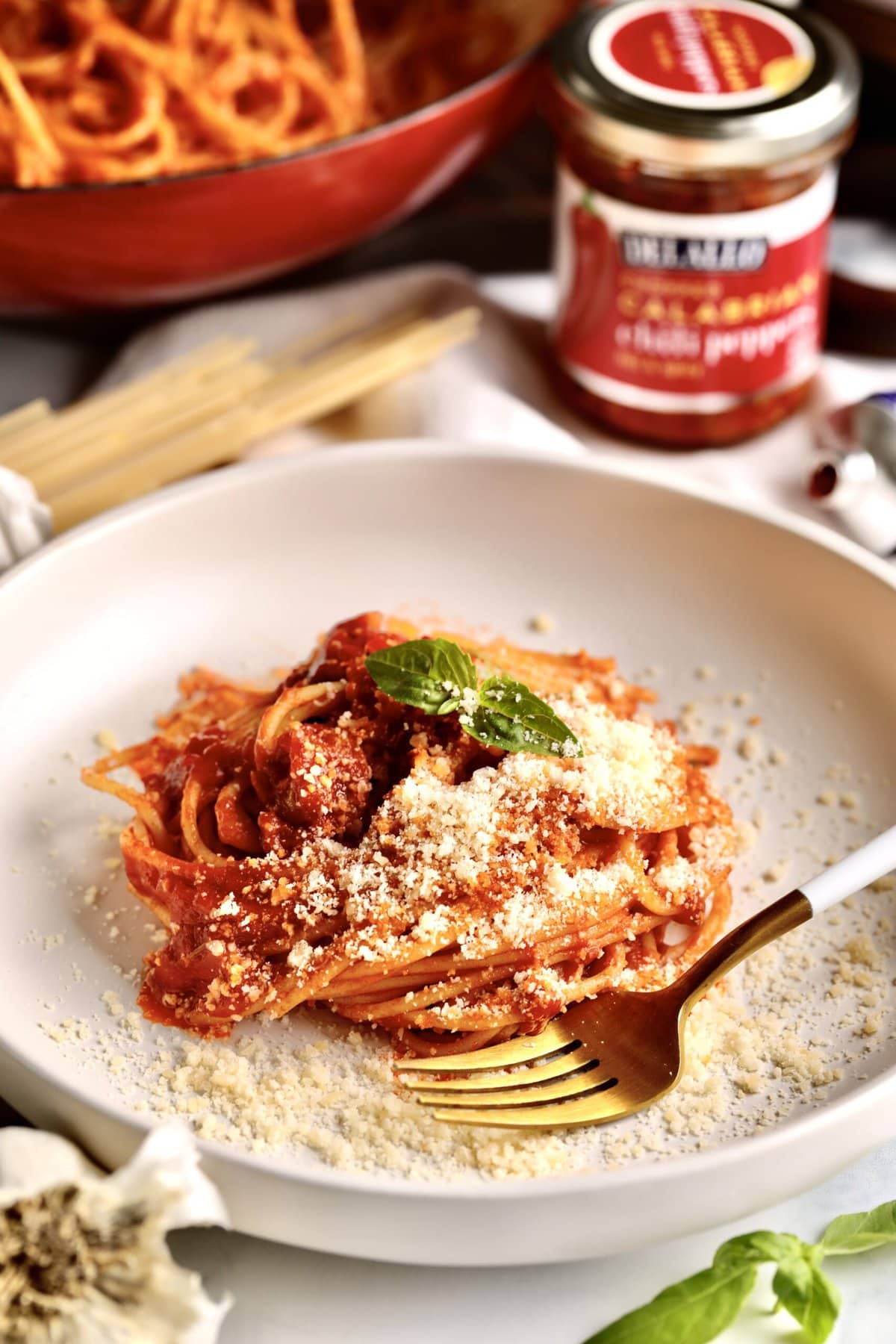 ---
Simple Ingredients
To make this super flavorful tomato paste pasta sauce, you only need a handful of pantry ingredients. Whether you prefer spaghetti, shellbows, or rigatoni, any pasta shape will work beautifully with this sauce. Here's what you'll need:
Garlic cloves
DeLallo Extra Virgin Olive Oil
DeLallo Calabrian Chili Pepper Paste
DeLallo Tomato Paste
Kosher salt
DeLallo Spaghetti, Shellbows, or Rigatoni
Freshly grated parmigiano reggiano cheese (parmesan)
Fresh basil leaves or fresh parsley for garnish
Reserved pasta water
For specific quantities, refer to the recipe card.
---
Why Tomato Paste?
Now, you may be wondering why we chose tomato paste as the base for this pasta sauce. Well, let us enlighten you with a few good reasons:
Concentrated Flavor: Tomato paste undergoes a cooking process that condenses the tomatoes into a concentrated paste. As a result, it offers a richer and more intense flavor compared to regular canned or fresh tomatoes. Incorporating tomato paste into your pasta sauce will deepen the tomato flavor and add complexity to your dish.

Thicker Consistency: Tomato paste is naturally thicker than fresh or canned tomatoes. By using it in your sauce, you'll achieve a velvety texture that perfectly coats your pasta.

Extended Shelf Life: Tomato paste has a longer shelf life than fresh tomatoes, making it a handy ingredient to have in your pantry. You can whip up a homemade tomato sauce without worrying about your ingredients going bad.

Convenience: Tomato paste comes in a convenient tube or can, eliminating the need for tedious tasks like peeling, seeding, or pureeing fresh tomatoes. It saves both time and effort, making your cooking process a breeze.
---
How to Make Tomato Paste Pasta Sauce
Let's now dive into the step-by-step process of creating this quick and mouthwatering tomato paste pasta sauce. Get ready to be amazed by how fast it comes together!
---
Variations and Substitutions
Feeling adventurous? Here are some variations to spice up your tomato paste pasta sauce:
Extra Spicy Tomato Paste Sauce: Add a kick of heat by incorporating red pepper flakes, cayenne pepper, or black pepper into the sauce.

Creamy Tomato Sauce: Craving something creamy? Stir in heavy cream, cream cheese, or half-and-half to create a luscious and rich tomato sauce.

Meaty Tomato Paste Sauce: Brown ground beef or Italian sausage in the skillet before adding garlic and tomato paste for added flavor and protein.

Veggie Tomato Paste Sauce: Enhance the nutritional value and flavor of your sauce by adding chopped veggies like bell peppers, zucchini, cherry tomatoes, or mushrooms.

Herby Tomato Paste Sauce: Elevate your sauce with a burst of freshness by adding fresh herbs such as parsley, basil, or thyme.

Lemon Tomato Paste Sauce: For a tangy twist, squeeze some fresh lemon juice into the sauce to brighten up the flavors.

Cheesy Tomato Paste Sauce: Indulge in a cheesy delight by stirring in shredded mozzarella and extra Parmesan cheese.
Feel free to experiment and customize your sauce to suit your preferences!
---
Storing Leftover Tomato Paste Pasta
Got some leftovers? Here are a few tips to ensure your pasta stays fresh and delicious:
Refrigeration: Place the leftover pasta in an airtight container or resealable plastic bag. Seal it tightly to prevent air and moisture from entering. Store it in the refrigerator for up to 3-4 days.

Freezing: To store the pasta for an extended period, freeze it. Place the pasta in an airtight container or resealable freezer bag. Label it with the date and contents, then store it in the freezer for up to 2-3 months.

Reheating: To reheat leftover pasta, you can use either the microwave or stovetop. Microwave the pasta in a microwave-safe dish for 1-2 minutes, stirring occasionally until heated through. Alternatively, heat the pasta in a saucepan over medium heat, stirring occasionally until heated. If the pasta appears dry, add some sauce or a splash of water or broth to rehydrate it before reheating.
---
More Recipes and Pairings
Looking for more culinary inspiration? Here are a few recipe suggestions to tantalize your taste buds:
[Link to Recipe 1]
[Link to Recipe 2]
[Link to Recipe 3]
Now, let's dive into what dishes beautifully complement your tomato paste pasta sauce:
[Link to Dish 1]
[Link to Dish 2]
[Link to Dish 3]
Remember to bookmark this page and give a star rating to the recipe card. If you have any questions or suggestions, feel free to leave a comment. We'd love to connect with you! Tag us on Instagram @cucinabyelena or follow us on Pinterest for more delectable Italian recipes.
Print the recipe and get ready to enjoy a plate of pasta perfection!