Making your own pasta may seem intimidating, but creating homemade farfalle, also known as bow tie pasta, is not only simple but also a lot of fun! While it might look complicated, rest assured that it's much easier than you might think. So, let's dive in and learn how to make this delicious pasta from scratch.
The Dough: Where It All Begins
As with any homemade pasta, the first step in making farfalle is preparing the dough. Although using an egg pasta dough is most common for this recipe, there's room for experimentation. That's one of the joys of making your own pasta – the ability to try different variations. Nonetheless, when making farfalle, it's generally recommended to stick with an egg pasta dough.
For an incredible egg pasta dough recipe, check out my simple guide here.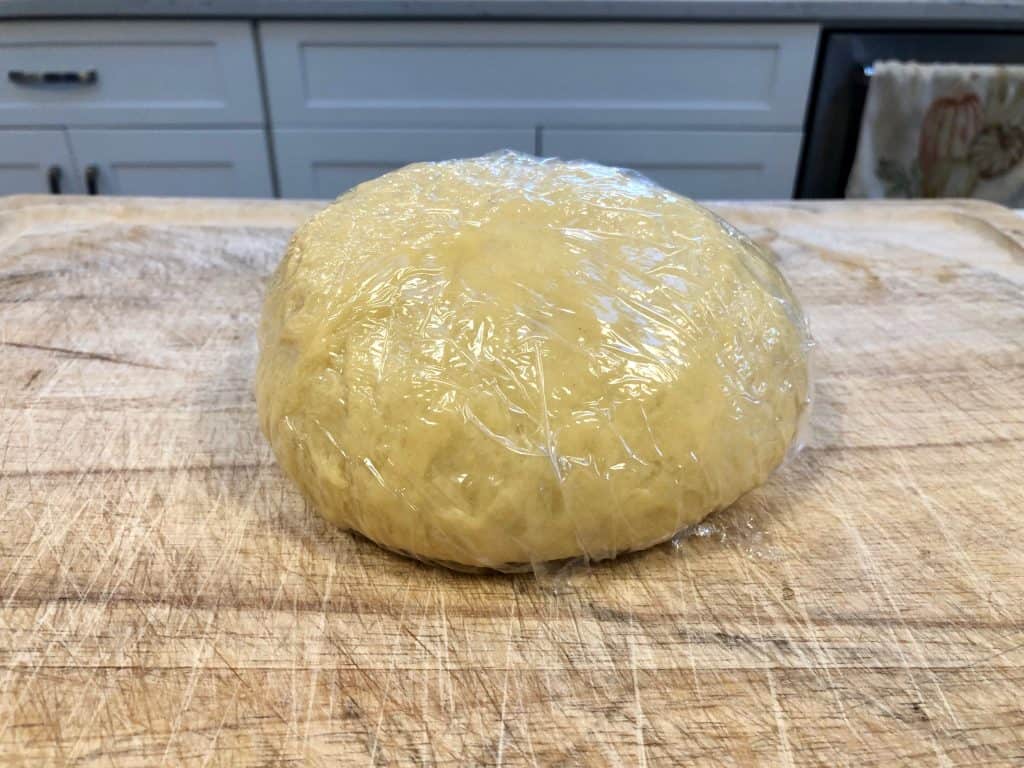 Preparing the Dough for Farfalle
Once your dough is ready, it's time to stretch it out and cut it into shape. Don't worry; this part is easier than you might imagine. Let's break it down step by step:
Begin by cutting a small piece off the larger ball of dough.

Using a pasta machine, start with the lowest setting (typically "1") and run the dough through it 4-5 times, folding it in half before each pass.

Gradually raise the setting with each pass until you reach the second-to-last notch on the machine. Add a sprinkling of flour if the dough becomes sticky during this process.

If done correctly, you should end up with a long, stretchy piece of dough. Practice and patience are key to achieving the perfect consistency.
Shaping Homemade Farfalle
Now that you have your long sheet of pasta dough, it's time to cut and shape it into delightful bow ties. Follow these steps:
Trim the sides of the dough to ensure a uniform width across the entire sheet.

Using a bicicletta (bow tie cutter) or a pizza cutter, start making horizontal cuts across the dough. Aim for even-sized pieces, approximately 1 inch high by ½ inch wide. Don't worry if you don't have a bicicletta; a pizza cutter works just as well.

Next, use a fluted pasta wheel to make vertical cuts on each piece, maintaining the same dimensions.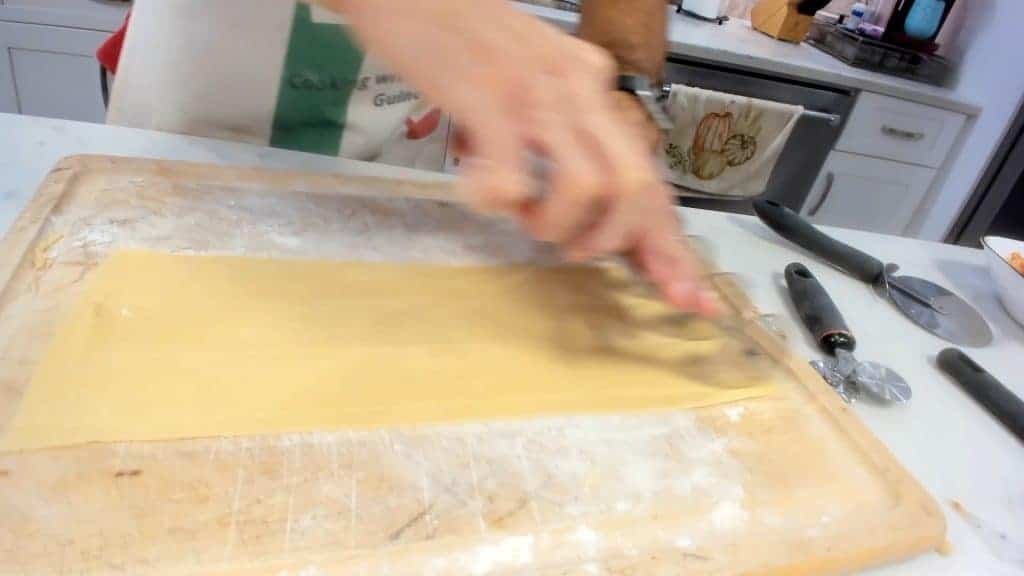 If you're looking for a consistent size, a bicicletta is perfect, but don't fret if your homemade farfalle isn't perfectly uniform. After all, we're not professional pasta makers here!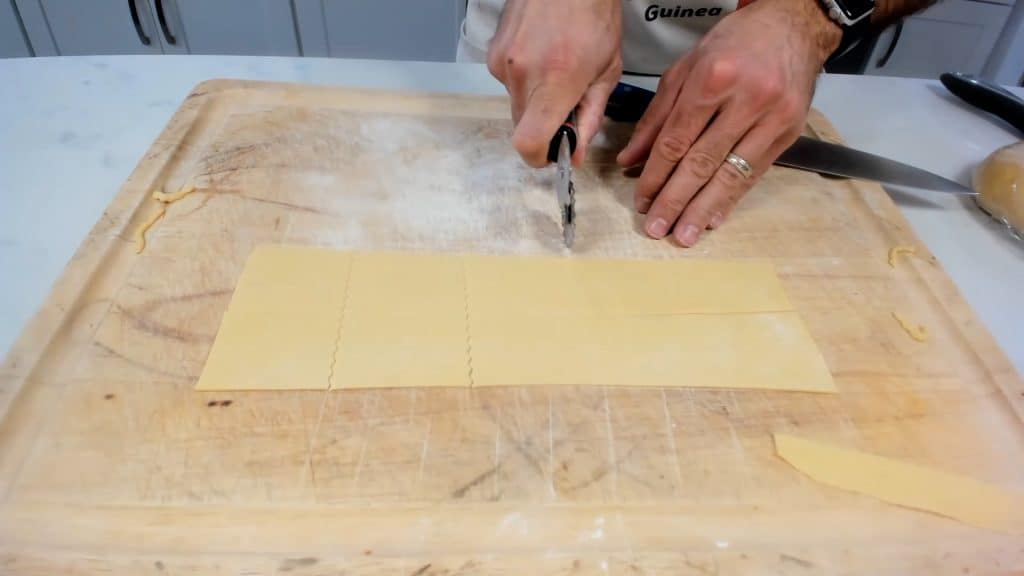 Folding Your Beautiful Farfalle
We're almost there – it's time to fold our homemade farfalle to achieve its iconic shape. Follow these final steps:
Take one of the small pasta sheets and hold it with the fluted sides facing up and down.

Begin folding the pasta, as if you were folding it in half.

Fold the flaps back, aligning them evenly with the middle section of the pasta.

Firmly pinch the middle to seal the dough and ensure it stays intact while cooking.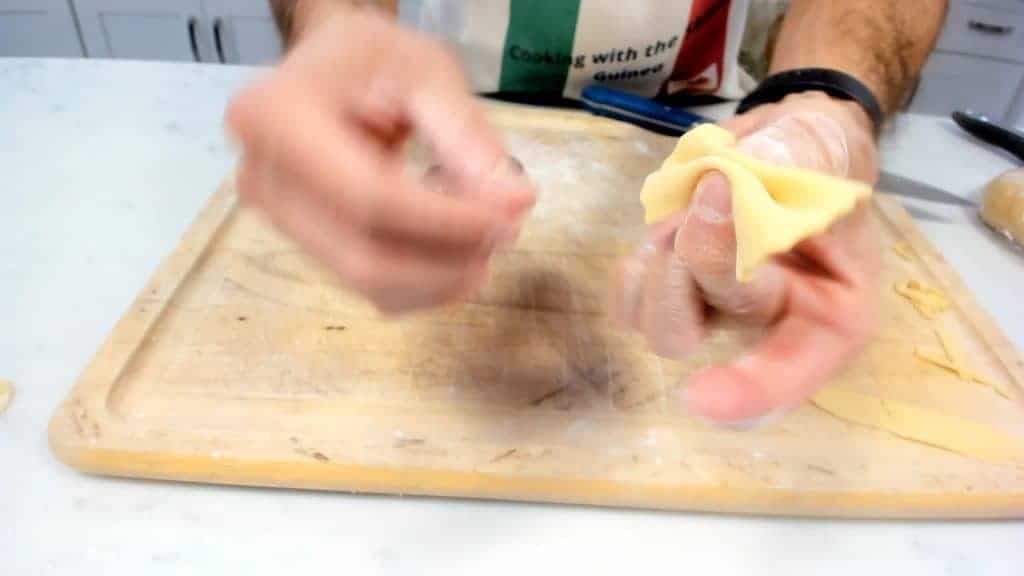 At this stage, you should have beautiful homemade farfalle ready to cook and enjoy!
If you're feeling adventurous, why not try making other pasta shapes, such as cavatelli or cencioni? Get creative and have fun exploring the world of homemade pasta.
Tools You'll Need
To make this recipe a success, you'll need a few essential tools:
Bicicletta (optional, but helpful)
Cooling/Drying Rack
Pyrex Measuring Cups
By following these steps and using the right tools, you can create an impressive batch of homemade farfalle that's sure to impress family and friends.
So, roll up your sleeves, grab your ingredients, and get ready to embark on a pasta-making adventure!
For more delicious recipes and culinary inspiration, visit Hook'd Up Bar and Grill today!