Are you looking to take your pork roast to the next level? Look no further! In this comprehensive guide, we will show you how to create a mouthwatering pork roast gravy that will elevate your meal to new heights. Say goodbye to store-bought gravy packets and hello to a homemade masterpiece that will leave your taste buds wanting more.
Unleashing the Potential of Pork with Gravy
Pork roast has always been a family favorite, and for good reason. Not only is it budget-friendly, but it also delivers on flavor. However, there's one secret ingredient that can take your pork roast from good to extraordinary – homemade pork roast gravy.
In the past, I used to discard the precious pork drippings without a second thought. But then it hit me – why waste such a flavorful liquid? Just like with beef drippings, I could easily transform them into a delicious gravy. So, I decided to unlock the full potential of pork with my own savory creation.
The Perfect Gravy for Pork – Ingredients and Method
Creating the perfect pork roast gravy requires just a handful of simple ingredients and a little bit of love. Here's what you'll need:
Pork roast drippings
Butter
Chicken broth
Cornstarch
Water
Worcestershire sauce
Salt
Pepper
To begin, melt the butter in a large skillet over medium heat. Once melted, add the pork drippings and mix them together. Pour in the chicken broth, Worcestershire sauce, and water, giving everything a good stir. Slowly add the cornstarch, continuously whisking until the gravy thickens to your desired consistency. Once the gravy is ready, remove it from the heat and serve it alongside your pork roast.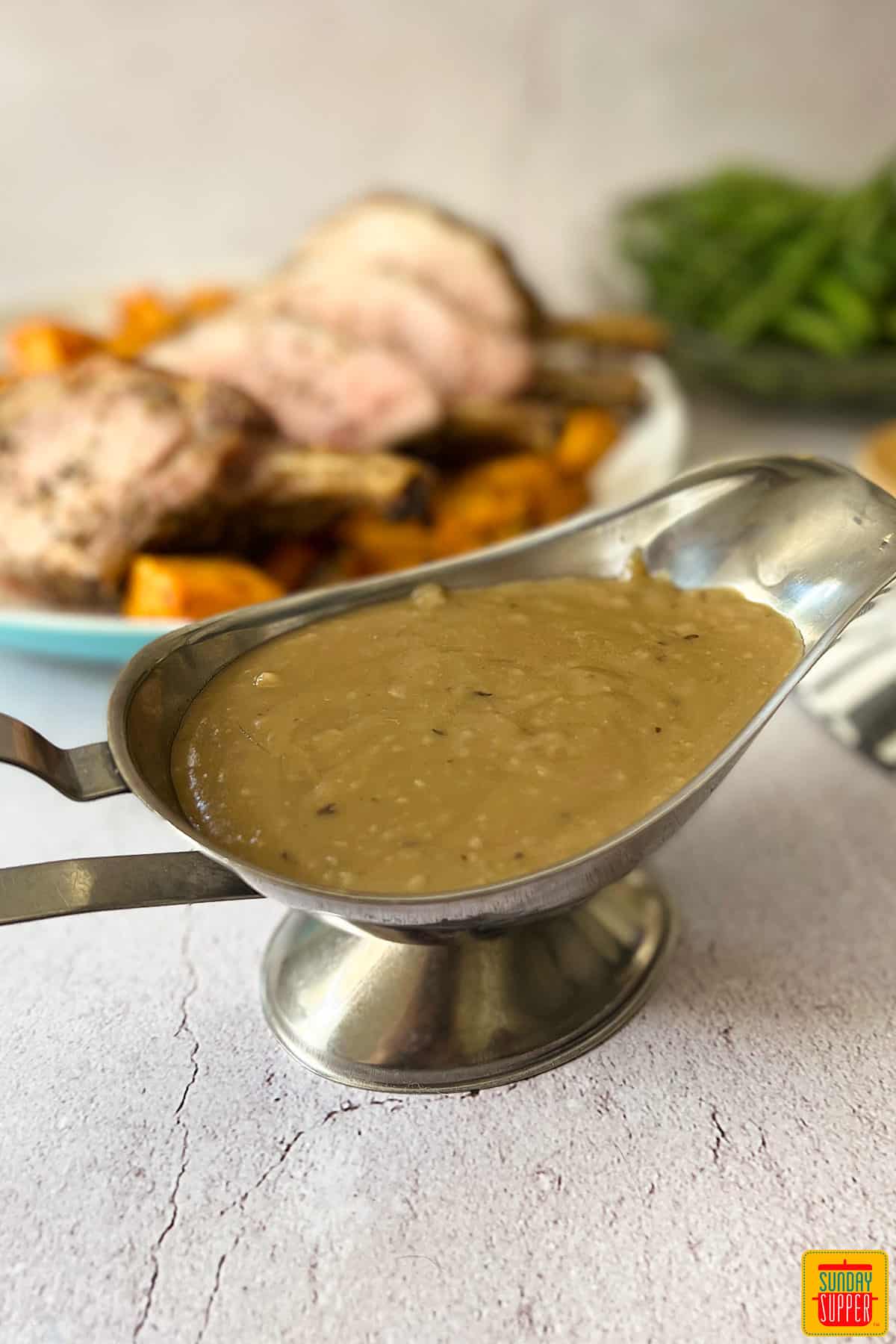 Tips to Perfect Your Pork Roast Gravy
Can't find cornstarch? No problem! You can use flour as a substitute.
If you find yourself with insufficient drippings, don't fret. Just add some extra chicken broth to make up for it.
For a smooth and creamy gravy, use a whisk instead of a wooden spoon to avoid any clumps.
Making Pork Gravy Without Drippings
What if you don't have pork drippings on hand? Don't worry, we've got you covered. You can easily substitute pork drippings with chicken, beef, or vegetable broth. While it won't have the exact same meaty flavor, the result will still be incredibly delicious.
Storing Your Pork Roast Gravy
One of the best things about pork roast gravy is its versatility and longevity. Not only is it easy to make, but it can also be stored for several days in the refrigerator or even longer in the freezer. Here's how you can store and reheat your gravy:
Refrigerator: Allow the pork gravy to cool completely before transferring it to an airtight container or jar. Refrigerate for up to 4 days.
Freezer: Once the gravy has cooled, place it in a freezer-safe bag or container and freeze for up to 3 months.
Reheating: To reheat the gravy, simply warm it in a saucepan over medium heat for approximately 10 minutes or until heated through.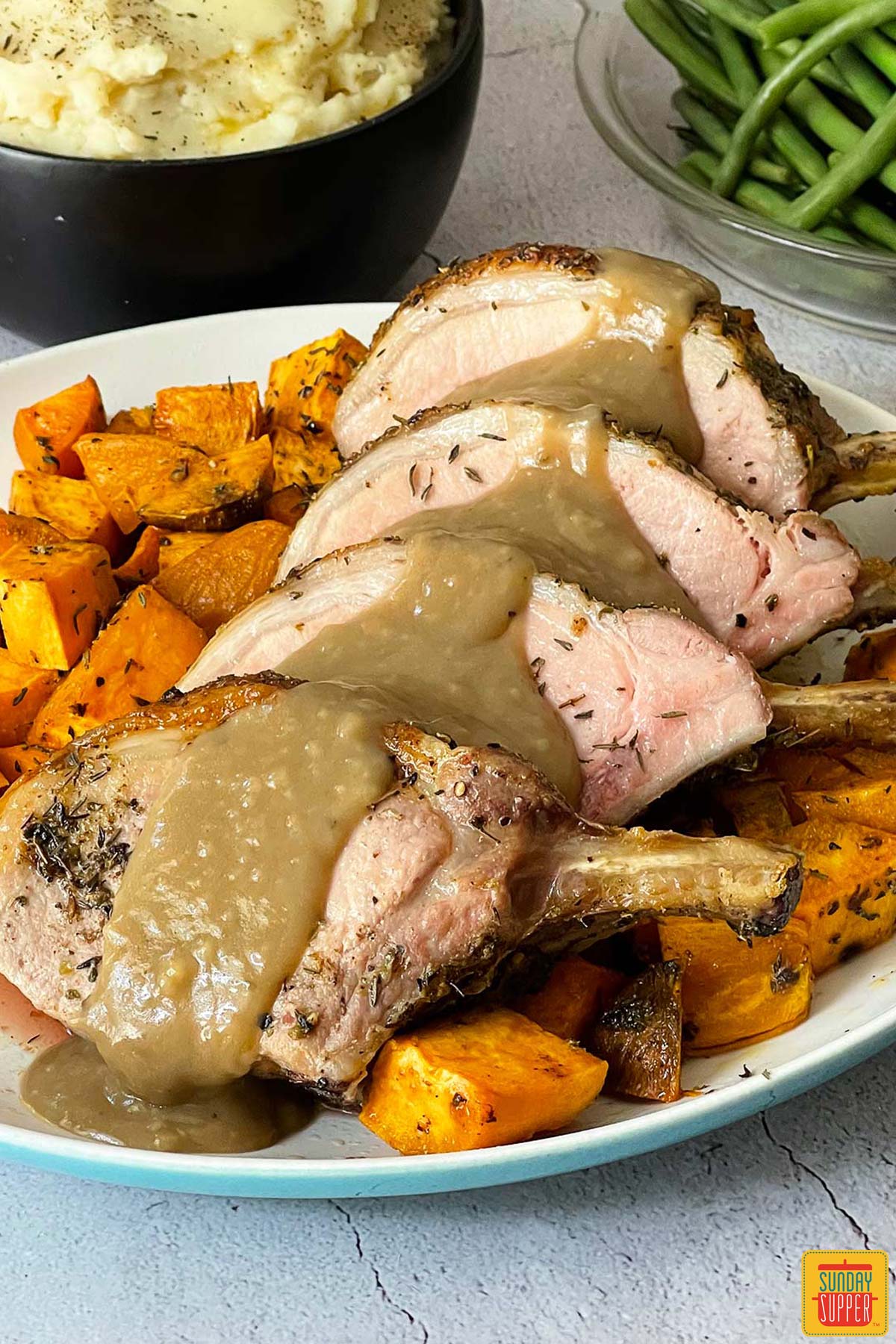 Elevating Your Meal – Pork Chop Sauce and Pork Tenderloin with Gravy
Not only does this pork roast gravy complement a succulent pork roast, but it also works wonders as a sauce for pork chops. Pair it with any of our flavorful pork chop recipes and prepare to impress your guests. And if you're a fan of pork tenderloin, fear not – this gravy is the perfect companion for both Instant Pot and oven-baked variations.
Explore More Savory Pork Recipes
Looking to explore the world of savory pork dishes? We've got you covered. Try our pulled pork pizza, pork belly burnt ends, Asian pork meatballs, ham salad, and pulled pork poutine recipes. With these culinary delights, you'll never run out of delicious ways to enjoy pork.
Try It Yourself!
What are you waiting for? Give our pork roast gravy recipe a try and let us know what you think! Leave a comment and rating below to share your experience with us. We always love hearing from you. And remember, for more mouthwatering recipes and inspiration, visit Hook'd Up Bar and Grill.
Recipe
[Pork Roast Gravy Recipe](https://hookdupbarandgrill.com/)

- Pork roast drippings
- Butter
- Chicken broth
- Cornstarch
- Water
- Worcestershire sauce
- Salt
- Pepper

1. In a large skillet over medium heat, melt the butter.
2. Add the pork roast drippings and mix well.
3. Pour in the chicken broth, Worcestershire sauce, and water. Stir.
4. Slowly add the cornstarch, whisking continuously until the gravy thickens.
5. Remove from heat and serve.

Enjoy your mouthwatering pork roast gravy!
Remember, the secret to a memorable pork roast lies in the flavorful gravy that accompanies it. So, why settle for anything less than homemade perfection? Elevate your pork roast experience with our foolproof recipe and savor every delectable bite. Happy cooking!