Are you looking for a quick and easy way to prepare a healthy meal? Look no further than this recipe for Air Fryer Frozen Turkey Burgers. With the help of an air fryer, you can have a delicious and juicy turkey burger ready in no time. This hands-off cooking method is perfect for busy individuals who want a satisfying meal without the hassle.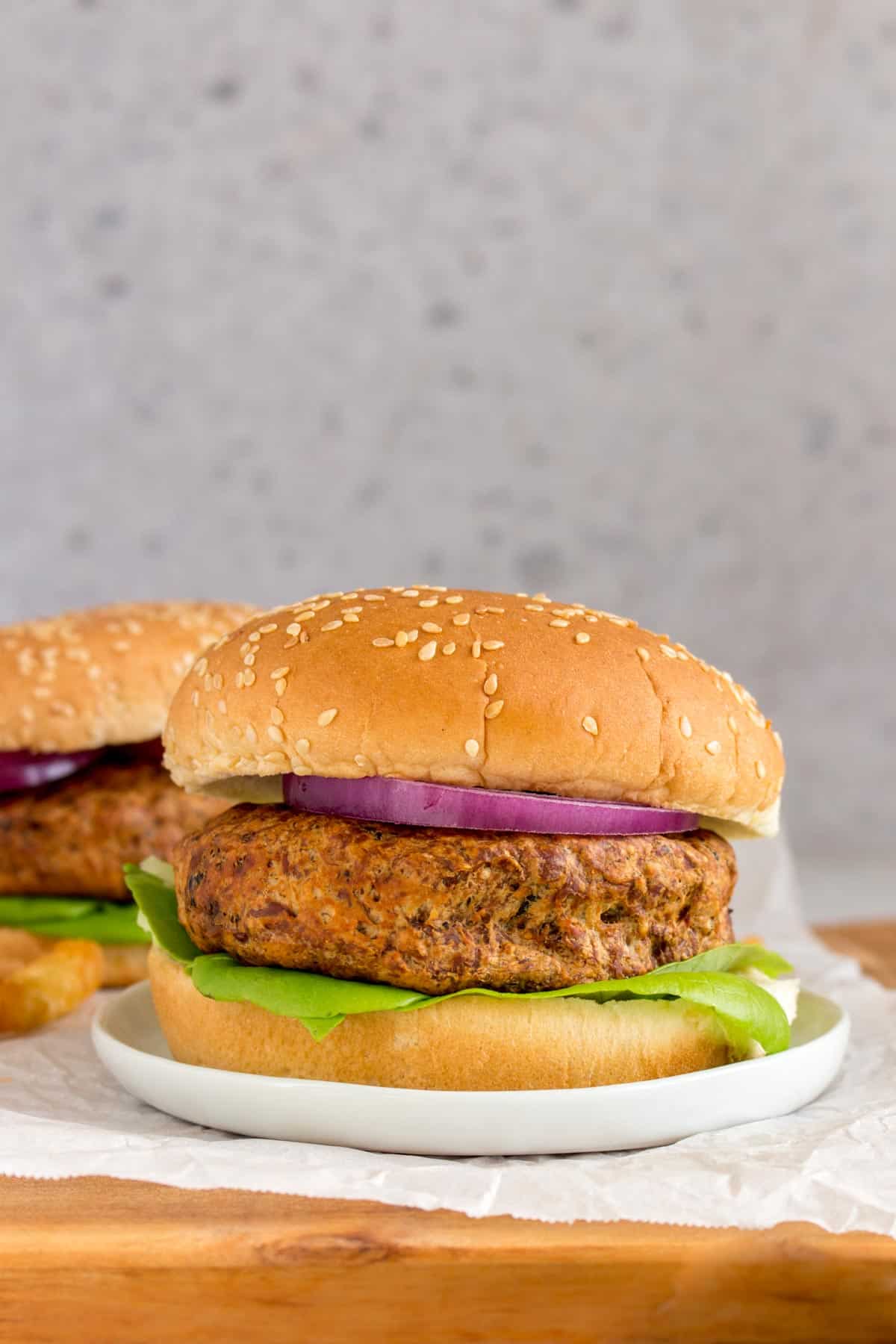 You might be wondering, why choose the air fryer? Aside from its speedy cooking time, it offers the convenience of satisfying your burger cravings without firing up the grill, especially during the winter season. What's more, cooking frozen turkey burgers in an air fryer eliminates the troublesome oil splashes that often occur when using a cast iron on the stovetop.
Ingredients You'll Need
To make these delectable turkey burgers in the air fryer, you'll only require a few simple ingredients:
Frozen turkey burgers: There's no need to thaw them in advance. You can place the frozen patties directly into the air fryer. Whether you choose to use store-bought or homemade turkey burgers, the choice is yours.
Cooking Instructions
Making Air Fryer Frozen Turkey Burgers is incredibly easy. Just follow these steps:
Add the frozen patties to the air fryer. You can place up to two patties at once, and it's perfectly fine if they touch each other.

Set the air fryer temperature to 375°F (190°C) and cook for 15 minutes, flipping the patties halfway through. If your burgers are thicker, you may need to add an extra 2 to 3 minutes.

Once cooked, serve the turkey burgers with your favorite toppings.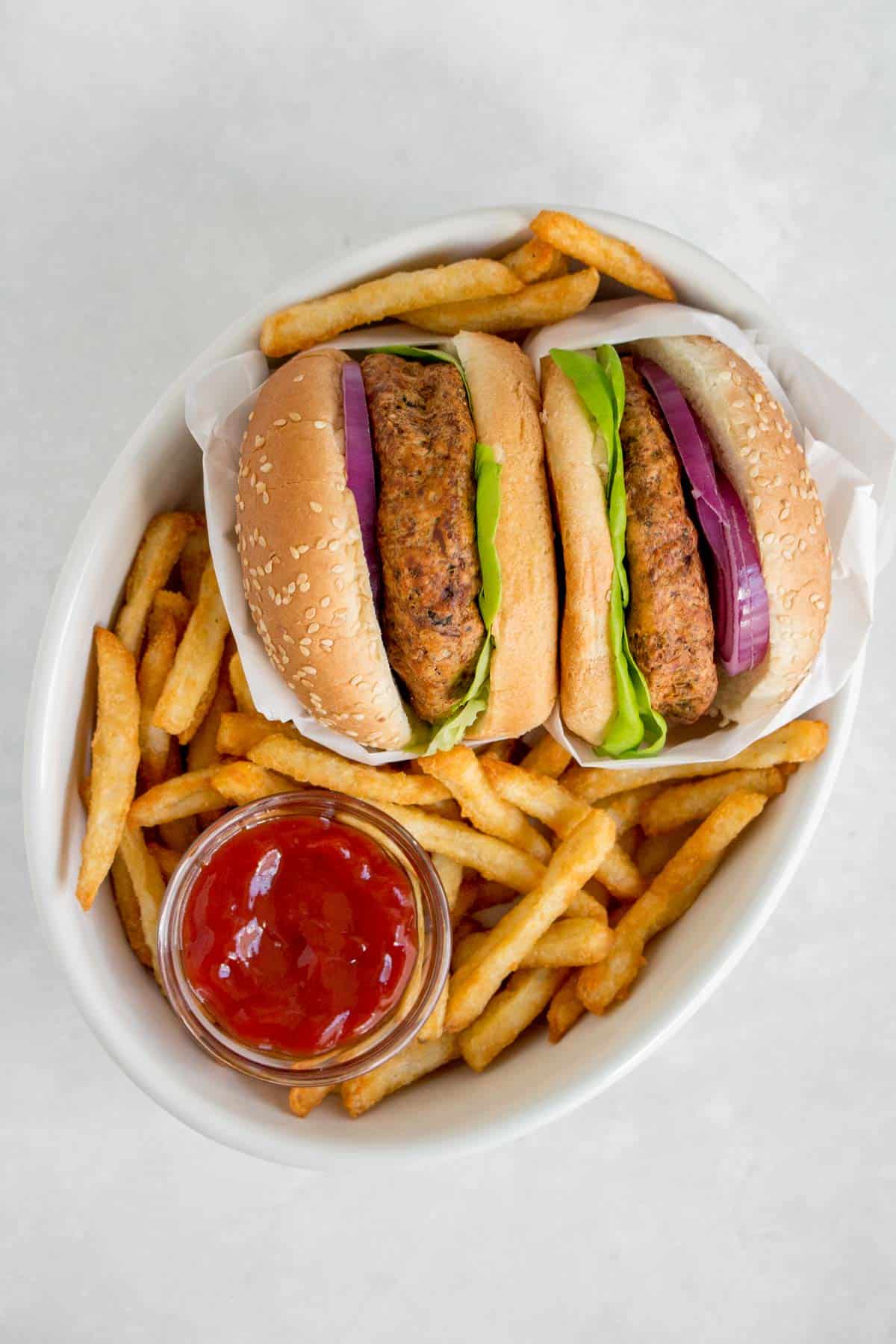 Recipe Tips
Note that cooking times may vary slightly depending on your air fryer model. Refer to your manual to determine if preheating is necessary.

Cooked turkey patties can be stored in an airtight container in the refrigerator for up to four days.

To ensure your turkey burgers are fully cooked, use an instant-read meat thermometer. The internal temperature should reach 165°F (74°C).
Topping Ideas
Looking to elevate your turkey burger game? Here are some delicious topping ideas to consider:
Ketchup
Honey mustard
Caramelized onions
Roasted garlic or air fryer-roasted garlic (mashed into a paste and spread onto the patties or buns)
Hummus
White bean hummus
Butter lettuce
Red onions
Tomatoes
Bacon (air fryer bacon)
Cheese
How to Make Homemade Turkey Burgers
For those who prefer homemade turkey burgers, follow these simple steps:
In a bowl, combine all the ingredients using a fork. Avoid overmixing the mixture.

Shape the turkey mixture into four patties, approximately ½ inch thick.

Place the patties on a parchment-lined sheet pan and freeze. Once frozen, transfer them to a freezer-safe bag or container.
More Air Fryer Recipes to Explore
If you're a fan of air fryer cooking, here are some additional recipes to try:
Everything But The Bagel Chicken Tenders (Air Fryer and Oven)
Air Fryer Meatballs
Air Fryer Gnocchi
Air Fryer Garlic Bread
Air Fryer Chicken Nuggets
Air Fryer Boneless Pork Chops
Air Fryer Tater Tots
Frozen Burgers in an Air Fryer
Air Fryer Korean Fried Chicken
Air Fryer Pizza Rolls
For more culinary inspiration and to connect with similar food enthusiasts, feel free to check out Hook'd Up Bar and Grill. You can also find me on Instagram and Facebook as @carmyshungry. Don't hesitate to reach out via email at [email protected]