These Gluten-Free Honey Garlic Jerk Chicken Wings are air fried to perfection and then coated in a homemade sticky honey garlic glaze! They are the ultimate addition to game-day appetizers or a Caribbean-inspired feast. If you enjoy these wings, be sure to try my Baked Turkey Wings, Mango Jerk Wings, Traditional Caribbean Jerk Chicken, and Party Lemon Pepper Wings too!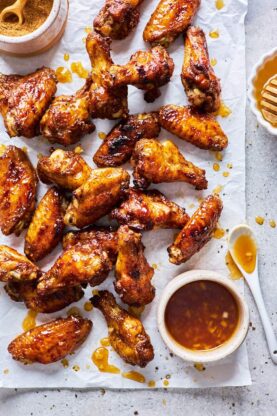 I've shared numerous chicken wing recipes on this blog, but none can compare to this one! When it comes to chicken wings, there are a few non-negotiables: they must be crispy, saucy, and bursting with a perfect balance of salty and sweet flavors. Rest assured, all the recipes I've shared meet these requirements.
However, today's recipe is something extraordinary. You won't believe that these wings are air fried. Yes, you read that right—crispy perfection without the risk of hot oil burns. It's like a dream come true!
These Honey Garlic Chicken Wings are magically air fried until golden-brown and then tossed in a fantastic homemade honey garlic glaze. With each bite, the sticky, spicy, and sweet sauce clings to your lips, leaving you craving more.
But don't just take my word for it—try it for yourself!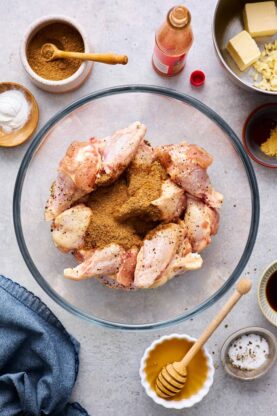 JERK CHICKEN WINGS INGREDIENTS
When I create a recipe, I focus on the overall experience rather than just the ingredients. I ask myself, "What kind of bite am I craving today?" It could be something smooth and creamy with a tang or crispy, layered, and sweet.
So, when developing this recipe, my goal was to create wings that are juicy, crispy, salty, and buttery. And let me tell you, I nailed it!
Here's how the flavors come together:
CHICKEN WING DINGS are the perfect bite-sized wings! They come pre-cut to make eating a breeze. If you can't find them or prefer regular chicken wings, they work just as well.
SALT AND PEPPER are a must. If you're concerned about over-seasoning, you can always add less and adjust as needed.
JERK SEASONING is a pantry staple in my home. It features a rich and slightly spicy blend of Jamaica's finest native herbs and spices. You can use a homemade version or experiment with different varieties available online.
BAKING POWDER may not sound appetizing, but it's crucial for achieving that super crispy skin without altering the taste.
SALTED BUTTER serves as the perfect creamy, salty-sweet base for our sauce.
GARLIC adds a delightful aroma and bold flavor to any dish. For an extra kick, grate the garlic for a stronger, more pungent experience.
HONEY provides the ideal texture and sweetness to balance out the jerk spice. Its stickiness helps the sauce adhere to the wings.
TAMARI is a mellow and less salty soy sauce alternative. It adds a smooth and earthy element to the sauce. And the best part? It's gluten-free! If you don't have a gluten intolerance, regular soy sauce works too.
HOT SAUCE is a must for chicken wings! I like mine spicy, but feel free to skip this ingredient if you prefer a milder flavor.
GROUND OR FRESH GINGER adds brightness and a zingy flavor that cuts through the sauce and creates a delightful burst in your mouth.
SMOKED PAPRIKA elevates the dish with its deep red color and sweet-smoky flavor, adding complexity and warmth.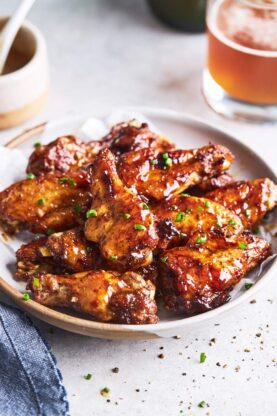 HOW TO MAKE HONEY GARLIC JERK WINGS
Wings should be easy to make, right? Who wants to deal with complicated marinades and deep fryers? All we want are delicious wings! That's why this recipe can be prepared in just five simple steps.
Here's how:
Step 1: Prepare the Wings—Before air frying, it's crucial to season the chicken. As the wings cook, the seasoning tenderizes the meat and creates a crispy and flavorful base for the sauce to cling to.
Step 2: Air Fry the Chicken—Air fryers use hot air circulation to cook food, resulting in golden crispiness with 70-80% less oil than deep frying. To ensure perfect results, avoid overcrowding the basket and cook the wings in batches.

Step 3: Make the Honey Garlic Sauce—The star of this recipe is the honey garlic sauce! Cook it over medium heat (anything hotter will burn it) for about 5-6 minutes.
Step 4: Toss in the Sauce—Once the wings are fully cooked and delightfully crispy, transfer them to a bowl and toss them in the sauce. Afterward, place them back in the air fryer.

Step 5: Serve and Enjoy!
CAN I BAKE THESE WINGS INSTEAD OF AIR FRYING?
Absolutely! Keep in mind that achieving crispy chicken wings in the oven requires significantly more time.
To bake the wings in a conventional oven, preheat it to 400 degrees and bake until crispy. Flip the wings over after about 15-20 minutes of cooking.
TIP: Elevate the wings by placing them on a wire rack on top of a parchment paper-lined pan.
WHAT DO I SERVE WITH JERK CHICKEN WINGS?
Eating a dozen of these wings alone is perfectly acceptable, but if you're feeling adventurous, why not create an entire Caribbean-style spread? I love serving these Jerk chicken wings with a variety of bold and hearty side dishes.
Transport your taste buds straight to the islands with some of my favorite authentic Jamaican sides:
Jamaican Rice and Peas
Jamaican Beef Patties
Fried Plantains
Banana Fritters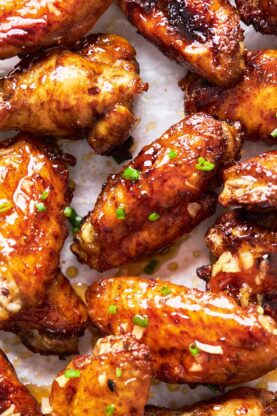 STORING AND REHEATING AIR FRIED CHICKEN WINGS
There's nothing better than having jerk chicken wings in the fridge that you can easily reheat when you're short on time or simply craving a tasty snack.
Leftover chicken wings will last for up to 4 days when stored in an airtight container in the refrigerator. Allow the wings to come to room temperature before storing them.
To reheat the wings, remove them from the fridge and let them sit at room temperature for about 10 minutes. Place them in the air fryer basket, ensuring enough space between each piece for even reheating. Set the temperature to 400 degrees, reheat for 5-10 minutes, and remove the wings from the basket. Let them cool for 5 minutes before enjoying.
Alternatively, you can reheat the wings in the oven. Preheat the oven to 350 degrees, spread the wings in a single layer on a baking sheet, and reheat for 10-20 minutes.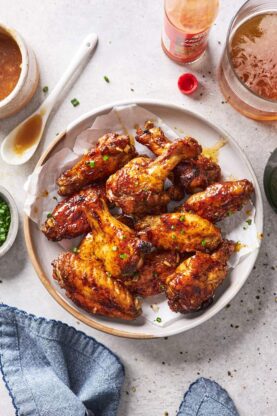 GRANDBABY CAKES' BEST CHICKEN WING RECIPES
I could eat chicken wings every day! Their crunchy, crispy, sweet, and salty goodness makes them the perfect shareable snack or meal.
If you share my love for wings, give these mouthwatering recipes a try:
Lemon Pepper Chicken Wings
Better Than Hooters Buffalo Wings
Pomegranate Honey Wings
Mango Jerk Wings
Remember, the secret to great wings lies in the sauce and the cooking method. So grab your air fryer or oven—it's time to indulge in some sensational chicken wings!