If you're tired of soggy breaded recipes that lack that satisfying crunch, I have a secret ingredient that will take your dishes to a whole new level. The key? Ground pork rinds. Yes, you heard it right! This unconventional substitute for breadcrumbs will revolutionize your cooking experience and deliver the crispy texture you crave.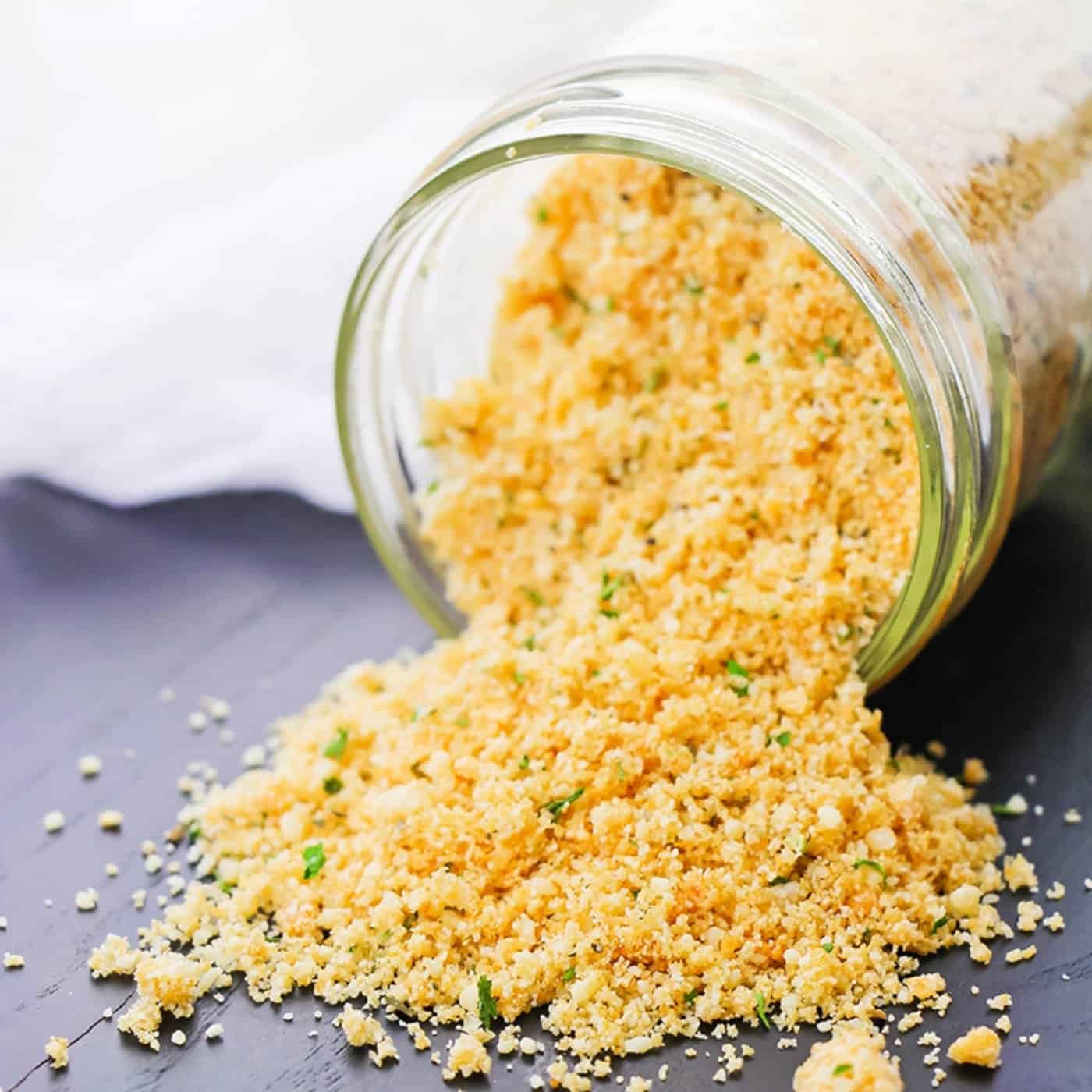 Unleashing the Power of Pork Rind Breadcrumbs
Pork rind breadcrumbs are not only a game-changer in terms of texture; they also provide an opportunity to add extra flavor, coating, and binding to your favorite dishes. From crispy chicken tenders to crunchy veggies, the possibilities are endless.
What makes this breadcrumbs recipe truly special is the combination of parmesan cheese and Italian seasoning blend, which cleverly disguises the presence of pork skin. These delicious seasonings elevate the flavors of your snacks and meals, enhancing every bite.
And here's the best part: making these breadcrumbs is a breeze! With just 10 minutes of prep time, you'll have a batch of perfectly textured breadcrumbs ready to elevate your meals.
How to Make Your Own Pork Rind Breadcrumbs
To create these amazing breadcrumbs, you'll need a few simple ingredients. The star of the show is, of course, the pork rinds. Opt for the original variety for the best results.
Here's a step-by-step guide to making your own pork rind breadcrumbs:
Step 1
Add your favorite pork rinds to a food processor and blend until finely crushed.
Step 2
Transfer the crushed rinds into a large bowl.
Step 3
Add dried parsley, basil, oregano, garlic powder, onion powder, black pepper, salt, and parmesan cheese to the rinds. Mix all the ingredients well using a spatula.
Step 4
Pour the mixture into a jar. You can use the breadcrumbs immediately to coat your food, or store them in the refrigerator for later use.
Step 5
Take a bite and savor the crunch!
Pro Tips for the Perfect Breadcrumbs:
Ensure that you pulse the fried pork skin in the food processor on high to achieve finely and uniformly crushed breadcrumbs.
If you don't have a food processor, you can place the pork rinds in a plastic bag and crush them with a rolling pin until you achieve the desired texture.
Adjust the seasoning quantity to suit your taste preferences.
For optimal freshness, store the prepared crumbs in a glass mason jar with a tightly sealed lid to keep the air out.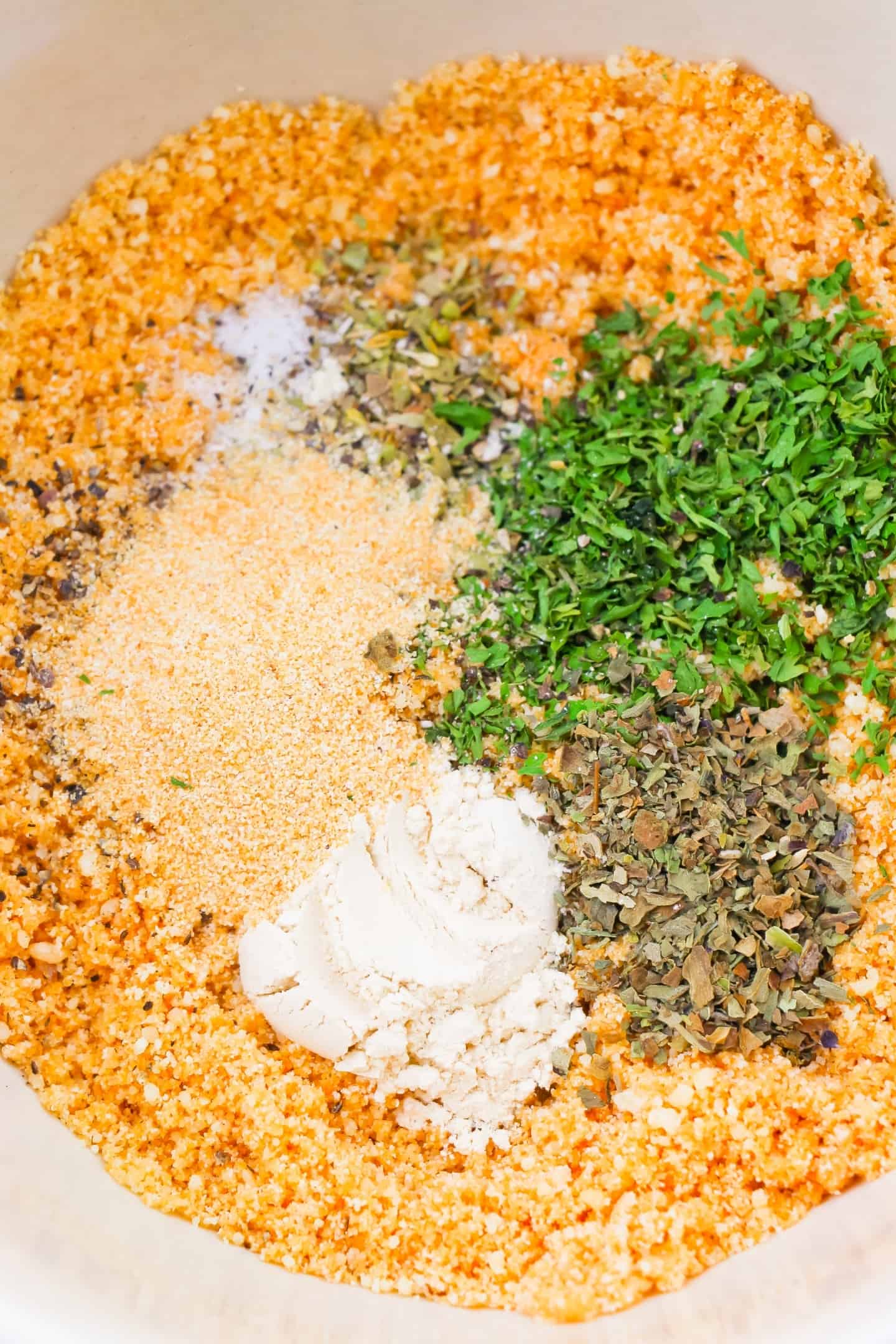 Elevate Your Recipes with Easy Breadcrumb Variations
Once you've mastered the basic pork rind breadcrumb recipe, it's time to explore different variations that will add an extra punch to your dishes. Here are a few delicious options:
1. Taco Seasoning: Combine your pork rind breadcrumbs with authentic taco seasoning for an innovative twist. Try using them to make crispy chicken tenders with a mouthwatering taco-flavored coating.
2. Ranch Seasoning: Create hidden valley ranch flavored breadcrumbs by incorporating homemade ranch seasoning into the mix. The possibilities are endless!
3. Smoked Paprika: Add a touch of smoky flavor and heat to your breadcrumbs by introducing smoked paprika. This variation will give your dishes a tantalizing kick.
Unleash Your Culinary Creativity
Pork rind breadcrumbs can be used to enhance any cooked, fried, or baked dish. Here are a couple of my favorite ways to enjoy them:
Baked Chicken Tenders
Transform the traditional fried chicken tender into a healthier and equally delicious version by coating the tender strips with your homemade pork rind breadcrumbs. Bake them in a preheated oven, and you'll have crispy, flavorful chicken tenders that will impress everyone.
Pork Meatballs
Indulge in Italian pork meatballs accompanied by a breadcrumb coating infused with Italian seasonings. Dip these delectable meatballs into a creamy, rich tomato sauce for an unforgettable dining experience.
For more recipe inspiration, check out our collection of juicy pork sirloin roast dishes and the best shaved pork recipes on Hook'd Up Bar and Grill.
Frequently Asked Questions
Q: Can I use these breadcrumbs for other recipes?

Absolutely! Feel free to experiment and use them in any recipe that calls for breadcrumbs. They're a versatile substitute that will bring a crispy touch to your culinary creations.

Q: How can I store these breadcrumbs?

To maintain their crispiness and taste, store the breadcrumbs in an airtight container. You can keep them in the refrigerator for up to 3 months or in the freezer for up to 6 months.
Serving Size
This gluten-free breadcrumb recipe yields approximately four servings. These crunchy breadcrumbs will add a satisfying crackling sound to your dishes. And don't worry, even if you run out of breadcrumbs, you can whip up a fresh batch in no time.
Try Ground Pork Rinds Today!
Ready to take your cooking to the next level? Don't miss out on experiencing the incredible texture and flavor of homemade pork rind breadcrumbs. With just a few simple steps, you'll have the perfect ingredient to achieve the crunch you've always desired. Get creative, try different variations, and unleash your culinary potential with ground pork rinds!
Note: The only time I use traditional breadcrumbs is for pie crusts or recipes that do not require cooking, frying, or baking breadcrumbs.